7 NBA Summer League Standouts Who Will Be Exposed in Training Camp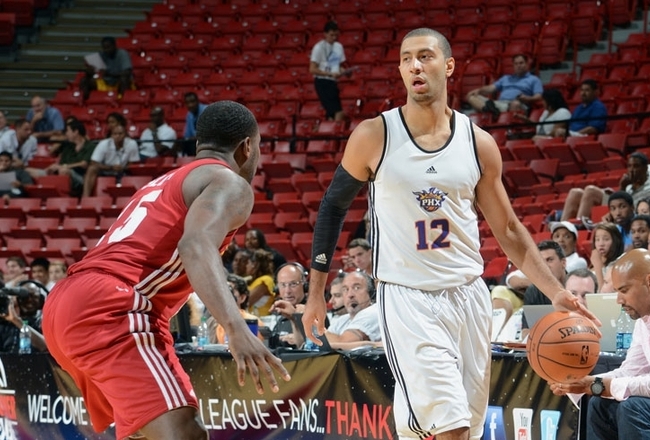 Photo Credit: www.NBA.com

The calendar gap between the NBA Summer Leagues and training camp is finally on the verge of being bridged. Now is the time to look at those offseason standouts who may not have enough to cut it in NBA camps.
There were several players who made names for themselves in Orlando and Las Vegas. A lot of those were lottery picks who were reassuring their teams of their talents. However, some names are less recognizable, but they stood out nonetheless.
In the Summer League, the talent level is raised a bit form the college game. Still, it is another canyon away from the NBA. Training camp will be used by veterans to work themselves back into game-shape. Certain teams are sure to go harder at camp than others depending on their roster's tenure. These are the teams that will give these stars of summer such a hard time.
In each of these players given situation, they will be heavily outmatched and exposed at training camp.
Malcolm Thomas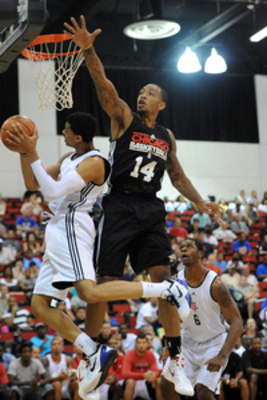 Malcolm Thomas (14) Photo Credit: www.Blogabull.com
Training Camp Roster: New York Knicks (maybe)
Size: 6'9" 225 lbs
College: San Diego State
Draft: Undrafted in 2011
Malcolm Thomas was an absolute beast for the Chicago Bulls this summer. He started all five of the team's games in the Las Vegas league and averaged a double-doube with 11.4 points and 12.4 rebounds per game.
This seems to be a promising sign for the 23-year-old forward, as he spent the past two years in six different locations. Thomas signed in Korea during the lockout, before returning to the States to play on three different Developmental League teams. He did earn call-ups by the San Antonio Spurs and Houston Rockets, but saw little-to-no playing time on either team.
While his stats are impressive, there is legitimate concern about Thomas making an NBA roster. Being undrafted was not just a virtue of playing for a little-known program at San Diego State. He helped lead them to the Sweet 16 and into the national conscious. He went undrafted because the belief is that he cannot play at the next level.
Delving deeper into his Summer League numbers you see that he played a lot of minutes. Through the first four games he was averaging 30 minutes of playing time. This led to an increase in his production, as in the final game while playing just 19 minutes, his numbers shrank drastically. The rebounds are obviously the most eye-catching. Examining the Bulls roster though, we see that the team was very small. Thomas was one of just two players taller than 6'8", and the other only played ten minutes per game.
If invited to join the New York Knicks at training camp he will be exposed handily by Amar'e Stoudemire and Tyson Chandler.
Josh Selby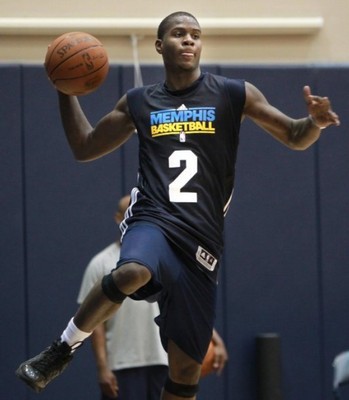 Photo Credit: www.commercialappeal.com
Training Camp Roster: Memphis Grizzlies
Size: 6'2" 183 lbs
College: Kansas
Draft: 49th in 2011
If you are a believer in Josh Selby, then you have far more faith in five games than I do. Giving credit where it is due, though. Selby went off in the Summer League this offseason. He posted 24.2 points per game, the second highest total there was. More impressive was how he got those points. Selby connected on 27-of-42 three pointers (64-percent). He could not miss, and drained seven threes a piece in consecutive games.
There is no denying that his performance this summer was impressive. Still, there was a reason that after just one season at Kansas he declared for the NBA draft and fell to the late second round. Selby is still so raw and inexperienced. He is just 21 years old and won't turn 22 until next March. These five games were fantastic, and maybe they were a showing of things to come. I am not buying that it is going to happen this season, though.
In 28 games last year with the Grizzlies, Selby connected on just 2-of-15 threes. While he did shoot a fairly high percentage in college, there is legitimate concern that he can't do it in the big time. A possible reason for that may be his height. At 6'2", Selby is a bit shorter than desirable for an NBA shooting guard. This hampers his ability to get shots off that he easily launched in college and the Summer League.
It won't help to be battling against one of the league's premier perimeter defenders, Tony Allen, in training camp.
Kendall Marshall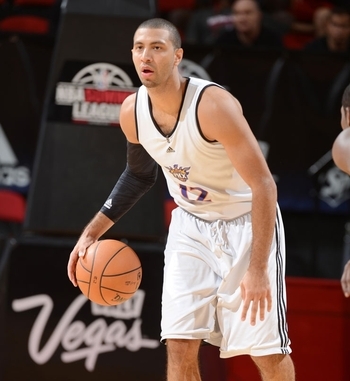 Photo Credit: www.NBA.com
Training Camp Roster: Phoenix Suns
Size: 6'4" 198 lbs
College: North Carolina
Draft: 13th in 2012
While he did not standout maybe to the extent of some of these other players, Marshall did lead the Summer League in assists with 6.5 and also scored in double-digits in the final two games. The former North Carolina point guard was grabbed at the tail-end of June's lottery, just a few days before Steve Nash was dealt to Los Angeles.
Around that same time, the Suns were reaching a deal with free agent point guard Goran Dragic. With him in the picture, it is no longer the sole responsibility of Marshall to fill Nash's shoes. This is without a doubt a good thing. For what he showed you he could do in the Summer League, there was a whole lot to worry about as well.
After drastically improving his offensive efficiency in year two at North Carolina, Marshall appeared to hit another hitch. This time it took place in the Summer League where he shot just 31-percent from the field. As a sophomore, Marshall connected on better than 46-percent from the field and nearly 40-percent from beyond the arc.
If his offensive output during the Summer League is any indication, Dragic should receive little competition for his starting job at the Phoenix training camp.
Adam Morrison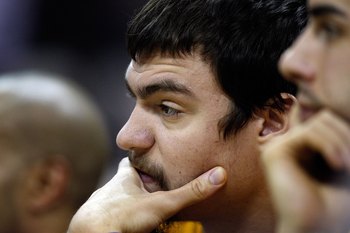 Ronald Martinez/Getty Images
Training Camp Roster: Portland Trail Blazers
Size: 6'8" 205 lbs
College: Gonzaga
Draft: 3rd in 2006
You've got to give Adam Morrison some credit for not giving up on his dream to play in the NBA consistently. Despite being drafted six years ago and boasting just 163 career games played, he is plugging away in Summer Leagues looking for a roster invite.
He was able to parlay a fairly successful time in Las Vegas into a one-year deal with the Portland Trailblazers. Will that success carry over? History tells us no. You see, the 20 points per game and 62-percent three point shooting only tells half of Morrison's Summer League story.
Before joining the Clippers team in Vegas, Morrison was also on the Brooklyn Nets entrant into the Orlando League. The difference was, there Morrison only saw 19 minutes a game instead of 30. He shot just 9-of-25, or 36-percent from the field, and missed all of his shots from beyond the arc.
The inconsistencies in Morrison's game were even relevant in the Summer Leagues. That is a major factor in what has been keeping him out of the league the past few seasons. It doesn't appear that they are cleared up. Joining a good team in Portland will certainly help him blend into the background like he did with the Lakers, but that isn't what the 28-year-old player wants for himself.
Chris Copeland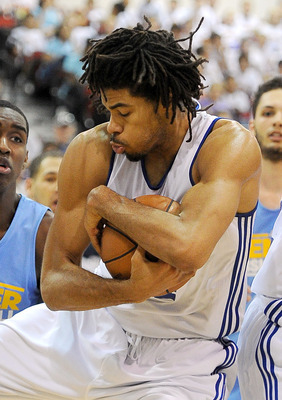 Jayne Kamin-Oncea-US PRESSWIRE
Training Camp Roster: New York Knicks
Size: 6'8" 224 lbs
College: Colorado
Draft: Undrafted in 2006
As nice of a story as Chris Copeland is, and no matter how much I want him to succeed in New York, I think we need a reality check.
Basketball players don't all of a sudden become able to be role players in the NBA when they turn 28. Copeland has never seen an NBA floor and hasn't played in the States since early 2007, when he saw time in 19 games of the Developmental League. He has bounced around from country to country in Europe, but did finally turn some heads in the Summer League.
With the Knicks entrant into the Las Vegas League, Copeland turned out to be the team's best player. He averaged 14 points and four rebounds over the five games. Unfortunately the Knicks also lost every game. Scanning their roster reveals no surprises. New York didn't put a whole lot of talent into their roster, which played a big role in allowing Copeland to break out.
I'm not buying into Copeland 100-percent just yet, and have a pretty good feeling he is going to have a tough training camp. The Knicks better players can't afford to ease into this coming season and will be going all out at camp. Copeland will struggle to produce anything against the Knicks real frontcourt.
Dionte Christmas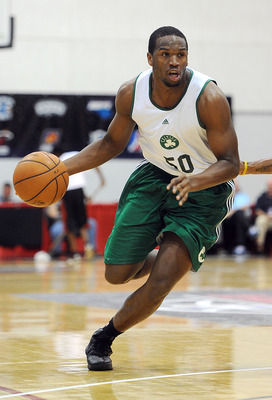 Jayne Kamin-Oncea-US PRESSWIRE
Training Camp Roster: Boston Celtics
Size: 6'5" 205 lbs
College: Temple
Draft: Undrafted in 2009
Dionte Christmas appears to be the exact type of player who excels in the Summer League. Through ten games, there wasn't a whole lot not to like. He gave both Boston Celtics entrants great all-around production and took nothing off the table.
The "jack of all trades" gig plays very well in small sample sizes like the Summer League, but it doesn't get you into the NBA. The NBA is a skill league. Players who have even just one skill that they excel at can make professional teams over a solid all-around player.
For Christmas to make the Celtics and more-so earn some playing time he must show an elite skill. This can be anything from rebounding at the guard spot to pure effort. Stat lines like 14 points, four rebounds, two assists and two steals won't happen for him at the next level. There must be one thing that he improves at drastically, which he can showcase at training camp.
Unfortunately, there is some major changeover happening for Boston at the shooting guard spot and with Courtney Lee and Jason Terry fighting for minutes, camp could be a nightmare for Christmas.
Cory Joseph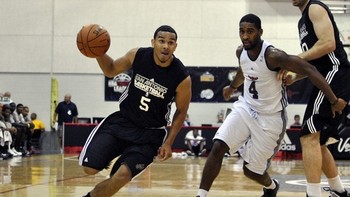 Photo Credit: www.Examiner.com
Training Camp Roster: San Antonio Spurs
Size: 6'3" 185 lbs
College: Texas
Draft: 29th in 2011
After bouncing consistently between the San Antonio Spurs and their D-League affiliate last season, Cory Joseph had himself quite a summer playing for his team's entrant into the Summer League.
Much like Dionte Christmas, Joseph showed a great all-around game. He went for 17 points, four rebounds and five assists per game. There were still some inconsistencies though, like a ten turnover game against the Heat with Terrel Harris guarding him.
The 21-year-old is still incredibly raw after spending just one season at the University of Texas. Harris was probably the most NBA-caliber defender he faced in Las Vegas and he was able to shut Joseph down.
While Joseph may have a future in this league yet, this training camp won't be easy for him. The under-sized shooting guard has been living on potential since his average freshman year at Texas. Unfortunately, potential doesn't mean a thing at the Spurs training camp which is littered with talented NBA guards.
Keep Reading