Vanderbilt vs. Georgia: Complete Game Preview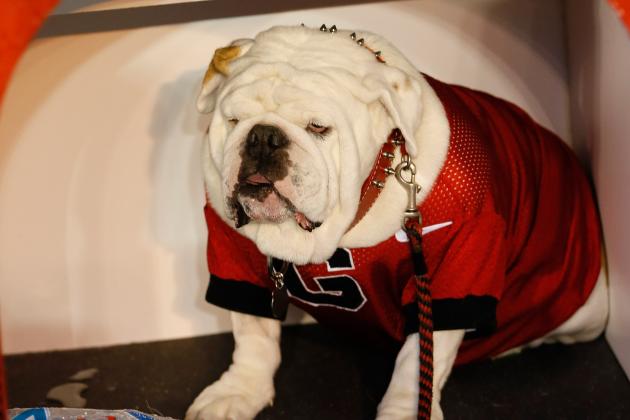 Kevin C. Cox/Getty Images

Athens was jam-packed for the first two Georgia Bulldogs home games this season when they played Buffalo and FAU. On Saturday, Sanford Stadium will be buzzing when the Bulldogs take on Vanderbilt in front of a national audience.
Last year, the Bulldogs escaped Nashville with a 33-28 win over the Commodores. And at the end of the game, Vandy head coach James Franklin and UGA defensive coordinator Todd Grantham got into a verbal argument. So, there is a little bad blood between the two teams which will make this game one of the better games on the college football schedule.
Who: Vanderbilt vs. Georgia
When: Saturday 7:45 p.m.
Where: Sanford Stadium (92,746)
TV: ESPN 2
Radio: Sirius 113, XM 197, Georgia Bulldog Radio Network, Vanderbilt Radio Network
Internet: ESPN 3, GTV at Georgiadogs.com
Begin Slideshow

»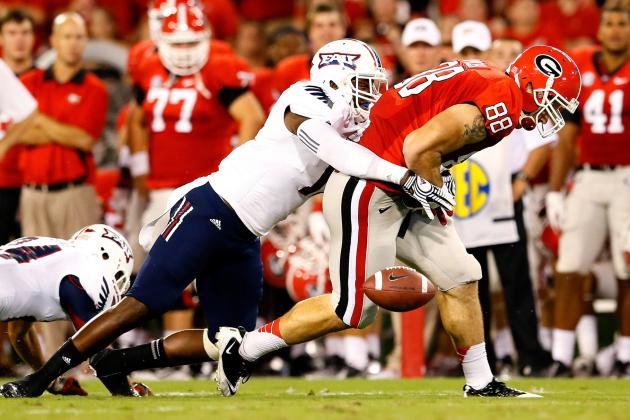 Kevin C. Cox/Getty Images

QB: Aaron Murray, Hutson Mason, Christian LeMay
RB: Todd Gurley, Ken Malcome, Keith Marshall
FB: Merritt Hall, Richard Samuel
FLK: Tavarres King, Rantavious Wooten, Chris Conley
SE: Marlon Brown, Michael Bennett, Malcolm Mitchell
TE: Arthur Lynch, Jay Rome
LT: Kenarious Gates, Mark Beard, Austin Long
LG: Dallas Lee, Ben Reynolds
C: David Andrews, Chris Burnette
RG: Chris Burnette, Greg Pyke
RT: John Theus, Watts Danztler
DE: Abry Jones, Garrison Smith
NT: John Jenkins Kwame Geathers
DE: Cornelius Washington, Ray Drew, Mike Thornton
OLB: Ramik Wilson, Chase Vasser, Josh Dawson
OLB: Jarvis Jones, Jordan Jenkins, T.J. Stripling
ILB: Michael Gilliard, Amarlo Herrera
ILB: Alec Ogletree, Christian Robinson
CB: Malcolm Mitchell, Sanders Commings, Devin Bowman
CB: Branden Smith, Damian Swann
SS: Shawn Williams, Corey Moore, Josh Harvey Clemons
FS: Bacarri Rambo, Connor Norman
P: Colin Barber, Adam Erickson
PK: Marshall Morgan, Jamie Lindley
PR: Branden Smith, Damian Swann
KR: Branden Smith, Todd Gurley, Malcolm Mitchell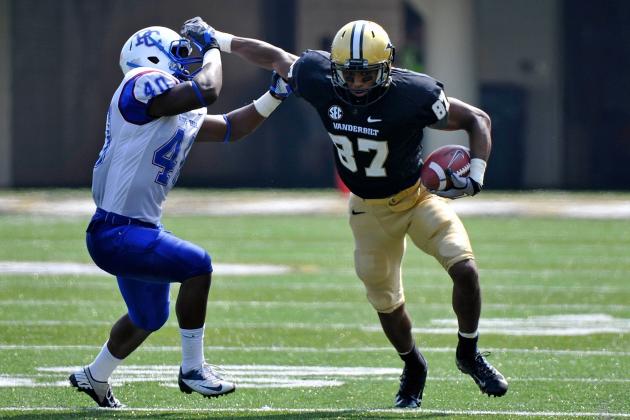 Frederick Breedon/Getty Images

QB: Austyn Carta-Samuels, Jordan Rodgers
TB: Zac Stacy, Wesley Tate
FB: Fitz Lassing, Marc Panu
TE: Steven Scheu, Kris Kentera
WR: Chris Boyd, John Cole
WR: Jordan Matthews, Jacquese Kirk
WR: Jonathan Krause, Josh Grady
OT: Wesley Johnson, Andrew Jelks
OG: Ryan Seymour, Adam Butler
C: Joe Townsend, Spencer Pulley
OG: Josh Jelesky, Jake Bernstein
OT: Andrew Bridges, Chase White
DE: Johnell Thomas, Claeb Azibuke
DT: Rob Lohr, Jared Morse
NT: Vince Taylor, Colt Nichter, Barron Dixon
DE: Walker May, Kyle Woestmann
MLB: Chase Garnham, Kellen Williams
OLB: Archibald Barnes, Darreon Herring
OLB: Karl Butler, Larry Franklin
CB: Andre Hal, Steven Clarke
SS: Eric Samuels, Jahmel McIntosh
FS: Javon Marshall, Andrew Williamson
CB: Trey Wilson, Eddie Foster
PK: Carey Spear, Ryan Fowler
P: Richard Kent, Ryan Fowler
KR: Andre Hall, Brian Kimbrow
PR: Zac Stacy, Jonathan Krause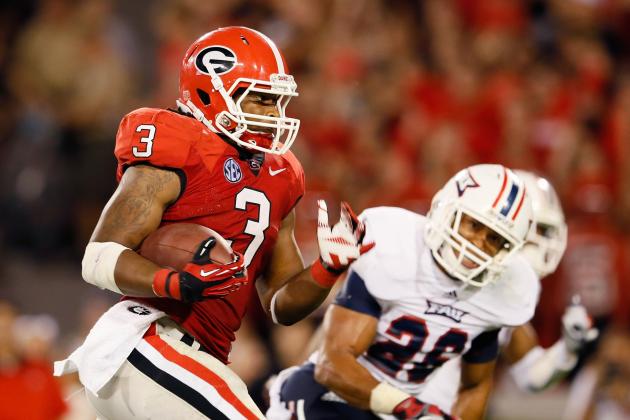 Kevin C. Cox/Getty Images

The Bulldogs started off slow against Florida Atlantic, but they cranked it up in the second half and came away with a 59-20 win.
Aaron Murray had a career game, as he went 14-of-19 for 342 yards (a career high) and two touchdowns. Running backs Todd Gurley and Keith Marshall each rushed for over 100 yards and scored once. Michael Bennett had 110 receiving yards and one touchdown, while Arthur Lynch had 73 receiving yards and a touchdown.
The Bulldogs set a school record for yards with 713 and put up over 40 points for the third consecutive game, which is the first time in school history the Bulldogs have done that to start the season.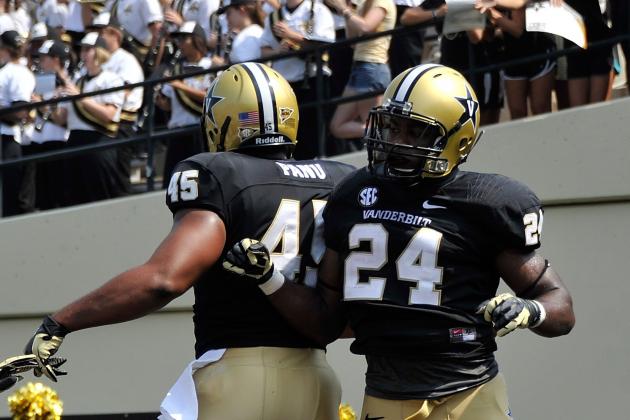 Frederick Breedon/Getty Images

After suffering tough losses to South Carolina and Northwestern, Vandy got its first win of the year as they routed Presbyterian 58-0.
Quarterback Austyn Carta-Samuels made his first start as a Commodore and helped the offense put up 605 total yards. Carta-Samuels finished 13-of-20 passing for 195 yards and one touchdown.
It was the running game that frustrated Presbyterian, as both Zac Stacy and Brian Kimbrow had over 100 rushing yards. Stacy had 174 yards on eight carries, while Kimbrow had 137 yards on 14 carries. Overall, the Commodores rushed for 410 yards, and it's the largest shutout for them since they blanked The Citadel 58-0 in 1999.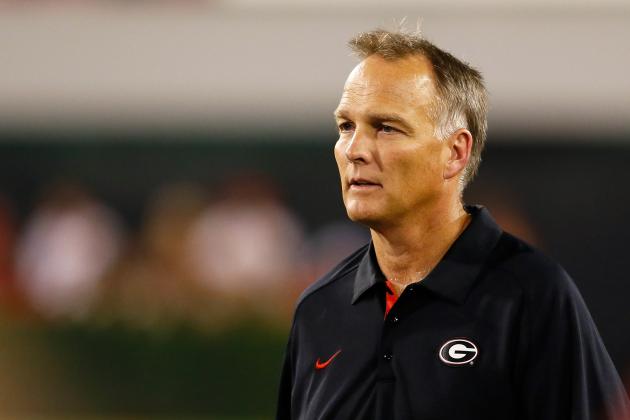 Kevin C. Cox/Getty Images

There's no question this is an important game for both teams, just like any other SEC game. But Vanderbilt needs to win in order to stay in the SEC East race. The Commodores already lost to South Carolina to start the season and can't afford to have another conference loss. They would also love to get revenge on Georgia, who narrowly escaped Vandy's home turf with a win last year.
Georgia, on the other hand, has to win in order to still remain undefeated as well as stay in the Top Five in the AP poll. Many will say that the Bulldogs have not played anybody, and a win on Saturday will prove to the world that they are the real deal despite Vandy's early struggles.
It's a long season, and Georgia will have time to prove it is worthy of being one of the best teams in the country. But it doesn't want to lose to Vanderbilt, and that's a fact.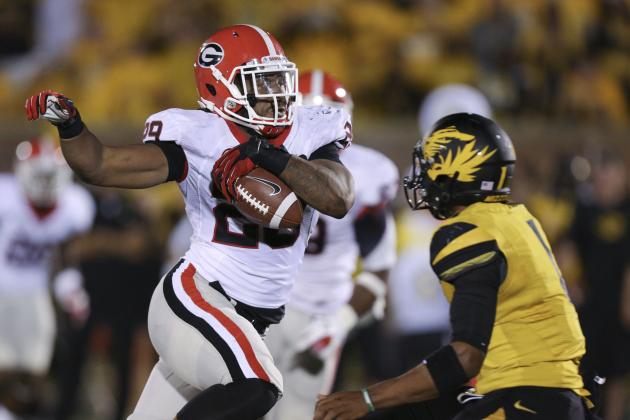 Ed Zurga/Getty Images

Jarvis Jones will be the player to watch, and not because he will be the best player on the field. He did not play in the FAU game last week because he was nursing a groin injury he suffered against Missouri. He was dressed to play, but the coaches decided to bench the All-American.
Georgia head coach Mark Richt says he's hopeful Jones will play. That's a good thing, because it will need a healthy Jones to stop Vandy's running game.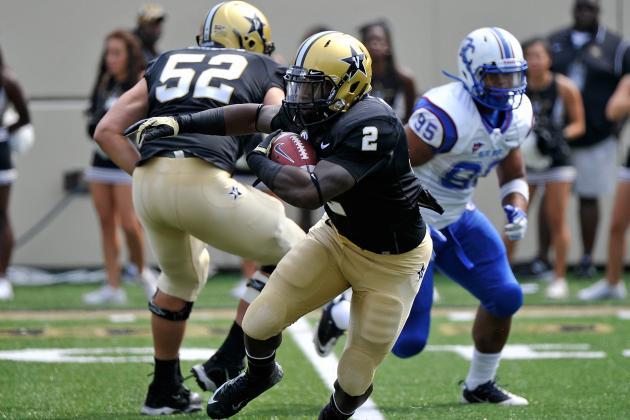 Frederick Breedon/Getty Images

Speaking of the run game for Vanderbilt, Zac Stacy is the Commodores' most dangerous threat. He's coming off a 2011 season where he broke the school rushing record with 1,193 yards. He also broke the team rushing touchdown record with 14 and finished the year as the SEC's third-leading rusher.
He is off to a solid start, as he has rushed for 258 yards on 34 carries with one touchdown. But Stacy would love to have a coming-out party against the Bulldogs in Athens.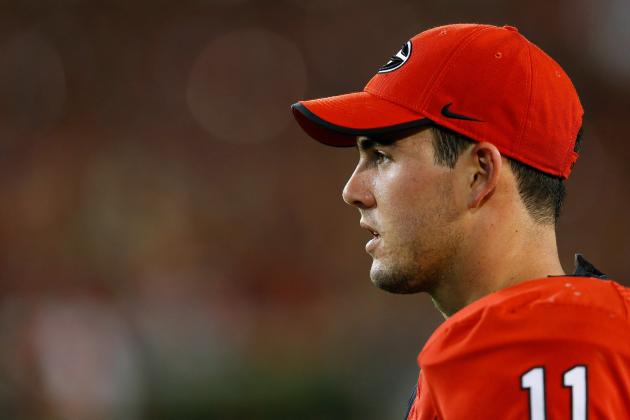 Kevin C. Cox/Getty Images

The Bulldogs will win if they can keep the momentum going on offense as well as tighten some little things on defense.
Running backs Marshall, Gulrey and Ken Malcome will have to get going early, which should lead to some big play opportunities for Murray in the passing game. The Bulldogs are going up against a defense that has given up 40 points their first three games, but this will be the best offense the Commodores have faced so far this season.
On defense, they have to shut down Stacy and make Carta-Samuels make plays with his arm. If they can do that, the Bulldogs should come away with the win.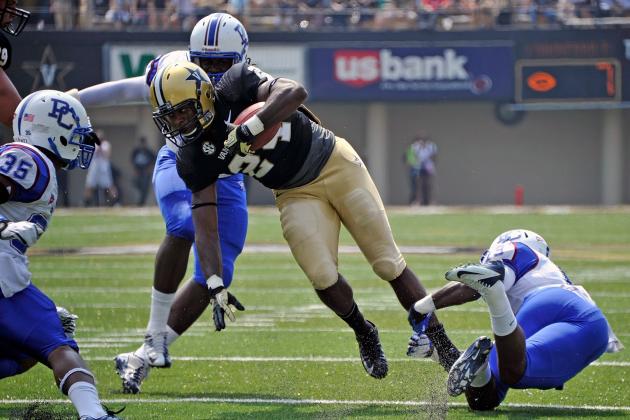 Frederick Breedon/Getty Images

The Commodores will win if they can force the Bulldogs offense to turn the ball over and have Carta-Samuels work a short field.
The Bulldogs can move the ball, but they have a tendency from time to time to have costly turnovers. If that happens on Saturday, Vandy has to capitalize and score touchdowns, not field goals.
They also need to hit the Bulldogs defense with Zac Stacy. Georgia has had its issues stopping the run this year, so this could be a good opportunity for the Commodores to have Stacy play huge role in the offense this week.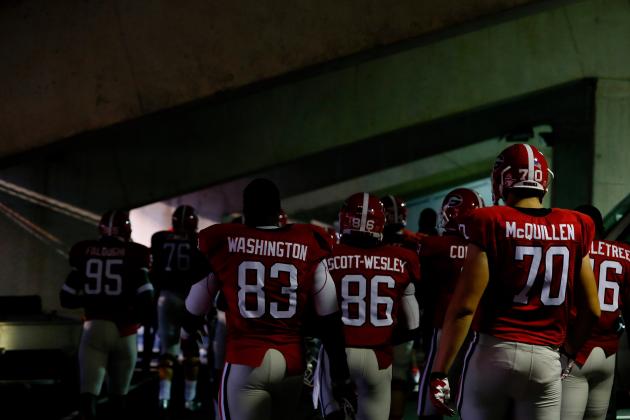 Kevin C. Cox/Getty Images

Vanderbilt is not having a great start to its 2012 season, but a win against Georgia would put them back on track. Also, it will be a little more motivated than usual after what happened when these two teams played against each other last year.
The Commodores have talent on both sides of the ball and will be a legit SEC contender down the road. But Georgia has too much talent and depth for the Commodores, and it is playing at a high level on offense.
Vandy will keep this game competitive, but just like they have in the last three games this season, expect the Bulldogs to pull away at the end of the game and come away with their fourth win of the year.
FINAL SCORE: Georgia 35, Vanderbilt 17