Texas Football: 5 Questions Heading into the Bye Week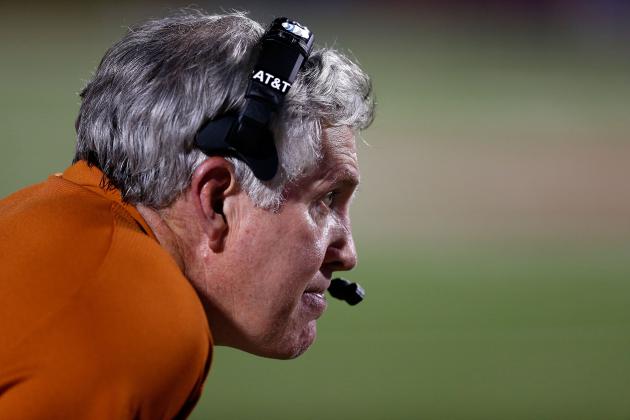 Scott Halleran/Getty Images

The Texas Longhorns are fresh off an explosive 66-31 win over Ole Miss in Oxford, marking the completion of the Horns' first road game of the season and a display that looks to have a very positive influence down the road.
Texas posted over 650 yards of offense in the win, but allowed the Rebels to pick up almost 400 yards by virtue of the big play, something that has plagued the Longhorns over the course of their 3-0 start.
A timely bye week before Texas begins Big 12 play against Oklahoma State is a welcomed reprieve. The Longhorns coaching staff would be wise to revisit the fundamentals in tackling and discipline at least a time or two or three.
And with the toughest four-game stretch of the season, at Oklahoma State, vs. West Virginia, vs. Oklahoma (in Dallas) and vs. Baylor, the Longhorns will want to sharpen up.
So what questions face the Longhorns as they take a week off the schedule?
Begin Slideshow

»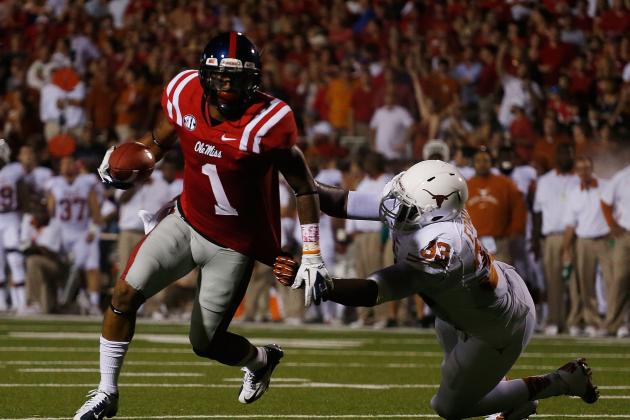 Scott Halleran/Getty Images

It has to.
Simply put, Texas has succumbed to the big play on defense more than a couple of times and often much too easily. The best of the Big 12 offenses will slice through a defense that cannot tackle properly, so it is a part of the game that has to get better, or the Longhorns will struggle.
The good news is that it is something that is entirely fixable and no indicator of lack of quality on the team. The group went through a similar stretch of poor tackling last season, and the defense finished the season on a definite high note.
Additionally, we are seeing some defenders get caught up in bad positioning, which only further inhibits the ability to tackle well. Expect to see a better sharpness in these areas in the next few weeks.
Fortunately, the bye week provides ample time to re-emphasize these fundamentals.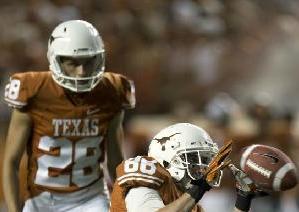 texassports.com
Weekly discussions concerning the Texas kicking game are becoming more prevalent now that freshman Nick Jordan is up to 3-for-7 on his field-goal attempts.
It is no news that Anthony Fera is still on the ropes recovering from his pre-existing groin injury he brought with him from Penn State, and the junior cannot get healthy quickly enough for the Longhorns.
But as easy as it is to say that it has to get better, well, there is no other way around it. It may not make a difference in non-conference play where the stakes are moderate, but in the thick of a Big 12 race that is only in its infant stages, a strong kicking game makes a huge difference (see Justin Tucker around Thanksgiving 2011).
Kevin Jairaj-US PRESSWIRE

Injuries are a part of the game, and the Longhorns lost a big piece to their defense when Jordan Hicks fell to a hip injury.
As the leading tackler, Hicks looked to be turning the corner as a standout performer. The knock will limit him this week, and finding a solid replacement will be a challenge in Manny Diaz's linebacker rotation.
Luckily, Texas has plenty of options, all talented and all equally limited with experience.
The front-runners have to be Kendall Thompson and Tevin Jackson, and with some inconsistencies with Demarco Cobbs and Steve Edmond, there could be more looks for freshman Dalton Santos.
At the end of the day, Hicks' injury is a decent hit to the middle of the Texas defense, and replacing his leadership and productivity is something to be monitored very carefully.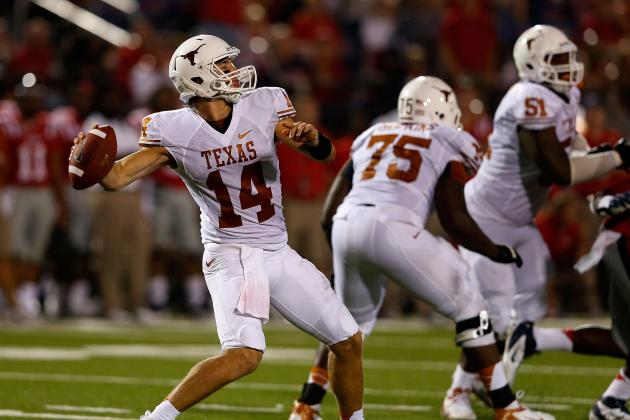 Scott Halleran/Getty Images

David Ash put in a career game against Ole MIss, throwing for 326 yards and four touchdowns on 19-of-23 passing. His cleanliness over the course of the game and his offensive management stood up tall against an Ole Miss defensive that was over-matched.
On multiple occasions, Ash connected with a receiver deep down field to showcase his potential in the vertical game. On a more sour note, several of those throws were underthrown, but either by design or limitation, the Longhorns benefited greatly.
In the coming weeks, we could see Ash take off as a more polished passer. His timing needs to get better and his finishing touch has to improve. We saw baby steps against the Rebels, and the Oklahoma State defense is no charm, but once in the thick of Big 12 play, exceptional throws may be required multiple times per game.
Scott Halleran/Getty Images

Texas has a firm understanding of its strength and weaknesses, as does the rest of the Big 12.
On defense, the Longhorns faced a spread attack in Wyoming and had their bright moments. They also held New Mexico's triple-option offense scoreless. But the Horns appear to be vulnerable to big plays, something that could kill momentum and give away leads too easily.
Not many teams in the Big 12 are battle-tested, so it will take a game or two to see how that may pan out and fully understand the players in the conference, thought most are sure that Kansas is destined for the cellar.
In their three games so far, the Longhorns have been able to create balance on offense and have shown improvement from week to week. Defensively, there are fixable issues that can re-align the group into a showstopper in the conference.
Texas has an extra week to prepare for its game in Stillwater, as does Oklahoma State, and the Longhorns are in good position coming off a critical win from a performance perspective.