The Top 10 Pound-for-Pound Mexican Warriors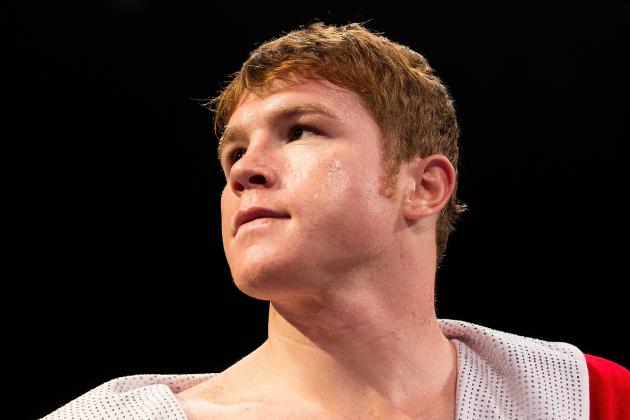 Josh Hedges/Getty Images
Canelo Alvarez hopes to one day crack this list.
Mexico. A nation proud of its fighting tradition and even prouder still of the men it can call warriors in the ring.
Mexican fighters aren't like normal fighters. They are supposed to be willing to go into the ring and leave every shred of themselves in it. To keep punching until the final bell, to accept three punches for every one landed and to do it for love of the game.
This past weekend featured two huge boxing events, on Mexican Independence Day weekend, featuring two men who hope to follow in this proud tradition.
And while Saul "Canelo" Alvarez and Julio Cesar Chavez Jr. are not yet able to be mentioned among their nation's all-time elite, both hope to one day earn the highest praise a Mexican fighter can hope to attain: Warrior.
These 10 men have achieved this honor. They have earned the respect of their fans and their country. They have earned the right to be called warriors. These 10 men are the greatest fighters the proud fighting nation of Mexico has ever produced.
Begin Slideshow

»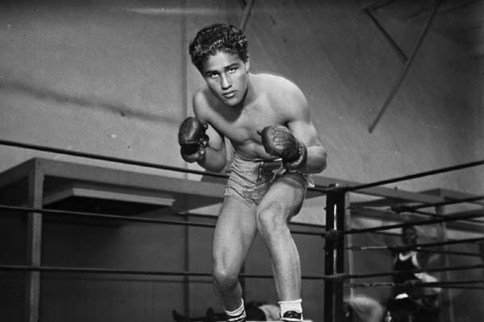 Kid Azteca is usually forgotten in these lists, as he fought most of his career before World War II.
Luis Villanueva Paramo, better known as Kid Azteca, was born in Tepito, one of the toughest neighborhoods in Mexico City. It is unknown when he began his fighting career, though some claim he began fighting as a pro at the age of 13.
Kid Azteca (193-48-12, 2NC 114 KO) fought an astonishing 255 bouts as a professional. In just his third fight he scored a major victory when he defeated former world champion Jose Flores Perez by decision.
Azteca was known as all-action in the ring and fought many of the best fighters of his era in Mexico and Texas. He was a tremendous body-puncher whose liver shot stopped many a fighter.
He fought for an astonishing 29 years in a career that spanned four decades from the 1930s to the 1960s.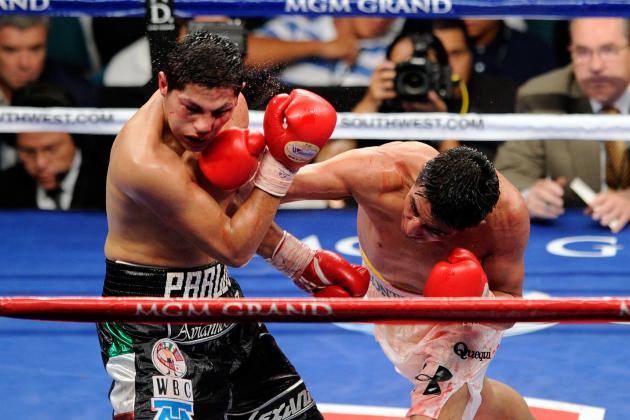 Ethan Miller/Getty Images
El Terrible is the first and only Mexican born fighter to win world titles in four weight classes.
Erik Morales was born in Tijuana, Mexico, the son of a former fighter, and has become the first Mexican fighter to win world titles in four different weight classes.
Morales (52-8 36 KO) won his first world championship at super bantamweight by knocking out International Boxing Hall of Famer Daniel Zaragoza in the 11th round.
El Terrible would go on to win world championships at featherweight, super-featherweight and junior welterweight. He is perhaps best known for his trilogy against fellow Mexican warrior Marco Antonio Barrera.
Although Morales dropped two of the three decisions to Barrera, all of these fights perfectly exemplify what it means to be a Mexican warrior. All-action, put it all on the line and leave everything in the ring.
In his storied career—which will continue next month when he faces Danny Garcia in a rematch for a junior welterweight title—Morales holds victories over 15 world champions including Barrera, Zaragoza and Manny Pacquiao who he defeated by decision in 2005.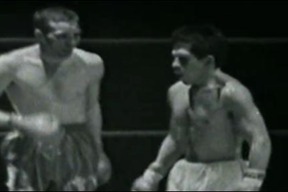 Salvidar (right) is best known for his three fight trilogy with Welsh legend Harry Winstone (left).
Vicente Saldivar was a fearsome body-puncher who was a two-time featherweight champion. He is consistently ranked among the very best to compete at that weight by boxing historians and pundits.
Saldivar (37-3 26 KO) was known for his his activity in the ring, often seeming just as fresh at the end of a fight as at the beginning. He won his first world title in a stunning upset of heavily favored fellow Mexican Ultiminio "Sugar" Ramos in 1964.
He would successfully defend the title eight times over a three-year reign, highlighted by a three-fight trilogy with Welsh legend Harry Winstone. Saldivar would go on to win all three fights before retiring.
He would return from a nearly two-year retirement to regain the featherweight title with a 15-round unanimous decision win over Johnny Famechon in 1970.
Unfortunately cancer claimed Saldivar young in 1985 at the age of 42. He was inducted into the International Boxing Hall of Fame in 1999.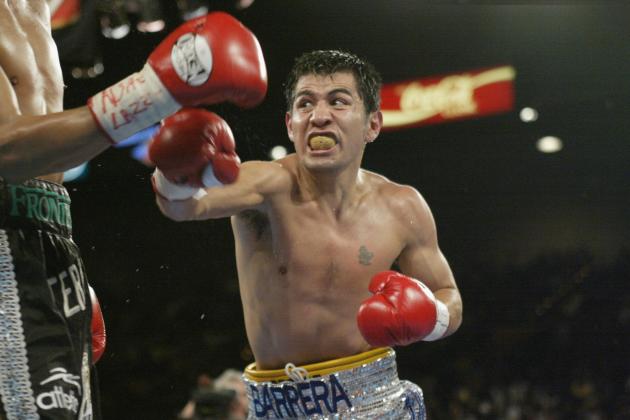 Jed Jacobsohn/Getty Images
Barrera's three wars with fellow countryman Erik Morales define Mexican boxing.
Marco Antonio Barrera, "The Baby Faced Assassin", is a multi-time world champion in three different weight classes who is best known for his trilogy with countryman Erik Morales.
The three fights were all absolute wars, but nothing will ever match the intensity of their first bout, won by Erik Morales via controversial unanimous decision. That first fight was awarded the 2000 Fight of the Year Award by The Ring Magazine.
Barrera (67-7 44 KO) would go on to win the second and third fights by decision to finish with a winning record against his rival. In his illustrious career he would also score victories over Paulie Ayala, Johnny Tapia and Naseem Hamed.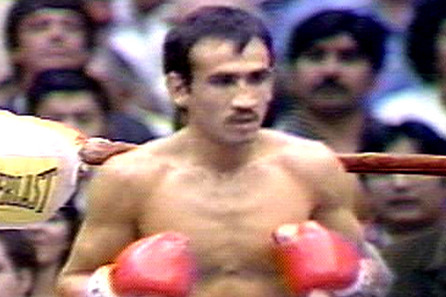 Zarate was voted the best bantamweight of the 20th Century by the Associated Press.
If there is one thing that Carlos Zarate is known for above all others it was his devastating knockout power. He is still to this day the only boxer in history to put together two streaks of 20 or more knockouts in a row.
Zarate (66-4 63 KO) did not like his fights going the distance, as shown by his absurd 63 knockouts in 66 career wins. In 1999 he was voted, along with fellow Mexican warrior Ruben Olivares, as the best bantamweight fighter of the 20th century.
Zarate won his first world title in 1976 by knocking out WBC bantamweight champion Rodolfo Martinez in the eighth round. He would successfully defend the title several times before seeking to unify with WBA champion Alfonso Zamora.
Sanctioning problems between the WBC and WBA forced the bout to be a non-title affair but Zarate still established his dominance with a fourth-round knockout victory.
Carlos Zarate would lose his first bout in 1978 against Puerto Rican legend Wilfredo "Bazooka" Gomez. At the time of the fight both fighters entered the ring with stunning records and knockout percentages.
Gomez (21-0-1 21 KO) defeated Zarate by, you guessed it, knockout. Zarate had entered the fight with a perfect 55-0 record with 54 KO's.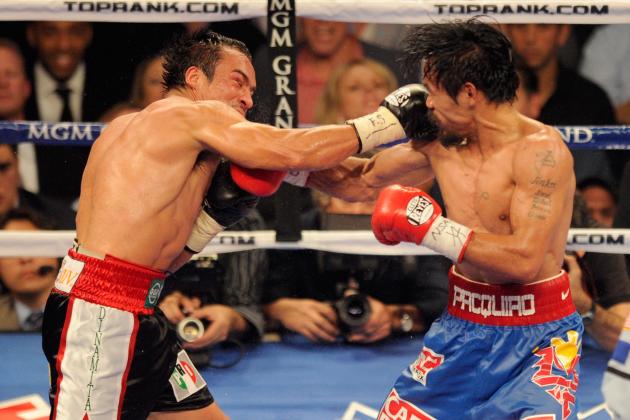 Ethan Miller/Getty Images
You could easily argue that Marquez won any of his three fights with Manny Pacquiao.
Juan Manuel Marquez is one of those fighters who may never get his due credit. He's never been a huge pay-per-view attraction and has quietly held a spot in the top 10 pound-for-pound fighters in the world for most of his career.
Marquez (54-6-1 39 KO), like Erik Morales, is a four-division world champion who has held titles at featherweight, super featherweight, lightweight and junior welterweight. He has been a world champion on seven separate occasions.
Marquez is ranked higher than his contemporaries Marco Antonio Barrera and Erik Morales, partly due to the fact that he defeated Barrera in the ring. But that isn't the only reason. One of those is his ability to continue to compete at an elite level at this stage of his career.
"Dinamita" is also known for his three fights with Manny Pacquiao, who, at the time of their fights, was considered one of the best pound-for-pound fighters in the world, if not the best.
Marquez is 0-2-1 against Pacquiao but could just as easily be 3-0. He will get another chance at his Filipino rival in December when they meet for a fourth time in Las Vegas.
A win over Pacquiao would be the sweetest of his career and a feather in the cap for a man who has already defeated men like Barrera, Joel Casamayor and Juan Diaz in a near 20-year career.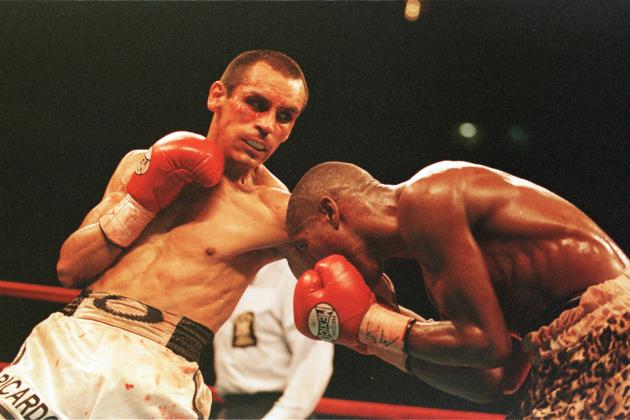 Al Bello/Getty Images
Ricardo "Finito" Lopez is one of only three men to retire as undefeated world champions.
Ricardo "El Finito" Lopez is one of only three men in boxing history to retire as an undefeated world champion. Lopez spent most of his career fighting in the 105-pound strawweight division, which helps explain why he wasn't a bigger star.
Lopez (51-0-1 38 KO) showed great knockout power for a man fighting in the lower weight classes, and successfully defended the WBC strawweight title a record 21 times.
He is best known for his two-fight series with Rosendo Alvarez. Alvarez was one of the few fighters to actually challenge Lopez in the ring, fighting him to a seven-round technical draw and then dropping a narrow split decision in the rematch.
Before moving up in weight, Lopez would add the WBA and WBO strawweight titles to his WBC belt.
After successfully defending his title 21 times, Lopez decided to move up in weight and challenge for a piece of the junior flyweight title. He would win it in his first fight at the weight, defeating Will Grigsby for the IBF title which he would successfully defend twice before retiring.
Lopez retired as an undefeated world champion in 2002 and was inducted into the International Boxing Hall of Fame in 2007.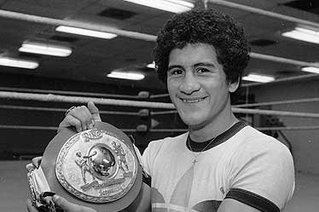 Many believe Sanchez would have been the greatest featherweight of all-time if not for his untimely death.
Unfortunately the story of Salvador Sanchez is an incomplete one.
Few fighters have had such a huge impact in as short a period of time as Sanchez, who many felt would have gone on to be the greatest featherweight fighter in history if not for his tragic death in 1982. Even with his short career, and a promise unfulfilled, Sanchez had a major impact on Mexican boxing.
Like many Mexican fighters, Salvador Sanchez started boxing as a professional at the young age of 16. He would win his first 18 fights before unsuccessfully challenging Mexican bantamweight champion Antonio Becerra.
The fight with Becerra would be the last Sanchez would lose in his career.
Moving up to featherweight, he scored victories over Felix Trinidad Sr., father of Puerto Rican legend Felix Trinidad, and won his first world title by knocking out Danny "Little Red" Lopez in the 13th round of their 1980 bout.
Sanchez would also defeat another notable fighter in Ruben Castillo before once again stopping Lopez in the 14th round of their rematch.
The biggest win of Sanchez' career came in 1981 when he knocked out then-undefeated Puerto Rican superstar Wilfredo Gomez in the eighth round.
His last professional fight would come in July of 1982 against the then-unheralded Azumah Nelson of Ghana. What resulted was an epic war between two men who would both go on to be inducted into the International Boxing Hall of Fame.
Sanchez dropped Nelson in the 7th round and after round after round of violent exchanges, stopped him by TKO in the 15th and final round. It would be his last fight.
Salvador Sanchez was tragically killed in an automobile accident less than a month after his fight with Nelson. A career that had made such a huge impact in a short time, cut short far before its time.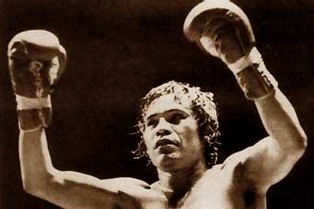 For a long time Ruben Olivares was considered by many to be the best Mexican boxer of all-time.
For a long time, most fans considered Ruben Olivares to be the greatest Mexican fighter of all-time. He is still considered to be one of the best bantamweights to ever step into the ring, if not the best.
Olivares (88-13 77 KO) won world titles in two weight classes, bantamweight and featherweight, and holds notable victories over Bobby Chacon and Jose Luis Ramirez. He also stepped into the ring with Alexis Arguello, and was leading the "Explosive Thin Man" before being stopped in the 13th round.
His popularity in Mexico also went well beyond his success in the boxing ring. He was a national hero and remains popular today having appeared in movies and on television in his post-boxing life. In many eyes, if not for a fighter from Ciudad Obregon, he would still be considered Mexico's greatest fighter.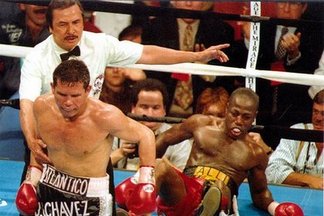 There was none better than Julio Cesar Chavez.
"El Gran Campeon Mexicano." The words are enough to show what his country thinks of Julio Cesar Chavez. Simply put, he is far and away the greatest Mexican fighter of all time, and one of the best to ever set foot inside a boxing ring.
Chavez (107-6-2 86 KO) won six world titles in three weight classes during his illustrious career. He would begin his career with 87 consecutive victories and would not taste defeat until his 91st professional bout.
In 115 professional bouts Chavez would face and defeat 15 world champions.
Known for his devastating power and ability to decimate opponents to the body, Chavez was considered the top pound-for-pound fighter in the world for for several years. He would win world titles at super featherweight, lightweight and junior welterweight.
Chavez won the first of his world titles at super featherweight, by knocking out Mario "Azabache" Martinez in 1984. He would successfully defend the title against notables Ruben Castillo, Roger Mayweather and Juan LaPorte.
Moving up to lightweight, Chavez would challenge and knockout WBA champion Edwin Rosario. Coming into the fight many felt that the Mexican fighter would be overwhelmed by the champion's power. Rosario even threatened to send his challenger back to Mexico in a coffin.
But Chavez turned in what may well still be the performance of his life en route to an 11th-round stoppage victory. At lightweight he also scored victories over Rafael "Bazooka" Limon, and unified the WBC and WBA titles with a technical decision win over Jose Luis Ramirez.
Moving up again in weight, this time to junior welterweight, Chavez again became a world champion by defeating Roger Mayweather for a second time to claim the WBC title.
This would setup a unification fight with IBF champion Meldrick Taylor, and one of the most impressive, controversial moments of Julio's career.
Entering the 12th round, and behind on two of the three judges scorecards, Chavez knew he needed a knockout to win. With literally seconds remaining in the fight Chavez did just that, flooring Taylor, who was up by the count of six.
Taylor, however, was holding on to the ropes and was unresponsive to referee Richard Steele who stopped the fight with less than five seconds remaining. It was one of the most shocking and controversial stoppages in the history of the sport.
In his next notable fight Chavez would add the WBO junior welterweight title to his resume when he defeated then-undefeated Hector "Macho" Camacho by wide unanimous decision. The fight was highly anticipated but failed to live up to the hype as Chavez was dominant.
Chavez would make a record 20 successful defenses of his junior welterweight championship before moving to welterweight and a superfight with Pernell "Sweet Pea" Whitaker in 1993. In a fight that Whitaker appeared to win clearly, a draw was announced to the derision of most in attendance and the boxing media.
Moving back down to defend his junior welterweight title, Chavez would taste defeat for the first time in a professional ring at the hands of Frankie Randall. In the fight, Chavez was dropped to the mat for the first time in his career and had two points deducted for low blows.
Ironically it was the point deductions that would prove the difference on the scorecards as Randall would win a split decision.
Chavez would regain his title with a technical decision after Randall was deducted a point for an accidental headbutt. The point deduction would prove the difference. Chavez would also defeat Randall in a rubber match by unanimous decision in 2004, when both fighters were well past their best.
After defending his title several more times, the world demanded a superfight between Chavez, the Mexican icon, and Oscar de la Hoya, an American-born fighter of Mexican descent who was considered the best pound-for-pound fighter in the sport at the time.
Chavez would fight valiantly in two bouts against the younger Oscar de la Hoya, losing by 4th-round TKO, due to a deep gash over his left eye which he suffered in training, and 8th-round TKO in the rematch. Many felt at the time that Chavez would have been too much for his opponent if the two had met in their primes.
Chavez would also go on to lose his last really meaningful fight, a challenge of Kostya Tszyu, for the junior welterweight title via sixth round TKO.
Julio Cesar Chavez would retire after retiring on his stool in a fight with unknown Grover Wiley in 2005. His son Julio Cesar Chavez Jr. would later avenge this loss by knocking out Wiley in three rounds.
Finally retiring from the ring after the fight with Wiley, Julio Cesar Chavez had amassed an impressive 106 wins and several boxing records. Chavez holds the record for most consecutive successful title defenses with 27, most career championship fights with 37 and most championship fight victories with 31.
Chavez also holds the longest undefeated streak in the history of the sport, having won his first 87 fights and not being defeated for 13 years. He was inducted into the International Boxing Hall of Fame in 2010 and is the greatest warrior the country of Mexico has ever produced.