LSU vs. Auburn: Complete Game Preview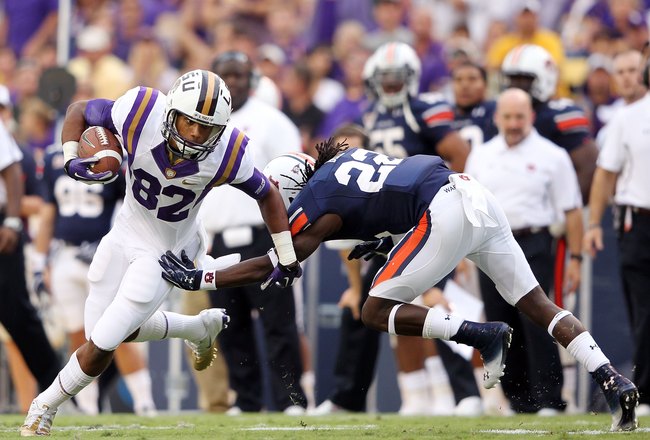 Jamie Squire/Getty Images
How's this for an SEC opener?
LSU will open its conference schedule on Saturday night with a prime-time showdown against Auburn at Jordan Hare-Stadium.
This game will feature the past two SEC champions and should be an exceptional matchup between two, grind-it-out college football teams.
The Tigers have come out of the gate firing on all cylinders this season. Les Miles' club is 3-0 while outscoring their opponents by a combined score of 145-31.
Auburn, on the other hand, has struggled. The Tigers are 1-2 with opening losses to Clemson and Mississippi State. But don't underestimate this team on their home field.
Let's go ahead and preview this early-season SEC showdown...
Bleacher Report Style!
Game Day Information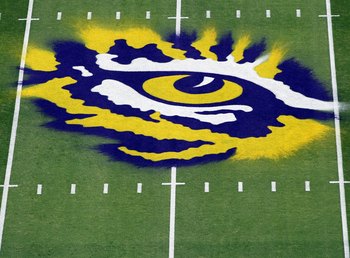 Jamie Squire/Getty Images
Who: LSU vs. Auburn
When: Saturday, Sept. 22, at 7 p.m. (EDT)
Where: Auburn, Ala.
Stadium: Jordan-Hare Stadium
TV: ESPN
Live Stream: WatchESPN
Radio: Eagle 98.1 WDGL (LSU); WKKR 97.7 FM (Auburn)
Betting Line: LSU (-18.5), according to Vegas Insider
Depth Chart for LSU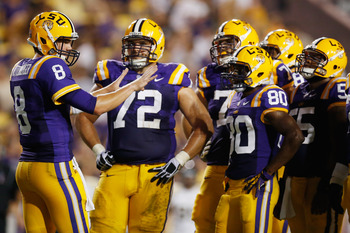 Chris Graythen/Getty Images
Offense
QB 8 Zach Mettenberger
17 Steven Rivers
RB 27 Kenny Hilliard
42 Michael Ford
FB 44 J.C. Copeland
43 Connor Neighbors
X 82 James Wright
86 Kadron Boone
Z 3 Odell Beckham Jr.
10 Russell Shepard
3-Wide 80 Jarvis Landry
LT 68 Josh Dworaczyk
RT 72 Alex Hurst
LG 70 La'el Collins
RG 74 Josh Williford
C P.J. Lonergan
Defense
LE 49 Barkevious Mingo
LT 77 Josh Downs
RT 18 Bennie Logan
90 Anthony Johnson
RE 99 Sam Montgomery
LB 52 Luke Muncie
LB 46 Kevin Minter
LB 57 Lamin Barrow
CB 32 Jalen Collins
28 Jalen Mills
CB 24 Tharold Simon
FS 1 Eric Reid
SS 6 Craig Loston -or- 26 Ronald Martin
Depth Chart for Auburn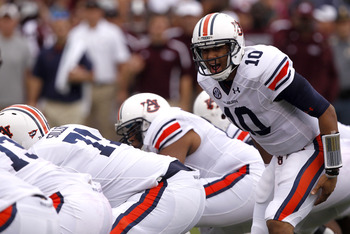 Butch Dill/Getty Images
Offense
Quarterback:
Kiehl Frazier, 6'2", 226, So.
Clint Moseley, 6'4", 229, Jr.
Running Back:
Onterio McCalebb 5'11", 173, Sr.
Tre Mason, 5'10", 198, So. or Mike Blakely, 5'9", 206, RFr.
Fullback:
Jay Prosch, 6'0", 260, Jr.
Blake Burgess, 6'3", 249, Jr.
Tight End:
Philip Lutzenkirchen, 6'5", 255, Sr.
Brandon Fulse, 6'4", 249, So. or C.J. Uzomah, 6'4", 250, So.
Wide Receiver:
Emory Blake, 6'2", 193, Sr.
Sammie Coates, 6'2", 200, RFr.
Ricardo Louis, 6'2", 210, Fr.
Wide Receiver:
Trovon Reed, 6'0", 190, So. or Travante Stallworth, 5'9", 191, Sr.
Wide Receiver:
Quan Bray, 5'10", 185, So.
Jaylon Denson, 6'3", 211, So.
Left Tackle:
Greg Robinson, 6'5", 311, RFr.
Shon Coleman, 6'6", 302, So.
Left Guard:
John Sullen, 6'5", 313, Sr.
Alex Kozan, 6'4", 294, RFr.
Center:
Tunde Fariyike, 6'2", 301, So.
John Sullen, 6'5", 313, Sr.
Right Guard:
Chad Slade, 6'5", 301, So.
Christian Westerman, 6'4", 298, So.
Right Tackle:
Avery Young, 6'6", 295, Fr.
Patrick Miller, 6'7", 288, Fr.
Defense
Defensive End:
Corey Lemonier, 6'4", 246, Jr.
LaDarius Owens, 6'2", 260, So.
Defensive Tackle:
Jeff Whitaker, 6'4", 307, Jr.
Gabe Wright, 6'3", 299, So.
Tyler Nero, 6'2", 277, Fr.
Defensive Tackle:
Angelo Blackson, 6'4", 308, So.
Kenneth Carter, 6'4", 289, Jr.
Devaunte Sigler, 6'4", 291, So.
Defensive End:
Dee Ford, 6'2", 246, Jr.
Craig Sanders, 6'4", 257, Jr.
Nosa Eguae, 6'3", 268, Jr.
Linebacker:
Daren Bates, 5'11", 215, Sr.
Kris Frost, 6'2", 233, RFr.
Linebacker:
Jake Holland, 6'1", 241, Jr.
Ashton Richardson, 6'1", 218, Sr.
Linebacker:
Jonathan Evans, 5'11", 231, Sr.
Justin Garrett, 6'1", 215, So.
Cornerback:
Chris Davis, 5'11", 200, Jr.
Jonathon Mincy, 5'10", 190, So.
Safety: Jermaine Whitehead, 5'11", 202, So.
Demetruce McNeal, 6'2", 187, Jr.
Safety:
Ryan Smith, 6'2", 204, Jr.
Trent Fisher, 6'1", 200, So.
Cornerback:
Ryan White, 5'11", 198, Jr.
T'Sharvan Bell, 6'0", 190, Sr.
*Depth Chart compliments of Scout.com
What Happend to the Tigers Last Week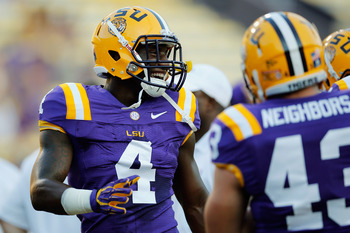 Chris Graythen/Getty Images
LSU easily cruised to a 63-14 blowout win over Idaho on Saturday night.
The Tigers used a dominant defensive performance to jump out to an early lead and just went on cruise control from there, scoring 35 unanswered points in the second half.
Sophomore Ronald Martin, who was filing in for the injured Craig Loston, recorded two interceptions in his first career start and returned one of them for a 45-yard touchdown.
The rushing attack was dominant as always, running for a combined 250 yards and five touchdowns in the blowout win.
The victory pushed the Tigers up to No. 2 in the national rankings.
What Happend to Auburn Last Week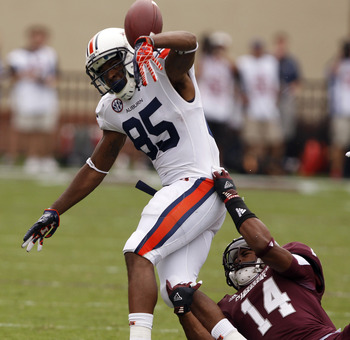 Butch Dill/Getty Images
Auburn got all they could handle last week as the Tigers escaped a near-upset with a 31-28 OT win over Louisiana-Monroe.
Auburn's kicker, Cody Parkey, hit a 35-yard field goal in overtime to win it and give the Tigers their first victory of the young season.
Onterio McCalebb was the star in this game, yet again, for Auburn. He rushed for 128 yards and a 27-yard touchdown on 11 carries for the Tigers.
Sophomore quarterback Kiehl Frazier was rather average in this one, completing just 10 passes for 130 yards and a touchdown, in addition to throwing an interception.
The Tigers will need a lot more production from him if they expect to compete with LSU on Saturday.
What It Means to Both Teams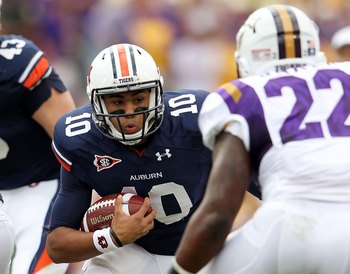 Jamie Squire/Getty Images
For LSU, this is the first game of the season where the Tigers' anticipate really being tested.
Obviously, Auburn has struggled to start this 2012 campaign, but they get LSU on their home field in Les Miles' team's first SEC game of the season.
After USC's loss to Stanford this past weekend, LSU got the boost up to No. 2, which means that yet again, Alabama and LSU are the top two ranked teams in the nation.
If the Tigers want to maintain that position and continue to impress as a dominant force in both the SEC and throughout the nation, then they need to control this game from start to finish.
For Auburn, this is a chance to rebound after a poor start, and pulling off a upset in this SEC showdown would give the Tigers a ton of respect heading into the heart of the SEC showdown.
This should be a classic showdown between two run-first, defensive-minded football teams.
Key Player for LSU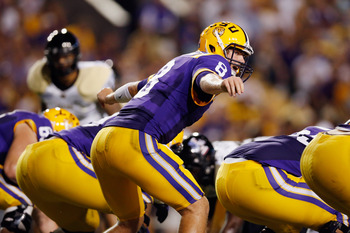 Chris Graythen/Getty Images
It's tough not to sound generic here with this pick, but the key player for LSU in this game has to be quarterback Zach Mettenberger.
The first-year starting QB has been cruising in his first three games as a starter, but those have come against rather easy competition.
This will be Mettenberger's first true challenge of the season, an SEC opener against Auburn on the road.
Les Miles and the LSU fanbase will get a chance to see what their quarterback is made of and how he is able to deliver in a big road game against a solid SEC opponent.
If Mettenberger can manage the game, make smart decisions and hit his reads, then LSU should come out of Auburn with a win.
If not, it could be a long day for the Tigers and their first-year signal-caller.
Key Player for Auburn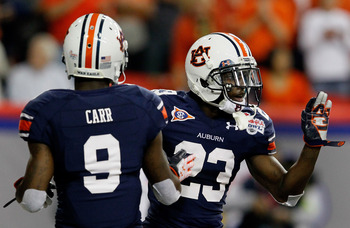 Kevin C. Cox/Getty Images
Auburn goes as Onterio McCalebb goes, and it's as simple as that.
After losing stud running back Michael Dyer last year, McCalebb stepped in and has been one of the most productive running backs in the nation ever since.
Through three games this year, McCalebb has rushed for 214 yards and a touchdown.
He only carried the ball eight times for four yards against Mississippi State in Week 2, and sure enough, that resulted in a loss for the Tigers.
McCalebb's best game came last week against Louisiana-Monroe where he ran for 128 yards and a touchdown, and yes, of course, that resulted in a victory for Auburn.
If LSU can contain McCalebb and his elite speed, they should feel good about their chances in this football game.
LSU Will Win If....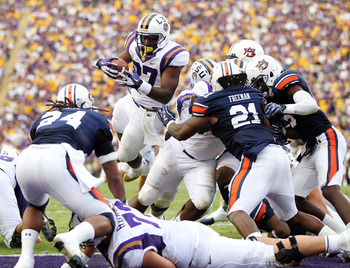 Jamie Squire/Getty Images
LSU will win this football game if they stick to what they do best.
So, you ask, what does that consist of?
That consists of playing mistake-free football.
LSU needs to establish the run game on the offensive side of the football, stop the run and create pressure on the quarterback on the defensive side of the ball.
Alfred Blue is out with an injury, so it will be up to Kenny Hilliard and Co. to continue to lead this offense on the ground.
If the Tigers can do that and contain Onterio McCalebb, they should leave Jordan-Hare Stadium with another victory under their belt.
It's really as simple as that.
Auburn Will Win If...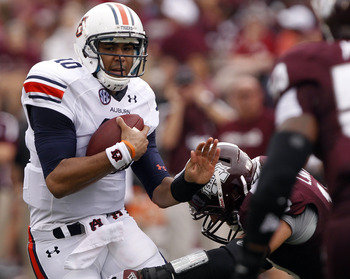 Butch Dill/Getty Images
Auburn will win if they can find a way to run on this LSU defense.
If fact, that's the only way that Auburn can win this football game.
Onterio McCalebb is one of the top playmakers in the nation, and Auburn will need a monster game from him if they are going to hang with the No. 2 team in the country.
The Tigers aren't going to be able to stop LSU's rushing attack, but if they can contain it to say less than 150 total yards and get 150-or-more yards from their top back, McCalebb, then Auburn has a shot in this one.
The home- field crowd will help, but they need a lot more than that to top the No.2-ranked Tigers.
Prediction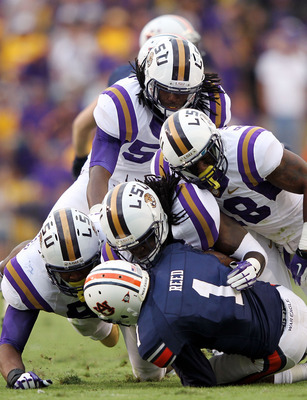 Jamie Squire/Getty Images
When I first saw this game on LSU's schedule, I figured this would be a tough game for the Tigers to win.
An SEC opener, on the road, against a good Auburn team, in a matchup of the past two conference champions.
But then again, I did not expect Auburn to start off the season 1-2 heading into this matchup.
If anything, LSU has been even better then expected, and Auburn has not been quite as good.
LSU will use that dominant defense to disrupt Kiehl Frazier and this Auburn offense. Look for Frazier to get flustered with LSU's effective pass rush and turn the ball off at least twice in this contest.
The sign of a great football team is one who can capitalize on other team's mistakes, and LSU will do just that in this one.
I could see this game remaining close throughout the first half, but the Tigers will pull away in the second.
Make it: LSU 38, Auburn 10
Keep Reading

LSU Football: Like this team?