10 Young PG Prospects Who Could Be the Next Jeremy Lin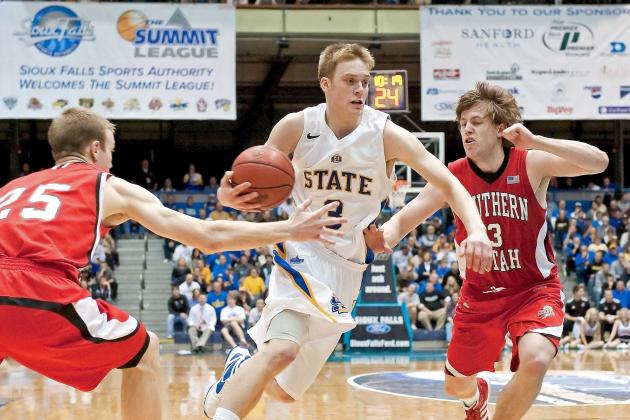 Greg Smith-US PRESSWIRE
If you haven't watched Nate Wolters play yet, then you're missing out.
Now that Jeremy Lin has gone from potential journeyman to marketing gold and a starting spot with the Houston Rockets, the latest craze is searching for the next Lin. Okay, I'll bite.
Undrafted free agents don't turn into stars every day, so there's a solid chance that none of these 10 players ever make it at the NBA level. That said, if there's a next Lin in the near future, it will be one of these guys.
To qualify, a player must meet a number of criteria.
1. He must have gone undrafted in the 2012 NBA draft or be set to go undrafted in one of the next two drafts. This disqualifies Isaiah Canaan, C.J. McCollum, Ray McCallum and the other small-school players who are all but guaranteed to be taken as one of the 60 picks.
2. He can't have played for a big-name basketball school. Duke, North Carolina, Syracuse, Michigan State, Kentucky and the other schools known to produce NBA players are all out.
3. He must play point guard.
These aren't the guys who most closely emulate Lin's playing style, but rather the ones who could follow his career path.
Let's meet 'em.
Begin Slideshow

»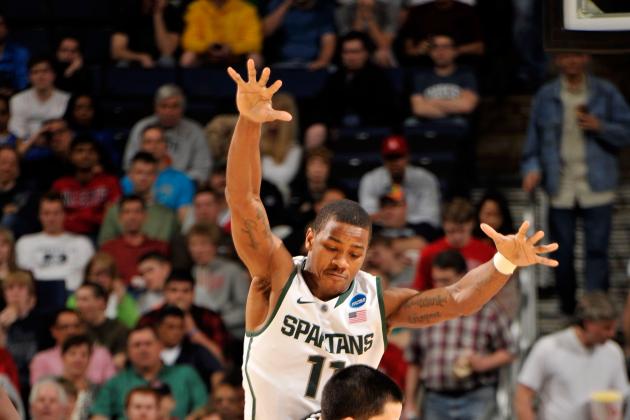 Jamie Sabau/Getty Images
Don't worry, Jason Brickman isn't THIS short.
Age: 20
College: Long Island
Status: Junior
2011-12 Per-Game Stats: 9.6 points, 7.3 assists, 2.6 rebounds, 0.0 blocks, 0.9 steals
Vitals: 5'10", 165 pounds
Jason Brickman doesn't say much with his mouth, but his play does a lot of talking as he overcomes his 5'10" frame to provide the offensive spark for Long Island.
LIU scored 81.9 points per game during the 2011-12 college basketball season, more than all but just two teams in the college basketball world. A lot of the credit goes to the nation's fifth-leading assist man.
Brickman runs the fast-paced Longbirds offense to perfection, finding his teammates whenever the opportunity arises. Don't look at his 9.6 points per game as an indictment of his scoring abilities though. The junior floor general is an efficient shooter from downtown and can light up the scoreboard in brief spurts when necessary.
Although he struggled against Michigan State as his No. 16 seed attempted to buck a seemingly irreversible historical trend, Brickman has the game necessary to thrive when playing with the big boys.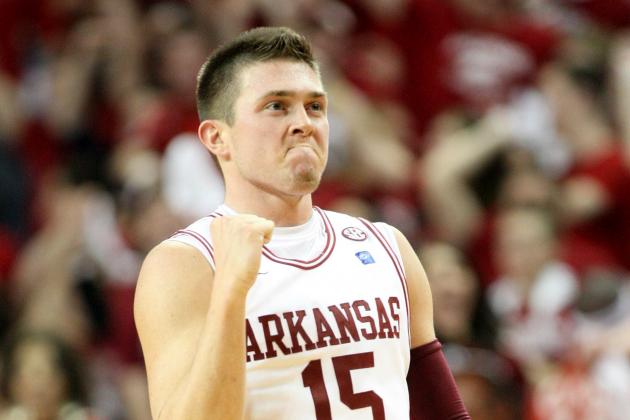 Nelson Chenault-US PRESSWIRE
Rotnei Clark will be putting on a new jersey for his senior season.
Age: 23
College: Butler
Status: Senior
2010-11 Per-Game Stats: 15.2 points, 1.6 assists, 3.0 rebounds, 0.0 blocks, 0.8 steals (for Arkansas)
Vitals: 6'0", 190 pounds
After a prolonged struggle to transfer from Arkansas to Butler, Rotnei Clarke is set to score points in bunches following the required full year on the sideline. Clarke finished his career with the Razorbacks in fine form, breaking the 20-point barrier in five of his eight contests to finish the 2010-11 season.
Brad Stevens won't mind letting this diminutive point guard continue to fire away from all areas of the court as the Bulldogs look to re-establish themselves as a premier mid-major.
Remember, this is a guy who once hit 13 three-pointers in a single game against Alcorn State, setting an Arkansas and SEC record. Even more impressively, he did so on only 17 attempts. Butler struggled to shoot triples efficiently during the 2011-12 campaign, but they'll have a new threat from the outside to play with now.
Clarke won't be in the national spotlight as much now that he's out of the SEC, but he'll have a chance to establish himself as one of college basketball's elite shooters while working on his passing skills.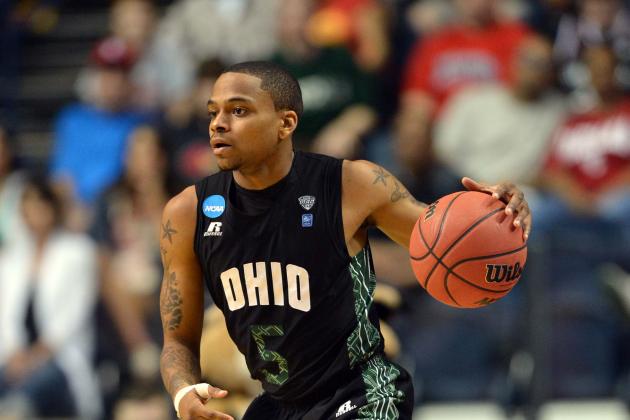 Don McPeak-US PRESSWIRE
D.J. Cooper made a name for himself in March Madness.
Age: 21
College: Ohio
Status: Senior
2011-12 Per-Game Stats: 14.7 points, 5.7 assists, 3.7 rebounds, 0.1 blocks, 2.3 steals
Vitals: 5'11", 165 pounds
D.J. Cooper really needs to work on his shooting percentages after making field goals at a 34.8-percent clip during his junior season. It was his third season in a row under 40 percent.
Cooper's inefficiency stems from the role he plays on the Ohio Bobcats. Cooper is the offense, and he's forced into quite a few shots that he wouldn't otherwise loft up.
Once asked to transfer to Tennessee or Baylor, Cooper stayed put with Ohio and has become a true leader on the team. He was one of the most sensational players in March Madness during the first two rounds, averaging 20 points and six assists per contest in upset victories against Michigan and South Florida.
Cooper fell back to earth against North Carolina, making only three of his 20 attempts in the overtime loss, but he still made an indelible impression during the tournament.
Expect Cooper to labor away in obscurity during his senior season, tantalizing the relatively few scouts who check him out with his dual-threat nature.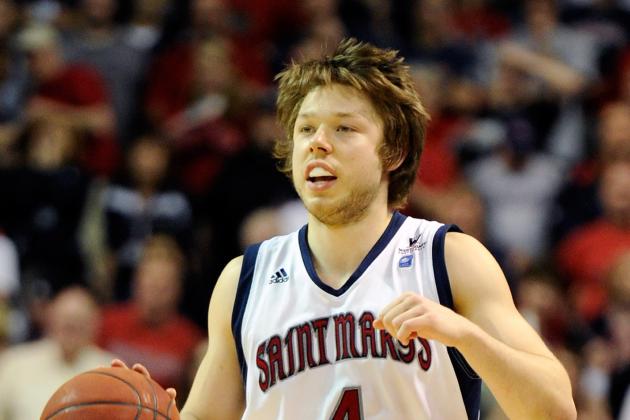 Ethan Miller/Getty Images
How many college students can say they have Olympic basketball experience?
Age: 22
College: Saint Mary's
Status: Senior
2011-12 Per-Game Stats: 15.5 points, 6.4 assists, 3.3 rebounds, 0.1 blocks, 0.8 steals
Vitals: 6'4", 190 pounds
The floppy-haired leader of the Saint Mary's Gaels might only be 22 years old, but he's not lacking in experience as he goes into his senior season on the west coast.
Matthew Dellavedova has established himself as one of the best players in the WCC with his play over the last few years, but it's his summer performance for Australia at the London Olympics that truly stands out.
After leading the Boomers in assists with 27 over the course of six games, Dellavedova now has even more confidence going into his final season in red, white and blue. Although he's not particularly big or athletic, Dellavedova uses his trademark aggressiveness to perform at a high level.
The Australian is a sensational shooter from the perimeter and has top-notch court vision. His scoring and assist totals have risen each and every year with the Gaels, and he'll look to average around 18 points and eight assists per game as a senior.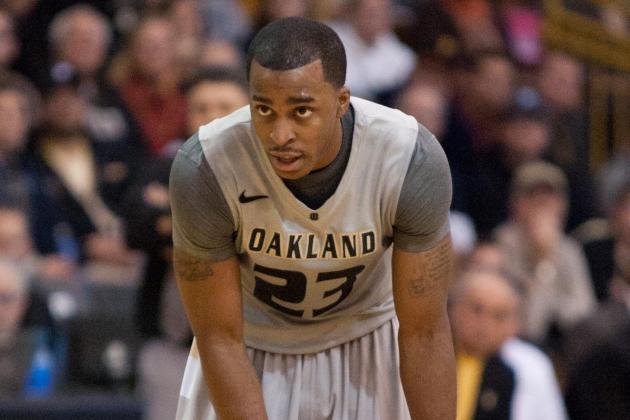 Tim Fuller-US PRESSWIRE
Reggie Hamilton will bring his phenomenal scoring talents to Italy.
Age: 23
College: Oakland
Status: First-year player for Victoria Liberas Pesaro
2011-12 Per-Game Stats: 26.2 points, 5.1 assists, 3.8 rebounds, 0.1 blocks, 2.0 steals
Vitals: 5'11", 175 pounds
Much like Jeremy Lin, Reggie Hamilton must have the ball in his hands to be successful. He had no shortage of opportunities while playing for Oakland, which helped contribute to his 26.2 points per game during his senior season.
Hamilton might not be as tall as the typical NBA floor general, but he can shoot better than quite a few of them.
During his final year with the Golden Grizzlies, Hamilton took 7.8 three-pointers per game and made an astounding 42 percent of them. For a player as involved from downtown as this point guard was, that's a sensational percentage.
Improving his passing skills—most notably keeping his head up while driving to the basket—while playing overseas in Italy will get him a few looks from NBA teams in the future.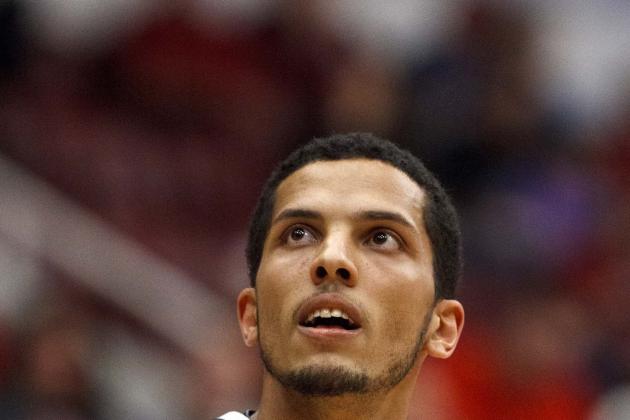 Jason O. Watson-US PRESSWIRE
Devoe Joseph hasn't made it to the NBA yet, but he will.
Age: 23
College: Oregon
Status: First-year player for BC Khimik
2011-12 Per-Game Stats: 16.7 points, 3.3 assists, 3.8 rebounds, 0.1 blocks, 1.4 steals
Vitals: 6'4", 180 pounds
Devoe Joseph is flying so far under the radar right now that I had to turn to his official Twitter feed to figure out where he's going to be playing next season. According to his biography, Joseph will be heading to BC Khimik, a Ukranian team.
The combo-guard emerged as a leader during his one and only season with the Oregon Ducks. After transferring from Minnesota, Joseph played the best basketball of his life, shooting a career-high 47.3 percent from the field. He also upped his three-point and free-throw percentages.
It was enough for Joseph to latch on with the Toronto Raptors during Summer League, and he excelled there as well. He shot over 50 percent on two-pointers and three-pointers, plus 83.3 percent from the charity stripe, leading to rave reviews.
Joseph couldn't make a Raptors squad that was loaded with guards already, but he showed off enough in limited action that he could work his way onto a roster after he tires of Ukraine.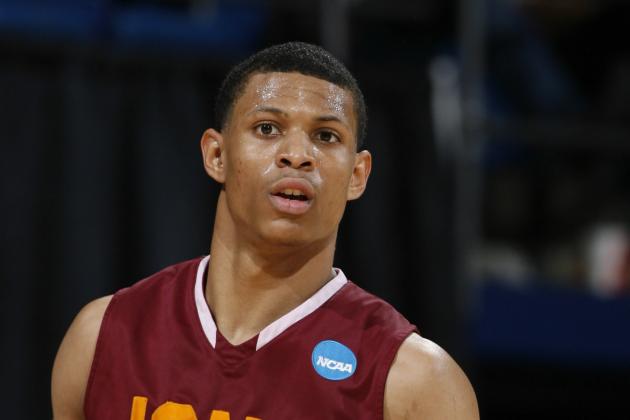 Brian Spurlock-US PRESSWIRE
Scott Machado is the only one of these 10 who is already on an NBA roster.
Age: 22
College: Iona
Status: First-year player for Houston Rockets
2011-12 Per-Game Stats: 13.6 points, 9.9 assists, 4.9 rebounds, 0.2 blocks, 1.6 steals
Vitals: 6'1", 190 pounds
Scott Machado is now buried on the depth chart for the Houston Rockets, stuck behind (ironically enough) Jeremy Lin, Toney Douglas and Shaun Livingston after going undrafted in the 2012 NBA draft.
Machado was one of the two best passers in all of college basketball during the 2011-12 season, averaging 9.9 assists per game to put himself in the same category as Kendall Marshall. This number was partially aided by the Iona Gael's tendency to play at a breakneck speed and make everything into a transition opportunity.
The talented 22-year-old has trouble driving to his right, and he isn't explosive enough to finish at the rim when the play demands it, but he's unbelievably solid in so many other areas. Machado might struggle on defense after running a ton of different sets with the Gaels, but he has the physical tools to become a capable man-to-man defender down the road.
Going into the draft, I was convinced that Machado would become the second-best point guard from the draft class, trailing only Damian Lillard. Even though he has yet to establish himself on the Rockets depth chart, I'm not ready to budge too far from that opinion.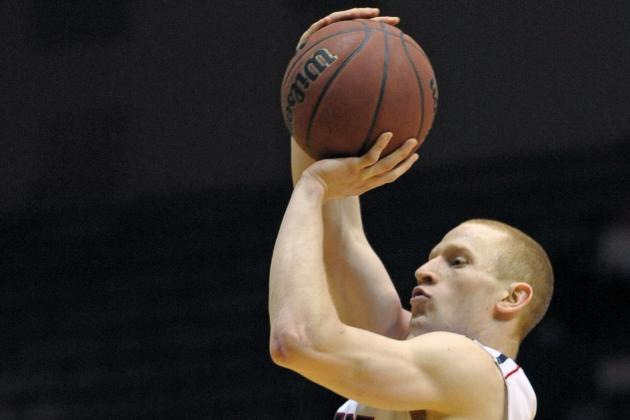 Eric Hartline-US PRESSWIRE
Zack Rosen's Ivy League pedigree helps him here.
Age: 23
College: Pennsylvania
Status: First-year player for Hapoel Holon
2011-12 Per-Game Stats: 18.2 points, 5.2 assists, 3.2 rebounds, 0.1 blocks, 1.4 steals
Vitals: 6'1", 175 pounds
If any player fits the Jeremy Lin mold, it would be Zack Rosen. That's not to say that he's the best player on this list—he's not—but rather that his story has the most similarities.
Rosen played four years for Pennsylvania, an Ivy League school just like Lin's alma mater, went undrafted and has been overlooked throughout his career, despite leading his team to a good bit of success.
The 6'1" floor general is a very self-aware player, capable of recognizing his strengths and weakness and then playing to them. Rosen is fantastic when it comes to creating his own shots and rarely hesitates to do so.
He also rarely forces the issue, involving his less-talented teammates with passes that fit perfectly into the open lanes.
Rosen will be spending his first professional season in Israel, playing for Hapoel Holon until his contract expires in May. Don't think you've seen him for the last time, assuming you saw him at all while he was leading the Penn squad.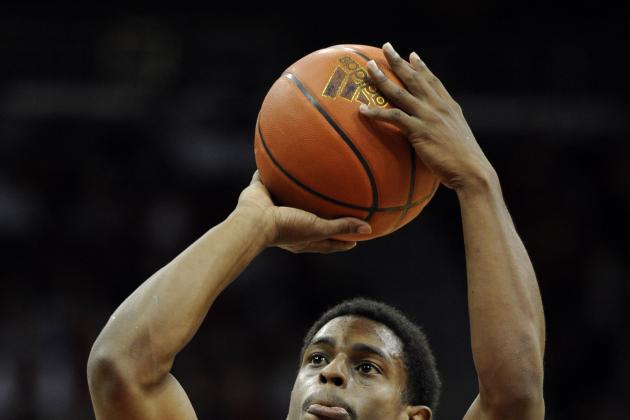 Jamie Rhodes-US PRESSWIRE
If only Casper Ware was taller than I am...
Age: 21
College: Long Beach State
Status: First-year player for Novipiu Casale
2011-12 Per-Game Stats: 17.4 points, 2.4 rebounds, 0.1 blocks, 1.4 steals
Vitals: 5'10", 175 pounds
If Casper Ware was about 6'2", we probably would have been getting excited about his rookie season in the NBA after he was picked in the lottery. Instead, we're going to have to wait for the Long Beach State alumnus to make his NBA debut as he spends some time in Italy with Novipiu Casale.
Ware is insanely quick and nimble, capable of going coast-to-coast or past a defender in the blink of an eye. Well, maybe two blinks of an eye. I don't want to exaggerate too much.
With a fantastic mid-range game and a deep jumper with range extending well beyond the NBA three-point line, Ware is an offensive dynamo.
He isn't a one-trick pony though as his quick feet and even quicker hands allow him to overcome his 5'10" frame and shut down bigger players on the perimeter.
Athletic enough to throw down in the open court, Ware has all the tools you could ask for in an NBA stud. The only problem is that the tools were trimmed down about four inches too short.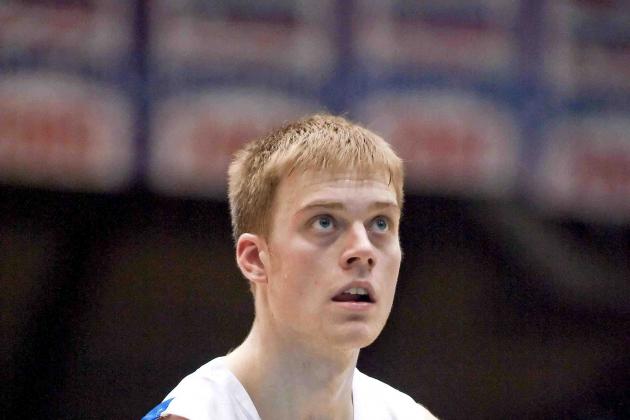 Greg Smith-US PRESSWIRE
Nate Wolters is one of the best offensive players in the country.
Age: 21
College: South Dakota State
Status: Senior
2011-12 Per-Game Stats: 21.2 points, 5.9 assists, 5.1 rebounds, 0.1 blocks, 1.7 steals
Vitals: 6'4", 190 pounds
There are certain players who immediately stand out when you see them play live. When I got to watch Nate Wolters play in person, I was blown away before warm-ups ended.
Admittedly, it's easier to stand out when the Georgia Bulldogs and San Diego State Jackrabbits are the two teams on the hardcourt, but the sentiment still stands. The way he glided around the court was a great indicator of the smoothness with which he played when the clock was actually ticking.
I remember sitting in the front row well before the game started and keeping my eyes trained on Wolters the entire time. A friend of mine walked in and immediately asked me who No. 3 was.
Wolters just inspires that type of reaction when you watch him play, with his ability to contribute in all facets of the game and look like he hasn't even broken a sweat. I was this impressed, and he only had 15 points, seven rebounds and four assists on 6-of-16 shooting from the field.
If you have a chance to watch the Jackrabbits during the 2012-13 season, make sure you do it.