Requiem for a Heel: Untold Stories of Billy Firehawk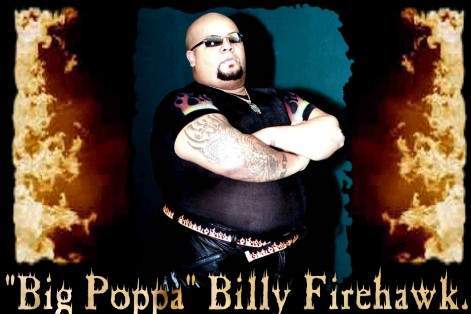 William Hawkins aka Hawk, The Black Sultan, and Billy Firehawk
The Red Falcon had been battered from pillar to post. The evil Black Sultan pummeled him with clotheslines, body slams, vicious chops and had thrown salt in Falcon's eyes. But now, the Sultan was down, and the Falcon had climbed to a precarious perch on the top rope. Seizing his chance, the Red Falcon flew and crushed the Sultan with an elbow drop for the three count!
It all started with G.I. Joe action figures. It was the late '90s in New York City. An avowed nerd and, at the time, an avid toy collector, I was on the hunt for new stuff. In Forbidden Planet, I was selecting Joe figures when a voice behind me asked how big my collection was and would I be interested in buying his? This is how I met Bill "Hawk" Hawkins.
Soon, numbers were exchanged, a list was made and a price was agreed upon. I met Hawk in Scruffy Duffy's in Hell's Kitchen to buy some Joes from him. Coolest toy buy ever. Chatting over a beer, Hawk told me he was a pro wrestler. I was excited to hear this, as I was a huge fan at the time. I eagerly pressed him for stories of his career.
Begin Slideshow

»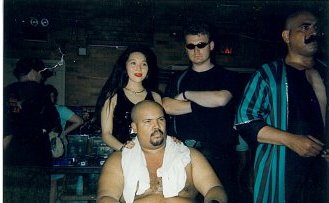 Miss Asia, Bill "Black Sultan" Hawkins, The Author, & The Iron Sheik
We struck up a friendship, and began hanging out. Hawk was a genial man despite his imposing size and got along with my friends as well. He loved comic books and video games and especially loved wrestling.
These were the early days of Hawk's career, and his gimmick at the time was as a heel, Hakim The Black Sultan. This was during the era of WWF vs. WCW, Raw vs. Nitro, Degeneration X vs. the NWO. The Wolfpac had just made their debut and "WWF War Zone" and "WCW/NWO Revenge" were the games played on the N64. Good times.
One day, Hawk wanted to know if I would appear in a show with him. He was scheduled for a street fight match that would have rounds, boxing style. He wanted a bodyguard in his corner, and asked would I be interested in doing it? Yes. Yes, I would. I did my best to look like a tough guy, dressed all in black and met Hawk at the venue.
It was my first look at the world of pro wrestling. I got to be backstage and met quite a few classic wrestlers. The Bushwhackers were there, so was the Iron Sheik, Johnny V., Typhoon and quite a few more. Everybody was really nice to the new kid and posed for pictures. Hawk was in his element, and was on good professional terms with the bigger names.
Hawk was cool enough to invite me along on a couple more of his appearances and had no issues if I wanted to bring a friend or two. We even got to go in the ring! For a wrestling fan, it was thrilling to climb the turnbuckles and run the ropes.
We got to be on the playground without having to pay the dues. Meanwhile, my friend was getting into character as the intimidating heel Hakim, the Black Sultan.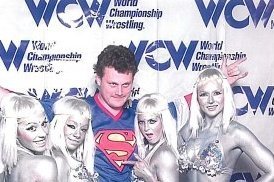 The Red Falcon and the Nitro Girls. Is that Stacey Kiebler on the right?
Hawk even asked me to job for him. Still trying to get his name out there, he said he was scheduled to appear at a show where WCW scouts would be.
Although not a pro wrestler by any means, I was at least tall, experienced in stage fighting and had made some wrestling videos with friends in college. I knew how to take a bump and I figured at the time that Hawk could do worse than me.
In my one and only match, I adopted the name Red Falcon and got tossed around by the much bigger Sultan. I sold his moves as devastatingly powerful and did my best to make him look impervious to same. Hawk was good enough to let me mount an offense or two before he took over.
Unfortunately, Hawk hurt his knee delivering a double axe handle to my back on the outside of the ring. It took me a moment to see this, as I was still on the ground selling his attack. When he didn't follow up, I made my way over to him where he instructed me to roll him into the ring, he couldn't stand up, and needed to get out of there.
This is how the Red Falcon flew, getting his first and only win in pro wrestling.
The Black Sultan controlled the whole match of course, patiently guiding me through it. I followed his lead, had fun and didn't get hurt. Looking back, I now know his knee was not hurt at all. The win was his gift to me. It was just a small street fair after all and Hawk knew how badly I wanted to be in a match.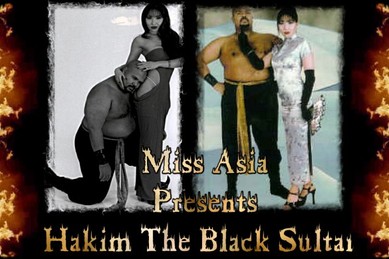 Bill "Black Sultan" Hawkins
As happens in life, Hawk and I eventually drifted apart. I left New York, and he went on to be a moderately successful wrestler and promoter under the name of Billy Firehawk. A year or so ago, a mutual friend sent me a link, where I learned that Bill Hawkins had died in 2006.
Now I live in New York City again. Recently, I found myself in the area of the city where I received my one and only victory against the Black Sultan in a street fair show. Hawk has been on my mind ever since.
I have told many people the story of the Red Falcon, retired undefeated at 1-0. It was all Hawk. I cannot believe it took me so long to see this.
Hawk, you gave me one of the most memorable moments of my life. You were my friend. You were fun and amazing, and I will never forget you.
"I mean, they say you die twice. One time when you stop breathing and a second time, a bit later on, when somebody says your name for the last time." ―Banksy