Secret Weapons That Could Decide 2012 BCS National Championship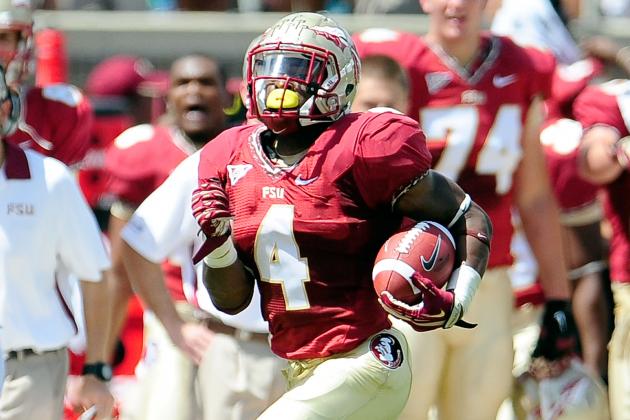 Stacy Revere/Getty Images

We are only three weeks into the college football season, but it will be over with before you know it. Then we will begin breaking down BCS bowl matchups and deciding who will be the new 2012 college football champions.
But before we get that far down the road, the games still have to be played. And with each passing week, certain players will have to step up to help their teams' dreams become a reality.
We know all about the marquee players such as USC quarterback Matt Barkley, Georgia linebacker Jarvis Jones and Clemson wide receiver Sammy Watkins. But there are many players that are making impacts that we may not know so much about.
Here are 13 players that will have a say in who plays in the national championship, especially if they continue to play the way they are playing.
Begin Slideshow

»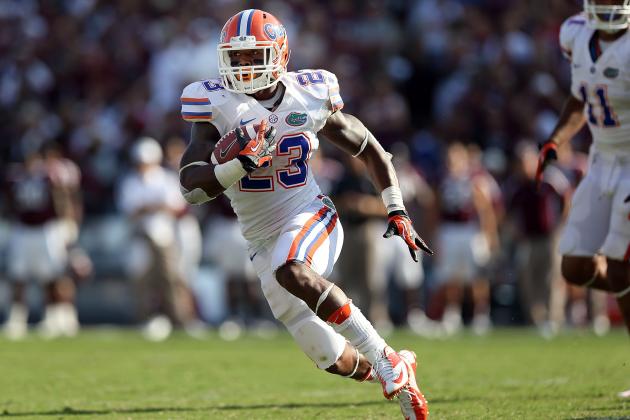 Ronald Martinez/Getty Images

Florida wasn't considered an SEC contender this season, but as each week passes, the Gators are slowly making more and more believers. And while quarterback Jeff Driskel continues to try to find himself at quarterback, running back Mike Gillislee has really stepped it up his senior season.
He has given this offense a playmaker it has lacked the last couple of seasons, as he currently leads all SEC running backs in rushing yards. He is averaging six yards a carry, has scored four touchdowns and has picked up 11 first downs in the first three games.
Florida may still have a ways to go to be considered championship material, but in playing teams such as LSU, South Carolina, Georgia and Florida State, Gillislee will have a say in how the championship matchup looks.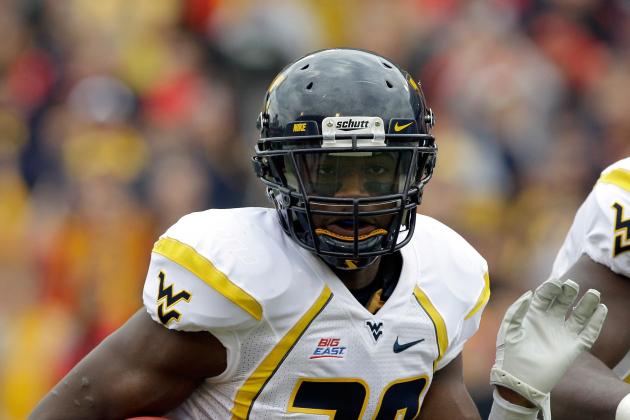 Rob Carr/Getty Images

Terence Garvin was a safety last year in the odd 3-3-5 defensive scheme of West Virginia's last season. This year, he lines up as a linebacker in the new 3-4 and has quickly made an impact on this Mountaineers defense.
Garvin was an effective player last season, finishing the season with 72 tackles and two interceptions, but he was banged up toward the end and even missed the bowl game. This year, Garvin has picked up where he left off, already racking up 20 tackles and leading the team with two sacks.
We all know that West Virginia has an explosive offense, but it is going to take a solid defensive effort for WV to take the next step. Linebacker Garvin is that playmaker that can get the ball rolling for this unit.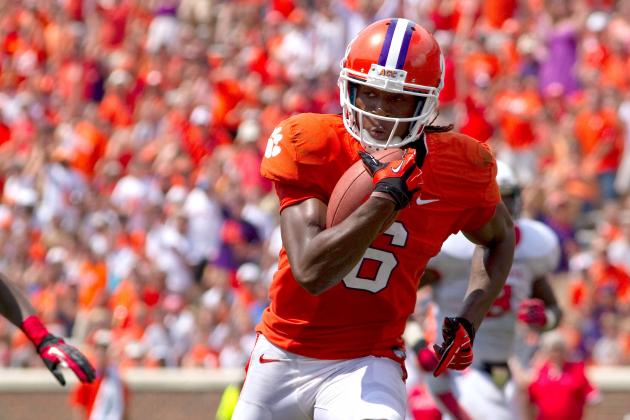 Joshua S. Kelly-US PRESSWIRE

With the high-scoring offense that Clemson has, it can be hard to keep track of all of the talent. And while wide receiver Sammy Watkins receives majority of the attention, DeAndre Hopkins has become more of an afterthought when it comes to national attention.
Well, as of right now, the junior receiver is second in the ACC, averaging 106 receiving yards a game. He has 26 receptions in just three contests, four touchdowns and already has five plays of over 25 yards. Now that Watkins is off of suspension, those numbers may decrease a little bit, but the 6'2" receiver is still somebody that everybody should keep an eye on.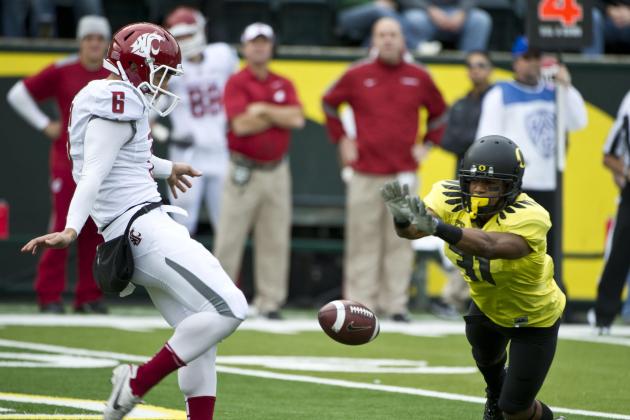 Jim Z. Rider-US PRESSWIRE

Now that USC took a nosedive, the Oregon Ducks are in the driver's seat for a possible Pac-12 crown. The offense is as sharp as ever under head coach Chip Kelly, but it is the defensive side of the ball that has to continue to improve throughout the year.
As of right now, the Ducks have the 51st-ranked defense in the country, allowing over 350 yards a game. What is worse than that is the fact that they recently lost starting safety John Boyett to knee surgery, who was also one of the leaders on the football team.
Good thing is that Avery Patterson is an experienced player and has shown that he can carry his own on the football field. Still, he may be the X-factor for this unit the rest of the way, as a high-flying offense can only carry a team so far.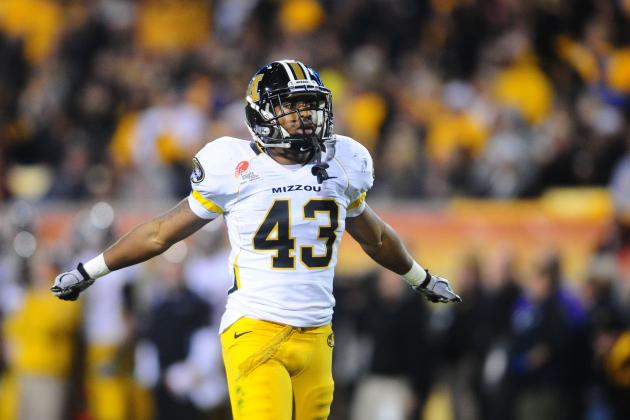 Mark J. Rebilas-US PRESSWIRE

Missouri suffered a crushing blow when it found out it would have to play the entire 2012 season without starting running back Henry Josey. Senior Kendial Lawrence has done a great job filling in those shoes, as he is averaging over six yards a carry and has scored four touchdowns.
But it may be running back Marcus Murphy that may be the most important player on this football team. He only has 16 carries to begin the year, but is making the most of those touches, as he is averaging over five yards per carry. He is also a force on special teams, averaging over 19 yards per punt return, and has already taken two back for touchdowns.
The Tigers are certainly no threat this season to the SEC championship, but with Florida, South Carolina and Alabama on the schedule, preparing for players such as Murphy is a must.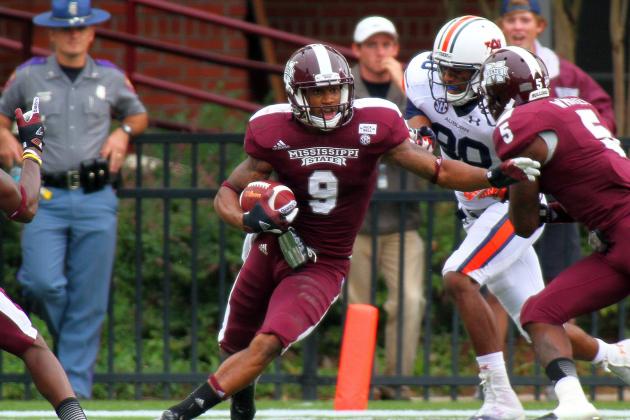 Spruce Derden-US PRESSWIRE

Mississippi State has quickly emerged as one of the surprise teams in the SEC this year. The Bulldogs have jumped out to a 3-0 start, have cracked the AP Top 25, and seem like a balanced team on both sides of the ball.
Darius Slay has separated himself early in the season, as he already has four interceptions on the season, which is at least two more than everybody else in the SEC. He also returned one of those INTs back for a touchdown in the season opener against Jackson State.
Mississippi State will play the big three later this year in Alabama, LSU and Arkansas, and with a playmaker like that lurking around in the defensive backfield, opposing quarterbacks better beware.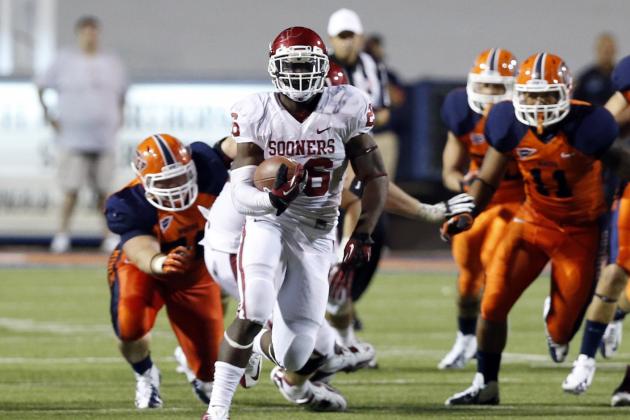 Jim Cowsert-US PRESSWIRE

Oklahoma is a perfect 10-for-10 to begin the season in the red zone, with every one of those drives resulting in a touchdown. And with that success, you can give a lot of the credit to junior college transfer running back Damien Williams.
Even with the Sooners getting a healthy Dominique Whaley back on the field, it is Williams who leads the team in rushing with 260 yards in two games. He is averaging over 13 yards a carry this season and seems to be automatic in the red zone, as he has scored three of those 10 red-zone touchdowns.
Oklahoma certainly has issues to worry about this season, but running back is not one of them.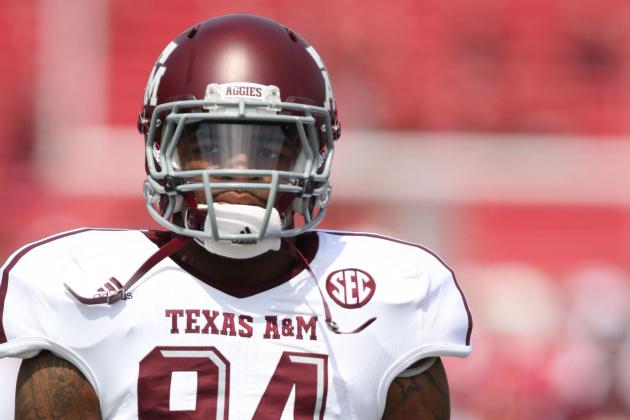 Thomas Campbell-US PRESSWIRE

Texas A&M led the country in sacks last year with 51. This year, the Aggies have picked up where they left off, leading the SEC in just two games with 12 sacks.
Damontre Moore has moved from the linebacker position to defensive end this season, and the move has paid off in a big way. The junior defensive lineman has five of those sacks, which is good for the second most in the country at the moment.
There are very few players who explode off the line the way he does, and are as relentless as he is in getting after the quarterback. Teams such as LSU, Mississippi State and Alabama will all have to know where this guy is on the field at all times.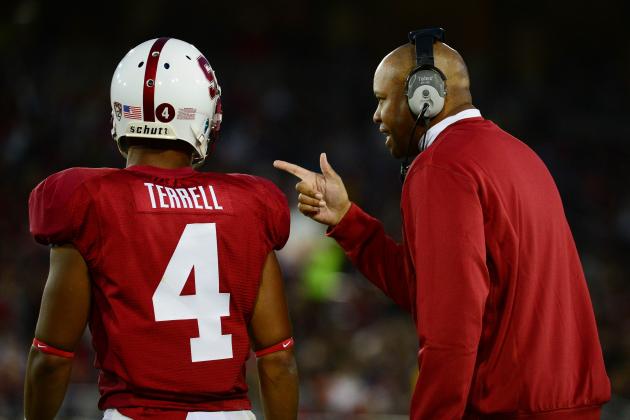 Kyle Terada-US PRESSWIRE

Could it be possible? Stanford already found a way to knock off USC; do the Cardinal really stand a chance in the Pac-12 as contenders?
Probably not.
But with many ranked teams on the schedule, including Oregon, this is a team that will have a say in who does reach the big game. Wide receiver Drew Terrell has really stepped early on, hauling in seven passes in the first three games and scoring touchdowns in the first two. He has also become a factor on special teams, averaging 19 yards a return and taking one back for a TD.
Stanford may no longer have Andrew Luck, but with playmakers like Terrell, this program will be just fine.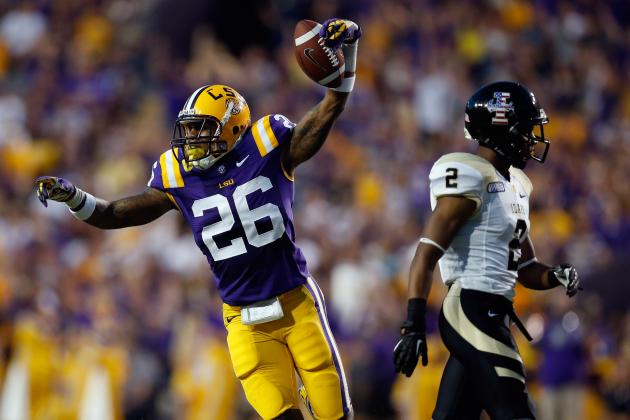 Chris Graythen/Getty Images

LSU has a thin secondary that became even more of a question mark when Tyrann Mathieu got himself dismissed from the program. Last week, junior safety Craig Loston caught the injury bug once again, which forced sophomore Ronald Martin to take action.
Martin only played in three games last year, but in his first start of his career, he finished the game with two interceptions and five tackles. Martin is a former 3-star recruit from the 2011 class who has terrific size at 6'2" and 208 pounds, and apparently great ball skills as well.
His recent outing has earned him another start over the junior Loston, as the Tigers may have found themselves another key player on the defensive side of the ball.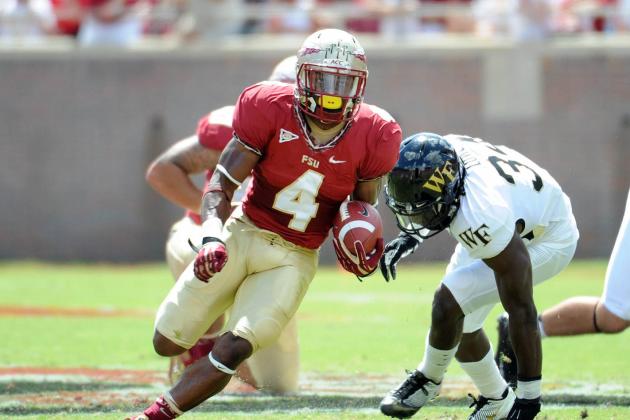 Melina Vastola-US PRESSWIRE

Florida State is known for its stifling defense, and that will be the reason the Seminoles could reach the BCS National Championship Game. But the running game hasn't been too shabby, either, thanks to senior running back Chris Thompson.
He only has 18 touches in the first three games, but has racked up 254 yards and has scored three touchdowns. He had his breakout game against Wake Forest last week, rushing for nearly 200 of those yards and scoring twice in the victory over the Demon Deacons.
The Seminoles have not had a 1,000-yard rusher since Warrick Dunn. Can that change this season?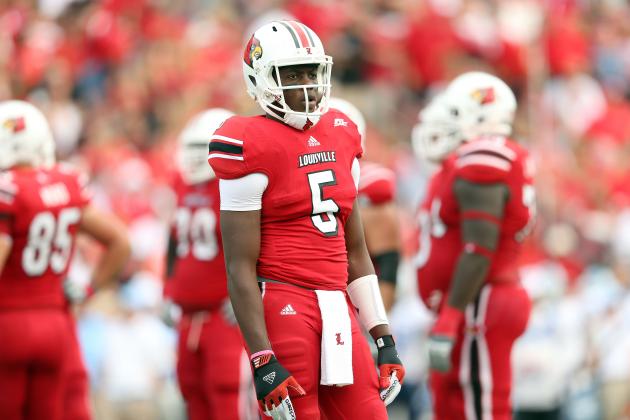 Andy Lyons/Getty Images

Every team above Louisville in the rankings has a decent chance of ending up one-loss teams. The Cardinals are the best bet for a team to run the table and finish the year undefeated.
So, with that said, if Louisville finishes the season without a loss, does it deserve a shot at the BCS National Championship?
Of course, we are getting a little ahead of ourselves, but if it is going to happen, quarterback Teddy Bridgewater will be the reason for it. Right now, he is playing out of his mind, completing 81 percent of his passes, throwing for 855 yards and, most importantly, having yet to throw an interception.
The sophomore quarterback should be considered a Heisman candidate and could make things interesting if he continues to lead his Cardinals in the right direction.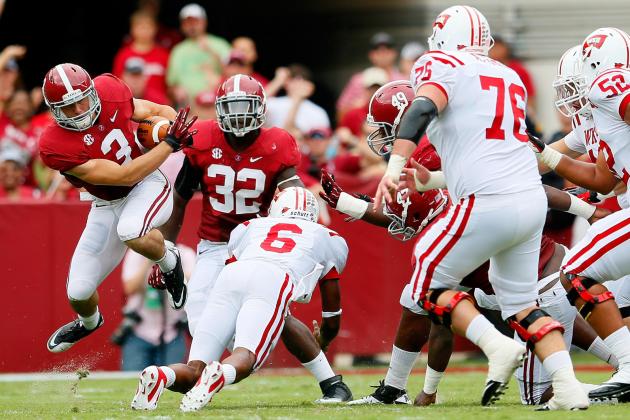 Kevin C. Cox/Getty Images

Vinnie Sunseri had the huge task of replacing Mark Barron, a first-round pick in April's NFL draft. But he has quickly grown into his new role at the safety position after spending much of last season on special-teams coverage.
Already in the first three games, the sophomore has picked up 11 tackles, 1.5 tackles for loss, a fumble recovery and had an interception last week. Sunseri is a player who will continue to make plays all over the football field and is a tackling machine. The sophomore has a similar build as Barron and could quickly develop into that difference maker on the defensive side of the ball.
Alabama has not lost a step on defense so far, and a lot of that has to do with young players such as Sunseri stepping up.