NHL Lockout: The Owners and Players Must Address Realignment in CBA Talks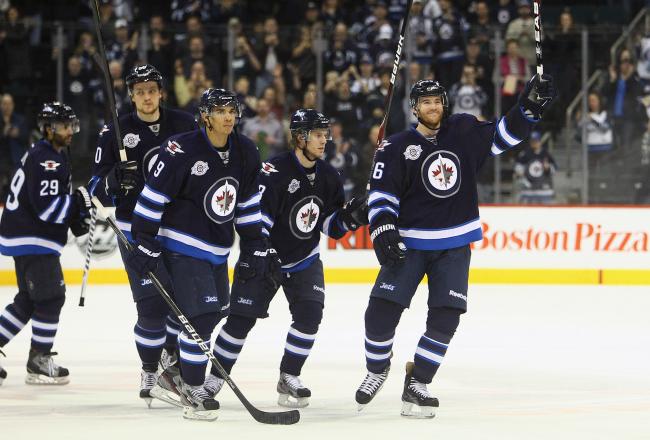 Tom Szczerbowski/Getty Images
As soon as the primary issues in the next CBA are agreed to, such as hockey-related revenue and revenue sharing, the topic of realignment will probably come up in the labor meetings between the NHL and its players.
Any changes made don't have to be drastic, although making huge conference changes wouldn't be an awful idea, but there are some smaller changes that must be made before next season.
Let's look at some options that the two sides could consider when realignment inevitably comes up in CBA talks.
Small Moves
For starters, the Winnipeg Jets must be placed in the Western Conference as soon as possible so they don't have to travel long distances just to play division teams.
Should the Jets be moved to the Western Conference for the 2012-13 season?
Since the franchise was previously in Atlanta, it made sense to have the Jets in the Southeast Division for at least one season, but since realignment can be discussed in the labor negotiations, there's no reason to keep Winnipeg in the Eastern Conference going forward.
The most logical place for the Jets is the Northwest Division, where they can make small trips to face the Edmonton Oilers, Calgary Flames and Minnesota Wild, in addition to facing the Vancouver Canucks and Colorado Avalanche.
Another realignment move that should be made is moving the Detroit Red Wings to the Eastern Conference. The Red Wings have been forced to travel more than most NHL teams under the current format, and it's time to give one of the most professional and respected franchises in the league a break by moving them into the Atlantic or Northeast Divisions.
Major Changes
The Board of Governors approved a significant realignment plan in December, but it wasn't accepted by the NHLPA, who voted not to pass it. In case you don't remember the plan, it proposed four conferences, which as a result changed the playoff format.
While some division/conference rivalries were maintained in the new plan, a few of them were broken up because the teams were in different conferences. Aside from travel and geographical concerns, maintaining rivalries is a crucial part in any realignment planning.
These were the four conferences in the plan that was shot down.
Carolina, New York Rangers, Washington, New Jersey, Pittsburgh, New York Islanders and Philadelphia
Toronto, Boston, Tampa Bay, Ottawa, Buffalo, Montreal and Florida
Chicago, Dallas, Winnipeg, St. Louis, Detroit, Minnesota, Columbus and Nashville
Colorado, Vancouver, Edmonton, San Jose, Anaheim, Calgary, Phoenix, Los Angeles
Even if a system like this was agreed to in the new CBA, it wouldn't be wise to use it this year if the season is shortened due to the lockout.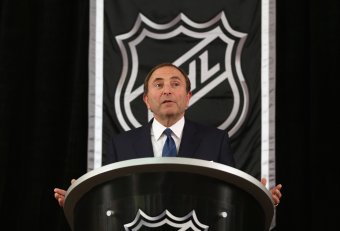 Bruce Bennett/Getty Images
Another thing to consider is how long making big realignment changes could take, and depending on when the two sides begin discussing this topic in labor negotiations, it would be a horrible idea to waste a week or more trying to make realignment changes when the season could be in jeopardy.
Huge realignment changes should be made after a new CBA is agreed to, if the two sides even want to make changes of this nature.
Will We See Changes in the New CBA?
One problem with realignment is that it's incredibly difficult to please every team, and in the end, there will likely be a few teams that are stuck traveling more than they were under the old format.
While it's possible that a few smaller changes could be agreed to for next season, it's not likely that any major conference changes will be made in the new CBA. The change that seems most likely to happen is the Jets moving to the Western Conference.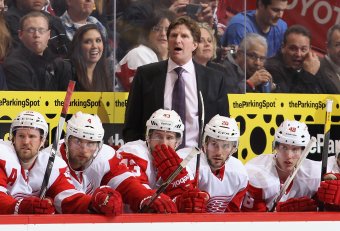 Christian Petersen/Getty Images
As the labor negotiations between the owners and players improve, realignment will be one interesting issue that will spark some good debate. Moving just one team to a different division would greatly affect travel and schedule-making.
What can we expect from the new CBA in regards to realignment? Some small changes that involve one or two teams moving from one division to another would be the best plan for both sides.
Messing with a playoff system that has been a huge success since the conference change in 1994 would be a bad idea coming out of a lockout.
This article is
What is the duplicate article?
Why is this article offensive?
Where is this article plagiarized from?
Why is this article poorly edited?