Kentucky vs. Florida: Complete Game Preview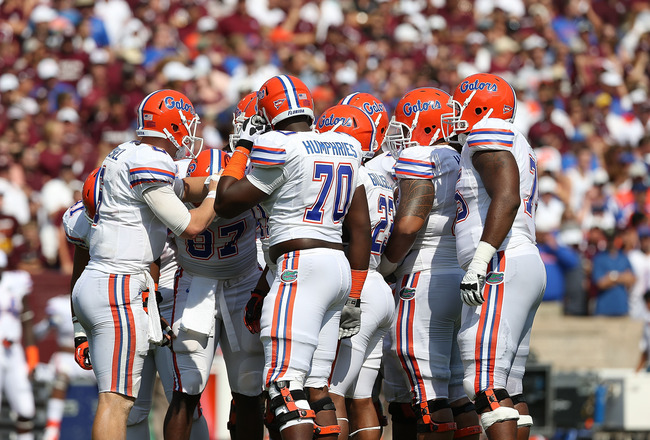 Ronald Martinez/Getty Images
The Florida Gators are coming off of the biggest win under Will Muschamp and head into a game they haven't lost in 25 tries.
Florida has started the 2012 season 3-0 and is looking to go 4-0 before heading into the bye week. The Gators were able to gain 555 total yards a week ago including 336 on the ground. That doesn't bode well for Kentucky who gave up 406 rushing yards the last time they played the Gators.
Kentucky was shocked in overtime last week by Western Kentucky. The Hilltoppers came away with a 32-31 win over the Wildcats and the loss has caused Joker Phillips' job security to become a hot topic this week.
On paper this seems to be a matchup that favors one team pretty heavily, but that is why you play the games. Let's take a look at everything you need to know about this SEC East matchup.
Gameday Information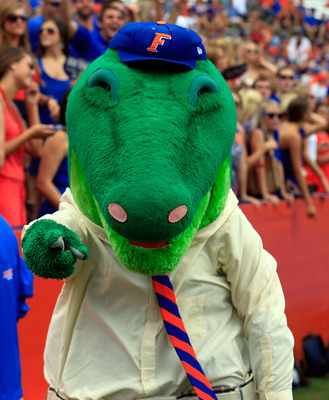 Sam Greenwood/Getty Images
Who: Kentucky at Florida
When: Saturday, Sept. 22, 12 p.m. EST
Where: Gainesville, Fl
Stadium: Ben Hill Griffin Stadium (88,548)
TV: SEC Network
Radio: WRUF AM 850 (Gainesville), WLAP AM 630 (Lexington)
Internet Stream: Watch ESPN
Depth Chart for Florida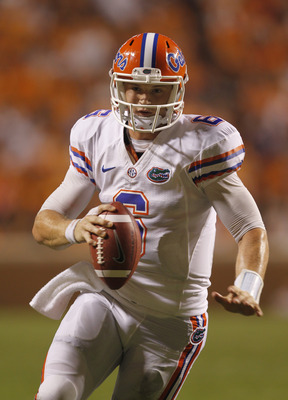 John Sommers II/Getty Images
Offense
QB: Jeff Driskel, Jacoby Brissett
RB: Mike Gillislee, Matt Jones
FB: Hunter Joyer, Trey Burton
TE: Jordan Reed, Clay Burton
F: Trey Burton, Omarius Hines
WR (X): Frankie Hammond Jr., Latroy Pittman or Andre Debose
WR (Z): Quinton Dunbar, Solomon Patton
LT: Xavier Nixon, D.J Humphries
LG: James Wilson, Ian Silberman
C: Jonotthan Harrison, Sam Robey
RG: Jon Halapio, Jessamen Dunker
RT: Chaz Green, Kyle Koehne
Defense
DE: Dominique Easley*, Earl Okine, Jonathan Bullard
DT: Sharrif Floyd, Damien Jacobs
NT: Omar Hunter, Leon Orr
BUCK: Lerentee McCray, Dante Fowler Jr.
Sam LB: Darrin Kitchens, Neiron Ball
Mike LB: Jon Bostic, Michael Taylor
Will LB: Antonio Morrison, Michael Taylor
CB: Marcus Roberson, Jabari Gorman
CB: Jaylen Watkins, Loucheiz Purifoy
S: Matt Elam, De'Ante "Pop" Saunders
S: Josh Evans, Valdez Showers
Nickle CB: Matt Elam, Jaylen Watkins
Dime CB: Matt Elam, Brian Poole
Special Teams
K: Caleb Sturgis, Brad Phillips
P: Kyle Christy, Todd Fennell
KR: Andre Debose, Solomon Patton
PR: Andre Debose, Marcus Roberson
*Easley is listed as questionable for the Kentucky game after hurting his knee against Tennessee.
Depth Chart for Kentucky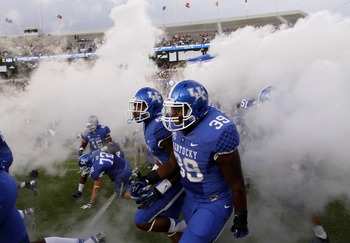 Mark Zerof-US PRESSWIRE
Offense
QB: Maxwell Smith, Morgan Newton
RB: CoShik Williams, Raymond Sanders
FB: D.J. Warren, Cody Jones
TE: Ronnie Shields, Tyler Robinson
WR (X): La'Rod King, Demarco Robinson
WR (Y): Aaron Boyd, E.J. Fields
WR (Z): Daryl Collins, Gene McCaskill
LT: Darrian Miller, Jordan Swindle
LG: Zach West, Teven Eatmon-Nared
C: Matt Smith, Max Godby
RG: Larry Warford, Jack Gruenschlaeger
RT: Kevin Mitchell, Trevino Woods
Defense
DE: Collins Ukwu, Farrington Huguenin
DT: Donte Rumph, Mike Douglas
DT: Mister Cobble, Christian Coleman
DE/LB: Alvin Dupree, Taylor Wyndham
Mike LB: Avery Williamson, Jabari Johnson
Will LB: Malcolm McDuffen, Tyler Brause
S/LB: Miles Simpson, Josh Forrest

CB: Cartier Rice, Fred Tiller
CB: Martavius Neloms, J.D. Harmon
S: Ashley Lowery, Daron Blaylock
Special Teams
K: Craig McIntosh, Joe Mansour
P: Landon Foster, Joe Mansour
KR: CoShik Williams, Raymond Sanders
PR: Demarco Robinson, Gene McCaskill
What Happened to the Gators Last Week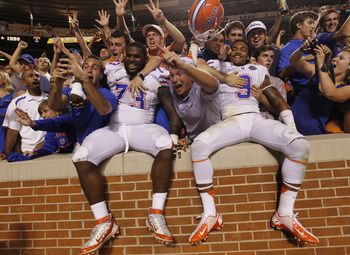 John Sommers II/Getty Images
Florida won their second road SEC game last week. The Gators made another second half comeback and beat Tennessee 37-20.
The game was a big win for Florida and head coach Will Muschamp. It was the first time the Gators had won a game against a ranked opponent under Muschamp, and the Gators were able to keep Tyler Bray and the high powered Tennessee offense in check for most of the game.
The Gators are now 3-0 heading and as Muschamp said in a press conference, the best thing about being 3-0 is the chance to go 4-0.
What Happened to the Wildcats Last Week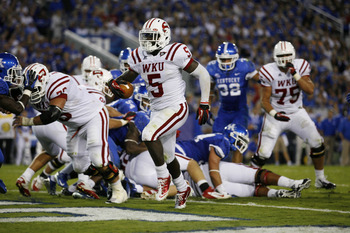 Mark Zerof-US PRESSWIRE
Kentucky was shocked in overtime last week in a 32-31 loss to Western Kentucky. Western Kentucky elected to go for two after scoring in the first overtime and it was a trick play that did the Wildcats in.
Former Gator Jonathan Dowling, picked off Maxwell Smith three times in the game and Smith threw four interceptions on the game.
After a 1-2 start to the season with games against Florida and South Carolina coming up, Joker Phillips job security has been the hot topic of discussion this week.
What It Means for Both Teams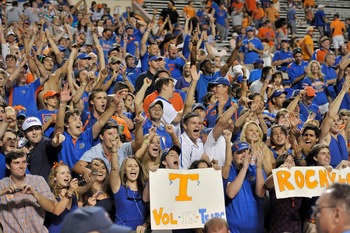 Jim Brown-US PRESSWIRE
One coach is coming off of a signature win while the other is coming off of the worst loss of his career.
On paper the Gators appear to be too much for Kentucky to handle. The Gators have more talent on the roster, are a deeper team, are playing at home and there isn't a player on either team that was alive the last time Kentucky beat Florida.
Key Player for the Gators
Randy Sartin-US PRESSWIRE
For the second week in a row, Jeff Driskel is the key player for the Gators.
Florida has the SEC's best rushing attack, but with Mike Gillislee not being at 100% the coaching staff will likely look to get him some rest when they take on an inferior opponent this week.
Driskel's transformation this season has been something to marvel at. Less than a month ago Driskel was thought to be behind in a quarterback race that wasn't decided until halftime of the first game.
In his first game as a starter, Driskel was indecisive and that resulted in eight sacks. He managed the game well but didn't appear ready to be to the leader on offense. Against Tennessee Driskel looked like an entirely different quarterback. He was able to read the defense, go through his progressions, make tough throws and hurt the Vols with his feet.
Driskel's performance against Tennessee earned him SEC player of the week honors and the matchup against Kentucky should further help the young signal caller's confidence going into the bye week.
Key Player for the Wildcats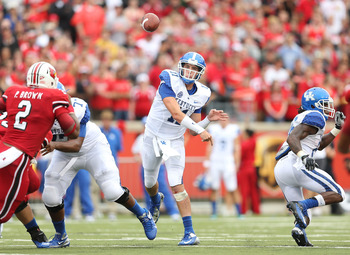 Andy Lyons/Getty Images
Kentucky comes to Gainesville with the SEC's top passing attack.
Kentucky has been a one dimensional team this season. Their 68 rushing attempts on the season are just eight more attempts than Maxwell Smith's passing attempts against WKU. Only four schools have attempted more passes than Kentucky through three games and if you're throwing the ball that much, it's obvious who your key player is.
Smith struggled last week, throwing four interceptions and will need to be much better if his team wants any chance to pull off the upset.
The Gators Will Win If...
Chris Graythen/Getty Images
They don't look forward to their next game against LSU.
Florida is bigger, stronger, faster and more talented than their opponent this week, and if the Gators focus on the task at hand they should be able to come away with an easy win.
The Gators ran for 405 yards in Lexington last season and could surpass that number this week.
The Wildcats Will Win If...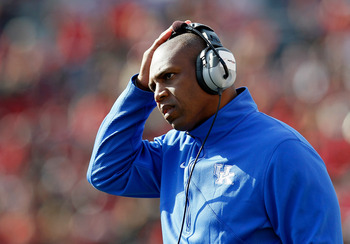 Kevin C. Cox/Getty Images
They play a perfect game and Florida gives them some help with turnovers.
Listen, it's football and anything can happen but Kentucky beating Florida would be a bigger upset than WKU beating Kentucky last week.
Kentucky has lost 25 straight meetings in this series and they haven't shown anything this season that would make you think they can end that streak.
Prediction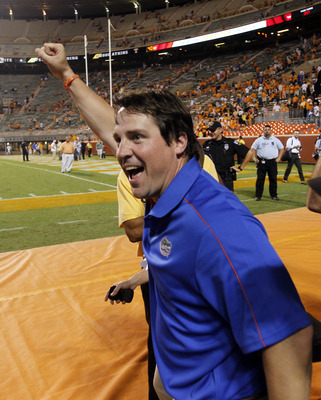 John Sommers II/Getty Images
Florida comes in as a 24 point favorite and they should be able to cover that spread in this game.
Brent Pease said during the offseason that comments made by former Kentucky quarterback, Jared Lorenzen, would cause the Gators to "try and score 50" when they play the Wildcats.
Lorenzen shouldn't be writing checks that his alma mater can't cash and Pease will most likely make good on that statement.
Florida wins 55-10
Keep Reading

Florida Gators Football: Like this team?