Real Madrid vs. Manchester City: 6 Things We Learned in Epic Showdown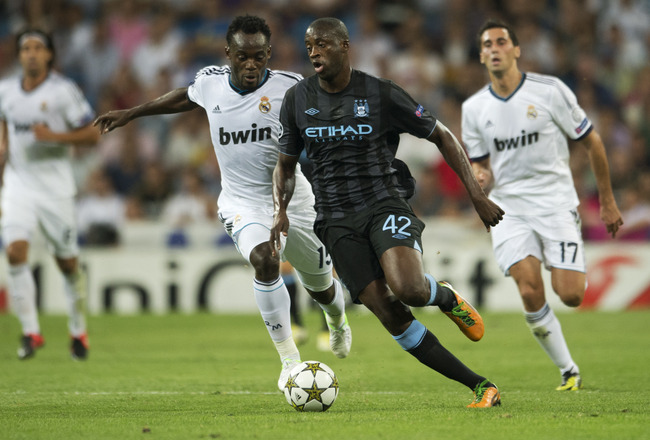 Jasper Juinen/Getty Images
Real Madrid and Manchester City have served up a fantastic feast of footballing fare in the Champions League, with the home team ending up as 3-2 winners in the Santiago Bernabeu.
City defended deep and stoutly for much of the first half, though they had goalkeeper Joe Hart to thank for keeping the score at 0-0 at the break.
A few Yaya Toure bursts from deep were all the visitors could muster in the opening 45 minutes as the home team dominated possession—but a series of missed chances from Cristiano Ronaldo and Gonzalo Higuain meant City were still in it at the break.
The final 20 minutes saw five goals rattled in as Edin Dzeko, Marceo, Aleksander Kolarov, Karim Benzema and Cristano Ronaldo all traded some fantastic goals late on.
Here are six things we learned from the game.
Top Clubs, Top Players, Top Tournament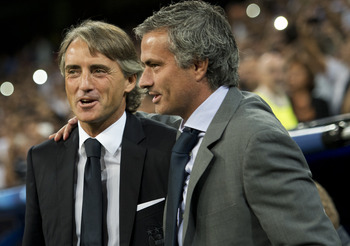 Jasper Juinen/Getty Images
Well, we didn't learn this today—but we certainly received a timely reminder.
General consensus places the Premier League and La Liga as the top two leagues in Europe, if not the world, and the fixture at the Bernabeu gave us the chance to witness the champions of each division clash against each other.
One team was markedly more adventurous than the other until late on in the game, but both sides had plenty of ability on show.
The Champions League is up and running again—and in some style.
The Biggest Games Are Settled by the Smallest of Margins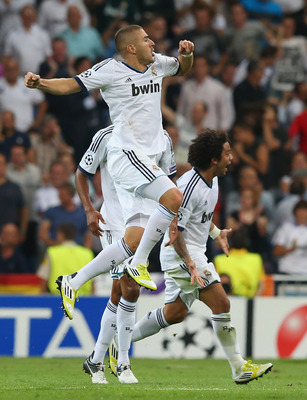 Alex Livesey/Getty Images
Five minutes to go and winning in the Bernabeu? Dream stuff.
Manchester City ended up on the losing side though.
At the very top of the game, the margins between success and failure are minuscule; the decision of whether to tackle or not, close down or not, staying concentrated or not—they can be the difference between winning and losing. Qualification, and elimination.
City had a tough introduction to the Champions League last season and this term is no easier.
Mancini's boys might be thinking that the hardest fixture is out the way, but they need to take the lessons of Madrid with them or else they will come undone in both Amsterdam and Dortmund.
Jose Mourinho Happy to See the 'Real' Madrid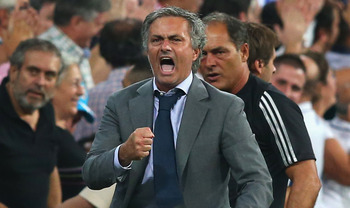 Alex Livesey/Getty Images
Real Madrid lie 12th in La Liga after a poor start domestically, and boss Jose Mourinho challenged his players to show the determination and desire to start to turn things around after defeats to Getafe and Sevilla.
He can be safe in the assurance that he certainly received that step up in effort and belief from his players against Manchester City.
Real were by far the better side over 90 minutes, and deserved their win, but as much as the three points themselves Mourinho will be relieved to see his team's fighting spirit and willingness to keep going until the final minute.
Manchester City Need a Result Against Dortmund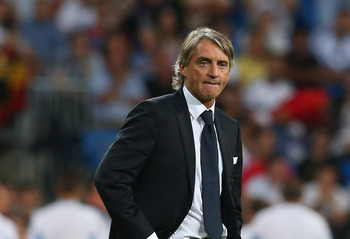 Alex Livesey/Getty Images
It's very early in the group stages to be considering which team needs a result to stay in with a shout of qualification, but even so the next match day—which sees Manchester City host Borussia Dortmund—is looking like a key one for Roberto Mancini's men.
With Dortmund having beaten Ajax 1-0 tonight, City cannot afford to go six points behind the Germans at this early stage.
Even a point wouldn't be ideal, with wins in home games usually crucial to any team's hopes of qualifying comfortably.
Cristiano Ronaldo: A Genuine Match Winner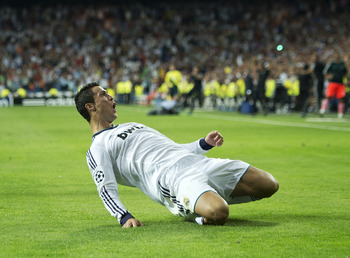 Jasper Juinen/Getty Images
Several times in the first half of the game, when Real Madrid were dominating play, Cristiano Ronaldo performed his favoured move of cutting inside off the left flank to drill a shot in at goal with his right foot.
Joe Hart denied him on a couple of occasions and he was closed down on others, but he still looked a big threat for the home team.
When the game opened up and the tempo increased as the goals started to flow, Ronaldo was almost a spectator as others exchanged names on the scoresheet—but a minute before time, up he popped with a repeat move infield from the left, this time finding the back of the net.
Perhaps the defence should have done more, doubtless Joe Hart could have done—but Ronaldo got his goal.
Ronaldo gave Madrid the win.
Real Madrid Have a Great Chance at Going for La Decima This Season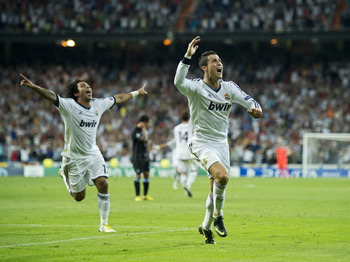 Jasper Juinen/Getty Images
Not since 2002—Zinedine Zidane's volley and all that—have Real Madrid won the Champions League, and a decade is a long time for the club with the proudest record of all in the competition to go without success.
With Jose Mourinho as manager and the amount of class talents the club has throughout the playing staff, Madrid have a very real chance of making it 10 European Cups this season.
Manchester City showed that Real are most vulnerable when they are attacked, but how many clubs will have the self-belief to do that?
Luck, injuries, refereeing decisions and individual players will all play their part of course as the season goes on, but Real certainly have enough about them to be considered one of the prime contenders this year.
Keep Reading

Real Madrid: Like this team?