Martin Skrtel and Daniel Agger: Why Liverpool Pair Are Still Among the Best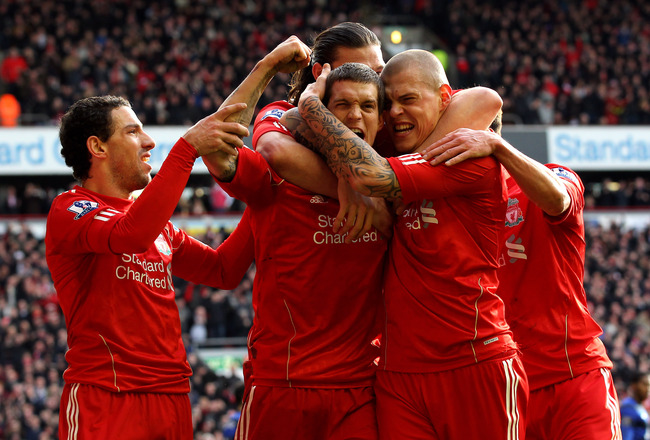 Martin Skrtel (second from right) and Daniel Agger (second from left) have proven themselves to be a defensive partnership among the best in the Premier League—and beyond.
Alex Livesey/Getty Images
Martin Skrtel and Daniel Agger will rise above their inauspicious start to the year and prove themselves yet again. They have been consistent together since Jamie Carragher went down with injury in October 2011 and are now vital to Liverpool's success.
They deserve to be mentioned in the same breath as Sami Hyypia and Stephane Henchoz during Gerard Houllier's reign—stifling teams at the back and providing a legitimate threat going forward.
Liverpool had one of the best defensive records in the Premier League last season, conceding the third-fewest goals in the league (40). In large part, this was down to the bond that Skrtel and Agger formed.
Even though the chances weren't being taken at the other end, there was usually something to praise on the defensive side of the ball. There are a lot of factors—both tangible and intangible—contributing to this, so it's worth taking a closer look at their partnership.
Complementary Skill Sets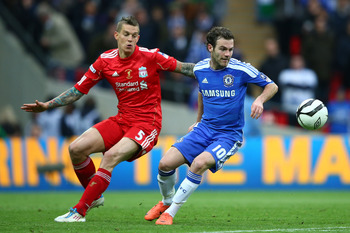 Agger offers a calm counterpoint to Skrtel's aggressive defensive style.
Clive Mason/Getty Images
It starts with the obvious.
Agger, being left-footed, allowed Skrtel to move over to his natural side—the right—something which Carragher's presence had previously denied him the opportunity to do.
Skrtel was immediately more comfortable and his confidence grew as a result. He quickly developed an understanding with Agger, with Agger's calm approach to the game a natural balance to Skrtel's more aggressive tendencies.
In their first 15 matches playing together, Liverpool kept eight clean sheets, setting a standard across the league for disciplined defending. It wasn't enough for Kenny Dalglish to keep his job, but it certainly gave Brendan Rodgers one less thing to worry about.
That's what he thought, anyway. The first game of the season was a poor demonstration of their prowess, but also showed how much they need each other.
Agger was harshly sent off for a professional foul—Shane Long continuing his inability to stay on his feet anywhere near 16 yards from goal—and a penalty was awarded.
In a rare case of footballing justice, the penalty was horrendous and saved by Pepe Reina, almost in slow motion.
Skrtel then conceded a penalty of his own within five minutes, again a strange refereeing decision that showed more about Long's ability for deception than the defender's poor tackling.
Long won the ball cleanly, but opted to flop over Skrtel's legs rather than bear down on goal. Peter Odemwingie took the kick this time, making no mistake.
This distracted from a performance in which Liverpool looked like the better side for at least the first 45 minutes, with Luis Suarez and Glen Johnson missing chances on several occasions. It was when Agger left that Liverpool fell to pieces.
What had previously looked organised now looked panicked. West Brom penetrated the defence with ease and it was only because of Reina that the score remained slightly respectable.
Skrtel and Agger are better players when they are together; it's a simple as that. They know where the other player is at all times and trust their own games as a result.
It's a partnership akin to the famous Alan Hansen-Mark Lawrenson duo of the 1980s—Agger being Hansen and Skrtel, Lawrenson—where one provides the elegance and the other the grit.
Skrtel won 80 percent of his aerial battles last year—no other player in the league won more—as well as 75 percent of his tackles. Agger won 64 and 66 percent of aerial battles and tackles respectively, but that's not his natural game.
The way he contrasts Skrtel is ably demonstrated by his interception stats over 2011/12. Agger has excellent vision and quick judgement, chalking up an interception every 36.29 minutes (all stats via EPLIndex.co.uk).
Keeping Skrtel and Agger together is of paramount importance, for the sake of balance along the Liverpool defence. Carragher has also admitted that the team needs the pair together, even if it costs him his place:
It's probably not so good for me but, joking apart, it's absolutely vital we keep them. I know Vincent Kompany was great for Manchester City last season but, for me, as a defensive partnership these two are the best in the Premier League (via The Daily Star)
Relationship off the Pitch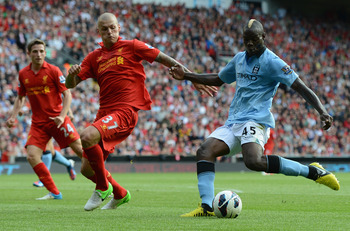 Skrtel has improved dramatically since being paired with Agger at the heart of the Liverpool defence.
Michael Regan/Getty Images
It might seem a strange reason to align them with the best simply because they are friends, but a central defensive pairing is based largely on trust.
If the two players know each other away from football, there is already a level of trust in place that will make their jobs easier once they are on the pitch.
This leaves Agger free to surge forward after intercepting a pass, as Skrtel knows that he has the positional knowledge to get back should he play an errant ball, or lose possession in midfield.
Similarly, we have seen Skrtel play the ball in space to Agger, inviting him to go forward on the counter. This simply isn't possible without trust in Agger's ability.
Skrtel had previously struggled with a propensity to make risky tackles, often as a result of not reading the play. He showed a panicky disposition that often made him look out of his depth.
Agger's calm and anticipatory style of play seemed to fix that in Skrtel last year and he stayed on his feet much more—as well as looking more commanding with the ball at his feet.
When interviewed last year, Skrtel outlined his confidence in his defensive partner:
It's easy to play with him. He's a top-quality player and great on the ball. 'The understanding between us is working. Away from the pitch he's a nice guy too.

We have things in common, such as tattoos and cars—we both have an interest in them and chat about them. I played every league game last season. But, especially during the first half of the season, I didn't feel as comfortable as I do now. (h/t The Daily Mail, via LFC Magazine)
Skrtel's startling transformation last year led to him being named Liverpool's Player of the Season and he is now a firm favourite of the Kop. His friendship with Agger seems to have made him a more considered player without losing any of his aggressive tendencies.
Injuries have been a problem for Agger in particular—17 injuries in four years keeping him on the sidelines (via PhysioRoom.com)—so it's vital that he stays healthy during Rodgers' first season in charge.
Scoring goals—or, more accurately, taking their chances—has been a recent problem for Liverpool, so conceding them in greater number would be disastrous.
Rafa Benitez brought them in to be the future of the Liverpool defence, but it took Dalglish to bring them together. Now it's up to Rodgers to ensure that they remain at Anfield.
Attacking Threat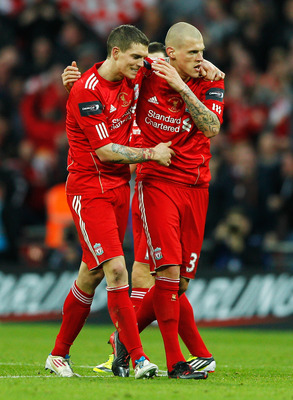 Agger and Skrtel haven't started the season well, but Rodgers' system gives them the freedom they need to succeed.
Paul Gilham/Getty Images
It's useful to have a central defender who is a threat going forward. It allows for mismatches on the counter or the chance to flood the opposition penalty area from set pieces.
Liverpool have the luxury of an entire defence that can cause problems when acting as offensive players. Jose Enrique was a better attacking player than Stewart Downing last year, and Glen Johnson—while not being the best right-back—showed more ability out wide than Jordan Henderson.
Skrtel and Agger also pose a danger to defences, but in different ways. Skrtel's thumping header against Manchester City last month showed his methods going forward (we'll ignore the back-pass horror that followed).
He threw himself at a cross from a corner, giving Joe Hart no chance. These are the sorts of goals that Skrtel offers: powerful headers from set pieces. We saw it against Bolton last year and will see it again.
Agger, on the other hand, likes the ball at his feet when venturing forward. His goal against West Ham in 2006 was voted Liverpool's Goal of the Season, and rightly so.
Taking the ball in midfield, the Hammers defence backed off and invited him to shoot. Agger took a couple of steps to the left and whipped his foot across the ball, curling his shot back across Roy Carroll into the top corner of the net.
His attacking presence was stifled under Roy Hodgson's safe defensive approach, as well as suffering a hit when Xabi Alonso and Javier Mascherano moved on. Their defensive presence was a safety net for Agger's trips into the opposition half.
Rodgers' tactics at Swansea involved a lot of posession football, and getting the centre-backs involved was integral to his approach.
Agger has the opportunity to flourish under this system; Skrtel too, with his improved ability on the ball. It's absolutely vital that the two players remain together, as there's a real chance they could actually get better as a partnership if Rodgers is given the chance to succeed.
They might never replace Hansen and Lawrenson in the affections of the fans, but the slow start to the year will not be indicative of Skrtel and Agger's season-long performance.
Keep Reading

Liverpool: Like this team?