NFL Week 2: The Good, Bad and Ugly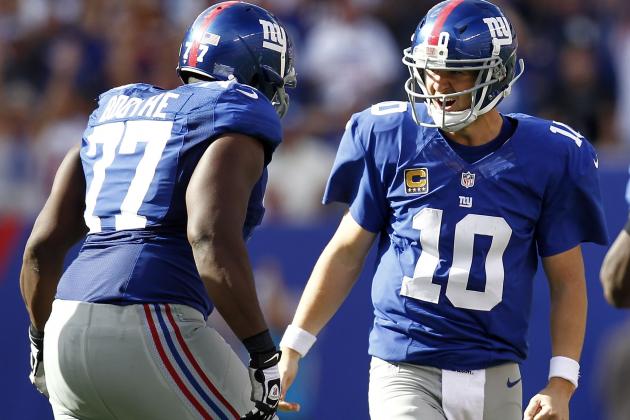 Jeff Zelevansky/Getty Images

Week 2 in the NFL provided plenty of ups and downs and left some of us shaking our heads in disbelief. The reason the NFL is so popular is that on any given Sunday we never know what's going to happen. It is the best reality show on TV, period! In the words of ESPN's Chris Berman, "That's why they play da games!"
One week after defeating the defending Super Bowl champion New York Giants, the Dallas Cowboys got spanked in Seattle. Meanwhile, Tom Brady and the New England Patriots lost at home to the Arizona Cardinals, and the Miami Dolphins showed some life in a blowout win over the Oakland Raiders.
Time to hand out our weekly awards to players, coaches, plays or situations worthy of being mentioned as the good, the bad or the ugly.
Begin Slideshow

»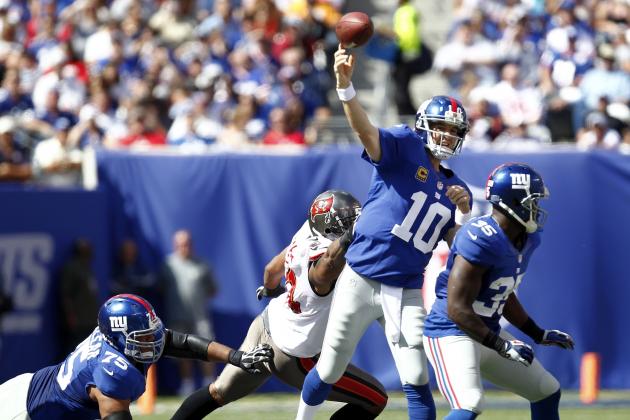 Jeff Zelevansky/Getty Images

Anytime a quarterback throws for 510 yards in a game, he deserves some praise. The fact that Eli Manning did it in a game where he threw three interceptions in the first half and trailed most of the time is impressive.
Manning did most of his damage in the second half, leading the New York Giants on five consecutive scoring drives, including three consecutive drives of 88, 67 and 80 yards that resulted in touchdowns.
His 33-yard touchdown pass to tight end Martellus Bennett was a thing of beauty. That pass was perfect. Manning did all he could to ensure the Giants did not start the season 0-2.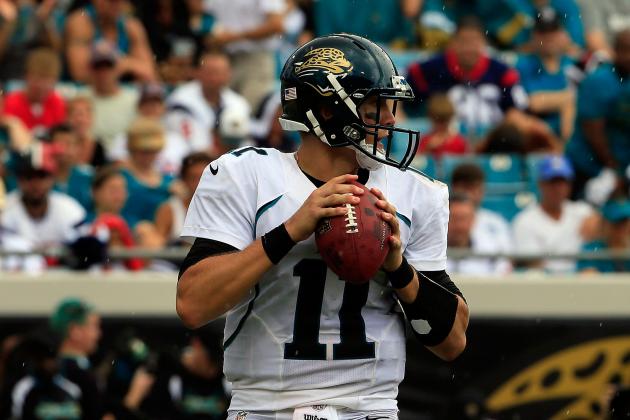 Sam Greenwood/Getty Images

Even though Blaine Gabbert was playing against a formidable defense in the Houston Texans, nothing can excuse his horrible performance. Prior to leaving the game with a hamstring injury, Gabbert completed under 40 percent of his passes, finishing 7-of-19 for 53 yards.
It was his worst output of his young career, and at times he looked worse than he did during his rookie season. He rushed many throws, was inaccurate and never looked comfortable in the pocket.
Believe it or not, Jacksonville Jaguars fans may soon be calling for backup quarterback Chad Henne.
Jonathan Daniel/Getty Images

Jay Cutler looked horrible on Thursday night against the Green Bay Packers. Cutler was sacked seven times, threw four interceptions and was caught by cameras cursing at his offensive tackle J'Marcus Webb.
Cutler finished the night completing a meager 40 percent of his passes, going 11-of-27 for 126 yards with one touchdown. He was pressured all night, and two of the interceptions were clearly bad decisions.
Maybe next time Cutler won't be so quick to wish the Packers cornerbacks "good luck" before the game is played.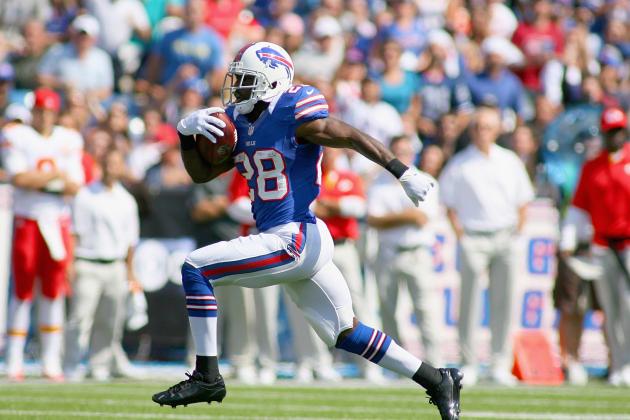 Rick Stewart/Getty Images

It's hard to imagine that C.J. Spiller is not the Buffalo Bills' actual starter at running back. Spiller only got the start because of an injury to Fred Jackson, and right now he is making the most of this opportunity.
Spiller was fantastic against the Kansas City Chiefs, rushing for 123 yards on only 15 carries and scoring two touchdowns. He added 47 receiving yards on three catches.
Spiller currently leads the league with 292 yards rushing, and with continued performances like this, it will be hard for the Bills to sit him down when a healthy Jackson returns.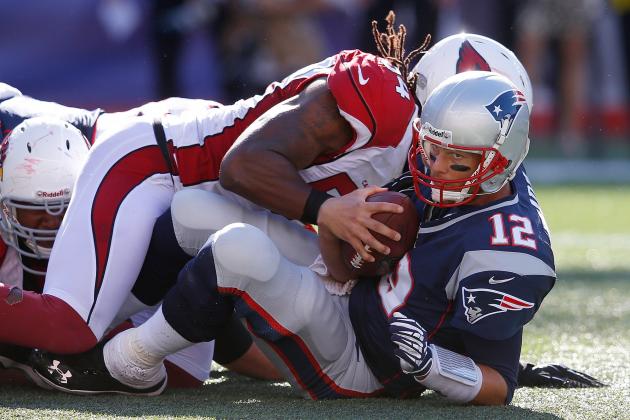 Jim Rogash/Getty Images

The New England Patriots lost their first home opener since moving into Gillette Stadium in 2002, and the offensive line has to carry most of the blame.
Quarterback Tom Brady was pressured throughout the game and was sacked four times. The offensive line was especially inept on third downs, providing poor protection, as the Patriots were only able to convert 33 percent of the time. They were also called for three false start penalties, which is inexcusable for an offensive line playing at home.
At the end of the game, a 30-yard touchdown run by Danny Woodhead was nullified by an offensive holding penalty. This forced the Patriots to attempt a 42-yard field goal, which was missed wide left by Stephen Gostkowski.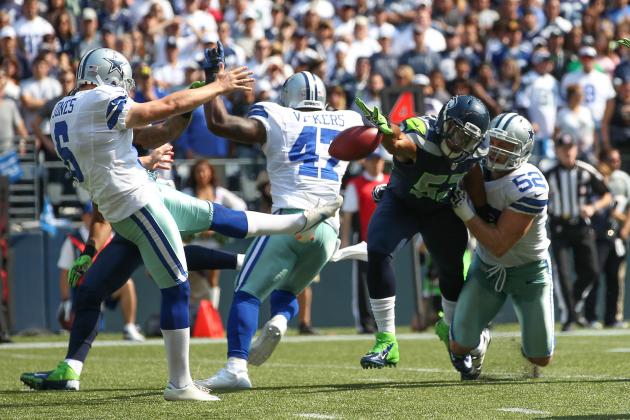 Otto Greule Jr/Getty Images

The Dallas Cowboys special teams units were not so special against the Seattle Seahawks. From the opening kickoff, the Cowboys clearly were not ready to play.
Felix Jones fumbled away the opening kickoff, which was recovered by the Seahawks at the Dallas 29-yard line, setting up Seattle's first field goal of the game.
Then on Dallas' first punt attempt by Chris Jones, Malcolm Smith blocked the punt, and Jeron Johnson recovered it for an easy touchdown.
Before the Cowboys blinked, their special teams units had given the Seahawks a 10-point lead.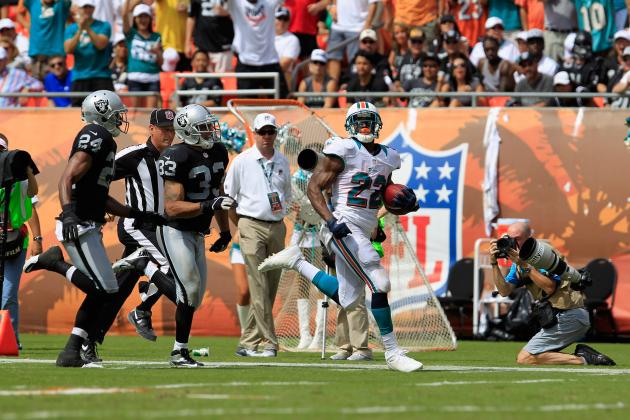 Chris Trotman/Getty Images

Talk about a player who is walking the walk after talking the talk. Before the start of the season, in a television interview (via USA Today), Reggie Bush said that he wanted to lead the NFL in rushing. Most everyone scoffed at his proclamation, but after torching the Oakland Raiders for 172 yards rushing, people better start to take notice.
Bush averaged 6.6 yards per carry and scored on touchdown runs of 23 and 65 yards in the third quarter, effectively icing the game for Miami. He added 25 yards on three receptions.
Only C.J. Spiller (292) has more rushing yards than Bush (241) right now.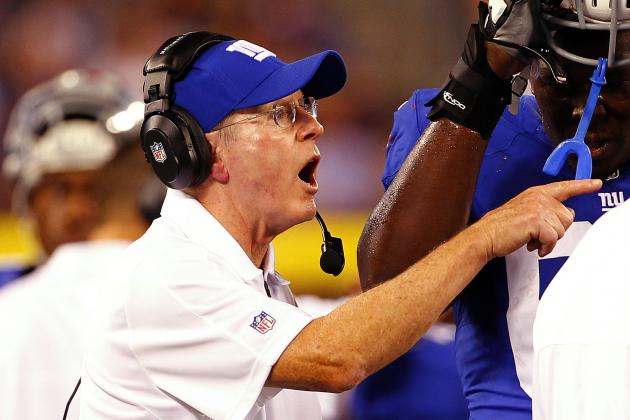 Rich Schultz/Getty Images

New York Giants head coach Tom Coughlin was visibly upset at the end of the game between his Giants and the Tampa Bay Buccaneers.
We can certainly understand why Coughlin was upset, as he felt the Buccaneers were wrong in going low at his offensive linemen on the final play of the game while quarterback Eli Manning was kneeling down.
However, getting into a shouting match with Buccaneers head coach Greg Schiano after the game in the middle of the field is probably not the best way to communicate your displeasure.
Last time we checked, nobody made Coughlin ruler over all the other coaches in the league. Someone needs to inform Coughlin that he has his way of coaching and that sometimes he and other coaches in the league won't see eye to eye when it comes to coaching styles.
Jamie Squire/Getty Images

The replacement officials were appalling in Week 2. It is getting to the point of being ridiculous. Just take a look at the Monday Night Football game between the Denver Broncos and the Atlanta Falcons if you think we're kidding.
There were so many incorrect calls in the 16 games in Week 2 that we cannot list them all. Instead, we'll take a look at the bigger problem with these replacement officials.
The replacement officials are beginning to affect player safety and the integrity of the game. They have next to no control in some of these games as players continue to push and shove way past the whistle with no respect for the officials. Never have there been more scuffles after plays than in the past two weeks without fear of unnecessary roughness penalties being called.
Defensive players are starting to push the limits of the rules, trying to see what they can get away with by pushing and holding receivers downfield. Meanwhile, offensive players are trying to disguise their holds of the defense.
There were several calls where player safety was a concern. One involved a hit by St. Louis Rams defensive end Robert Quinn on Washington Redskins tight end Fred Davis. Head coach Mike Shanahan felt a penalty should have been called on the play, via the Washington Post.
As well, Calvin Watkins of ESPN Dallas quoted Dallas Cowboys owner Jerry Jones as saying that he expected Seattle Seahawks wide receiver Golden Tate to be fined for his blindside hit on linebacker Sean Lee.
Neither of those hits were penalized during the game, and if the NFL fines Quinn and Tate, it would only be admitting on-field mistakes by replacement officials. If the league wants to be taken seriously when it talks about "player safety" and the "integrity" of the game, it needs to resolve its issues with the NFLRA sooner rather than later.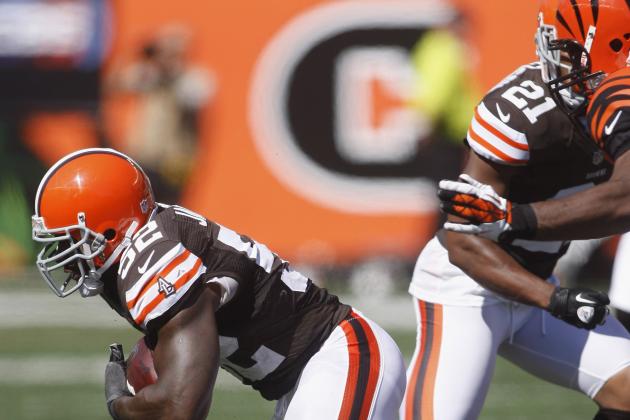 John Grieshop/Getty Images

One week after returning a Michael Vick interception for a touchdown, D'Qwell Jackson was at it again in Cincinnati.
Even though the Cleveland Browns lost the game, Jackson's third-quarter interception helped Cleveland get back into the game by setting up a Trent Richardson 23-yard touchdown run.
Jackson was busy harassing Bengals quarterback Andy Dalton all day. He finished the game with three sacks, three tackles, two defended passes and one interception.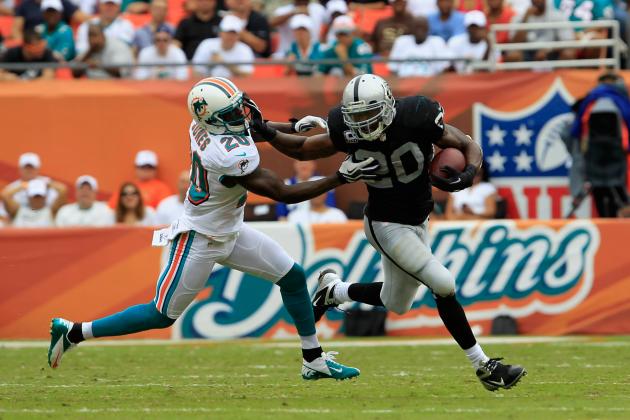 Chris Trotman/Getty Images

Where have you gone to, Run DMC?
Oakland Raiders running back Darren McFadden has yet to break out, and he was nearly nonexistent against the Miami Dolphins in Week 2. McFadden only averaged two yards per carry, as he was only able to gain 22 yards on 11 rush attempts.
So far in two games this season, McFadden has rushed for a miserable 54 yards. That doesn't even come close to the guy who averaged 5.4 yards per carry last season prior to going down to injury in Week 7.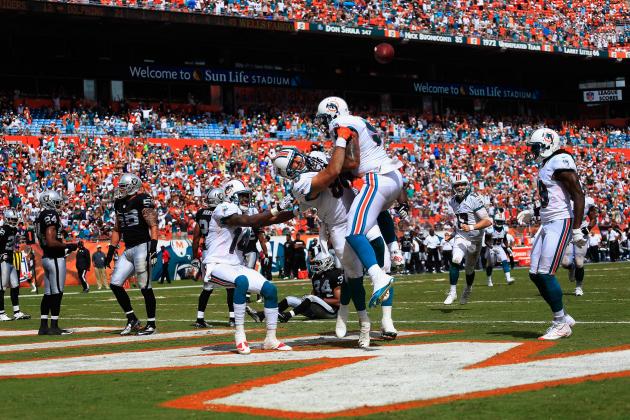 Chris Trotman/Getty Images

The Oakland Raiders allowed the Miami Dolphins to gain 452 yards of total offense in their 35-13 loss. The Dolphins gained 263 yards on the ground, averaging 6.1 yards per carry.
Oakland was not able to provide pressure on rookie quarterback Ryan Tannehill, and as a result, it was only able to sack him one time.
The Raiders defense was supposed to be their strength, but after two weeks, it looks like their weakness.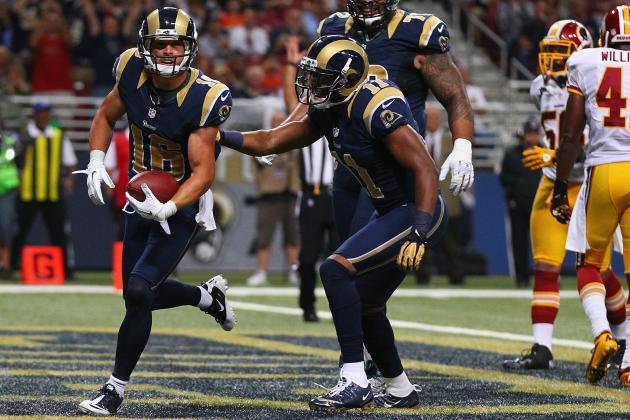 Dilip Vishwanat/Getty Images

After missing all of last season with an elbow injury suffered in the St. Louis Rams season opener, Danny Amendola has come back in a big way. His 12 catches in the first half against Washington tied the first-half reception record set by the Colts' Reggie Wayne in 2007.
Amendola finished with 15 catches for 160 yards and one touchdown, helping the Rams defeat the Redskins 31-28.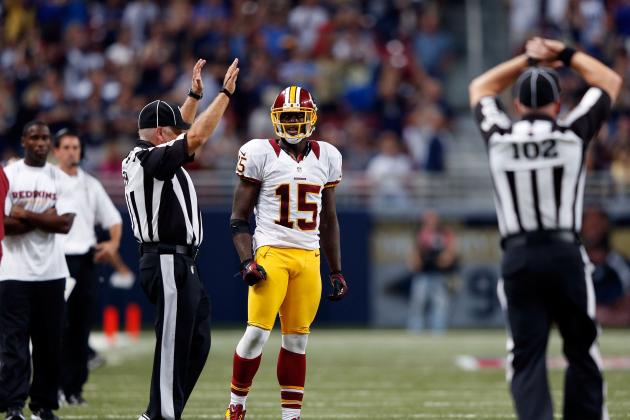 Jamie Squire/Getty Images

Josh Morgan picked the wrong time to throw the football at St. Louis Rams cornerback Cortland Finnegan.
With the Washington Redskins trailing the Rams 31-28 at the end of the game, Morgan caught a pass from Robert Griffin III that brought the Redskins into field-goal range.
Morgan, however, got into a scuffle with Finnegan that ended with Morgan losing his cool, throwing the ball at Finnegan and getting flagged for an unsportsmanlike conduct penalty that moved the ball from the Rams' 29-yard line to their 44-yard line.
Morgan's temporary insanity cost the Redskins the opportunity to tie the game, as Billy Cundiff missed the game-tying 62-yard field goal. Without the penalty, Cundiff would have attempted a more manageable 47-yard field goal.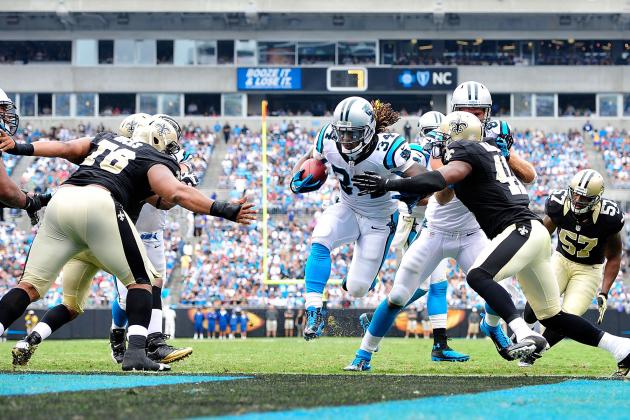 Grant Halverson/Getty Images

Chalk it up to missing their head coach (Sean Payton), their interim head coach (Joe Vitt) or even their departed defensive coordinator (Gregg Williams) if you will. Whatever the reason, the Saints defense is awful.
They are ranked dead last in the NFL right now, giving up an average of 461 yards of total offense. One week after the Saints allowed the Washington Redskins to score 40 points, the Carolina Panthers scored 35. Defensive coordinator Steve Spagnuolo has plenty of work to do to get this defensive unit back to respectable levels.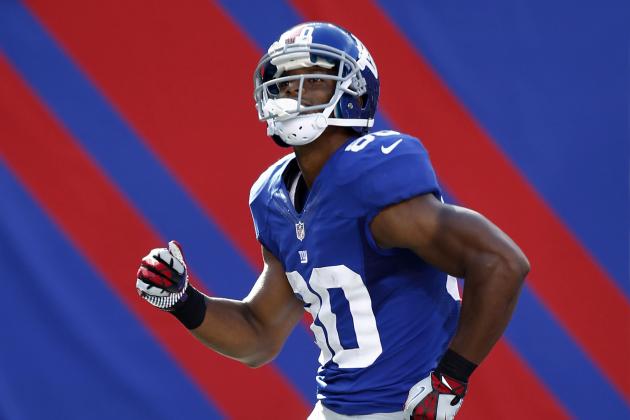 Jeff Zelevansky/Getty Images

One week after being held in check by the Dallas Cowboys, Victor Cruz and Hakeem Nicks broke out in a huge way.
Cruz, who was carrying the burden of the death of his grandmother, managed to erase the drops he had during the Cowboys game and torched the Tampa Bay Buccaneers secondary with 11 catches for 179 yards, including a spectacular 80-yard touchdown catch and run.
Nicks, who was seen limping around on his bad foot from time to time, posted equally impressive numbers, catching 10 passes for 199 yards and one score.
Together, these receivers accounted for 74 percent of quarterback Eli Manning's 510 passing yards and helped keep the New York Giants from falling to 0-2.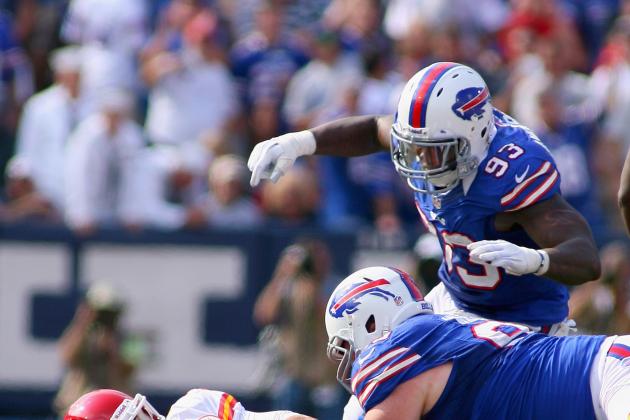 Rick Stewart/Getty Images

The Kansas City Chiefs were held scoreless in the first half, as their offense barely managed 66 yards on their first five possessions. On their sixth offensive possession, running back Peyton Hillis fumbled at the goal line, forcing the Chiefs to head into halftime trailing 21-0.
They did not do much in the second half either, as they were only able to score three points in the third quarter. Finally, trailing 35-10 late in the fourth quarter, they scored another garbage-time touchdown when the game was out of reach.
For all the weapons the Chiefs have on offense, they certainly are having a lot of problems scoring points.
Steven Bisig-US PRESSWIRE

Early in the fourth quarter of the Seattle Seahawks game against the Dallas Cowboys, Golden Tate placed a vicious block on Cowboys linebacker Sean Lee.
Even though some thought the hit was illegal (not that you would know it since the replacement officials did not flag Tate on the play), the hit itself was not the problem.
Tate's tasteless celebration of the hit was the problem. Immediately after launching himself at Lee, Tate began crawling around on all fours like a dog and then jumped up to show the name on the back of his jersey. Tate acted like a fool. And for what? Hitting a defenseless player who wasn't expecting the block.
If the league is preventing defenders from hitting defenseless receivers, it needs to stop receivers from placing these brutal hits on defenseless defenders.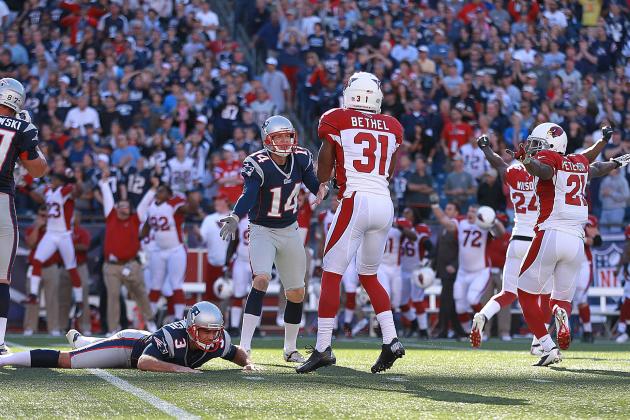 Jim Rogash/Getty Images

Did anyone outside of Arizona give the Cardinals a chance to go into Foxboro and defeat the New England Patriots?
Would anyone, including Arizona fans, have given them a chance to beat the Patriots if we told them Larry Fitzgerald would only have one catch for four yards?
Yet that is exactly what they did.
The Cardinals used a punishing defense, a ball-control offense and a little luck to defeat the Patriots and improve to 2-0.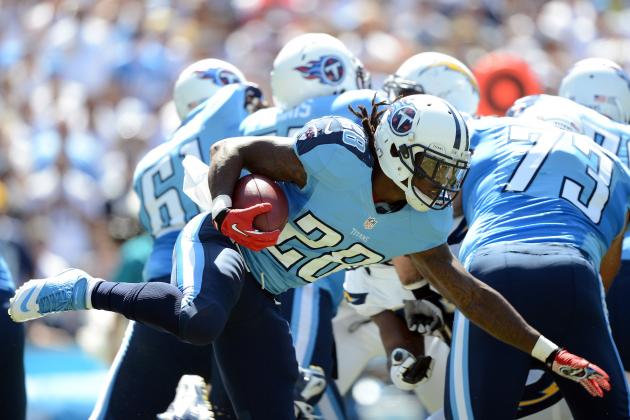 Harry How/Getty Images

Remember when Chris Johnson wanted to rush for 2,000 yards? Right now, he'll be lucky if he gets 200 yards.
Johnson rushed for 17 yards on eight carries against the San Diego Chargers, and that was a better performance than his Week 1 total of four yards on 11 carries against the New England Patriots.
At this pace, averaged out over a 16-game season, Johnson is projected to have 168 yards on 152 rush attempts. YIKES!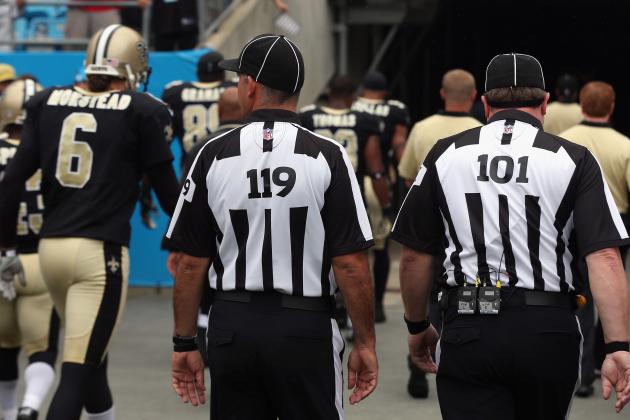 Streeter Lecka/Getty Images

Hours before the game between the New Orleans Saints and Carolina Panthers, the NFL pulled a replacement referee for apparently being a fan of the Saints.
Brian Stropolo, a side judge, was pulled from his assignment for the Saints vs. Panthers game. His Facebook page, which has since been disabled, showed him donning Saints gear and attending a Saints game as a fan. According to ESPN, Stropolo also posted his game assignment, which is a violation of league policy for officials.
We understand that some of these officials are going to be fans of NFL teams, but what cannot go overlooked is that it took ESPN informing the NFL Sunday morning before the game that Stropolo was a Saints fan.
The NFL should have done its due diligence on all the replacement officials before assigning them to work a game. If one replacement official got assigned to work a game for his favorite team, how many other officials are out there officiating games for their favorite teams?
Another knock on the integrity of the league.