6 Cautionary Tales for Current MMA Fighters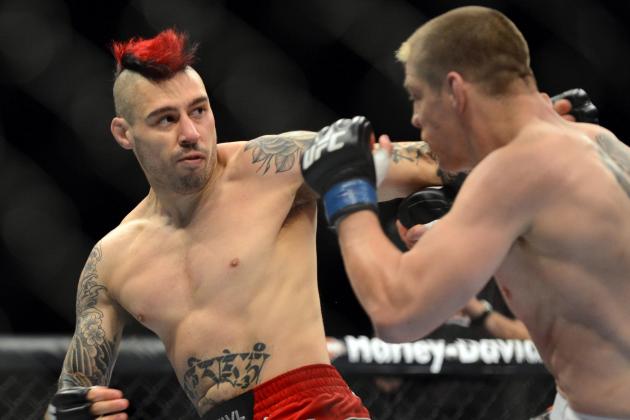 Ron Chenoy-US PRESSWIRE

"Learn from the mistakes of others. You can't live long enough to make them all yourself."
That quote comes from Eleanor Roosevelt, and although I'm certain that she wasn't talking about mixed martial arts, her meaning still applies.
A fighter gains experience and becomes a better competitor by learning from his mistakes. It's the reason that you commonly hear Joe Rogan talk about the benefits of a young fighter being handled inside of the cage. However, if that same fighter can learn from the mistakes of his fellow cage-fighter, he can continue to grow and evolve without damaging his own legacy.
Here are six cautionary tales that current MMA fighters should be aware of. Learning from these lessons can make everyone a more successful competitor.
Begin Slideshow

»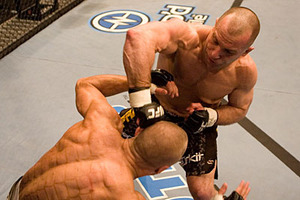 Courtesy of sportsnickel.com
You commonly hear the tale of Matt Serra and his shocking upset of heavy favorite Georges St-Pierre in their 2007 title bout. Serra would defy the odds by knocking out GSP in the first round and become one of the most inspirational tales that the sport has ever seen.
What you don't commonly hear about is Georges St-Pierre's unmotivated training camp heading into the fight. In the documentary about the champ, Striking Truth, the champ and his coaches admit that they didn't start training or game planning until 10 days prior to the fight.
The champ was a 10:1 favorite over Serra, and those odds likely got into his head. It cost him in a major way, but it ultimately taught him the most important lesson he could ever learn.
Cautionary Tale No. 1: Never Underestimate an Opponent for Any Reason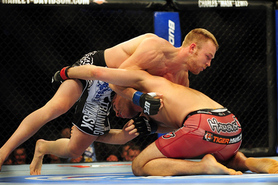 Courtesy of mmamania.com
Shortly after his come-from-behind victory against TJ Waldburger, surging welterweight Brian Ebersole told the world that he planned to drop to lightweight.
Some were confused by the notion, as Ebersole had an 11-fight winning streak and was 4-0 in the UFC. Why drop down to lightweight when you are having so much success?
When the UFC needed a late replacement for an injured Claude Patrick, Ebersole stepped up, and we quickly found out why the drop was necessary.
Ebersole was outsized, and Head used defensive wrestling to keep the bout standing, which negated the tremendous grappling advantage possessed by Ebersole.
Cautionary Tale No. 2: Fight in the Proper Weight Class for Your Body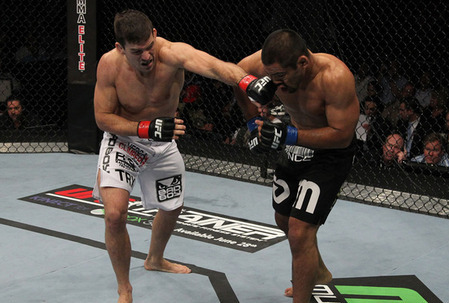 Courtesy of MMAmania.com
Before this slide goes any further, I want to state outright how impressed I am with the improved striking of Demian Maia. He has come a very long way from where he was when we first saw him, and it has helped make him a threat wherever the bout may go.
Did you ever see the movie Tin Cup with Kevin Costner? In the film, he played a golf pro who was trying to qualify for the U.S. Open, and his foolish pride cost him in a major way. In one memorable scene, to prove a point, Costner's character played the back nine with only his 7-iron.
Roy: Parred the backside with a 7-iron.
Simms: Why?
Molly: Yeah, that's exactly right. That's the question, "Why?"
Just because you CAN do something doesn't mean you should. Demian Maia CAN stay competitive in a fight without going to the ground, but if his strongest weapon is on the ground, he should look to grapple at all costs.
Maia distanced himself from his superior grappling after UFC 95, and he put together a paltry 4-4 record as a middleweight since that time. None of his victories came via stoppage, and none of the opponents of whom he found success was ranked.
Prior to his foolish hopes of becoming a striking wizard, Maia had a flawless 11-0 record, with Submission of the Night honors in four of his five UFC bouts.
Cautionary Tale No. 3: If It Ain't Broke, Don't Fix It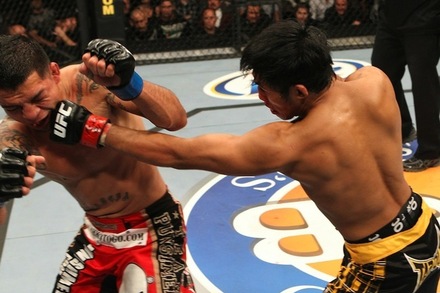 Courtesy of BloodyElbow.com
How many times have you heard Dana White say "Never leave it in the hands of the judges"? It is a tried and true adage that has more examples than any of us care to think about.
That's not always because the judges get it wrong. Oftentimes, it's because a fight just happens to be close enough to go either way.
Some fighters are iron-chinned warriors who can fend off dangerous submissions. For that reason, I will look to a bout where one man has previously been burned by the judges (or so he thinks), but allowed a rematch to go back to the scorecards.
In my opinion, Frankie Edgar was deserving of the nod at UFC 150, when he rematched Benson Henderson for the UFC lightweight championship. The bout came as a byproduct of a decision at UFC 144 in which Edgar (mistakenly) feels he was robbed of a victory by the judges.
With 15 seconds left in the final round, Edgar knew that the only way to ensure victory was to keep it away from the judges and to put Bendo away. In a curious move, he remained on guard, but threw no power shots in hopes of putting an end to the contest and guaranteeing a second title reign.
Edgar lost a split decision, but his lack of killer instinct in the final round leaves him with nobody to blame but himself.
Cautionary Tale No. 4: Never Leave It in the Hands of the Judges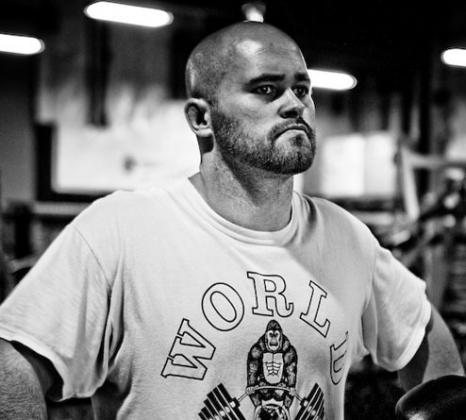 TheMMAnews.com
Professional wrestling is sports entertainment. Mixed martial arts is sport. The scorecards do not have a place to give an edge to someone for being more exciting than your opponent.
However, there are many reasons to throw caution to the wind and give the fans something to cheer about.
Flashy fighters find themselves on the main card more often than those who grind out decisions. Better card placement means better sponsorship dollars from companies who want their logos on television and pay-per-view.
Bonuses are everywhere. Between the standard Fight/Submission/KO of the Night and the unofficial "locker room bonuses" that the UFC gives to exciting guys, there is much more money to be made than your standard show/win money.
Exciting fighters are granted more leniency than those who utilize the smothering lay-and-pray tactics. Fighters like Dan Hardy and Yoshihiro Akiyama have kept their jobs despite four-fight skids.
The man who should have heeded this advice is Jon Madsen. Despite winning his first four fights in the UFC, he was never put on a main card, nor did he ever win any of the official Fight Night Bonuses. After his first loss inside the Octagon, he was released from his contract and has yet to be heard from again.
Cautionary Tale No. 5: It Pays to Be Flashy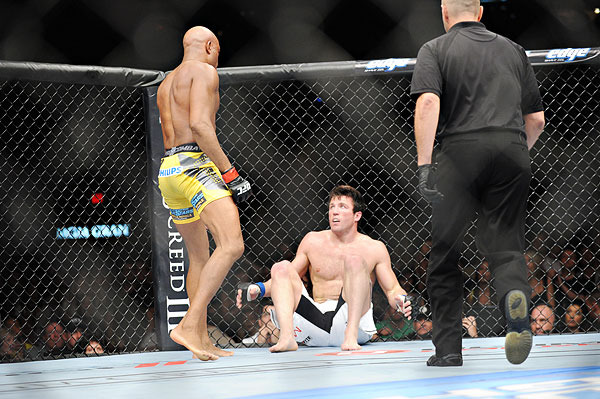 Courtesy of ESPN.com
Pop Quiz: How did Chael Sonnen find himself sitting on the ground, looking up at Anderson Silva with a terrified look on his face?
Answer: The "Why-in-God's-name-did-he-ever-attempt-that" spinning back-fist.
Chael Sonnen wanted nothing more than to win the UFC middleweight championship from Anderson Silva, and he tried to do it in spectacular fashion. Unfortunately, he threw a spinning back fist, lost his balance and fell to the canvas like a drunken imbecile.
The Spider made sure that Sonnen would live to forever regret the foolish decision, as he quickly finished The American Gangster with strikes in the seated position.
Cautionary Tale No. 6: It Doesn't Always Pay to Be Flashy