Boise State Football: Winners and Losers from the Week 3 Game vs. Miami (Ohio)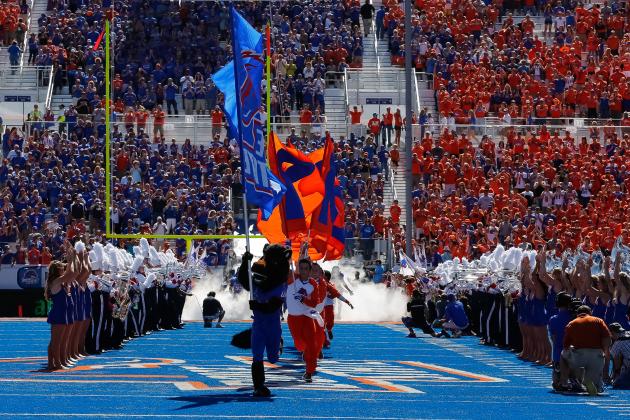 Otto Kitsinger III/Getty Images

Week 3 of the college football season brought game two for Boise State. It also brought the first win of the season for the Broncos.
There were some early mistakes, but as the game went on the young Bronco team seemed to be coming of age. The game at Michigan State was a brutal way to start a season, but the home opener against Miami (Ohio) was a nice way to rebound.
Let's look at the winners and losers from the contest and what that might mean going forward.
Begin Slideshow

»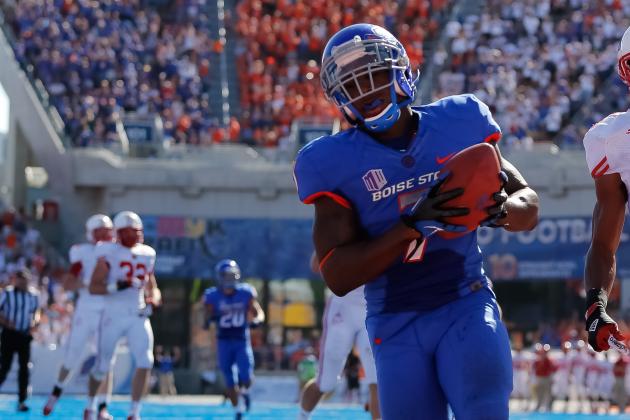 Otto Kitsinger III/Getty Images

Running back D.J. Harper had a career day against Miami (Ohio). He carried the ball 16 times for 162 yards and three rushing touchdowns.
Harper also had a single pass reception for 21 yards, also resulting in a touchdown.
It was the kind of day a running back dreams of, and for Harper it had to be very gratifying to finally have the game everyone knew he was capable of having.
Look for him to continue his success against BYU and every other opponent on the Broncos schedule in 2012.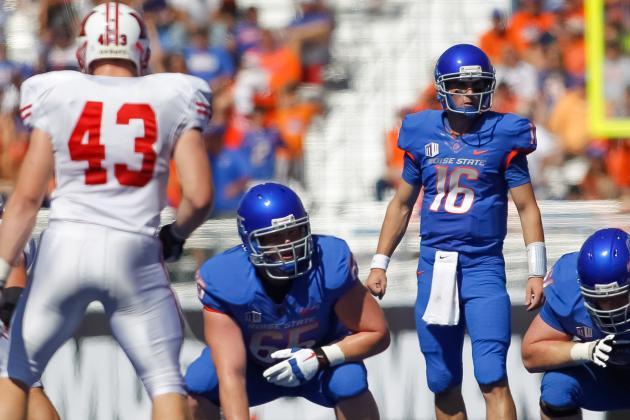 Otto Kitsinger III/Getty Images

Joe Southwick was another Bronco who rebounded in a big way.
Against Miami (Ohio), Southwick went 24-of-31 for 304 yards, two touchdowns and one interception. He looked to get more confident as the game went on, and his decision-making improved greatly.
Southwick's passes had zip on them and his accuracy was outstanding. The only exceptions were early throws, including an interception in the red zone. However, in the second half Southwick made very few mistakes.
Look for the confident Joe Southwick to lead his team to many victories as the season continues.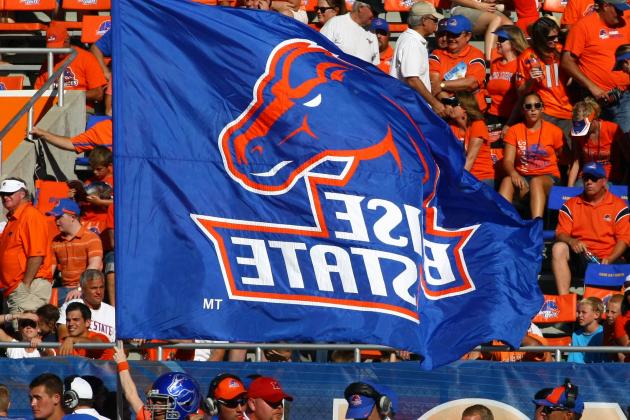 Brian Losness-US PRESSWIRE

After the Week 1 loss to Michigan State, the Broncos had their fair share of critics.
Many were doubting the Broncos and probably expected them to fall on their faces against Miami (Ohio). However, with a 39-12 convincing victory by the Broncos, those critics will have to be quiet for a while.
Critics never say silent for long, and they will get another chance at throwing words around if the Broncos fall to BYU this week, but with the way Boise State is playing, don't expect that to happen.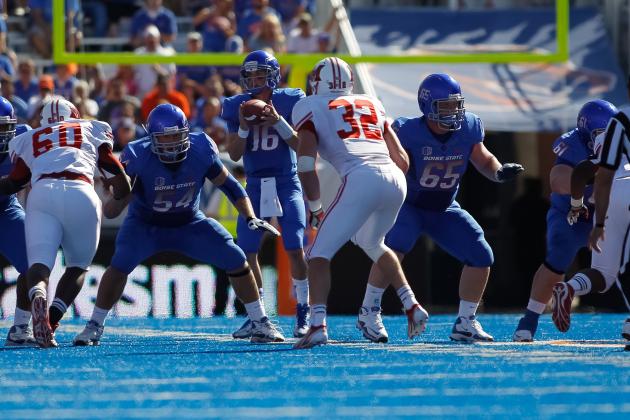 Otto Kitsinger III/Getty Images

The offensive line had an outstanding performance against the RedHawks of Miami (Ohio).
They didn't allow a single sack, and they were opening some enormous holes for running backs to take full advantage of.
If the O-line can continue to perform at the level they did against Miami (Ohio), you can expect Harper to have a record season, and Southwick to throw for serious yardage.
Brian Losness-US PRESSWIRE

Who scheduled a home game at 2:00 p.m. ET in September? That is the question many fans in the North end zone wanted to know.
With temperatures over 90 degrees at kickoff, the reflection off of the bleachers was tremendous. It caused the heat level to raise greatly, and many fans had to escape to shade several times during the game.
The heat wasn't as bad on the east side of the stadium because of the cement foundation. The south end zone also wasn't as hot because of the angle of the new bleachers that didn't seem to reflect near as bad as those in the north.
For fans sitting in the north end zone this week against BYU, you can be thankful the game starts at 7:00 p.m. ET.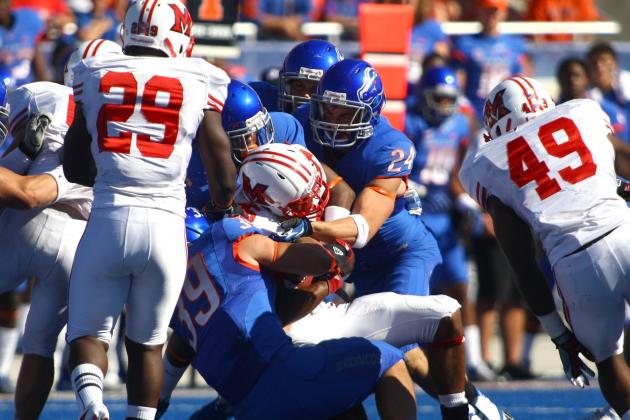 Brian Losness-US PRESSWIRE

The Boise State defense was relentless against the RedHawks.
On the day, Miami (Ohio) had only 227 yards of total offense. Zac Dysert, the talented quarterback for the RedHawks, was held to just 178 yards passing and no touchdowns.
It was a dominating performance, and Bronco fans can be proud of how the defense played on Saturday.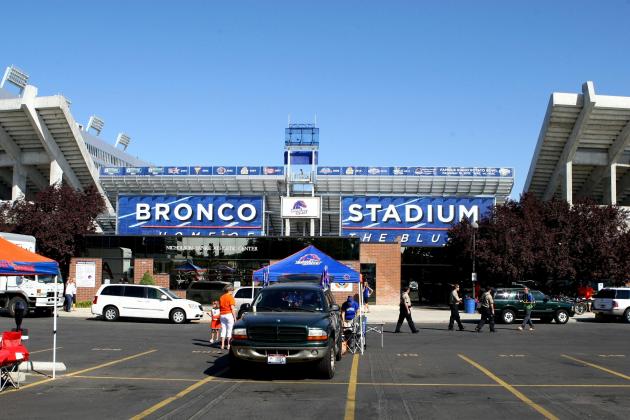 Brian Losness-US PRESSWIRE

Bronco Stadium is looking good these days. There were several upgrades in the offseason, and most of them look great.
The track was turned gray, and it looks good. Added seats in the south end zone caused the stadium to be even louder than before. It also closed in the south end and it looked much better.
Several flat screens were placed around the stadium so fans could see the game. However, they need to add more around several concession areas.
The video screen was raised, and now fans even in the north end zone can see the replays.
Overall, the upgrades were nice, and with new construction underway on a football complex behind the north end zone bleachers, the future looks bright.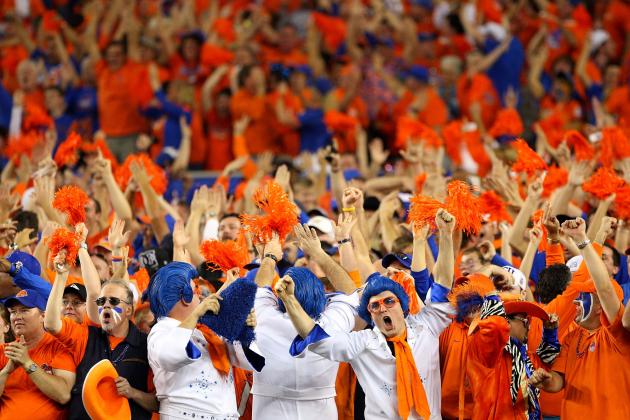 Christian Petersen/Getty Images

The Boise State home opener had a great atmosphere. However, it could have been even better.
Bronco fans want to prove that their team belongs in the big time. But when games don't sell out, it doesn't help.
There were nearly 3.000 seats unfilled at game time. Not only that, but because of the heat and various other reasons, fans streamed out at halftime and many didn't return.
It had to be a bit disappointing for the administration that worked so hard to get things ready for the season. It also had to be disappointing for players to see any amount of empty seats.
The Broncos shouldn't have the same problem against BYU.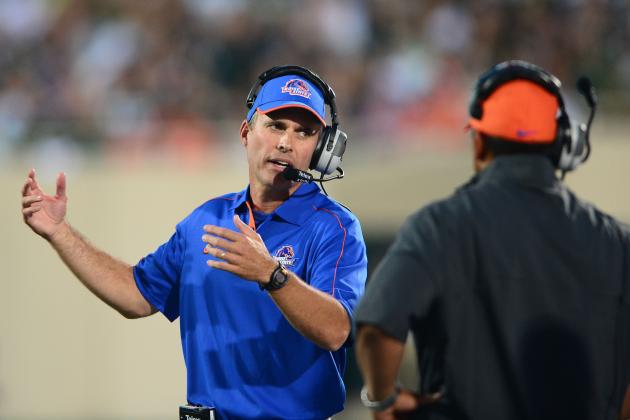 Andrew Weber-US PRESSWIRE

Head coach Chris Petersen had to feel good after a convincing win, but there is little doubt that he isn't satisfied. The early mistakes of his team will be good coaching material.
Petersen and the rest of his staff did a great job preparing their team for Miami (Ohio). However, it is clear they have done an even better job of rebuilding a team that lost 15 starters from last year's squad.
Look for continued success all season, starting this week with BYU.