UFC 152: Joseph Benavidez vs. Demetrious Johnson Head-to-Toe Breakdown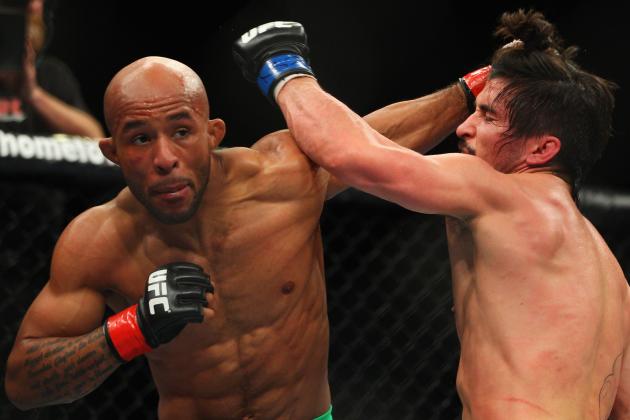 Mark Kolbe/Getty Images

UFC 152 comes to you hot this weekend with a couple of title bouts, including the first ever flyweight title bout between Joseph Benavidez and Demetrious Johnson.
Both men competed in the inaugural flyweight tournament. Benavidez knocked out Yasuhiro Urushitani to make it to the finals, while Johnson drew against Ian McCall before earning a decision win over him.
Here is a head-to-toe breakdown of the first ever UFC Flyweight Championship match.
Begin Slideshow

»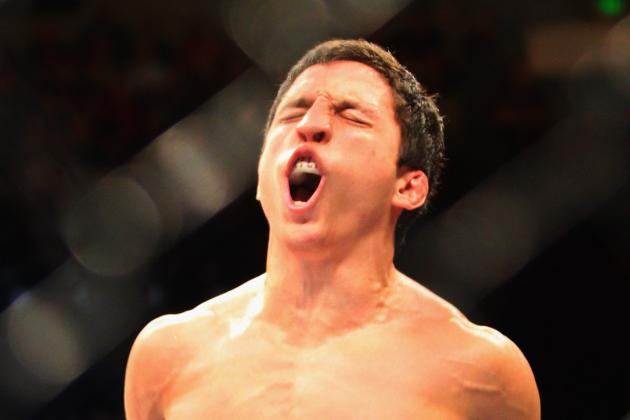 Mark Kolbe/Getty Images

Both men are traditionally wrestlers, but at this point, they are mixed martial artists that have developed their all-around games.
Demetrious Johnson typically uses his striking to set up takedowns. He only holds three career knockouts, all of which came before the UFC. He has decent leg kicks and hands, but his speed is his biggest asset.
Joseph Benavidez has some of the most underrated striking in MMA. He does use it to grab takedowns, but he also uses it to end fights. Though he only has four career knockouts, two of them have come recently, putting away Rani Yahya and Yasuhiro Urushitani with his hands.
Benavidez definitely gets the advantage here.
Edge: Benavidez
Mark Kolbe/Getty Images

As stated, both Demetrious Johnson and Joseph Benavidez are wrestling-based fighters.
Johnson has used his wrestling to earn wins over Miguel Torres and Norifumi Yamamoto. He has a good top game, but uses it to grapple more than use ground-and-pound.
Benavidez is also a good top-game wrestler. The difference is that Benavidez uses ground striking and submissions, even though that is more about grappling.
Therefore, there is no edge.
Edge: Push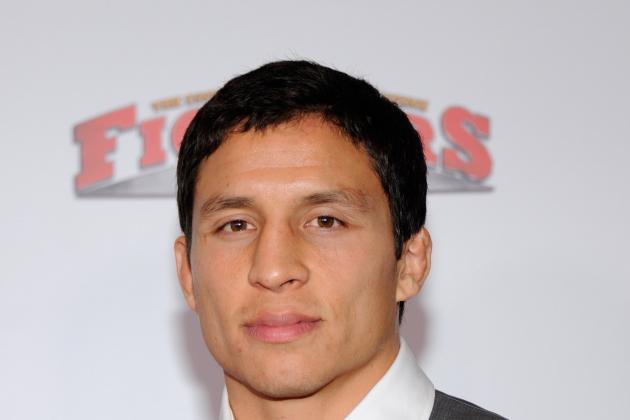 Ethan Miller/Getty Images

Both men are great grapplers, but their is a distinct difference that separates the two.
Demetrious Johnson has six career submission wins against zero losses by tapout. Only one submission has come since moving up to the big leagues, which was a guillotine choke over the oft-submitted Damacio Page.
Meanwhile, Joseph Benavidez has submitted eight in his career, including three in the big leagues. He has a deadly guillotine choke, which he has used to put away Brazilian jiu-jitsu black belts Miguel Torres and Wagnney Fabiano.
The advantage is obvious here.
Edge: Benavidez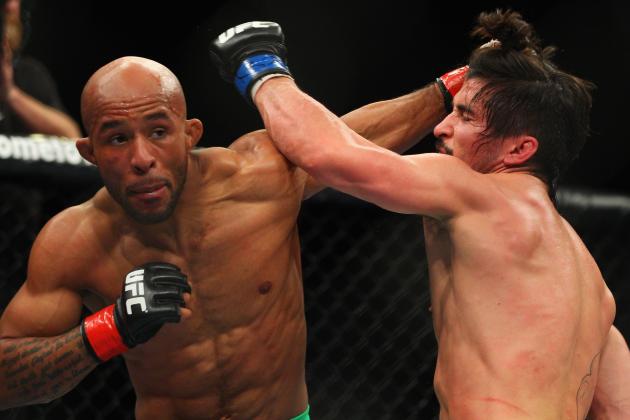 Mark Kolbe/Getty Images

The first intangible is that Demetrious Johnson has fought more recently than Joseph Benavidez. Benavidez has been on the shelf since his win over Yasuhiro Urushitani, while Johnson has faced Ian McCall twice in that time. This may benefit Johnson.
Also, Joseph Benavidez trains with Team Alpha Male, which is the premiere camp for fighters in the lighter weight classes. A lot of top faces appear at that camp, which will benefit Benavidez coming into this fight.
Both men are very quick, so that aspect of the game may cancel out.
Edge: Push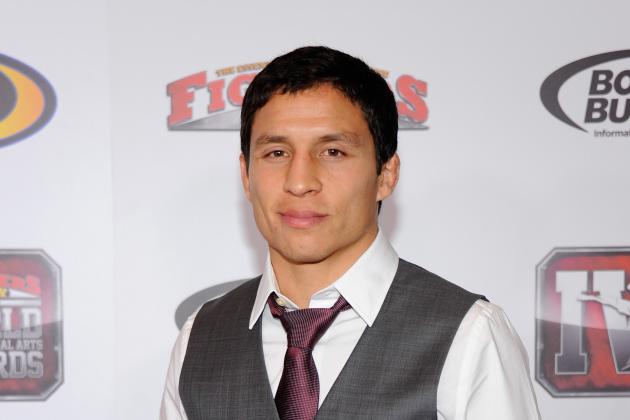 Ethan Miller/Getty Images

This fight has the potential to be a fight of the year candidate.
The fight will start off on the feet, as usual, before Johnson begins looking to clinch and take the fight down. Benavidez will be tough to get to the ground and will stay standing.
From there, Benavidez will pick Johnson apart on the feet. If he earns a late knockout, I would not be surprised, but I think Benavidez will cruise to a clear-cut decision.
Prediction: Benavidez def. Johnson via decision