College Basketball: 8 Qualities of a Great College Basketball Recruiter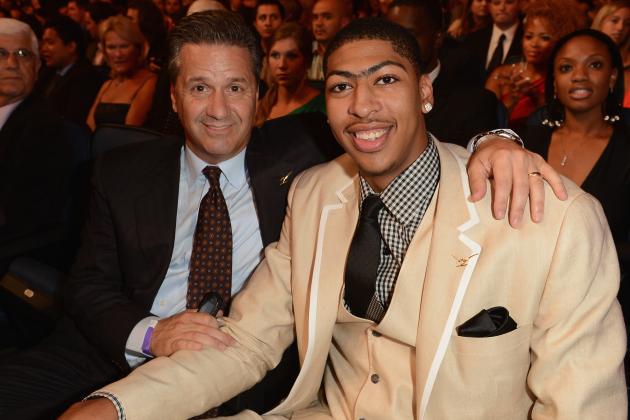 Jason Merritt/Getty Images

Half of being a successful college basketball coach is being a great recruiter.
Few aspects of coaching trump being able to consistently pull in elite-level talent.
Some people have said that if you can recruit, you don't have to be much of an X's and O's guy. All you have to do is put your stars on the court and the rest will take care of itself.
While that is not true, being a great recruiter is absolutely crucial to a coach's success at a college basketball program.
Make no mistake about it. Some of the best CBB programs in the country are stocked with talent because of unbelievable recruiting done by the staff.
But, the great teams aren't great without the head coach being actively and consistently involved in the recruiting process.
From a head coach's standpoint, here are eight qualities of a great college basketball recruiter.
Begin Slideshow

»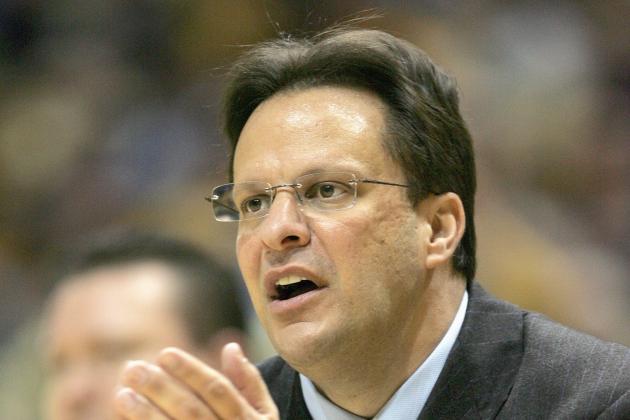 Jonathan Daniel/Getty Images

Great recruiters know that getting in early is vitally important to reeling in top-level talent.
Being first makes a big impact.
Some coaches have taken this idea of early contact to an extreme.
Up until a few years ago, the NCAA rules about recruiting began with ninth graders.
And because of that, contact with middle schoolers was not controlled or supervised.
Dick Weiss of the New York Daily News reported that the NCAA, in 2009:
"Voted overwhelmingly to change the definition of a prospect from 9th grade to 7th grade - for men's basketball only - to stop a trend in which some college coaches were working at private, elite camps and clinics for seventh- and eighth-graders. The NCAA couldn't regulate those camps because those youngsters fell below the current cutoff."
However, regulation by no means shut down recruiting.
Indiana's Tom Crean is the latest head coach to offer a scholarship to an eighth grader.
The fact remains: It's amazing how many recruits end up committing to the school that "discovered them" before everyone else.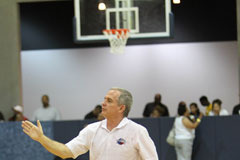 texastitansbasketball.org
Recruiting is about relationships.
Relationships with prospects. Relationships with prospects' families. Relationships with coaches.
Relationships are important because they help establish trust and respect.
It used to be that a great recruiter knew the high school coaches because they were the ones that, outside of their families, had the closest relationships with the targeted players.
They were the ones that could help deliver recruits.
Over the last years, travel-team coaches have become just as or more important in this process.
In some cases, because they are basically All-Star team coaches, the travel-team coach is potentially connected to multiple talented players.
Scott Pospichal (pictured) is the head coach of the Texas Titans basketball program, which is a collection of elite-level travel teams based out of Dallas.
He is just a single example of the kind of individual that great recruiters include in their network of relationships.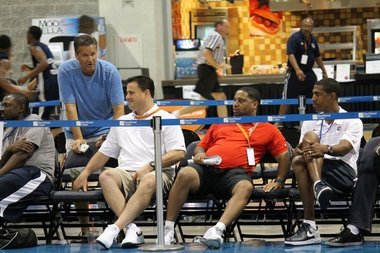 masslive.com
Great recruiters don't take the summer off.
In fact, the summer is a critical part to the whole recruiting process.
The months of June through August give lots of opportunities for seeing and being seen.
Coaches and their staffs travel near and far to be able to watch the prospects that they are pursuing or to discover their next prospects.
There are an endless succession of skills training camps and tournaments.
And while coaches do send their staff out to sit in the bleachers and evaluate talent, the great recruiters are there...seeing and being seen.
One of the reasons that John Calipari and Sean Miller (both pictured) are great recruiters is that they get that half of being a great recruiter is being there.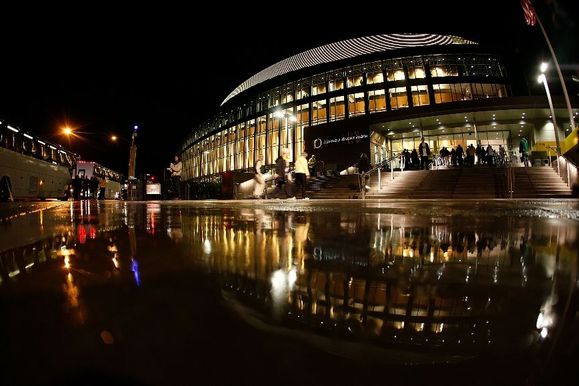 blog.eastbay.com
Great recruiters are always looking to get bigger, better and nicer facilities.
Coaches want to have the best for their players and program.
They also want to be able to WOW recruits and their families with what they will have access to if they come to their school.
The University of Oregon, with the help of Nike co-founder Phil Knight, has upgraded its basketball plant as much as anyone in recent years.
They not only have a new arena and practice facility (pictured) but also a state-of-the-art academic center for student athletes.
The Ducks may not have fully leveraged this yet, but they are probably getting some players to take a second look at bringing their talents to Eugene because of their fantastic facilities.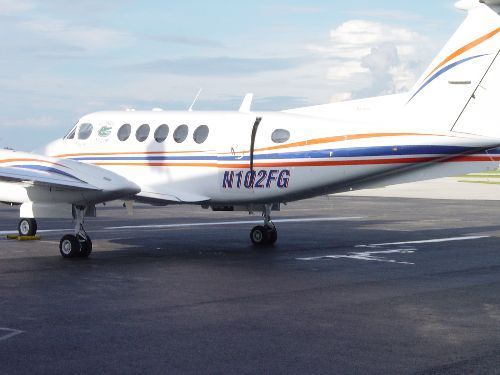 sarasotagatorclub.com
Check out the University of Florida's private jet (pictured).
You probably already noticed the orange and blue striping and the Gator emblem by the pilot's window.
A jet is not for status but for convenience.
If coaches need to go see a recruit, they don't have to pull up Travelocity and see when the next commercial flight leaves.
They can just go.
Great recruiters have access to various resources that help them do their job.
Sure, lots of D-1 schools will never have a jet, but there are other ways that deep-pocketed alumni can legitimately help this whole process.
We're not talking about buying cars and giving cash, but rather providing what is needed to help the program be the best that it can be.
We just mentioned the generous role that Phil Knight plays at Oregon.
Great recruiters have booster buy-in that leads to booster bucks.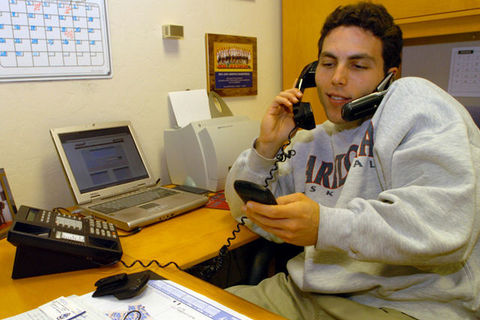 tucsoncitizen.com
Great recruiters find ways to be in contact with their prospects.
Back in the day, it was all about letters and phone calls.
Just recently, the NCAA relaxed their regulations on coaches being able to contact through text messages.
Coaches can now send unlimited text messages to players who have completed their sophomore year of high school.
Josh Pastner (pictured when he was an assistant at the University of Arizona) didn't wait until he became the head coach at Memphis to discover the importance of utilizing multiple platforms to let recruits know that he and his program were thinking about them.
This picture where Pastner has a cell phone, a Blackberry, land line and a laptop going simultaneously is not a joke.
It's a reality for the great recruiter.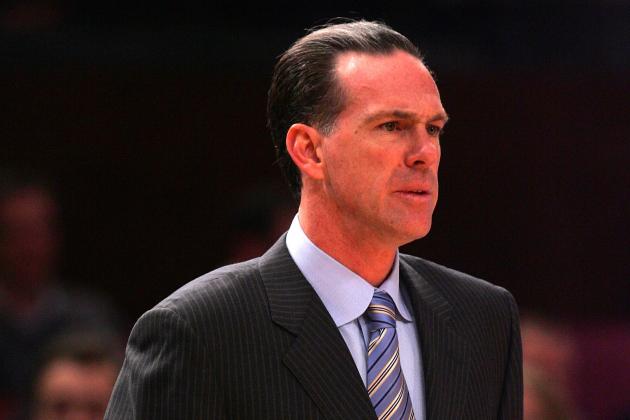 Chris Trotman/Getty Images

Great recruiters are comfortable with who they are and what style their team plays.
Instead of going out and trying to recruit any player, they are focused on finding the right players for their system.
Pitt's Jamie Dixon is a good example of a coach who knows what kind of ball he wants to play and what kinds of players are going to help accomplish that.
While Pitt hasn't won any national championships on Dixon's watch, the Panthers have gone 238-77 in his nine seasons, made it to the postseason every year and generally been a force to be reckoned with.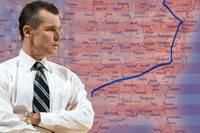 Gatorzone.com
Great recruiters just keep going and going.
Rather than keeping a reasonable pace, most coaches who pull in the recruits are relentless in their pursuit of prospects.
Scott Carter of Gatorzone.com recounts the story of what Billy Donovan put himself through in the days that followed 9/11.
The Florida coach was on a plane traveling from Detroit to Boston until his flight, like hundreds of others that day, was ordered to land immediately in Buffalo.
Not deterred, Donovan drove 400 miles from Buffalo to Philadelphia to see a recruit (Matt Walsh) who eventually became a Gator.
From Philly, he drove to Raleigh N.C to see Mario Boggan (another future Gator) and Shavilak Randolph (Duke) and then to Dallas to see Chris Bosh (Georgia Tech).
More than 12 states and 2000 miles in a rental car to see four high school players.
But the pay-off was pretty good. Two out of four commitments.
Even though most recruiting trips aren't that productive, it pays off for college coaches to put in the time, log the miles and persevere on the recruiting trail.
Great recruiters know what it is to be tired.