Broncos vs Falcons: Analyzing All of Peyton Manning's MNF INTs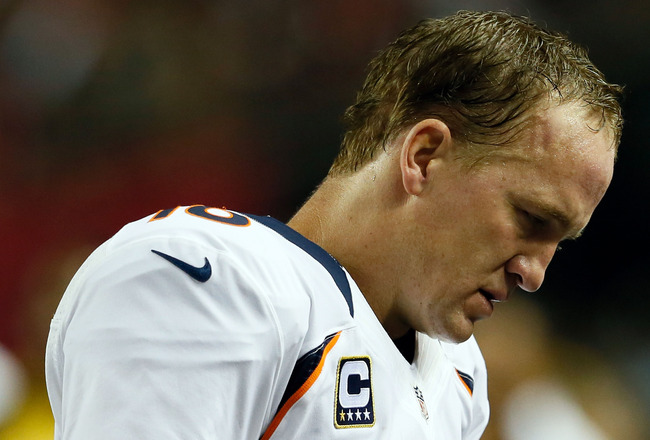 Kevin C. Cox/Getty Images
Denver Broncos quarterback Peyton Manning had an atrocious outing in Atlanta against the Falcons on Monday Night Football, tossing three first quarter interceptions and putting his team in a deep hole to start the game.
The worst part about his interceptions is that they were primarily Manning's fault.
Follow me as I take a closer look at all of Manning's interceptions and see how the legendary quarterback's night went so wrong.
Interception No. 1
Peyton Manning's terrible game started on the third play of the night.
He got the offense going in a quick-huddle and thought he had the defense beat. What Manning didn't see is safety William Moore tracking his eyes.
Then, Manning's ill-advised throw floated a bit and Moore had himself an easy pick that almost went the distance.
Manning had plenty of time to throw. There was no pressure at all on this play, he simply misread the field and threw an ill-timed interception that helped put his team in a 7-0 hole.
Interception No. 2
Peyton Manning's second interception of the game came just a couple of minutes later, and it paved the way for a complete blowout in the first half.
Manning had plenty of time to throw again on this play, but his problem once again was that he failed to recognize the coverage that the Atlanta Falcons were in on the back end of the play.
The Falcons gave Manning a two-deep look at the start of the play with their two safeties, but once the ball was snapped, William Moore dropped down into the middle while the two cornerbacks and safety Thomas DeCoud dropped back into thirds.
DeCoud read Manning the whole way and easily jumped in front of the pass, which was intended for Jacob Tamme.
Manning had no excuse for making the throw, and he knew it, too.
Interception No. 3
Peyton Manning's third interception of the game also occurred in the first quarter—his third in less than eight minutes of game time.
Manning did it to himself, once again.
Robert McClain was in a deep zone on the outside, and he read Manning's eyes the entire way as No. 18 locked in on Brandon Stokley. He easily jumped in front of Manning's pass and took it 32 yards before being stopped.
It was another instance of Manning failing to recognize what the Falcons were doing in coverage—a fact that shows the Falcons had an excellent game plan in place. You don't fool Manning like that three times otherwise.
Manning's mistakes cost his team a chance at keeping up with the high-powered Falcons offense in the first half, and much of the blame for the loss falls on his shoulders.
Follow me on Twitter @JesseReed78
Keep Reading