After a demoralizing 31-28 loss to the St. Louis Rams on Sunday, the Redskins will see three plays on tape that sealed the deal and essentially handed over victory. Had these three plays not occurred, the Redskins probably would have come out victorious.
Of course, you can say this about any particular set of plays—but these three were all critical errors, and led directly to the loss.
1. The Blocked Punt in the Third Quarter.
The situation: fourth-and-six at their own 24-yard line. Washington lined up to punt the ball away after an unsuccessful drive, hoping to pin the Rams back and hold on to a 28-23 lead.
It wasn't to be. In a play that was eerily similar to the blocked punt against New Orleans, the Rams crashed into the middle and blocked Sav Rocca's punt, recovering the ball at the 24 and setting St. Louis up with great field position.
Four plays later, Sam Bradford found Matthew Mulligan for a 1-yard touchdown and a 31-28 lead after a two-point conversion.
These are the types of plays that good teams don't make. Add in the fact that it's the second week in a row that it's happened, and you start having flashbacks to last season and the problems Graham Gano had with blocked field goals.
It's a problem the Redskins really have to shore up, because they might have won the game had they just protected the punter.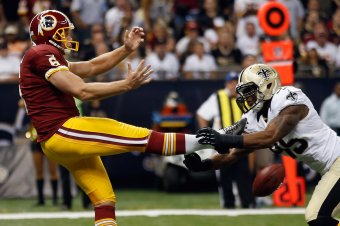 Chris Graythen/Getty Images
2. Aldrick Robinson's Terrible Drop.
The Rams had just taken the lead and the Redskins were on the move. Robert Griffin III dropped back to pass and let fly a perfect throw to Aldrick Robinson, who promptly let the ball hit his chest and bounce away from his grasp. It would have been at least a 40-yard gain, and would have set the Redskins up to tie or take the lead.
Instead, Washington stalled and had to punt, and didn't get the ball back until there were just under five minutes left in the game.
Robinson's drop was another example of a play that simply had to be made to win a game. Bad or inexperienced teams tend to make these errors, and it cost the Redskins dearly on Sunday. Hopefully, Robinson uses it as a learning experience and tries to catch more balls with his hands as opposed to his chest.
3. Josh Morgan and His Two Errors.
Josh Morgan became one of D.C.'s most hated after throwing the ball at Cortland Finnegan, putting the Redskins out of field goal position and essentially losing them the game. That error was uncalled for and should have Morgan playing backup duty for a few weeks.
But Morgan's first error was equally as bad. When he caught the ball, Morgan inexplicably refused to turn upfield for an easy first down. Instead, he spun to the outside and tried to stretch for the sticks. He came up short, and then he made his mental error.
Think about it this way: if he had just turned upfield and made the first down, Finnegan would have been nowhere near the play and the Redskins could have tried to get even closer for Billy Cundiff. In short, the game would have either been won on a touchdown, or it would have gone to overtime.
The worst part about all these errors is that they came late in the game. Hopefully, this team learns from these mistakes and fixes its problems as the season progresses.