Odds Each Top 25 Team Will Endure a Major Upset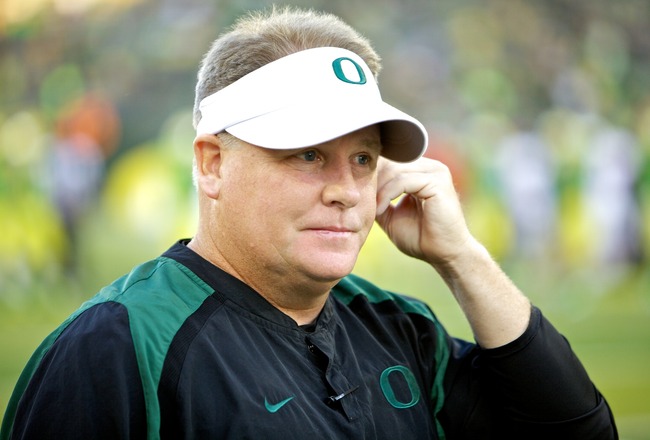 Craig Mitchelldyer/Getty Images
With the way the college football polls tend to fluctuate from week to week, particularly at the beginning of the season, there can be some major upsets in the college football world.
Heading into the fourth week, we have learned a little bit about who is a pretender and who is a contender.
While there is still plenty of time for upsets to occur, as we enter conference season, the competition is going to be much more intense.
However, a top-25 team can still slip up along the way against a much lesser-ranked team. Which top-25 teams are most susceptible to such a fall?
For the sake of argument, a major upset will be considered a team ranked below No. 50.
Here are the odds that each top-25 team gets upset somewhere along the line this season. The rankings are according to the AP poll.
1. Alabama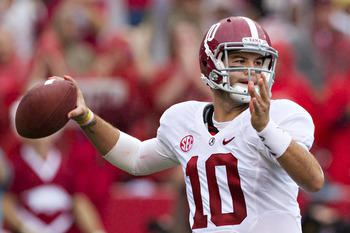 Wesley Hitt/Getty Images
There are certainly plenty of teams on the Alabama schedule that could pose an upset to the Crimson Tide, but outside of LSU, it is hard to imagine this team losing to anybody.
One possibility would be Auburn, but is that ever really an upset? Alabama is also at home in that one, so there is not much of a chance for an upset.
Other than that, the Crimson Tide should be upset free.
Odds: 6.7%

2. LSU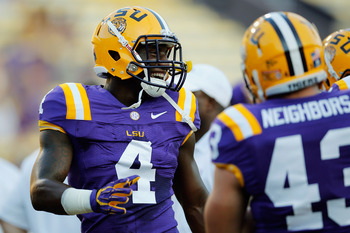 Chris Graythen/Getty Images
LSU could be more upset prone than a team like Alabama, because the Tigers might struggle on offense and a few turnovers could even the playing field against a lesser team.
The Tigers travel to Auburn on Saturday, in what looks like their most likely game for a major upset as most of the other teams on their schedule are teams in the top 50 in the country.
A road trip to Arkansas at the end of the year could be troublesome, but the Razorbacks could be back in the rankings by then.
Odds: 8.3%

3. Oregon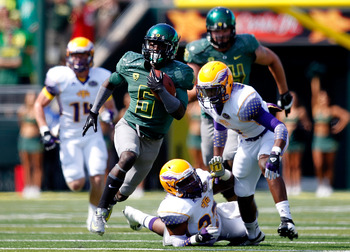 Jonathan Ferrey/Getty Images
There is not an offense that is as fun to watch as Oregon, and it will be hard with anybody to score enough points to hang with the Ducks.
A few teams on the schedule who could pose an upset threat are California and Oregon State. Both of these games are on the road and both teams have the ability to hang with the big boys.
California just showed that against Ohio State, and Oregon State has already taken down Wisconsin.
Odds: 10%

4. Florida State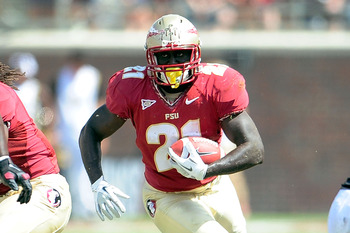 Stacy Revere/Getty Images
No team has looked more impressive in the early going than the Florida State Seminoles, and it is hard to imagine them losing to anybody, much less a lower level team.
They seem to always stumble somewhere along the way, and there are a few games where that might be the case this season.
Among those who could pose major upset threats are North Carolina State on the road as well as a trip to Miami to take on the in-state rival Hurricanes.
Odds: 12.5%

5. Georgia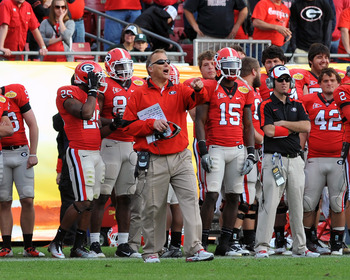 Al Messerschmidt/Getty Images
Most of the teams remaining on the Georgia schedule are too good to be considered major upset teams, but there are a few who would fit the criteria.
A road game against Auburn seems to be the most likely upset for Georgia along the way, but even that does not seem likely at all.
Other cupcakes on the schedule include Georgia Southern, Kentucky and Ole Miss. These are games they should never lose.
Odds: 6.7%
6. Oklahoma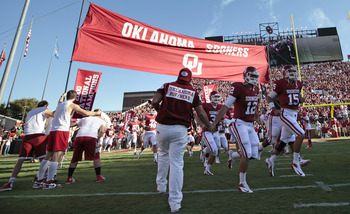 Brett Deering/Getty Images
Oklahoma has not looked too impressive in the early going, and the Sooners almost appear poised for an upset.
They have some games where an upset is possible in the coming weeks, including road trips against Texas Tech and Iowa State. Both of these games are on the road, and it appears like the Sooners may fall in one of these two.
They also take on Kansas, but that game is at home.
Odds: 33.3%

7. South Carolina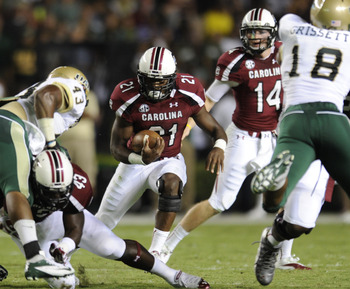 Mary Ann Chastain/Getty Images
South Carolina has a grueling schedule the rest of the way, and with the exception of a road game against Kentucky and a home game against Wofford, there are no major upset possibilities on the horizon.
The Gamecocks appear in good hands with Marcus Lattimore returning to full health and a solid defense.
An upset is highly unlikely for this team.
Odds: 5%

8. West Virginia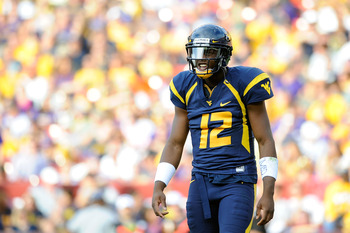 Patrick McDermott/Getty Images
West Virginia has looked very strong in previous weeks and has a road game at Iowa State on November 23. This is the one game that sticks out as a potential upset.
Texas Tech on the road in the middle of October could also be a challenge.
Maryland at home does not look like it is going to be anything to worry about, and Kansas to close out the season should be a cake walk as well.
Odds: 12.5%
9. Stanford
Ezra Shaw/Getty Images
If Stanford is not careful, the next opponent on its schedule could be the upset it does not want to see happen.
The Cardinal travel to Washington on a Thursday night contest that is not going to be easy. They also have a road game against California in October and home games against Washington State and Oregon State.
There is no question that Stanford could fall victim to one of these teams.
Odds: 25%

10. Clemson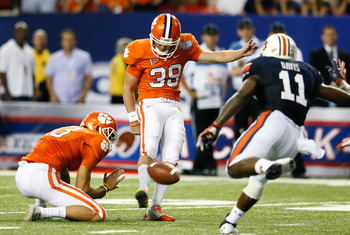 Kevin C. Cox/Getty Images
The Clemson offense has been very strong in recent weeks, and the Tigers will get a huge challenge on Saturday against a strong Florida State defense.
The upsets could come at Wake Forest as well as a home game at the end of the season against North Carolina State.
With the way Clemson scores, it is hard to imagine the Tigers losing to either one of these two teams.
Odds: 6.7%

11. Notre Dame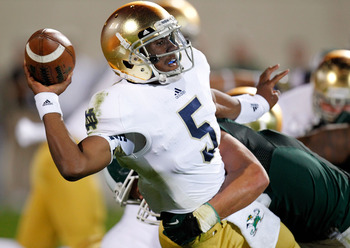 Gregory Shamus/Getty Images
Notre Dame has looked very good so far this season, and it is a serious BCS contender. The schedule is very difficult, and there are some challenging games coming up.
When it comes to potential upsets, one team on the schedule that rings a bell is the Pittsburgh Panthers. The Panthers are fresh off an upset against Virginia Tech and appear headed in the right direction.
Notre Dame also takes on a Wake Forest team that does not appear to be much of a threat.
Odds: 14.3%

12. Texas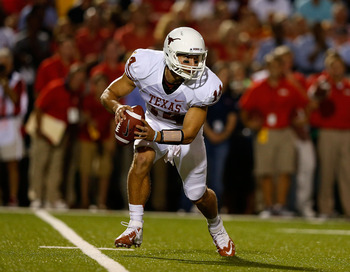 Scott Halleran/Getty Images
Texas has been very strong in the early going and is quickly moving up the rankings.
The Longhorns are answering the questions naysayers might have had entering the season and appear to be a team who is going to be hard to upset.
They have back-to-back road games against Kansas and Texas Tech with a home game against Iowa State the following week.
Odds: 12.5%

13. USC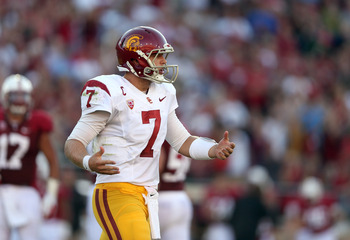 Ezra Shaw/Getty Images
USC is now entering the easy part of its schedule, but that is where the upsets are most likely to occur. Good thing for them is they are coming off a loss.
Games against California, as well as road games against Utah and Washington the next few weeks are the potential upsets on the schedule.
After falling to Stanford, the Trojans do not appear likely to lose any time soon, but they will need to sure up that offensive line.
Odds: 10%

14. Florida
John Sommers II/Getty Images
After struggling in the first game of the season against Bowling Green, Florida has been rather impressive in past two weeks in road wins against Texas A&M and Tennessee.
The Gators do have the potential to fall in an upset, as there are still question marks surrounding the offense. A road game at Vanderbilt the second week of October is where they might fall.
Other than that, there are not many major upsets on the schedule.
Odds: 33.3%

15. Kansas State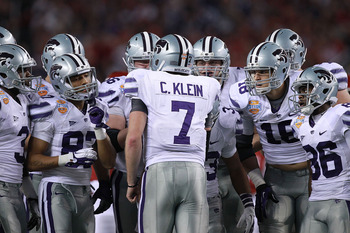 Ronald Martinez/Getty Images
Kansas State has dominated the early part of its schedule and they will get a serious test on Saturday when they travel to Oklahoma.
After that the upsets could occur against Kansas or a road game at Iowa State the following week.
At the end of October, Texas Tech will be a big challenge, but it is at home and the Wildcats are tough to beat in Manhattan.
Odds: 25%

16. Ohio State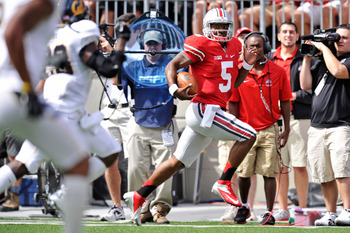 Jamie Sabau/Getty Images
Ohio State was almost upset over the weekend against California and has a few games on its schedule where an upset could occur.
Good thing for them is most of those games are at home. The Buckeyes take on both Illinois and Purdue at home. Those two teams tend to give the Buckeyes trouble.
They also have a road game against Penn State, but other than that it should be home free.
Odds: 25%

17. TCU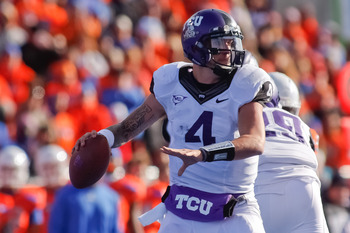 Otto Kitsinger III/Getty Images
TCU struggled a little bit at Kansas over the weekend, and it may find it a little tougher in the Big 12 than they expected.
Among the upset games coming up are Virginia on Saturday, a road game the following week at SMU and then a home date with Iowa State after that.
There is also a home game against Texas Tech. TCU could easily fall in one of these four games, which would all be considered a major upset.
Odds: 50%

18. Michigan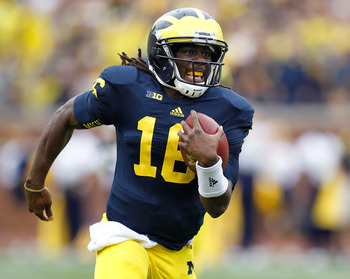 Gregory Shamus/Getty Images
After a tough road game against Notre Dame, the Wolverines could be looking at a trap game when they take on Purdue on the road before Illinois, Michigan State and Nebraska come calling.
Purdue on the road seems to be the most likely upset remaining on the schedule, but Illinois at home is also not automatic.
A road game against Minnesota the first week of November should not pose much of a threat.
Odds: 25%

19. UCLA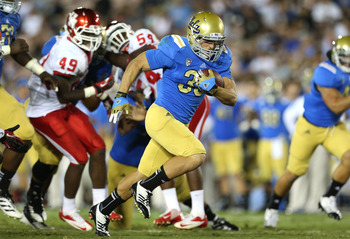 Stephen Dunn/Getty Images
UCLA has been good, but it seems like a team likely to endure an upset somewhere along the line.
The Bruins battle Oregon State on Saturday and then play at California on October 6. The California game seems the most likely for a loss to occur, but Oregon State could be very difficult as well.
The Bruins also have a road game against Washington State in November.
Odds: 66.7%

20. Louisville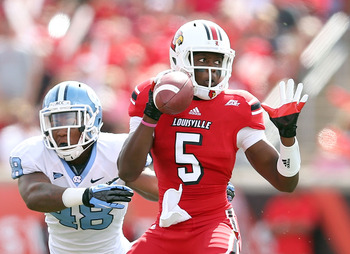 Andy Lyons/Getty Images
If an upset for Louisville occurs, it is most likely to happen within the next month, as the Cardinals have three straight road games against Florida International, Southern Miss and Pittsburgh.
They then come home to battle South Florida. With the exception of Cincinnati and Rutgers, any loss the Cardinals have will be considered a major upset.
With that being said, it is very likely that one will happen somewhere along the line.
Odds: 83.3%

21. Michigan State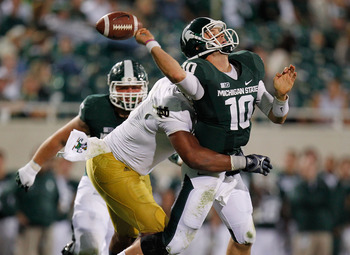 Gregory Shamus/Getty Images
Michigan State looked awful against Notre Dame and now has Eastern Michigan at home before Ohio State comes to town.
It does not look like the Spartans are as good as some thought before the season started, but there are not a lot of upsets out there for them.
Their only road games against bad teams are Indiana and Minnesota. Those do not appear like games where they could be upset.
Odds: 14.3%

22. Arizona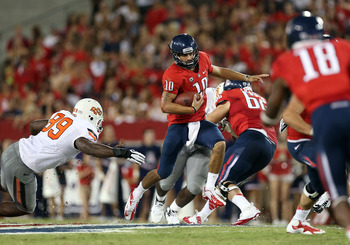 Christian Petersen/Getty Images
Arizona is off to a fast start under new head coach Rich Rodriguez and they have Oregon State, Washington and Colorado at home.
Those are the three games on the schedule that would warrant major upset consideration, and the good thing for the Wildcats is they are all at home.
With how challenging the rest of the schedule is, one of these upsets could easily occur.
Odds: 50%

23. Mississippi State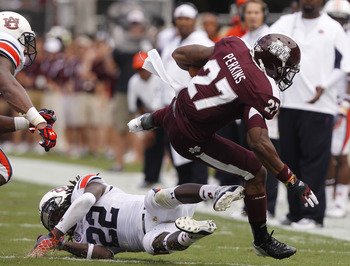 Butch Dill/Getty Images
For Mississippi State, being ranked in the top 25 is something the Bulldogs may not be accustomed to.
They will not be the team hungry for the upset, but instead will be the hunted. The first team with a chance is Kentucky on October 6. That is a road game and the Wildcats have to win somewhere along the line.
A road game at the end of the season against Ole Miss is always interesting and could be another potential upset.
Odds: 25%

24. Boise State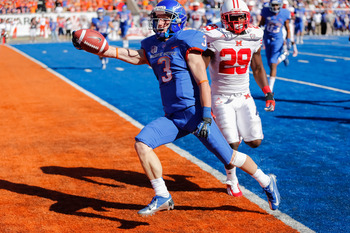 Otto Kitsinger III/Getty Images
It is still hard to tell just how good Boise State is, because Michigan State may be nowhere near what most people expected them to be.
The Broncos will be tested Thursday night against BYU. After that there are some upsets that could happen to the likes of New Mexico or Southern Miss on the road, or Fresno State at home.
At Nevada to end the season is another game that could be an upset special.
Odds: 66.7%

25. Nebraska
Eric Francis/Getty Images
Nebraska looked better last week against Arkansas State after falling on the road against UCLA in Week 2.
The Cornhuskers may be the favorite to represent the Big Ten in the Rose Bowl before the season is over, but will have to overcome some potential major upsets.
Among the most likely to occur are Penn State or Minnesota, but both are at home. There is a road game against Northwestern, but that could hardly be considered a major upset.
Odds: 16.7%

Keep Reading