Houston Texans: 5 Ways Matt Schaub Can Out-Duel Peyton Manning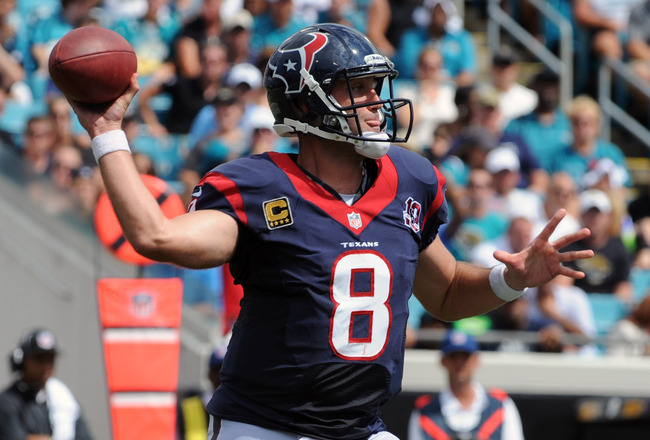 Al Messerschmidt/Getty Images
Matt Schaub and the Houston Texans face familiar former AFC South foe Peyton Manning in Week 3 in a matchup of two AFC playoff contenders.
Schaub and the Texans are coming off of two dominant blowout wins and appear to be in midseason form. The Texans have not faced Manning since the 2010 season, but should be better-equipped now more than ever before to keep pace with a Peyton-led offense.
Manning and the Broncos enjoyed a successful debut against the Pittsburgh Steelers, but struggled in Week 2 in a loss against the Atlanta Falcons.
Both former Pro Bowlers will face fast, hard-hitting defenses with the ability to get to the quarterback. Fans should expect another intense duel filled with a few big plays and plenty of drama, as there always seems to be when these two quarterbacks hook up.
Here are five ways Schaub can out-duel Manning this Sunday.
Hand Off to the Running Backs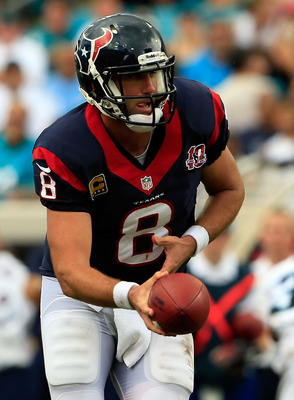 Sam Greenwood/Getty Images
Arian Foster and Ben Tate should be relied on again by the offense to run the ball frequently and soften up Denver's defense. The two combined for 40 carries in Week 2 and 31 carries in Week 3. It's possible the duo could be relied on to carry the ball somewhere closer to 40 this week.
Keeping Peyton Manning off of the field will be essential. The Texans were able to limit Jacksonville's offense to only 16 minutes on the field last week.
The Texans shouldn't be expected to duplicate that level of success again, but building a game plan around controlling the clock will be the best recipe for success this week against Manning.
More Vertical Passing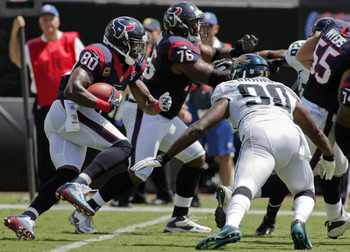 Phil Sears-US PRESSWIRE
The Texans should look to incorporate more vertical passing in to their offense this week. This element was missing last week, but it also wasn't necessary with the level of success the team had running the ball.
Picking up chunk yardage through the air will be more important this week, as the Texans will face the best passing offense they have seen all year. Matt Schaub should be expected to involve Andre Johnson in the offense more, after recording only three catches for 21 yards in Week 2.
The Texans didn't record a reception over 18 yards last week, which could become problematic if that were to repeat in Week 3. Schaub worked mostly intermediate and short passes, which seemed to be the game plan when pass plays were called.
Andre Johnson, Lestar Jean and Keshawn Martin are all capable vertical threats in this receiving group, and Schaub should look to push the ball down field to these receivers in Week 3.
Derek Newton Must Protect Schaub
Thomas Campbell-US PRESSWIRE
Houston Texans head coach Gary Kubiak has put together well-designed game plans aimed towards protecting his right tackle, Derek Newton. Newton will be making only the third start of his career this week, and he'll be tasked with blocking one of the best speed rushers in the NFL.
Von Miller will take snaps against Newton, and the young tackle cannot allow him to wreck Houston's offensive game plan.
Kubiak will likely continue to help Newton by moving the offensive line and keeping Denver's front seven guessing. The Texans used screens to both sides and to several different targets to keep Jacksonville from getting comfortable all afternoon in Week 2.
Newton will see an immediate upgrade in competition this week facing Denver's rushers. Matt Schaub needs his young right tackle to respond to the big challenge facing him this week.
If the Texans want to have a functional passing game on Sunday, Newton will need to play his best game yet.
Limit Turnovers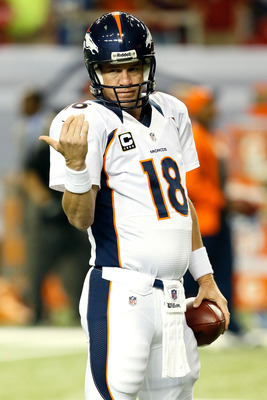 Kevin C. Cox/Getty Images
It should go without saying entering any football game, but limiting turnovers will be key to the Texans having any chance of winning in Denver in Week 3. Turnovers on the road are especially crippling, and giving Peyton Manning extra possessions will just about seal your fate.
The Texans have yet to turn the ball over in 149 total offensive snaps this year. The key to the Texans domination so far has been their ability to hang on to the football.
Matt Schaub touches the ball every offensive snap, so he deserves credit for running the offense without turning the ball over.
The Texans haven't given opponents extra opportunities, and this trend needs to continue in order to have success this week.
Defense Must Continue to Dominate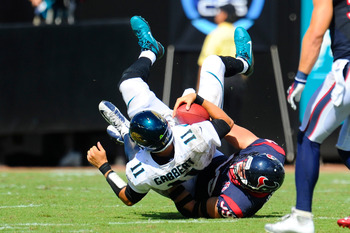 Dale Zanine-US PRESSWIRE
The Houston Texans defense has dominated through two weeks, and Peyton Manning will be the unit's biggest test right away.
The Texans have faced some of the league's least explosive passing attacks to start the year in the Miami Dolphins and Jacksonville Jaguars. Manning and Denver's weapons will be a quality measuring stick for just how good Houston's defense really is.
Matt Schaub and the offense have relied on the defense to smother opponents. This dominance has opened up the playbook when the offense is on the field.
The Texans haven't been forced to come back from a deficit, nor have they had to run the ball in a close game, all thanks to the play of the defense.
The Texans could see both of these situations Sunday, but if the defense continues to dominate, it'll be much easier for Schaub to out-duel Manning.
Keep Reading

Houston Texans: Like this team?