NBA Records That Will Fall in 2012-13
Mike Ehrmann/Getty Images
By season's end, chances are good that Kevin Garnett will have passed Hakeem Olajuwon and Wes Unseld to become the 10th-leading rebounder in NBA history.
That will put him at just about 10,000 rebounds away from catching first-place Wilt Chamberlain, a pretty amazing disparity especially when you consider that KG has already played 210 more games than Wilt ever played.
When you average 22.9 rebounds a game, it's hard for anyone to catch up—even rebounding prodigies like Kevin Love, who has never averaged more than 15.2 boards in a season. The NBA has changed just a bit since the 1960s, and some achievements appear to be nothing short of insurmountable at this point.
Indeed, some records just aren't meant to be broken—but others are.
Here's a look at five records we could very well see broken this season.
Three-Point Field Goals in a Half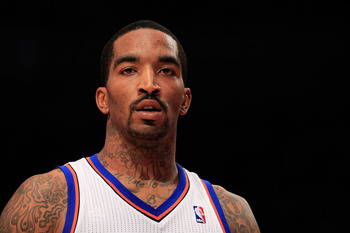 Chris Trotman/Getty Images
J.R. Smith has twice matched the record set by Tim Thomas for most three-pointers in a half, as have four others: Michael Redd, Ray Allen, Kobe Bryant and Tracy McGrady.
All of them scored eight treys in a half, and we just seem due for nine by now.
Bryant shares the record of most in a game (12) with Donyell Marshall, and that doesn't seem especially insurmountable, either. We might not see Redd, Allen or McGrady topping themselves, but there are plenty of shooters in this league who can make a run at these marks.
Smith is still one of them, and he's not shy about his shot—or anything, really.
Even a specialist like Ryan Anderson will have his opportunities as one of the New Orleans Hornets' primary scoring options. These are the kind of records that can be broken on any given day, even by guys who don't have the biggest of names.
Free Throws Attempted in a Game or Half
Christian Petersen/Getty Images
Dwight Howard set the record for most free-throw attempts in a game at 39 last season, and he could very well break that record this season.
After all, if fouling Howard seemed like a good idea when he was surrounded by Orlando Magic talent, just imagine what a good idea it will be when your alternatives involve dealing with Steve Nash or Kobe Bryant.
Howard won't be the offensive focal point that he was in Orlando, but he'll still get plenty of touches. And until the final two minutes, teams can foul him away from the ball in a homage to the Hack-a-Shaq strategy with which Lakers fans are already all-too familiar.
Michael Jordan still holds the record for most free throws attempted in a half (23), and that's within reach as well.
Of course, Howard isn't the only one who puts up a lot of free throws. An unstoppable slasher like LeBron James could threaten one of these records as well.
Assists in a Game
Mike Ehrmann/Getty Images
The all-time record for most assists in a game is 30, set by Scott Skiles in 1990.
Rajon Rondo's career-high for a game? Twenty-four.
If anyone can get to 30, it's Rondo. And he'll have one of his best opportunities yet this season with shooters such as Paul Pierce, Jason Terry, Courtney Lee, Avery Bradley and Jeff Green at his side.
We haven't seen the best of Rondo yet, and this record is there for his taking.
He also has an outside shot at besting John Stockton's record 14.5 assists per game—but it's a very outside shot. Rondo's never averaged more than 11.7 a game (last season), so it's hard to figure a significant jump unless the Celtics just start playing a higher tempo.
Boston's 26-year-old floor general still has plenty of time to get there, but it probably isn't happening this season.
Points in an Overtime Period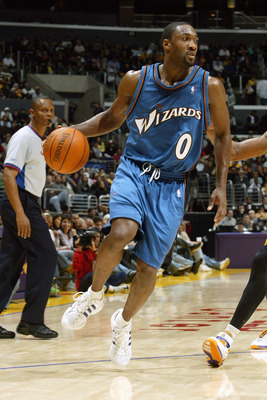 Stephen Dunn/Getty Images
Gilbert Arenas holds a record?
You better believe it. The once-prolific scorer put up a quick 16 points in an overtime against the Los Angeles Lakers in 2006.
That's a lot of points in five minutes, but we can all think of a few guys who could beat that.
Kevin Durant and Carmelo Anthony both come to mind. So does Russell Westbrook, for that matter.
Of course, the hardest thing about besting this kind of record is that overtime opportunities just don't come around that often. And when they do, hopefully the team is more focused on winning the ballgame than getting some guy 10 shots.
In some cases though—such as Durant and Anthony's—the best chance of winning the ballgame may in fact be getting that guy 10 shots. That's why this record is ever so vulnerable, even though you really can't be too sure when or where it'll be broken.
Most All-Time Points in the Playoffs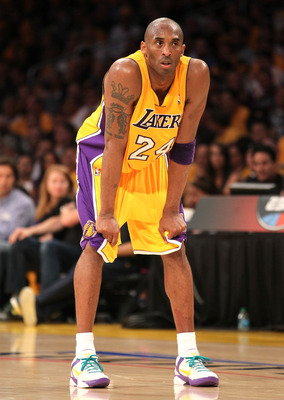 Stephen Dunn/Getty Images
At a conservatively estimated 25 points per contest, Kobe Bryant needs just about 14 games to pass Michael Jordan as the all-time leading scorer in the playoffs.
Of course, it will have taken him quite a few more games to get there, but it's still a pretty remarkable accomplishment that will speak both to Bryant's personal ability and how successful his teams have been year in and year out.
On his way to dethroning MJ (at least in one sense), Kobe also will pass up Lakers legend Kareem Abdul-Jabbar, who's currently second on the all-time list.
You won't find many MJ fans conceding anything to Bryant. They'll rightly warn against equivocating legacies, and they'll rightly note that Jordan's 33.4-point postseason average makes Bryant's 25.6 look a bit pedestrian in comparison; Dirk Nowitzki has averaged more than that.
But this is still an important feather in Kobe's cap and a symbolic reminder that, wherever he ranks against Jordan, he's one of the very best we've ever seen.
Keep Reading