Comparing 2012-13 Golden State Warriors to Last Year's Version
Kelley L Cox-US PRESSWIRE
The 2012-13 Golden State Warriors look like an exciting, dynamic team that doesn't resemble last year's version. The frontcourt has finally solidified and the perimeter is covered with young, accurate shooters.
GM Bob Myers did an excellent job during his first summer at the helm. He acquired guard Jarrett Jack from New Orleans in a surprising move to back up often-injured Stephen Curry, and he hit a home run drafting Harrison Barnes. He also signed free-agent PF Carl Landry.
Going into last year, the biggest question was about new coach Mark Jackson. Monta Ellis was the playmaker and leader of the team, while Dubs fans hadn't yet figured out David Lee. Klay Thompson brought the hope and excitement after being picked 11th in the draft.
Are the Dubs a better team as they start the 2012-13 season? Are they deeper in some areas, but weaker in others? Did the Andrew Bogut trade really put them in a better position going forward?
Let us take a look at this year's opening day roster:
2011-12 Point Guard: Stephen Curry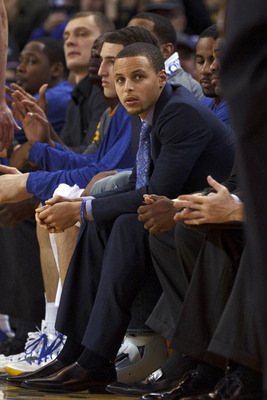 Stephen Curry spent a lot of time on the bench with injuries.
Jason O. Watson-US PRESSWIRE
Stephen Curry was going into his third year at the point and was challenging backcourt mate Monta Ellis as the team leader. However, he sprained his right ankle at the start of the season and was later shut down for the remainder of the year.
Stephen Curry teamed with Ellis before the trade to continue their highly prolific offensive backcourt. Their defense and size exposed them when matched up with the better teams in the league.
2012-13 Point Guard: Stephen Curry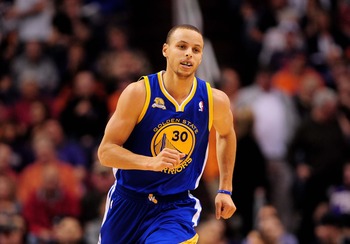 Curry will look to stay on the floor this season.
Jennifer Stewart-US PRESSWIRE
Stephen Curry will be coming back to play the point after surgeries and a long rehabilitation. He will have to prove to the team and the fans that he can make it through a full season without any significant regressions.
Curry is a great shooter and has the ability to set up his players on the perimeter and in the frontcourt. During the preseason, he will be getting used to playing with his new shooting guard, Klay Thompson, as the two have never started a game together.
Curry should emerge as the team leader as he will be playing for a contract when he becomes a restricted free agent next summer. The Curry-Thompson backcourt will be one of the most exciting, balanced duos in the Western Conference
2011-12 Shooting Guard: Monta Ellis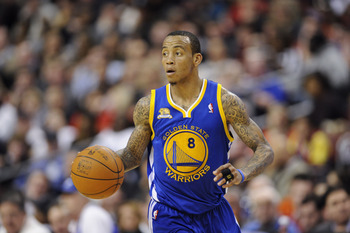 Monta brought the offense, but he was also a liability on D.
Howard Smith-US PRESSWIRE
Monta Ellis was the team's most dynamic offensive force, but he also had a lot of baggage. He was the player that was looked upon to become the Dubs' first All-Star since Latrell Sprewell, but he never got the national respect.

Ellis could dribble, shoot and make some crazy offensive plays, but he was always considered a weaker defender. His plus/minus ratio for the 2010-11 season was a whopping -232, meaning that teams outscored the Dubs by 232 points when Ellis played.

Good offense and paper thin defense doesn't win games. The new ownership saw the writing on the wall and traded this piece to fill a more gaping whole.
2012-13 Shooting Guard: Klay Thompson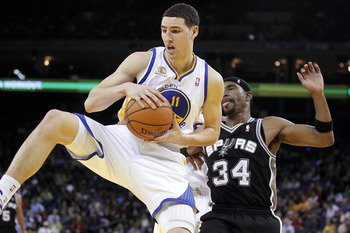 Thompson will look to develop into a complete player with the departure of Ellis.
Cary Emondson-US PRESSWIRE
Klay Thompson takes over for Monta Ellis and is known as one of the better catch-and-shoot players in the game. His has an advantage with his 6'7" frame and is quick, which will help with the newfound transition game.

Thompson's biggest weakness looks to be on defense where he is a bit of a tweener. He doesn't have enough lateral quickness to handle the more dynamic 2 guards at this stage in his career. Coach Jackson will hope to change that during the season.

Thompson should develop into an asset as the Curry, Thompson and Barnes trio looks to morph into the next version of "Run-TMC."
2011-12 Small Forward: Dorell Wright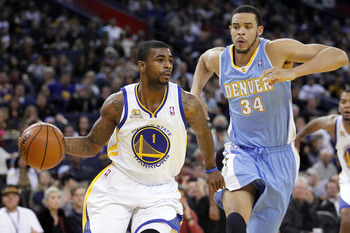 Dorell Wright had a disappointing season before his trade.
Cary Emondson-US PRESSWIRE
Dorell Wright came into the season after having a breakout year and provided another offensive threat to the Curry and Ellis combination. Wright was being relied upon to make open shots from the perimeter and behind the arc.

He also had the task of defending the perimeter, which he underperformed compared to his days playing with the Miami Heat. All of Wright's per game averages decreased last year, most noticeably his scoring average, which fell from 16.4 to 10.3.
2012-13 Small Forward: Harrison Barnes
Harrison Barnes looks to take hold of the small forward position.
Nick Laham/Getty Images
Harrison Barnes looks to take hold of the small forward position as a rookie. Barnes fills an immediate need for the Warriors, who traded away Wright this summer.

Barnes is a physical specimen who can rebound and finish when he's near the basket. He can also defend, but more importantly, he brings a can-do attitude along with a strong work ethic.

He needs to improve his first step and learn how to create effectively when holding the ball. The young star from North Carolina will learn a lot during his rookie season, but he's used to dealing with the spotlight.
2011-12 Power Forward: David Lee
David Lee was stretched defensively in 2011-12.
Jason O. Watson-US PRESSWIRE
David Lee was starting his second full season as the Dubs' starting power forward after being acquired in a sign-and-trade deal with the New York Knicks. He was the only legitimate big man on the team at this stage.

Lee is one of the best pure rebounders and can finish around the rim, but he was spread thin defensively. He had to resort to a 3.1 PFPG average in order to stop penetrating defenders, which ranked sixth worst in the league.

Lee did improve his scoring average to 20.1 PPG, mostly making up for the injury and a trade-depleted roster last year.
2012-13 Power Forward: David Lee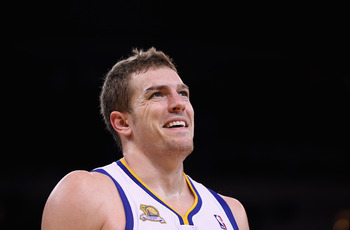 David Lee is a lot happier after the Bogut acquisition.
Ezra Shaw/Getty Images
Lee returns again as the Dubs' starting power forward, but he will no longer be spread out defensively and can use his offensive skills to get all the players involved.

Lee will be able to show off his strengths as a rebounder and set up a solid pick-and-roll combination with Curry at the point. The extra help will also allow him to utilize his strength as a passer, which he demonstrated with the Knicks.

The combination of Lee with a legitimate big man will showcase the same skills that turned him into an All-Star with New York.
2011-12 Center: Andris Biedrins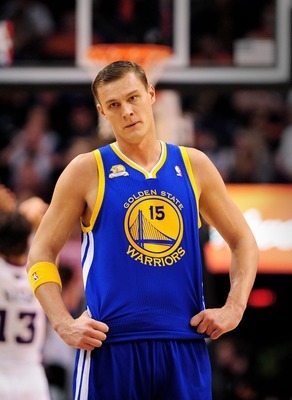 Andris Biedrins' season was a complete disappointment.
Jennifer Stewart-US PRESSWIRE
The Warriors' biggest weakness was on display again as the Dubs started the season without a legitimate center. They gambled by using their amnesty clause on Charlie Bell in failed hopes that they could obtain restricted free-agent center DeAndre Jordan from the Clippers.

The Dubs were left with Andris Biedrins, whose play and effort were worthy of his 11.1 FT percentage for the season. Biedrins is a complete opposite player from the one who was a nightly double-doube threat before he signed his lucrative contract (which Golden State regrets to this day).
2012-13 Center: Andrew Bogut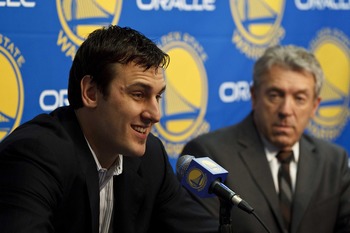 Andrew Bogut will bring a presence to the frontcourt.
Jason O. Watson-US PRESSWIRE
Andrew Bogut is the first legitimate center the Dubs have had since Robert Parish in the 1970s. Bogut can play both sides of the ball, pass and pull down the key rebounds. He is the lynchpin of the frontcourt.

Injuries were a major concern surrounding last year's midseason acquisition of Bogut. The good news is it was a freak injury and Bogut looks to be coming back in great shape. He might play sporadically in the preseason, but he will be ready for the opening tip.

Bogut's presence will open up the floor for the perimeter players to get clean looks and take the pressure off Lee. The former No. 1 pick will also be able to set up the pick-and-roll with point guards Curry and Jarrett Jack, as well as dominate inside.
2011-12 Bench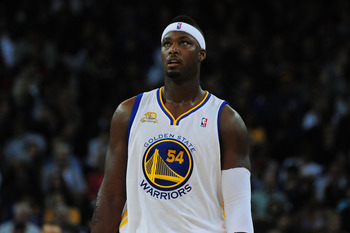 Kwame Brown was supposed to be a key to the bench.
Kyle Terada-US PRESSWIRE
The Dubs' bench going into last season was extremely lean, but they did make one free-agency acquisition that was supposed to help solidify the frontcourt.

The much-maligned former No. 1 draft pick, Kwame Brown, was signed to plug holes in the post. It was a good experiment for the nine games he played, but he injured his chest in an overtime win against the Miami Heat and was lost for the season.

Other players in the frontcourt rotation included James Tyler, Ekpe Udoh, Chris Wright, Dominic McGuire and Mickell Gladness. There was not much proven talent to rely upon.

Nate Robinson took over most of the duties for the injured Curry. He was assisted in the backcourt by SG Klay Thompson, who eventually took over for the departed Ellis. Brandon Rush was also a key man off the bench.
2012-13 Bench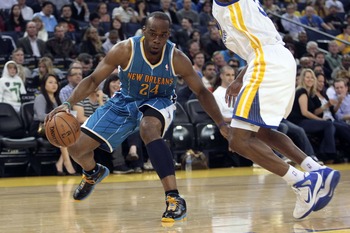 Carl Landry was a key free-agent acquisition.
Kelley L Cox-US PRESSWIRE
The Dubs' bench looks to be one of their biggest strengths going into this season. Experienced players like Jarrett Jack, Brandon Rush, Carl Landry and Richard Jefferson back up a pretty solid starting lineup.

Aside from Barnes, the rookies will get their chance to earn minutes as subs. Draymond Green, Festus Ezeli and Kent Bazemore will use their time to showcase their skills and learn the NBA. By the end of the first month, they should be increasing their minutes per game.

Jeremy Tyler and the once-effective Andris Biedrins will be the later options in the frontcourt. Charles Jenkins will also get some playing time in his second season as a backup to the point.

The bench for this season's squad is a lot deeper and more skillful than last year, and the backups at each position should be able to hold their own until the starter re-enters the game.

When it's all said and done, I would expect the Dubs to have at least a Top 10 bench team by year's end.
The 2012-13 Season Verdict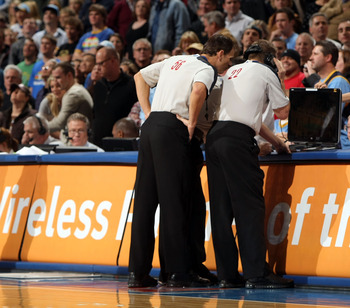 Doug Pensinger/Getty Images
The Don Nelson Warriors team has been replaced by a systematic team with a lot of depth. This squad looks and feels like it will be playoff bound and has a solid foundation for years to come.

Mark Jackson should instill his defensive structure with the help of Andrew Bogut and make the Dubs a more competitive and a complete team. The Dubs will take one of the bottom four playoff spots in the Western Conference and progress into future seasons.
Follow me @ScottInTheBay
Keep Reading

Golden State Warriors: Like this team?