Denver Broncos vs. Atlanta Falcons: Players Who Will Take Charge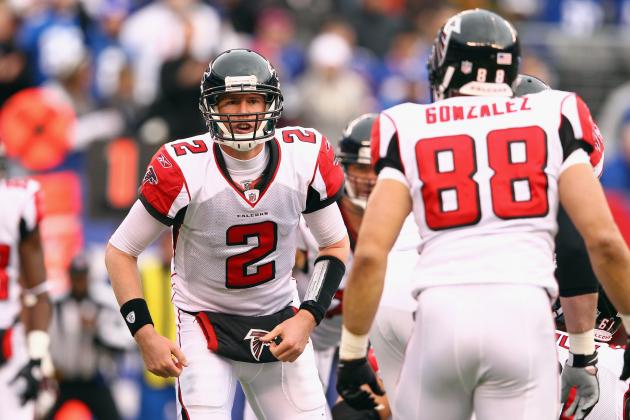 Al Bello/Getty Images
Tony Gonzalez and Matt Ryan both had exceptional games in Week 1 for the Falcons.
The Denver Broncos and Atlanta Falcons will meet Monday night in the Georgia Dome for Week 2 of Monday Night Football.
Coming off wins in Week 1, both teams will look to obvious leaders in hopes of moving to a 2-0 record.
Everyone knows that team leaders such as Peyton Manning, Matt Ryan, Champ Bailey and Roddy White will take charge. Which other players have the potential to do so as well?
Last week for the Falcons, kicker Matt Bryant went 4-for-4 on field goals for the day. Not to mention Stephen Nicholas' 10 tackles, fumble recovery and interception.
For the Broncos, Tracy Porter finished off the Pittsburgh Steelers with his 43-yard interception return for a touchdown.
Which players will step up this week?
Begin Slideshow

»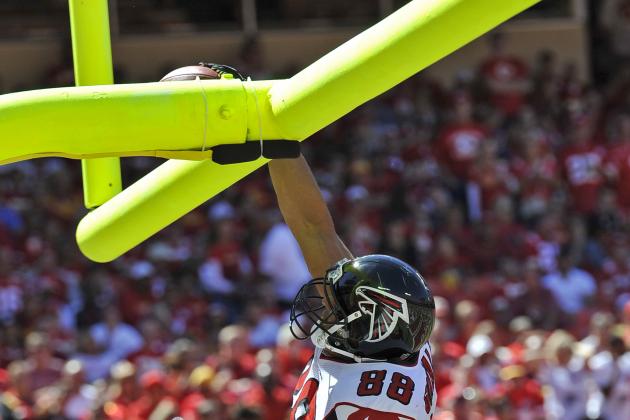 Peter Aiken/Getty Images
Tony Gonzalez had 53 receiving yards in Week 1.
Tony Gonzalez, the 36-year-old tight end has played in the NFL for 16 seasons, and over those years he has only missed two career games.
Some fans think that he is slowing down, but the first round pick out of California is still producing at an all-star level.
Last week, Gonzalez had five receptions for 53 yards and a touchdown, and this week, Ryan will be targeting him.
Since the Broncos held the Steelers to only 75 yards of total offense on the ground last week, the Falcons will look to the air in order to score.
Gonzalez also plays well indoors, he averages over five receptions a game and has 14 career touchdowns in a dome.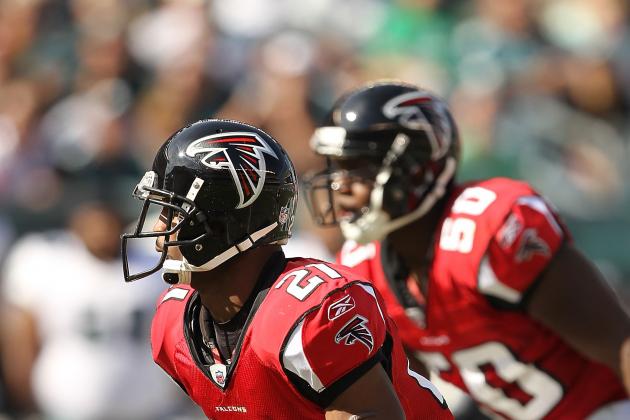 Al Bello/Getty Images
Owens will see more playing time now that Brent Grimes is injured for the entire season.
Last week, Falcons cornerback Brent Grimes tore his Achilles and will be sidelined for the entire 2012-13 season.
Replacing him will be California native Christopher Owens.
This is Owens' fourth year on the Falcons, and since his rookie season, he has been behind Grimes on the Falcons depth chart.
Now, with Grimes out, Owens will finally get a chance to prove himself to be a capable starter.
With a lot of responsibility on his shoulders, the 5'9", 180-pound cornerback will prove to the team that he can take over Grimes' duties.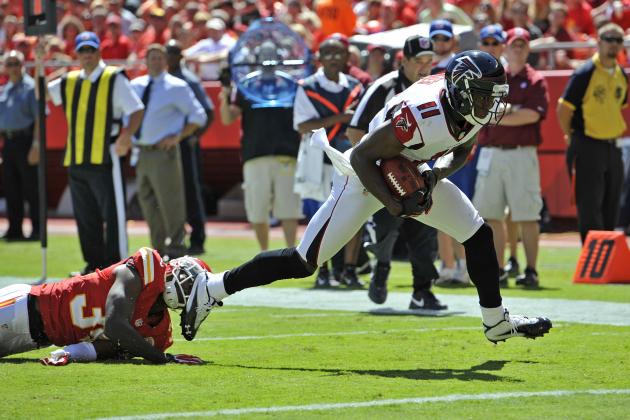 Peter Aiken/Getty Images
Julio Jones caught for 959 yards in his rookie season.
Some analysts this season are saying that this will be Matt Ryan's breakout year.
That being said, expect him and the Falcons to run more passing plays.
This is good news for Julio Jones who is in his second year in the NFL.
Last season, Jones caught for over 100 yards five times, and this year he already caught for 108 in Week 1.
It took him until Week 9 to get his first touchdown last year, but this year he already has two. More will come for him in the near future.
With the increase in the Falcons' passing game, Jones will thrive. In only his second NFL season, Jones is on pace to become an elite wide receiver.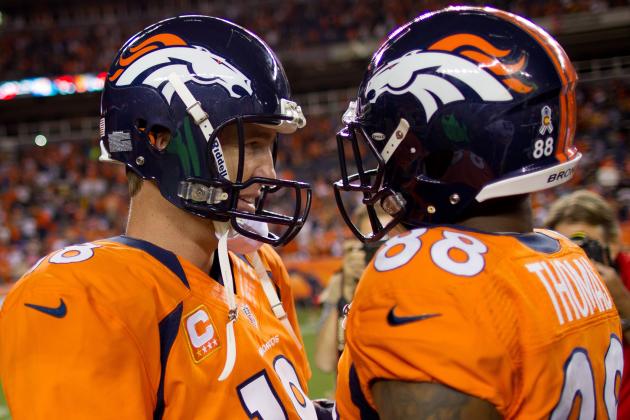 Justin Edmonds/Getty Images
With Peyton Manning as Demaryius Thomas' new quarterback, expect him to get thrown to more often.
The Broncos are a new team this season with Peyton Manning. They finally can become a pass-first team.
Now that Demaryius Thomas has an elite quarterback to throw to him, his stats will increase greatly.
The first-round draft pick only had six touchdowns in his first two seasons, now in his third year, he will exceed expectations.
Just last week, Thomas caught for over 100 yards for the fourth time in his career.
With each game, Manning and his receivers will get better as they get more accustomed to each other.
This week, the Broncos will be facing a Falcons' defense that allowed 393 yards of total offense to the Kansas City Chiefs.
If Matt Cassel can throw for 258 yards against the Falcons, then Manning will be able to find his receivers without a problem.
The only doubt that Thomas will not have a good game is if his shoulder injury is severe. Although, reports have shown that the injury is minor and Thomas will be ready to go.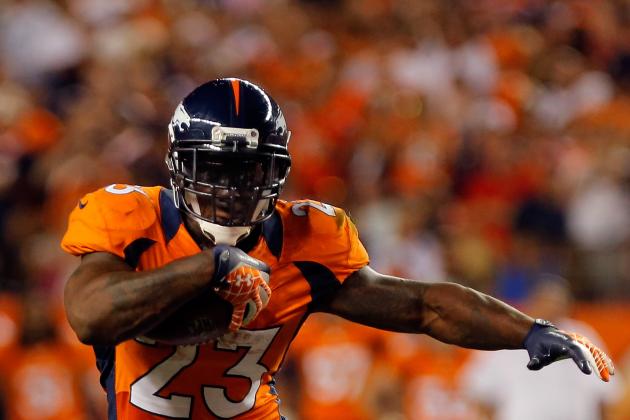 Doug Pensinger/Getty Images
McGahee is coming off a bad Week 1 in which he only rushed for 64 yards.
Last week was a tough one for McGahee.
He only ran for 64 yards on 12 carries, but this week should be different.
McGahee is a veteran, and he knows how to bounce back from rough games, so his performance should be very good this week.
Last week, he fumbled early in the first quarter, and after that could not get back to playing his game.
It is out of the ordinary for McGahee to lose the ball. He has only fumbled 24 times in his career, and he has not fumbled more than four times in one season.
McGahee will play a big role in tonight's game. If the Broncos can establish a decent running attack, it should open the game up for Manning to throw the ball.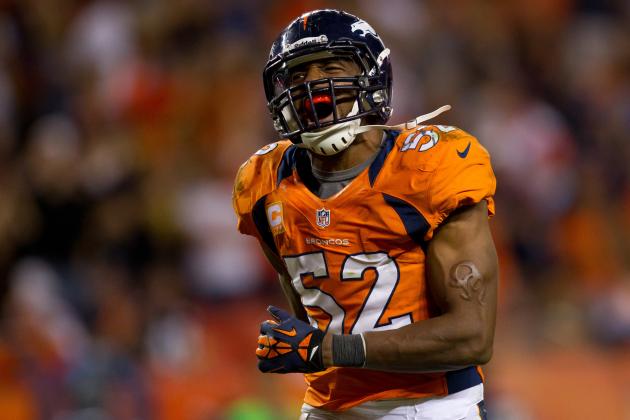 Justin Edmonds/Getty Images
Wesley Woodyard had a career game last week, he had 12 tackles and his second career sack.
Wesley Woodyard is coming off one of the best games in his career last week.
He led the Broncos defense with 12 tackles, the most tackles he has recorded in his career.
Woodyard also had the game-winning sack on Ben Roethlisberger on a fourth down for the Steelers, with under a minute remaining.
Now that he is matched up against a not-so-good offensive line, Woodyard will have another great game like he did last week.
Also, he will do a great job against the weak run-offense of the Falcons, who only ran for 84 total yards in Week 1. Michael Turner has not been running well, so Woodyard should easily be able to put a stop to him.