Will There Be a Surprise in Group B of the UEFA Champions League?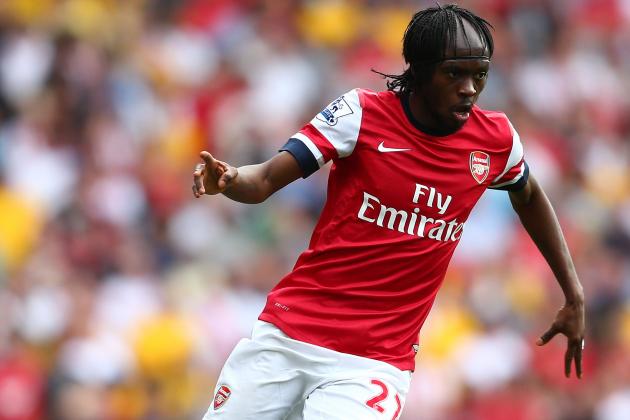 Clive Mason/Getty Images

Group B of the UEFA Champions League will feature three well known European sides in Arsenal, Schalke and Olympiakos, and a potential surprise in Montpellier. A French Ligue 1 title last season will have Montpellier motivated, but the loss of their leading scorer Olivier Giroud to Arsenal this summer leaves a big void to fill.
Begin Slideshow

»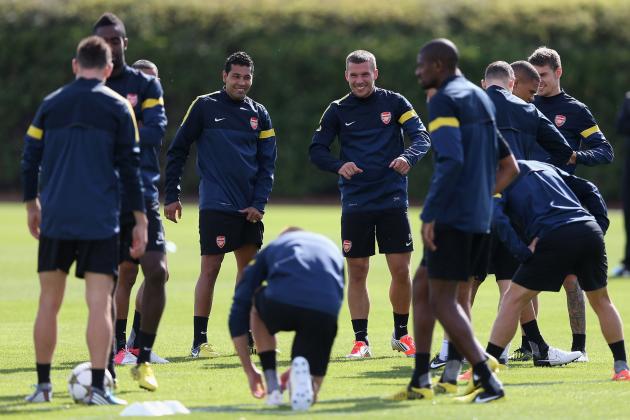 Julian Finney/Getty Images

It goes without saying that Arsene Wenger, Arsenal's manager, has stabilized Arsenal's finances, but he has also given the fans some exciting years of football.
Unfortunately for Arsenal fans, seven silverware-less years have been beyond frustrating. Lack of spending and lack of concentration during crunch time have kept the championship out of reach.
Arsenal will enter the UEFA Champions League for yet another European campaign under French head coach Arsene Wenger.
Sitting third in the English Premier League, the Gunners' season has started off in impressive fashion. Despite drawing their first two matches against Sunderland and Stoke City, Arsenal's approach and style of play has significantly changed with the addition of Steve Bould as Wenger's new right hand man.
A clean-sheet victory over Liverpool at Anfield in their third match set the ball rolling. New signings Lukas Podolski and Santi Cazorla scored Arsenal's first two goals of the season and look primed to notch plenty more.
Podolski was introduced as a member of Arsenalbefore last year's campaign came to end, while Cazorla's transfer was drawn out due to financial issues with his former club Malaga. The two new Arsenal players have improved as the season has gone on and clearly enjoy playing together.
Arsene Wenger has enjoyed watching his new signings thus far and is confident that they can help Arsenal claim silverware this season.
From ESPN Soccernet:
The Arsenal supporters have seen some great players down the years and need to see something pretty special to be impressed, but I suspect Cazorla will become their new hero.
Defensive inconsistencies have hurt Arsenal over the years but Steve Bould is determined to change that. With new captain Thomas Vermaelen helping set the tone in Arsenal's defense, the Gunners now look much more organized and competitive in the back. With Bacary Sagna with an injury, youngster Carl Jenkinson has stepped up and looks very confident.
As Arsenal has made very clear over the years, playing attractive offensive football will not be enough.
Not only will they have to continue to play solid defense. They will need Cazorla, Podolski, Gervinho, Walcott and even new signing Olivier Giroud to score goals.
Giroud has failed to impress thus far after his move from Montpellier, but Arsenal fans are hopeful that last seasons' Ligue 1 leading scorer can find his comfort zone again.
Going up against Olympiakos proved to be a handful for Arsenal last season. But with a new and improved defensive approach, they may have a better performance.
Schalke will also cause problems for Arsenal, but if the Gunners stay true to their style of play and get the results at home, Wenger's side should take the top spot in the group.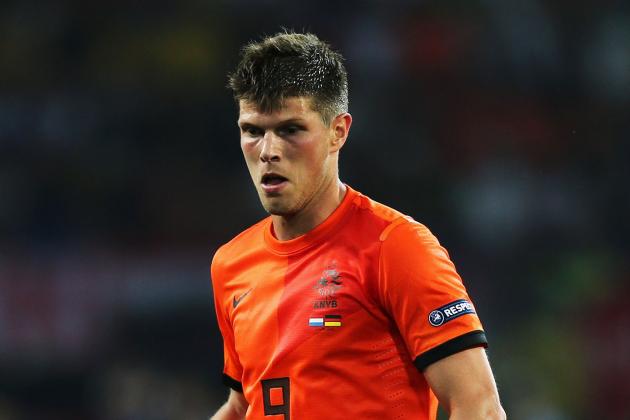 Ian Walton/Getty Images

Schaulke overachieved in the Bundesliga last season, finishing third. But coach Huub Stevens will have the German side motivated, especially considering the clubs' history in this tournament. In 1997, a victory in penalties over Inter Milan earned Schalke their first and only UEFA Cup title.
After an impressive run in the 2010-1, UEFA Champions League campaign, Schalke will be hoping to make it two in a row.
They'll need to do it without Spanish forward Raul, who is no longer with the club. The former Real Madrid striker was a big offensive boost for the German's and helped Dutch striker Klaas-Jan Huntelaar earn the golden boot in the German Bundesliga with 29 goals.
For Huntelaar, the lone striker now, the spotlight is all his.
He'll get his teammates involved, too. With 13 assists in the Bundesliga last campaign, the Schalke striker is a double threat for opposing defenders.
The arrival Tranquillo Barnetta from former Bayer Leverkusen gives Schalke added experience. The Swiss midfielder sat out last season with a serious knee injury, but if fully fit, he can be a great addition.
Many won't be expecting Schalke to make much of an impact in the Champions League, but they have enough individual talent to cause problems for the three teams in their group.
Plus, playing on Schalke's home pitch is never an easy task.
It would be naive and unjust to dismiss them as significantly weaker than Montpellier, or even Olympiakos. If Huntelaar can find the back of the net and the midfield midfield plays consistent, Schalke will be an opponent to reckon with.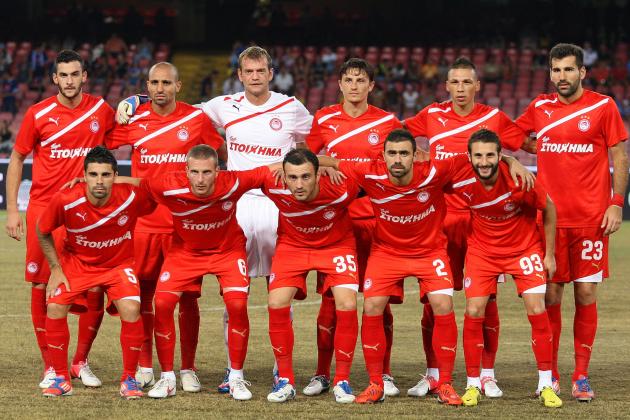 Paolo Bruno/Getty Images

The current Greek Champions meet Arsenal in the UEFA Champions League Group Stage for the second consecutive year.
In the last campaign, Olympiakos won two of their three matches at home defeating both Borussia Dortmund and Arsenal 3-1. The hard working side that showed some glimpses of incredible offensive football, but fell short in Group F with just nine points. A third place finish landed the Greeks in the Europa League, where they were eliminated by Metalist Kharkiv in the Round of 16.
Their new manager, 38 year-old Leonardo Jardim, is focused on his domestic assignments, but would also enjoy some European glory. A long run is obviously a long shot for Olympiakos, but a top two finish isn't completely out of the question.
Last season Jardim led Braga to a third place finish in the Portuguese League with the club showing impressive ball movement at times. If Jardim's tactics catch hold with the Greek champions, opponents can expect a disciplined side that will keep the ball and, consequently, looks to counter attack.
In games against teams like Arsenal, Borussia Dortmund and Marseille last season, Olympiakos proved they can cause problems for their opponent when they are up for the challenge.
The Gunners struggled mightily against Olympiakos in that trip to Greece, showing that Karaiskakis Stadium isn't an easy place to play on the road.
But the loss of Kevin Mirallas, Olof Mellerg and Avraam Papadopoulos to injury could be too much for the Greek side to overcome. Mirallas was their leading scorer last year.
Kostas Mitroglou will have to pick up where Mirallas left off, if Olympiakos wants to keep their Champions League dream alive. The Greek striker was on loan with Atromitos for the 2011-12 campaign, where he scored 16 goals. He isn't the most technical of players but he will make you pay for mental lapses near goal.
However, newcomer Paulo Machado joins a group in Vassilis Torosidis, Panagiotis Vlachodimos and Ioannis Fetfatzidis that shouldn't struggle to score.
Fetfatzidis has been dubbed as one of the most promising youth talents to come out of Greece recently. His play differs from the Greek's traditional style. Great technical ability and creativity are two of his strong points.
Olympiakos should be able to compete with Montpellier and Schalke, both home and away. They'll be a headache for Arsenal in Greece, but at the Emirates, even a draw would be a confidence-boosting result. Getting results at home will be a must for the Greeks, considering the environment their fans provide.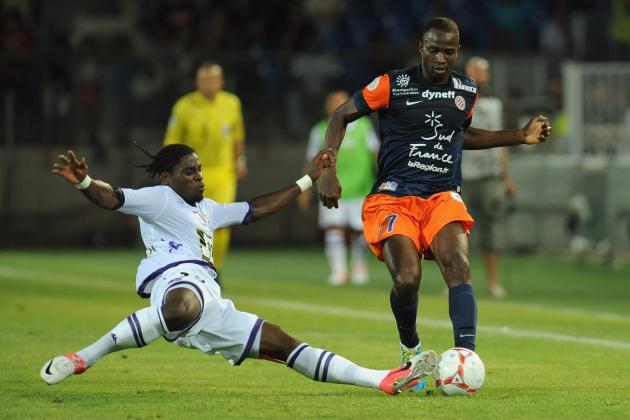 Valerio Pennicino/Getty Images

Many, if not most, European fans didn't know much about Montpellier until they made a championship run last season in the French Ligue 1.
Led by leading goal scorer and current Arsenal striker, Olivier Giroud, Montpellier won their first ever Ligue 1 title. But the club doesn't have much experience in international play, with just 32 appearances on the European stage.
Attractive and organized football got them into the Champions League, so head coach Rene Girard will be hoping that same approach can get them into the next round.
With Moroccan midfielder Younes Belhanda pulling the strings behind the striker, Montpellier will be very difficult to cope with on offense. But without Giroud in front of him, Belhanda will have to get familiar with his new attack partner, Emanuel Herrera. Giroud's Argentine replacement has some big shoes to fill.
The 25-year-old Herrera played his club football for Chilean side Union Espanola, where he was nicknamed "The Tank." Montpellier fans will set expectations very high for his first stint in Europe.
French international Mapou Yanga-Mbiwa will need to perform like he did last season if Montpellier wants to have success in Europe. The African born central defender is just 23 years old but offers an incredible amount of experience and knowledge for someone so young. He was part of the French side that travelled to Poland/Ukraine for Euro 2012, but was never given a chance to play by his coach.
A big question will be how Giroud's absence affects Montpellier. Losing your leading goal scorer is not usually the easiest thing to overcome. The bar will be set high for Herrera, perhaps too high for a player that is just getting used to the European style of football.
A lack of experience in Europe could hurt Montpellier, but it could also help them in a sense.
As they take on Europe's biggest clubs, they could be motivated by having nothing to lose. They will be playing without the pressure to perform. That could be dangerous for their opponents.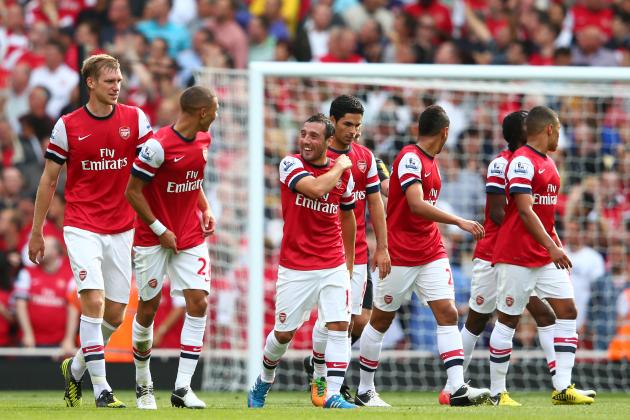 Clive Mason/Getty Images

Arsenal should undoubtedly top Group B considering their experience in the competition and their comparable talent level. Failing to top the group would be a big disappointment for fans and manager, Arsene Wenger.
The second spot in Group B will be tightly contested between Olympiakos, Schalke and Montpellier.
These three teams are all capable of putting together solid performances, but whoever falls short may do it because of a lack of depth.All three clubs have recently lost significant players in their offense. Replacing those players will not be easy.
Montpellier's style of play could well earn them a spot in the top two, but Olympiakos will more likely edge them out.
Group Winner: Arsenal
2nd Place: Olympiakos
3rd Place: Montpellier
4th Place: Schalke