Ivy League Football: Week 2 Conference Power Rankings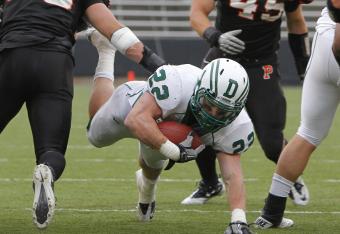 Jim O'Connor-US PRESSWIRE
After an eventful start to the Ivy League season that revealed a lot about the strengths of the Ancient Eight, the first weekend of conference play for some of the squads looms ahead.
While the path to an Ivy League title for many of these squads is still up in the air, there are clear favorites that will make title runs come November.
Here are the Week 2 Ivy League power rankings.
1. Harvard (1-0, 0-0) (Last Week's Ranking: 1)
Despite the academic allegations taking place on campus, the Crimson took care of business against San Diego with a 28-13 win. Treavor Scales showed the rest of the Ivy League that he is an elite rusher and might just be the best running back in the conference.
2. Brown (1-0, 0-0) (Last Week's Ranking: 4)
Even though the Bears narrowly escaped Week 1 with a 24-21 victory against Holy Cross, their offense showed particular promise under senior quarterback Patrick Donnelly. This week's matchup against Harvard should be pretty telling to the type of season the Bears intend to have.
3. Yale (1-0, 0-0) (Last Week's Ranking: 5)
Yale revealed a run-heavy offense that tore apart a talented Georgetown team in a 24-21 win. Mordecai Cargill and Tyler Varga seem poised to trouble defenses all throughout the season. A solid defensive effort also elevates the potential in this Bulldog squad.
4. Cornell (0-1, 0-0) (Last Week's Ranking: 2)
Which Ivy League squad is going to surprise everyone this season?
The defensive problems that contributed to Cornell's demise last season look to be present yet again on this Big Red squad. Jeff Matthews looks as he solid as he did towards the latter end of last season, but it still will be an uphill battle in every game for this squad. They are still the Ivy League's wild card.
5. Penn (0-1, 0-0) (Last Week's Ranking: 3)
Penn had one dreadful quarter against Lafayette and that unfortunately proved to be their undoing. Giving up three touchdowns in the first quarter ended this opening matchup before it really even began. However, the Quakers rebounded and brought the final score to merely a 28-21 loss. Hopefully, they can put this defeat behind them and prepare for Villanova.
6. Dartmouth (1-0, 0-0) (Last Week's Ranking: 6)
The rushing attack for the Big Green was incredibly impressive in their opening 35-7 win over Butler. However, the Bulldogs are relatively weak competition and this week's matchup against Holy Cross will provide better insight on Dartmouth's team. They could be a surprise squad in this year's Ivy League.
7. Columbia (1-0, 0-0) (Last Week's Ranking: 7)
Columbia kicked off the season with a nice, yet low-scoring, victory over Marist in dramatic fashion. A blocked extra-point by the Lions' special teams gave them a 10-9 win. Starting the season with a nice victory, the Columbia offense failed to get going throughout this game, which still puts them towards the lower end of the conference.
8. Princeton (0-1, 0-0) (Last Week's Ranking: 8)
The loss against Lehigh and the lack of offensive production was a clear indicator that the Tigers will presumably have a tough season in Ivy League play. Although a 17-14 loss was not a blowout, the game was pretty much over heading into the fourth quarter.
This article is
What is the duplicate article?
Why is this article offensive?
Where is this article plagiarized from?
Why is this article poorly edited?