Cowboys vs Seahawks: The Good, Bad and Ugly from Dallas' Week 2 Loss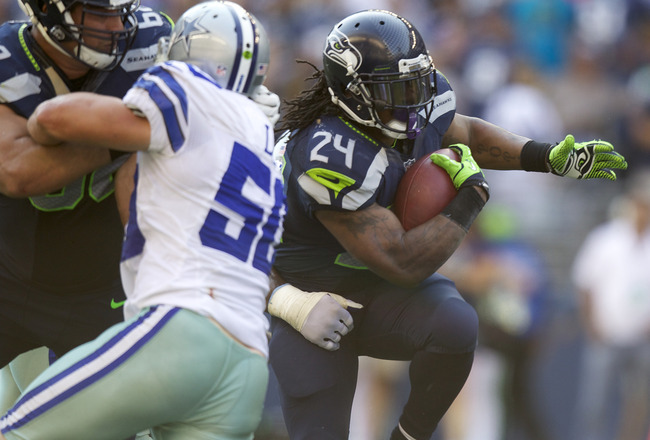 Stephen Brashear/Getty Images
From the start, it appeared as if the Dallas Cowboys were never in the game. After back-to-back turnovers by the special teams units and going down 10-0, they never recovered. Dallas lost for the first time this season in blowout fashion, 27-7 to the Seattle Seahawks.
Despite their mistakes, the Cowboys were only down six points at halftime. It was a dreadful second half performance from both the offense and defense that sealed their fate.
It's time to take a look at the good (if we can find any), the bad and the ugly from Week 2.
The Good: Sean Lee
Ronald Martinez/Getty Images
It's difficult to find any positives when you get beat down like the Cowboys did, however, Sean Lee was all over the field against the Seahawks. Lee finished the game with 14 total tackles and helped keep the Seattle offense at bay for most of three quarters.
Lee also took a vicious hit from Seahawks wideout Golden Tate, one that will likely result in a fine for Tate. Still, Lee only missed a couple of plays to go through the NFL's concussion procedure and once he passed, he was right back on the field.
Lee is becoming a true leader for the Cowboys' defense.
The Bad: Dez Bryant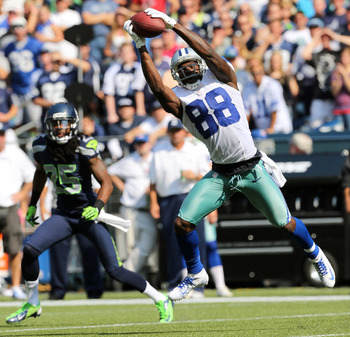 Otto Greule Jr/Getty Images
Wide receiver Dez Bryant had one of his worst games as a Cowboy in Seattle. He had a few drops, fumbled the ball twice (although Dallas recovered both of them) and finished the game with three catches for a measly 17 yards.
That's not the kind of production the Cowboys would like to see from their star receiver. Bryant's dreadful performance can be summed up by two plays in the first quarter.
With the Cowboys trailing 10-0 and having a 1st-and-10 from the Seattle 24-yard line, Bryant dropped a 13 yard pass that hit him right in the hands. That would have resulted in a first down on the Seattle 11-yard line. On the very next play, it appeared that Bryant first ran the wrong route then just stopped running, putting his defender, Brandon Browner, in position to intercept Tony Romo's pass intended for tight end Jason Witten.
Bryant has to focus harder, become a better threat and not give up on plays before the Cowboys can truly rely on him at the wide receiver position.
The Ugly: Felix Jones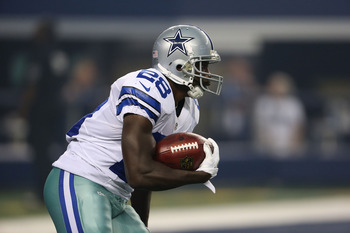 Ronald Martinez/Getty Images
It's bad enough that Felix Jones continues to make poor decisions on when to take the ball out of the end zone on kickoffs, but this week, he fumbled the opening return of the game also.
After returning the opening kickoff 19 yards, Jones lost the ball and Seattle recovered to start their first offensive series on the Dallas 29-yard line. Seattle kicked a field goal and never relinquished the lead.
Jones also did not look good on offense as he gained a single yard on his only carry of the game. His four catches for 40 yards are also an illusion, as his final two catches, for 36 yards, came during garbage time at the end of the game.
The Good: Sean Lissemore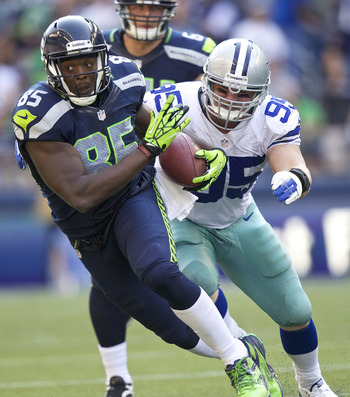 Stephen Brashear/Getty Images
The "other" Sean L. finished the game with 10 total tackles and was an effective run-stopper against Seattle.
What makes Lissemore's performance more impressive is that he did not start the game and only played in about 50 percent of Dallas' defensive snaps.
The Bad: 2nd Half Rush Defense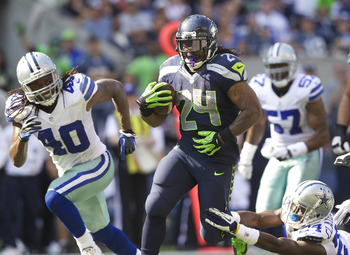 Stephen Brashear/Getty Images
We made sure to differentiate between the first half and second half rush defenses. While the Dallas rush defense allowed Marshawn Lynch to gain only 19 yards on eight carries in the first half, it was completely run over in the second.
103 of Lynch's 122 total rushing yards came in the second half, denying the Cowboys time on offense. When Dallas absolutely needed to have a play to stop Seattle in the second half, it came up empty.
The Ugly: Chris Jones' Blocked Punt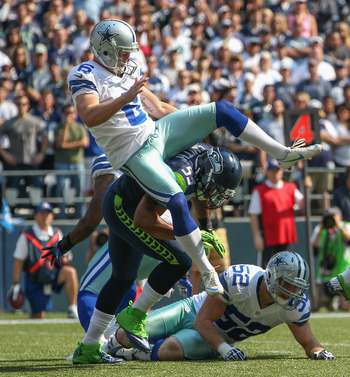 Otto Greule Jr/Getty Images
After the first Dallas offensive possession that resulted in a three-and-out, Chris Jones had his punt blocked and returned for a touchdown.
Jones said (via DallasCowboys.com), "I have no idea what happened." Well, let us enlighten him. You took too long to punt the ball.
It appeared Jones was trying to get off a directional punt, and in trying to do so, not only did he take too long to get the ball off, he angled it directly to where the pressure was coming from.
The result? Malcolm Smith was able to get in to block the punt that was scooped up by Jeron Johnson for an easy TD giving the Seahawks an early 10-0 lead.
The Good: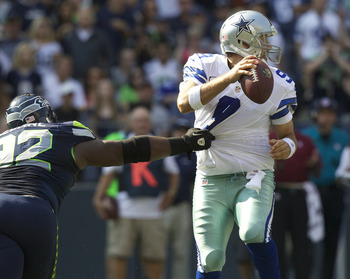 Stephen Brashear/Getty Images
We have nothing else positive to say about this game. Dallas was simply manhandled on offense, pushed around on defense and out-hustled on special teams.
We don't even have to say they were out-coached. But they were.
The Bad: Jason Witten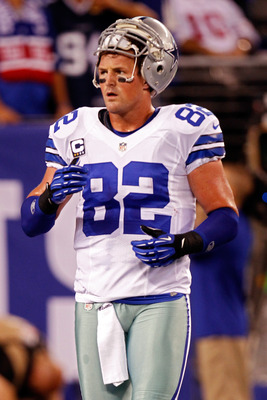 Jeff Zelevansky/Getty Images
We'll start by saying that nobody should ever question Jason Witten's toughness, as everybody knows he is out there playing with a lacerated spleen. We give him kudos for that. However, he just gave back-to-back terrible performances and we have to question if his injury is hurting rather than helping the Cowboys.
Witten dropped several passes that hit him square in the hands, one that could have been a touchdown. On a deep pass from Tony Romo that could have resulted in a huge play, he misplayed the ball badly and he just never looked in sync throughout the game.
Sometimes it is better to sit out and get 100 percent healthy than to stay on the field and continue to hurt his team.
The Ugly: Blindside Hit on Sean Lee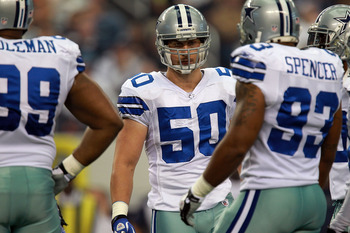 Ronald Martinez/Getty Images
Early in the fourth quarter with the Cowboys trailing 20-7, Seattle rookie quarterback Russell Wilson scrambled left for a 14-yard gain to the Seattle 36-yard line.
On that play, Sean Lee was giving chase and appeared ready to make the tackle when Seattle wideout Golden Tate placed a brutal hit on Lee knocking him backwards. You can see it here.
Tate launched himself, helmet first towards the head of Lee and, according to former NFL Vice President of Officiating, Mike Pereira, it should have been a penalty:
The hit on Lee is an illegal blindside block. Lee is considered defenseless, which means you can't lower your head & hit in head/neck area.

— Mike Pereira (@MikePereira) September 16, 2012
If the league fines Tate (and we expect to see a fine) it would mean the replacement refs missed a penalty on Seattle that would have offset the unnecessary roughness call against Bruce Carter for his two hand touch of Wilson out of bounds.
Message to Tate: We hope you enjoyed your celebration of the cheap shot you put on Lee. Enjoy your FedEx envelope from the NFL!
Keep Reading

Dallas Cowboys: Like this team?