Early-Season NFL Stories Worth Watching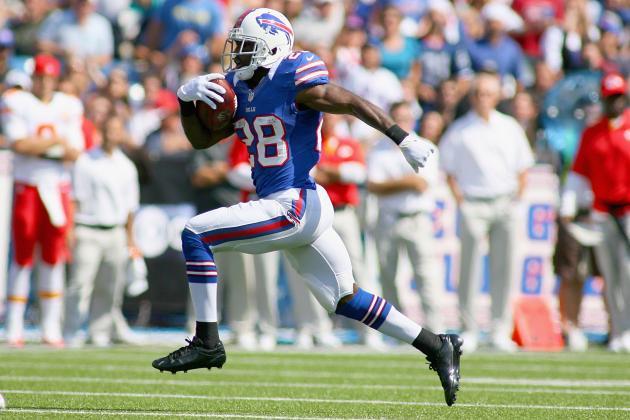 Rick Stewart/Getty Images

Early-season NFL is a funny thing. Isn't it?
All summer long you hear so-called experts tell you who's going to be great and make their Super Bowl picks, which are almost never right. There's no certainty to which fantasy stars are going to perform.
But we greedy fans crave our football news like Jerry Jones craves attention.
Week 2 left football fanatics with a plethora of headlines. The Bucs are disgusting for trying to win the game (it was a little ridiculous). The Cardinals upset the Patriots—the team with the easiest schedule. The Kansas City Chiefs suffered another big loss.
All big stories, but here are the stories to keep an eye on throughout the season.
And please share your thoughts and tell me how big of an idiot I am.
Begin Slideshow

»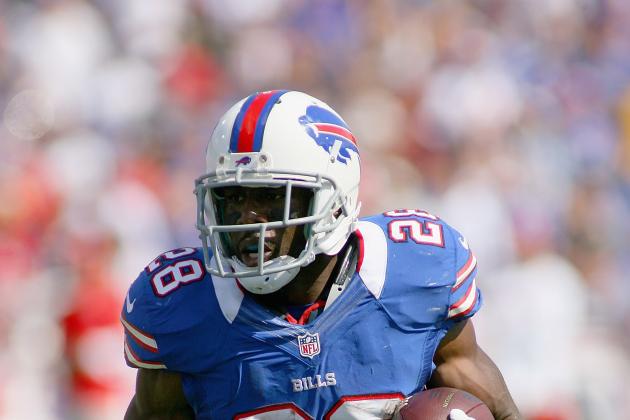 Rick Stewart/Getty Images

C.J. Spiller was a star during his Clemson days when he consistently showed he was a top-tier running back and all-around play maker in Division I. Now he's showing it in the NFL.
After the better part of two years playing behind Fred Jackson and, more importantly, being halted by Chan Gailey's decision-making, Spiller has started to show his innate ability to turn a short run or pass into a long touchdown.
Even Gailey admits he didn't realize Spiller had such talent when the team drafted him. Maybe that's why he has moved around from team to team without any significant success.
The question moving forward is this: When Jackson returns in a few weeks, will Spiller continue to get his touches in?
It hasn't been seen yet what kind of split these backs will make as Jackson went down in the second quarter of the Week 1 game against the New York Jets. Prior to that, Spiller had few opportunities in the game, much like his first two years in the league.
When he got his chance this week, he showed that he belonged, first pulling off a 56-yard touchdown run through the Jets defense and later dashing for another 49-yard run. And this was against a Jets defense that controlled the Bills offense all day.
We all know the impressive Week 2 stats he put up (170 total yards and two touchdowns), but they could have been better. Spiller just missed a third touchdown on a 27-yard screen pass late in the second quarter and spent much of the second half on the bench with the game already won.
This game could have very well been a 35-0 shutout. I don't think the Chiefs are as bad as they have shown in the first two weeks, but I don't think Sunday's disaster lessens Spiller's performance any.
Even when Jackson comes back, Spiller needs at least half of the carries, if not more. He has a talent matched by few others in the league.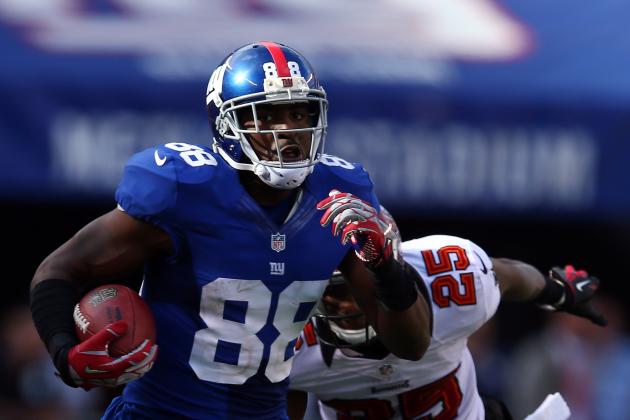 Elsa/Getty Images

Hakeem Nicks was one yard short of 200 receiving yards, despite an ailing foot problem.
Victor Cruz added another 179 yards, including an 80-yard touchdown topped off by a salsa dance for his late grandmother.
Eli Manning threw for 510 yards and three touchdowns to overcome three first-half interceptions.
And the Giants still struggled to win the game. Why? The same problem that plagued them in the season opener: the play of the secondary.
Somehow the Giants are worse after getting rid of Aaron Ross. And that's not sarcasm. That guy was terrible for years with New York.
Yet, with Ross gone, and injuries to the second and third cornerback, the remaining cornerbacks made one of the worst receivers in the last three years, Kevin Ogletree, look like a Pro-Bowler and then did it again with Josh Freeman the following week.
Michael Coe and, even worse, Justin Tryon, would not be making a salary if they performed this horribly in any other profession.
Tryon had a late game-tying touchdown go off his helmet and into the receiver's hands because he was in terrible position behind the wideout.
The Giants have to get Prince Amukamara back soon and hope he's ready so that the offense doesn't have to score 35-plus points every week.
And one more thing. Why do the Giants spend a first-round pick on a running back they don't want to use? David Wilson showed off his quickness in a couple kickoff returns, especially in the fourth quarter, but they don't give him any snaps after Ahmad Bradshaw leaves the game in the second quarter with a neck injury.
I understand he fumbled on his second career carry and had troubles throughout college with fumbles, but you don't sit him out for two weeks for one fumble. Especially someone with the talent Wilson has.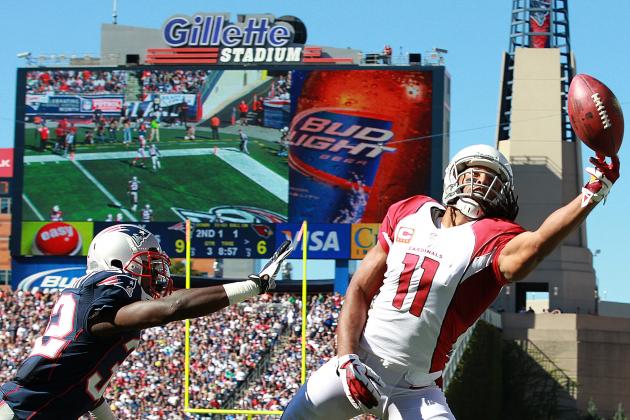 Jim Rogash/Getty Images

The Arizona Cardinals shocked the NFL and fantasy world when they beat AFC favorite New England Patriots in Foxboro this week. Several fantasy pick'em players cursed the Glendale group for the better part of Sunday afternoon. And several fantasy owners cursed the team for star wideout Larry Fitzgerald's stat line that read four yards on one reception.
The Cardinals have won two close games to begin the season, despite mediocre quarterback play. And if the team wants to continue to tally wins, the quarterback will have to feed Fitzgerald the ball.
Nobody knew what to expect from Fitzgerald, given the mystery surrounding the quarterback position heading into the season. But, if you were to tell someone the Cardinals would be 2-0 to start the season and Fitzgerald would only have five catches for 67 yards, they would excommunicate you for that asinine statement.
It's not even that hard to get the ball to Fitzgerald. All a quarterback has to do is lob it up relatively close to him, and he'll come down with it.
It's simple moving forward for the Cardinals: If Fitzgerald doesn't start getting the ball more, the team isn't going to win consistently. They barely beat the Patriots, despite controlling the game for three quarters. If Fitzgerald had more opportunities, it would have been an easy win.
Dilip Vishwanat/Getty Images

The St. Louis Rams played a second straight close and tough game against a seemingly good team. This time around, though, they won.
The Rams faced the team they rewarded with the talents of the No. 2 overall pick this past weekend, and they handled the team quite well.
The Washington Redskins are thriving on Robert Griffin III's plays, and he is performing at a very high level. In Week 2 he showed off his running abilities with two scores on the ground.
That wasn't enough to stop a dangerous Rams team. I say dangerous because nobody thought they would have a good year heading into the season. What nobody realized is that St. Louis has a healthy Danny Amendola, and that makes a huge difference.
Sam Bradford loves him some Amendola. The 15 receptions for 160 yards only showed that to the general public.
Amendola started to develop a strong rapport with Bradford in the Oklahoma product's rookie year but was cut short in 2011 with a Week 1 injury.
I don't think the Rams are going to contend for the NFC West this season, but this duo will continue to put up big numbers because of the most important factor—trust. Bradford knows Amendola is going to be where he needs to be when he throws the ball, so he is going to continue to throw his way.
I do expect the Rams to pull of some big upsets this year, but they're still a year or two away from the Wild Card Round. And I say Wild Card because of the next team...
Thearon W. Henderson/Getty Images

The box score won't show you how the 49ers controlled their first two games of the season.
While it's a new season, and we don't know how the Green Bay Packers and Detroit Lions are going to play this year, they certainly have had the players on offense. Not against the 49ers, however.
San Francisco surprised everyone outside of its fan base last year—and many in the fan base, too. This year, teams know what to expect from them, yet the 49ers have looked even better than expected.
Neither the Packers nor the Lions were able to get any consistency going against this defense. And Alex Smith has continued his solid play as quarterback, making virtually no mistakes.
The team is loaded with playmakers on both sides of the ball, and it's hard to see the 49ers losing any time soon. Jim Harbaugh deserves all of the praise for what he has done with this team.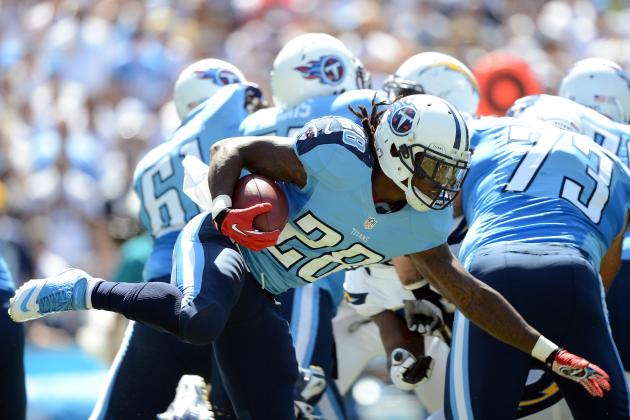 Harry How/Getty Images

Athletes like to have good years when they're playing for a contract, and Chris Johnson had his last summer.
Since then, he's been a completely different running back. It's not because of his new contract, rather his decision-making.
Johnson has to stop dancing around in the backfield and learn to follow his blockers. We all know the speed he has and how he can break off several long runs, but if he's spending all his time juking and spinning in the backfield, he's not going to get any yardage.
The Titans have been horrid in every aspect of the game thus far, and their offense isn't going to match the points their defense is allowing if there is no running game.
With more experience and a healthy and smart Kenny Britt, Jake Locker can lead the Titans to a powerful offense. Oh, and CJ2K, making better decisions wouldn't hurt either.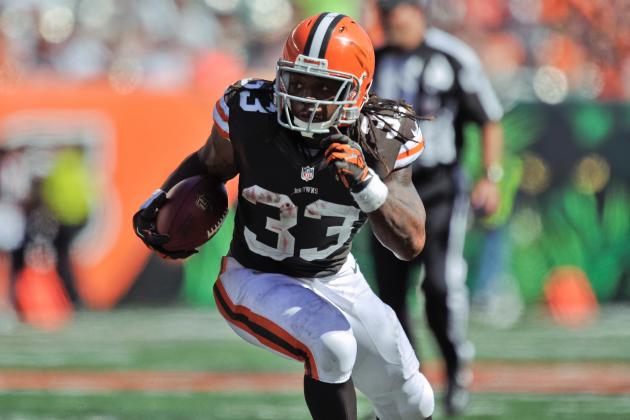 Jamie Sabau/Getty Images

Andrew Luck, RG3 and Trent Richardson.
We all know the names. We all know the college highlight reels. Now we've all caught a glimpse of the special talent each player has against an NFL defense.
The top-3 picks had a huge week in their second matchups.
The Colts' Luck made great throw after great throw when the game mattered in the two-minute warning of each half. The play where he rolled out to the left, ran up and threw a strike 25 yards down the field without his feet set reminded us he can move, too.
The Redskins' RG3 continued to roll along without his favorite target, Pierre Garcon. If Mike Shanahan didn't irk people enough with his committee of running backs, having Griffin run for 82 yards and two touchdowns definitely put more people over the edge. And, as mobile as he is, this guy can pass.
And Browns' Richardson silenced the injury talk with a huge game against a promising but struggling Cincinnati defense. He didn't want to go down all day and kept Cleveland in its second straight game.
Brandon Weeden and Ryan Tannehill also had much better performances this week. The top rookie names in this year's draft excited fans in Week 2, but can they maintain their play for 14 more games?
For the top three, I say they can. (I know. What a stretch).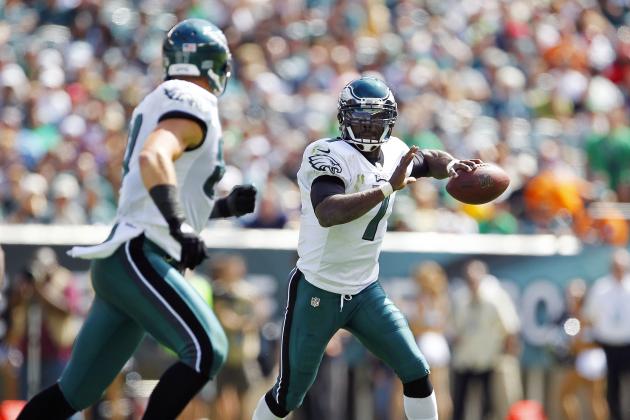 Rich Schultz/Getty Images

Many football fans were excited to see how the Eagles would be in "Year 2" after their big free-agency year in 2011.
Well, they're 2-0, but it hasn't been pretty.
Michael Vick has turned the ball over seven times in the first two games with six interceptions, and Sunday LeSean McCoy brought the Eagles' total turnover number to eight with a fumble of his own.
The Eagles have been able to overcome the turnover troubles against a surprising Browns team and a tough Ravens defense.
And the Philadelphia team has talent all around the roster, including one of the top three backs in the league in McCoy. But the Eagles aren't going to win with four turnovers every game.
Vick has to rework his decision-making for this team to live up to its huge potential. It was comforting to see Philadelphia overcome against a playoff-powerhouse Ravens team.
The Eagles certainly have the talent to win the NFC East and make a deep playoff run. The players just need to stop halting themselves.
Once they get it going, they will be competing with the likes of Atlanta, Green Bay and San Francisco.
Kevin C. Cox/Getty Images

The Atlanta Falcons have come out strong in 2012.
After an embarrassing effort against the eventual Super Bowl Champion Giants in the Wild Card Round this past January, Matt Ryan and crew have come out with no regard to opposing defenses.
Ryan has been a very talented quarterback since entering the league in 2008, but he is finally taking the next step as the coaching staff has put trust in him and allowed him to run a more up-tempo offense. Julio Jones, Roddy White, Tony Gonzalez, Michael Turner and the emerging Jacquizz Rodgers offer a list of options that few other teams can compete with on offense.
And the defense has come out with a purpose—especially on Monday night against the Broncos. The team had nine guys constantly moving before the snap and got to Peyton Manning play after play because of it.
The Broncos were only able to get some real consistency on offense when the Falcons took a break from that strategy.
The Falcons look like a completely different team from the one that lost 24-2 in the first round of the playoffs last season. Their offense will continue to put up big numbers. It just remains to be seen whether the defense can cause as much ruckus throughout the year.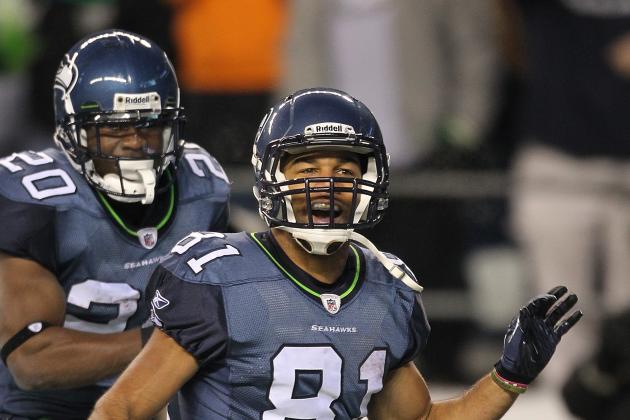 Otto Greule Jr/Getty Images

Golden Tate has been an absolute joke since entering the league in 2010, and on Sunday he was even more pathetic.
We all remember Tate as the star receiver at Notre Dame, and many expected him to transition into a solid NFL receiver. So far, that hasn't been the case. Someone should tell that to Tate, who lost it after a clean blindside block on an unsuspecting Sean Lee on Sunday.
I'm all for a player celebrating after a big play, but this was a 10-yard run by Russell Wilson for a first down. Lee wasn't even going to catch Wilson, so Tate's block wasn't even important.
Tate should worry about actually contributing to the team and not being a waste of a second-round draft pick before celebrating an ineffective block—no matter how big of a hit it is.
Don't get me wrong. I would like for Tate to start performing, but he hasn't yet, and this celebration is ridiculous. The story moving forward is his performance.