Cleveland Indians: Their 3 Most Tradeable Assets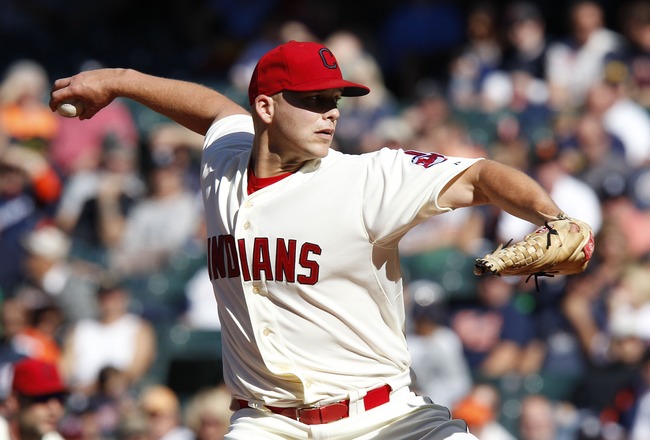 Another down season could tempt Cleveland to become active traders
David Maxwell/Getty Images
With another losing season in the books, it is time the Cleveland Indians consider their most tradeable assets. Players like 2B Jason Kipnis and 3B Lonnie Chisenhall are likely untouchable, but there are others that Cleveland should heavily consider trading.
The Indians have solidified another losing season with their current 61-86 record, and they have not had a winning season since 2007. Cleveland fans will remember that as the year the team lost the championship. The team had the Boston Red Sox on the ropes but failed to put the series away and watched Boston trounce Colorado in the World Series.
It has been tough ever since, but an active offseason could change that.
The Indians have a few players who would bring good value in a trade, and maybe an infusion of new talent will revive the Cleveland franchise.
Shin-Soo Choo, Outfielder
Choo has not become the star the Indians hoped he would
Jason Miller/Getty Images
FoxSports.com's Ken Rosenthal (via CBSSports.com) reports that he believes Choo is one of a few players likely to be traded this offseason.
Choo is an outfielder with a laser-rocket arm, and he can gun down anyone from right field. Defense has not been the problem, though, as his hitting and contract are what make him good trade bait.
The 30-year-old veteran has 15 homers with 56 RBI and a .278 batting average. He also has 18 steals on the year. Those are not bad numbers, but they just do not compare to his '09 and 2010 seasons.
In both seasons, Choo hit at least 20 home runs, averaged 88 RBI and batted .300. While 2012 has been better than last season (Choo only had eight homers and 36 RBI in 85 games), he has not become the star Cleveland needs.
Choo's contract situation also makes him a solid trade candidate.
Paul Hoynes of The Plain Dealer reported in July that the Indians had tried to sign Choo long-term. Unfortunately, Hoynes reported that the outfielder is tired of losing and wants to play for a contender.
Choo is eligible for arbitration and would be a free agent after next season. Now would be the time to move him while Cleveland can still get something in return.
Chris Perez, CP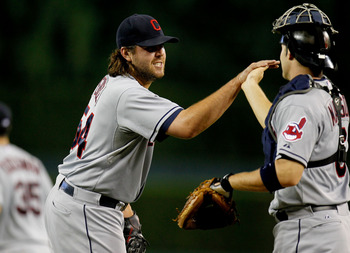 Perez will be a high-valued commodity in the coming offseason
Gregory Shamus/Getty Images
Joining Choo as a valuable trade asset is the arbitration-eligible closer Chris Perez.
Perez would not become a free agent until 2015, but his value is highest now.
He has 36 saves and a respectable 3.48 ERA. Perez also is averaging better than one strikeout per inning, as he has 59 strikeouts in 51.2 innings of relief.
The 27-year-old closer was also part of Ken Rosenthal's report of possible trade assets for Cleveland. Rosenthal mentioned that Perez in particular could be moved, as he has criticized the organization in the past.
Perez would bring much in return, as quality closers are scarce these days. At least half of the league could qualify as needing a closer. Then there are those that have closers but may not be confident that the closer can repeat his success.
Perez could still be an Indian come next season, but his current trade value would suggest otherwise.
Justin Masterson, SP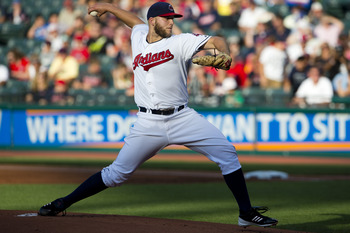 Would Masterson find more success with a new club?
Jason Miller/Getty Images
SP Justin Masterson may be the most valuable trade asset that Cleveland would actually trade.
Coming off a stellar 2011 season, Masterson has hit a wall in 2012.
In 2011, Masterson went 12-10 with a 3.21 ERA. He probably would have had more wins had Cleveland given him some run support. Justin ranked No. 50 in the league last season with a little over four runs per game.
The 2012 season, though, has been a disaster from start to finish. He is currently 11-14 with a 4.93 ERA.
Like the others in this article, Masterson is eligible for arbitration and would be a free agent in 2015.
According to Jon Lemons of WEEI.com, the Indians have already explored trading their "ace." Lemons reported back in July that Boston had been scouting its former prospect. The Rangers, Orioles and Cardinals were also interested.
With the exception of the St. Louis Cardinals, the other three teams could definitely use more starting pitching. The Indians received Masterson from Boston in a trade involving Victor Martinez—maybe it is time to send him back?
Keep Reading

Cleveland Indians: Like this team?