5 NBA Lineups That Will Be Drastically Altered During Training Camp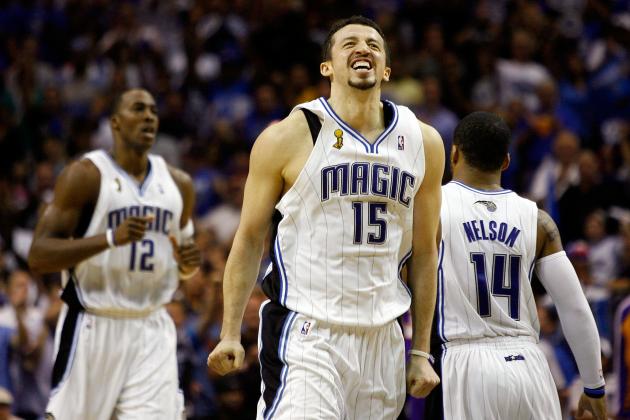 Chris Graythen/Getty Images

You might have Oct. 2 circled as the day NBA2K13 comes out, but the real-life versions of the guys in that game have it circled for a slightly different reason.
It's also the day training camps open for practice.
For many players, it's just business as usual. Some are probably itching for an opportunity just to get back into the swing of things. Others are looking forward to forgetting about last season and preparing to improve upon the bad tastes left in the mouths (hopefully, anyway).
But training camp will mean a heck of a lot more for a few.
For them, October could decide where they fit into the rotation—or whether they fit into the rotation at all. After all, there was a lot of personnel turnover this summer and another draft's worth of young talent infused into the league.
Now it's time for coaches to pick up where their general managers left off, piecing together puzzles of the "Who's in my starting lineup?" variety. Here's a look at five teams with some big rotation decisions to make.
Begin Slideshow

»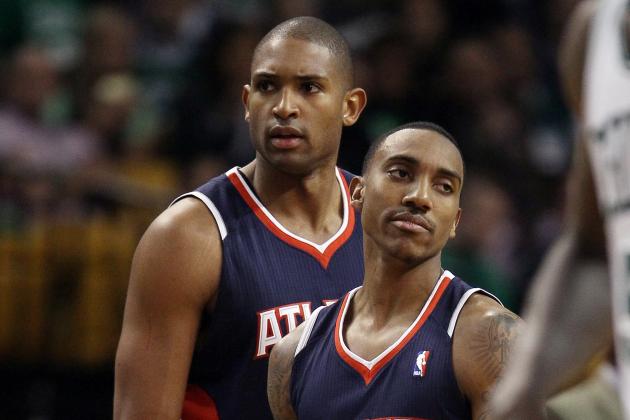 Elsa/Getty Images

The Atlanta Hawks have two big questions in their starting five: the shooting guard and small forward positions.
Their best option at the two may be Lou Williams, but his size really makes him a better fit for that sixth-man role. Devin Harris isn't an improvement in that department, so that leaves Anthony Morrow as the closest thing to a shooting guard with the actual frame of a shooting guard. A less likely option is rookie John Jenkins, one of the very best shooters to come out of this summer's draft.
At small forward, the Hawks could play either Kyle Korver or Josh Smith.
Using Smith would compromise the team's depth in the paint, and it would also make it difficult for head coach Larry Drew to really space the floor. Korver might be the safer option, but he creates some problems on the defensive end.
The Hawks' starting five won't be a work of art, but they'll find some way to cobble this group together.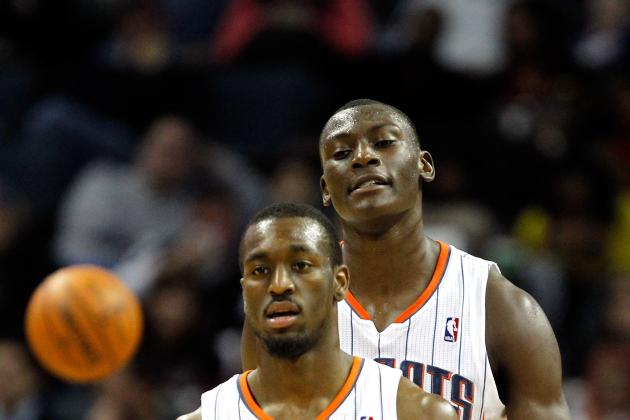 Streeter Lecka/Getty Images

When you have a roster that seems destined to produce another trip to the NBA draft lottery one way or the other, deciding who's cut out for the starting lineup isn't easy.
Such is life for the still very-much-rebuilding Charlotte Bobcats.
There doesn't seem to be much question that Michael Kidd-Gilchrist will start at small forward, but there are more than enough questions at every other position. The 4 and 5 spots will come down to some combination of Bismack Biyombo, Brendan Haywood, Byron Mullens and Tyrus Thomas.
Your guess is as good as mine.
The backcourt actually has some solid talent, but it's relatively unclear what to make of a rotation that includes Ramon Sessions, Kemba Walker, Gerald Henderson and Ben Gordon.
It's a group that's seriously lacking in the size and defense departments, and it's still hard to understand why Charlotte would take on Ben Gordon—a guy whose only real function is taking minutes away from the much younger Walker.
Training camp will be revealing indeed, but I'm not sure we really want to find out what's revealed.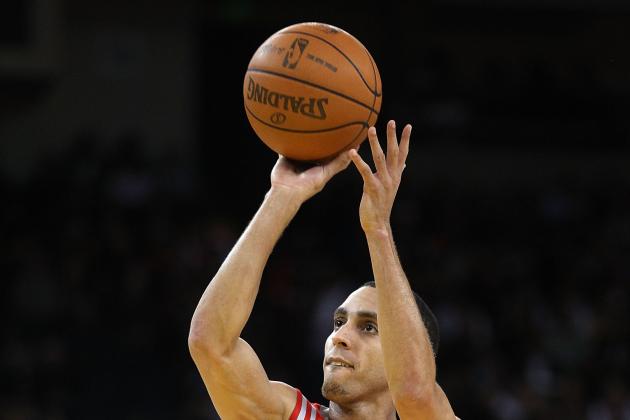 Ezra Shaw/Getty Images

It goes without saying Kevin Martin and Chandler Parsons will be the only familiar faces in the Houston Rockets' starting lineup, although Jeremy Lin probably qualifies as a familiar face to any and every fan of the game.
And it's pretty safe to assume he'll be Houston's starting point guard.
It's also pretty safe to assume that Omer Asik will start at center after all the money the organization threw at him this summer.
But what about at power forward? And is there any chance Chandler Parsons could be replaced as the starting small forward? Those are fair questions after the additions of rookies Terrence Jones and Royce White, especially with young power forwards Patrick Patterson and Marcus Morris also in the mix.
The Rockets are clearly embarking upon a pretty serious rebuilding project, and there could be more roster moves to come before it's all said and done. Until then, training camp will keep head coach Kevin McHale plenty busy.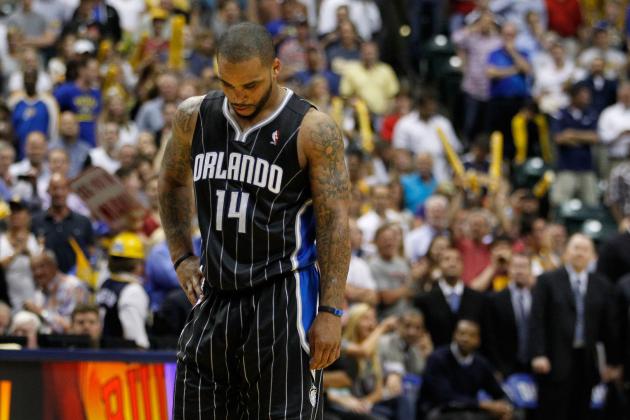 Gregory Shamus/Getty Images

Orlando Magic point guard Jameer Nelson must feel like he just landed on another planet.
He'll be working alongside three new starters this season after the departures of Dwight Howard, Ryan Anderson and Jason Richardson. Aside from Nelson, the only sure thing about the starting unit is that Arron Afflalo will be there.
Hedo Turkoglu reasons to remain in the starting lineup, but there's certainly a good argument to be made for utilizing his point-forward skills off the bench and getting rookie Maurice Harkless some extra playing time in his stead.
The other forward position raises questions as well, namely whether to start Glen Davis or Al Harrington.
Davis didn't mesh well with Dwight Howard last season, largely because they both need to be about five feet from the rim to be effective. That could change now that D12 has vacated the paint.
Harrington on the other hand is a scorer with all kinds of range, and the prospect of spacing the floor with he and Turkoglu on the court at the same time is pretty intriguing.
Training camp will also be the perfect opportunity to resolve the center position, where new acquisitions Gustavo Ayon and Nikola Vucevic both bring something a little different to the table. If neither appears ready for the job, we could even see a severely undersized lineup with Davis in the middle instead.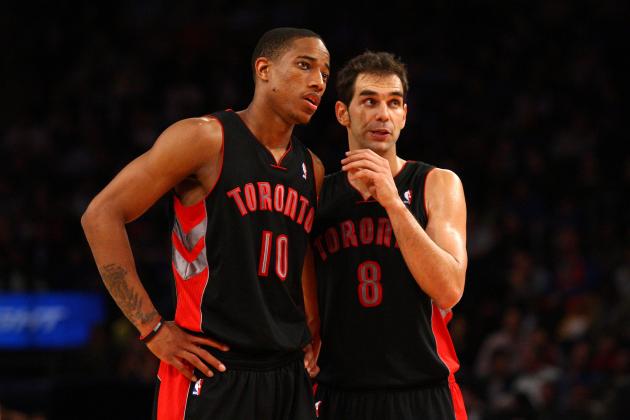 Chris Chambers/Getty Images

You can safely assume the arrival of point guard Kyle Lowry will send Jose Calderson to the bench.
That will constitute at least one important change for the Toronto Raptors.
The bigger question is what will happen on the wing. The Raptors need to find something to do with DeMar Derozan, Landry Fields, Terrence Ross, Linas Kleiza and Dominic McGuire. Kleiza and McGuire may only get spot minutes, but the first three should all contend for starting spots.
Unfortunately, there are just two such spots available. DeRozan and Fields will have seniority over Ross, but could the eighth-overall draft pick prove he deserves that shooting guard spot in training camp?
Will Toronto feel obligated to start Fields after handing the restricted free agent such a lucrative contract?
You can't feel too badly for the Raptors. This is the kind of problem some teams would love to have.