Fantasy Baseball Playoffs: 11 Two-Start Pitchers to Avoid in Championship Round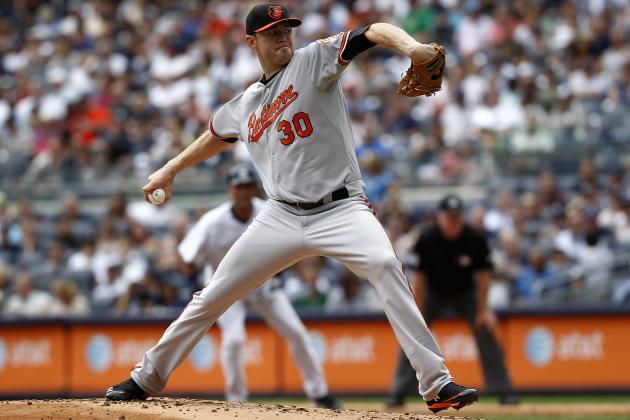 Jeff Zelevansky/Getty Images
Chris Tillman makes his first appearance today since leaving his September 2 start with inflammation in his pitching elbow.
Congratulations if you've made it to the championship round of your fantasy baseball league this week. There are still two weeks to go before you can claim the ultimate prize, so don't blow it by picking up the wrong two-start pitchers.
Many fantasy baseball leagues begin the championship round a week early to avoid the headaches caused by major league teams resting players down the stretch. This will become a problem as soon as next week, so it's imperative that you get your lineup right during the first week of your title match.
Resist the temptation to simply pick up the hottest starter or two still available in your league's free-agent pool and play close attention to the matchups. Beware the pitcher who's looked great over his last few home starts but has two games on the road this week.
The following 11 starters are scheduled to make two appearances this week. You're better off avoiding them altogether—or at least for one of their two starts—if you intend to end the fantasy baseball season as a champion.
This list only includes players who are likely still available in your league.
Begin Slideshow

»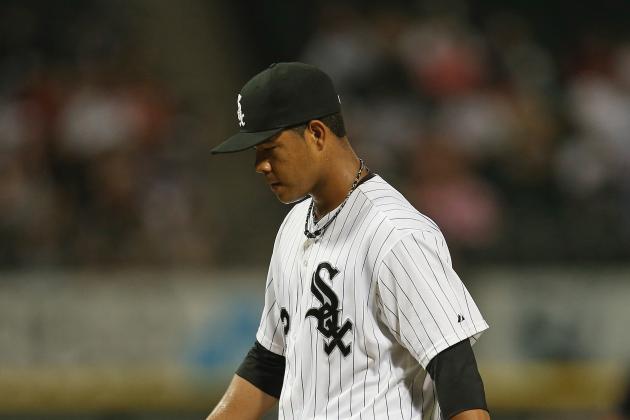 Jonathan Daniel/Getty Images
Expect Quintana's second-half slide to continue against the Detroit Tigers and Los Angeles Angels of Anaheim this week.
Jose Quintana was a pleasant surprise for fantasy baseball owners during the first half of the MLB season. He's come back down to earth, however, over the past six weeks.
His ERA has gone up every month this season, including an 8.00 mark in two September starts. It's not likely to improve much while facing two AL MVP candidates this week.
Quintana takes the mound today against Miguel Cabrera and the Detroit Tigers before traveling to Anaheim to face Mike Trout and the Los Angeles Angels on Saturday.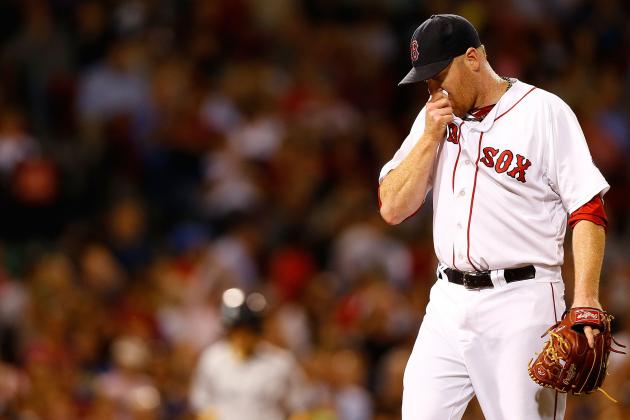 Jared Wickerham/Getty Images
Aaron Cook is simply playing out the string in a forgettable season for the Boston Red Sox and their fans.
Inserting Boston Red Sox pitcher Aaron Cook into your fantasy baseball lineup this week is a sure way to sabotage your season. He has a 5.18 ERA in 15 starts for Boston and has only struck out 18 batters in 81.2 innings pitched.
Cook faces two AL East foes that are fighting for their playoff lives this week. He'll face the never-say-die Tampa Bay Rays today before making an appearance at Fenway against the Baltimore Orioles on Saturday.
Two undesirable opponents for an already undesirable starting pitcher.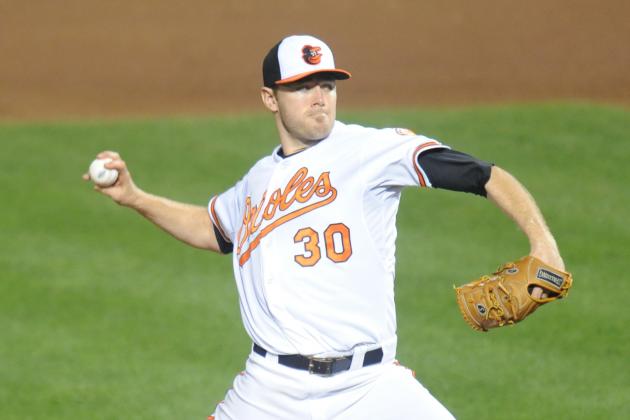 Mitchell Layton/Getty Images
Tillman is a risky play coming off an injury-shortened start in his last appearance.
Chris Tillman is a risky play in fantasy leagues this week despite having two favorable matchups.
He faces a below-average Seattle Mariners lineup on the road today in one of MLB's most pitcher-friendly parks. He'll follow that up with a weekend appearance against a Boston Red Sox roster whose own manager called the worst in franchise history.
However, the Mariners have been a very good team (34-26) since the All-Star break, and the Red Sox will be highly motivated to ruin Baltimore's playoff chances after the Orioles cost Boston a playoff trip last year.
If that's not enough to scare you away, consider that Tillman left his last start after 3.2 innings with inflammation in his pitching elbow. With your championship hopes in the balance, it's best to stay clear of him this week.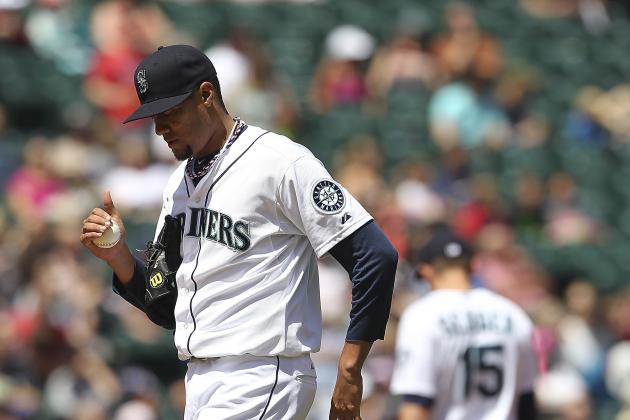 Otto Greule Jr/Getty Images
Hector Noesi won't be anxious to face the Baltimore Orioles again today after getting shelled in his last start against them.
There's not much to like about Hector Noesi this week. He has a 5.54 ERA in 19 appearances (17 starts) for the Mariners this season with only 62 strikeouts in 100.2 innings.
He's making his first start today since allowing four earned runs and seven hits over five innings in a July 4th loss to the Orioles. Who's he facing today? Those very same Orioles.
Even if Noesi earns a second start this weekend, the Mariners will be hosting the explosive Texas Rangers in a three-game series. No bueno.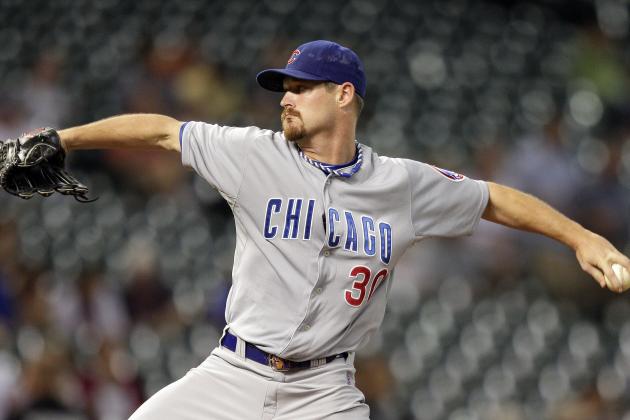 Bob Levey/Getty Images
Travis Wood might be the most attractive option among the undesirable pitchers on this list.
Chicago Cubs lefty Travis Wood is not altogether unavoidable this week, but you'd be better off holding him to just one start today against the Pittsburgh Pirates.
Wood has a 1.64 ERA, 0.91 WHIP and .111 BAA in two starts against the Pirates this year. Pittsburgh has also been one of the worst teams in baseball over the past two months after a hot start.
But Wood's second start this week will be against the mighty St. Louis Cardinals, the National League's second highest scoring team.
Both of Wood's starts are at home this week and he has an ERA near five in 11 starts at Wrigley Field. That means even his favorable start against the Pirates is a questionable play.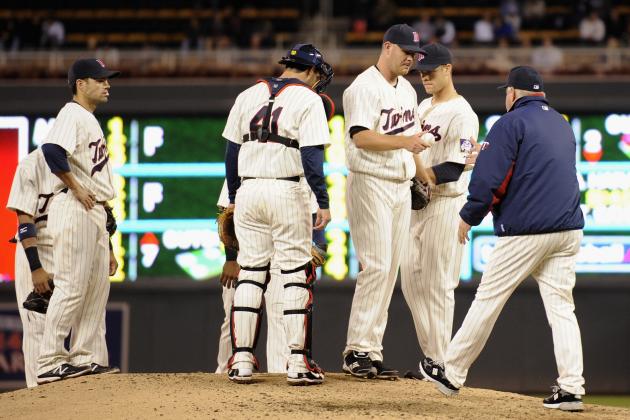 Hannah Foslien/Getty Images
P.J. Walters is starting for the Twins because somebody has to do it.
Just because the Minnesota Twins are forced to run P.J. Walters out to the mound every fifth day doesn't mean that you have to follow suit.
Walters is nothing more than a late-season fill in needed to get the Twins through the 162-game grind. His 6.70 ERA and 1.60 WHIP have no business being on your fantasy baseball roster at such a crucial point in the season.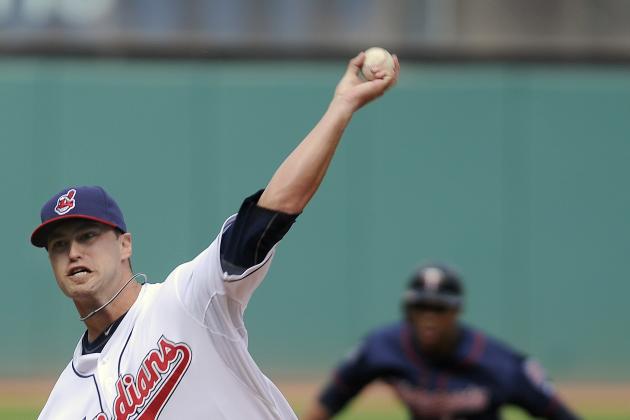 Jason Miller/Getty Images
David Huff's 80-pitch limit per start makes him an even more risky play in fantasy baseball leagues.
David Huff is being reinserted into the Cleveland Indians starting rotation for the first time since 2011. The Indians don't have much to lose, but now is not the time for you to start experimenting with unknown quantities.
Huff will be limited to about 80 pitches per start for the rest of the season. A rough first couple of innings by a pitcher on a short leash will doom your championship aspirations.
Despite attractive matchups against the Twins and the Kansas City Royals this week, he's definitely a player to avoid.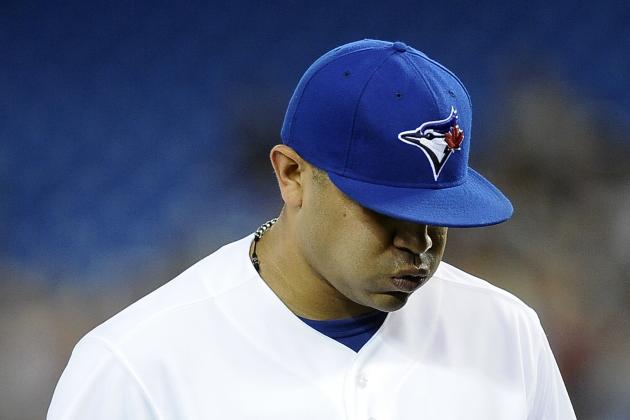 Brad White/Getty Images
Ricky Romero has been the most disappointing starting pitcher in fantasy baseball this year.
Toronto Blue Jays lefty Ricky Romero has been the single biggest bust in fantasy baseball this season. If he's lingering in your league's free-agent pool, some disgruntled owner in your league cut bait with him somewhere along his current 13-game losing streak.
After winning 15 games and posting a 2.92 ERA in 2011, the 27-year-old Romero's ERA has more than doubled to 5.87 in 29 starts this season. No one seems to know the cause of his regression, but it's not up to you to try to figure it out right now.
Buy low at next year's draft and hope for a turnaround, but stay away from Romero for the rest of 2012.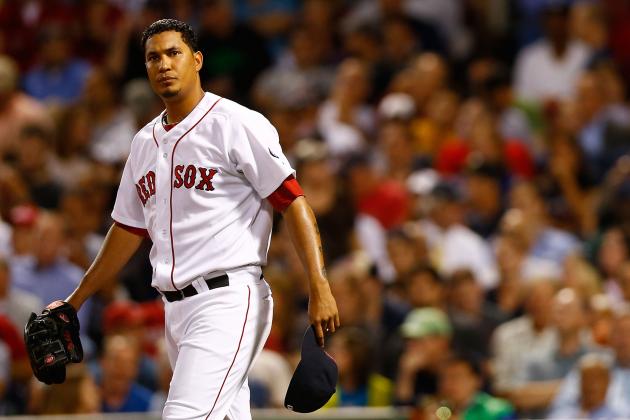 Jared Wickerham/Getty Images
Felix Doubront has lost control of the strike zone over the last six weeks.
Felix Doubront may have a bright future as a member of the Boston Red Sox starting rotation, but for fantasy baseball owners, that future is not now.
Doubront was a popular pickup during his first 10 starts this season, going 5-2 with 59 strikeouts over 57 innings pitched through the end of May. He's battled control issues all season long, and opposing hitters have learned to become more patient when facing him.
He's had an ERA over eight in six starts since August 3rd. Two starts against the playoff-minded Rays and Orioles won't lead to a late-season turnaround.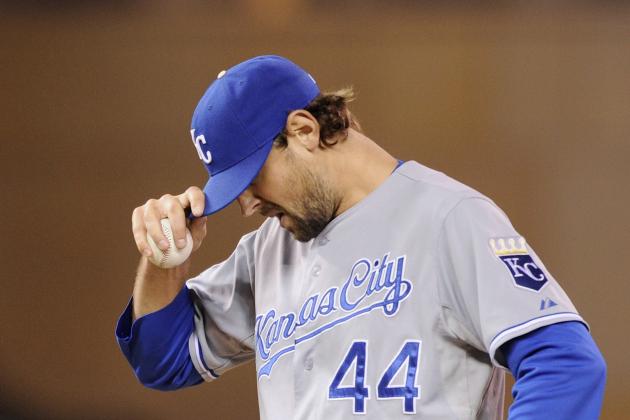 Hannah Foslien/Getty Images
Luke Hochevar has looked like a former No. 1 overall pick at times this year, but not recently enough to help your fantasy baseball team.
Luke Hochevar has pitched brilliantly at times this year, reminding many why the Kansas City Royals made him the No. 1 overall pick in the 2006 amateur draft.
That brilliance has been nowhere to be found over his last four starts.
Hochevar has given up 21 earned runs on 26 hits over his last 21 innings pitched during that time, not the type of production you're looking for at this time of year.
He could easily put together another string of quality starts to end the season, but let a more desperate owner take that chance.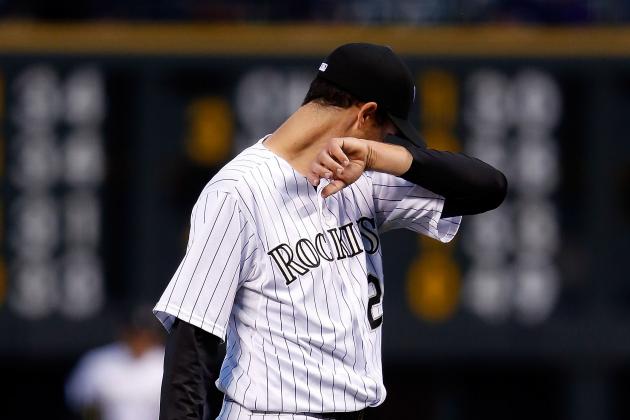 Doug Pensinger/Getty Images
Even Jeff Francis knows that you should avoid putting your fantasy baseball playoff chances in his left hand.
The Colorado Rockies have given up a major league-worst 792 runs this season, so I shouldn't have to explain why you should avoid their pitchers. But Jeff Francis could fool some people.
He's given up one run or less in three of his last five starts including a 10-0 home win over the Dodgers on August 27.
So why should you stay clear of Francis this week?
He's just 5-5 with a 5.68 ERA, 1.49 WHIP and .319 BAA in 20 starts this season. He faces the San Francisco Giants and San Diego Padres, two teams he's struggled against in five starts this season.
The numbers speak for themselves, but to put it bluntly, you don't want to put your fantasy baseball championship hopes in the hands of a Colorado Rockies starting pitcher.