Washington Redskins at St. Louis Rams: Talking Points from Redskins' 31-28 Loss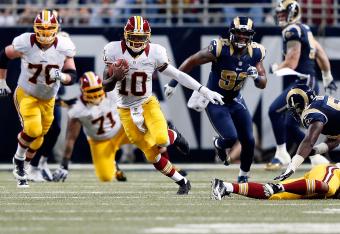 Jamie Squire/Getty Images
It's a bitter feeling this morning after seeing the Washington Redskins humbled by the upstart Rams in St. Louis. Inevitably after a loss, even a narrow three-pointer in a fractious game, most of the focus is on the negatives.
There certainly are plenty to choose from the Redskins Week 2 showing. However, there were also a couple of key positives that should serve to keep confidence high, ahead of the home-opener against the Cincinnati Bengals.
Here are the main talking points from the Redskins first defeat of the 2012 season.
Defense gets a rude awakening
Easily the most disappointing aspect of the game and the biggest concern looking ahead, was the porous showing from Washington's defense. One week removed from harassing Drew Brees and knocking the New Orleans Saints offense out of its stride, the Redskins couldn't stop anything in St. Louis.
Pressure on quarterback Sam Bradford was inconsistent, despite a makeshift Rams offensive line. Granted, Brian Orakpo's injury didn't help, but nobody picked up the slack.
As a result, Bradford shredded the secondary. In truth, he was also helped by a bizarre choice of scheme. Jim Haslett should be made to answer this simple question: Why so much zone coverage?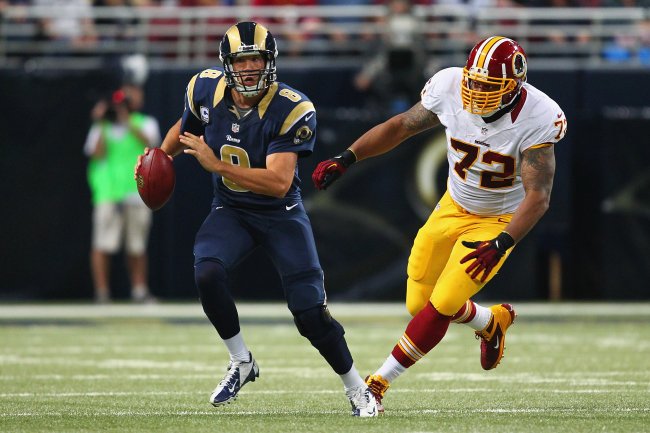 Dilip Vishwanat/Getty Images
It's not an issue with trying to keep Bradford in the pocket, or even having eyes in the backfield to spy the run. The simple fact is the Rams' pass-attack isn't going to beat anyone deep.
That's all the more reason then to play man coverage. Single coverage isn't a risk against a group of wideouts who won't stretch the field.
Challenging Rams receivers to beat man concepts while blitzing Bradford is the formula every defense used to dominate the Rams offense last season. That's why it was so baffling to see the Redskins play shallow zones that allowed slot players like Danny Amendola and Steve Smith to flourish.
As if the problems through the air weren't enough, the run defense appeared very soft. In truth, they weren't great against Saints, who just couldn't stay committed to the run, because of the Redskins' big lead.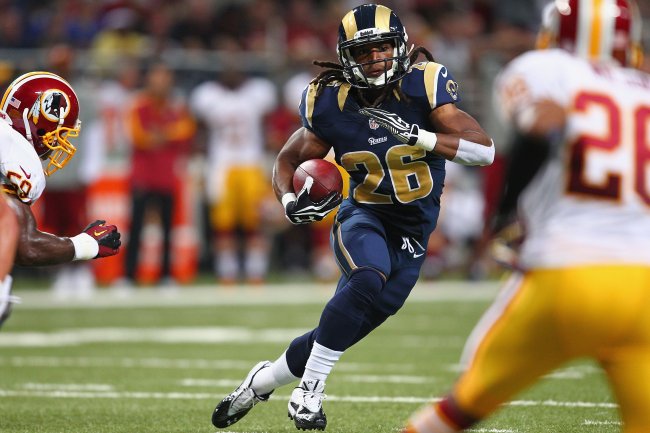 Dilip Vishwanat/Getty Images
Against the Rams, Washington's front couldn't contain veteran Steven Jackson or rookie Daryl Richardson. These are two backs with different styles and both found success.
The Redskins need more penetration up front and the pressure is on nose tackle Barry Cofield to create more of a push and draw consistent double teams. With BenJarvus Green-Ellis, Andy Dalton and A.J. Green next on the schedule, Haslett has a lot of work to do to put things right.
Robert Griffin III played more like a rookie
After doing no wrong against the Saints, Robert Griffin III started to look more like a rookie passer against the Rams improving defense. The Redskins have been smart about keeping things simple for Griffin with deep passes only coming off play-action and the short game emphasizing screens.
The problem is that Griffin still looks a little raw when he goes intermediate to deep over the middle. It showed against the Rams, as he was picked off by Cortland Finnegan, on a badly telegraphed throw across the middle.
He should have had two more interceptions, as both Rocky McIntosh and Bradley Fletcher let certain picks bounce off their hands. These were bad reads and rash throws from Griffin.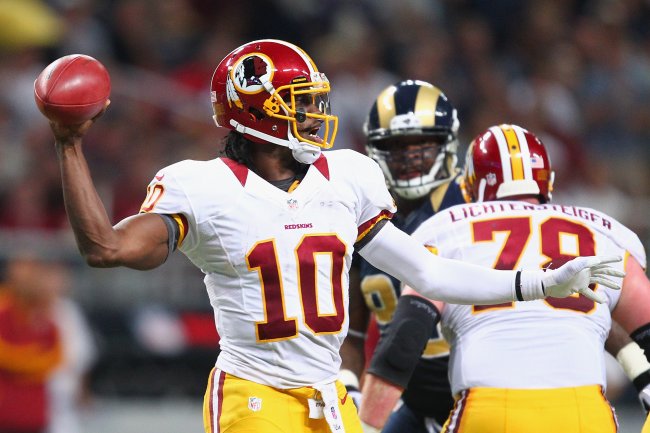 Dilip Vishwanat/Getty Images
Of course, these kinds of teething problems should be expected from a first-year passer. Griffin was also put under more pressure than he faced against the Saints and Pierre Garcon proved a major loss.
It's also true that if a mixed performance from Griffin still includes three touchdowns of his own making, then the Redskins should always have a chance in any game.
Alfred Morris is a star in the making
For the second game running Alfred Morris showed that could be the find of the 2012 NFL draft. He posed a threat every time he carried the ball against the Rams.
Morris gained 89 yards on 16 carries for an impressive 5.6 average. If anything, the Redskins didn't take enough advantage of how effective Morris was.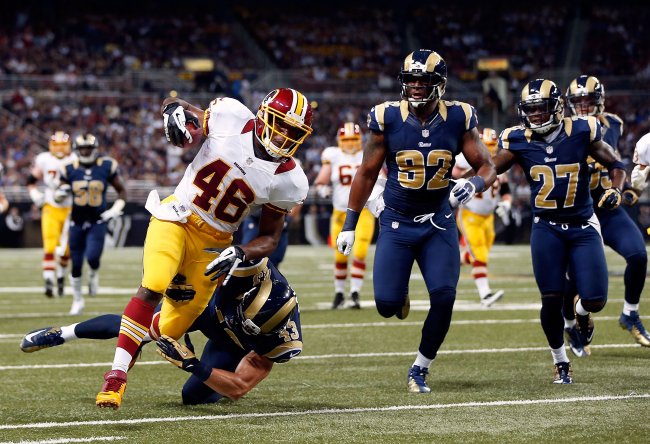 Jamie Squire/Getty Images
Aside from his low centre of gravity and natural power after first contact, speed of thought might be Morris's best attribute. He makes quick decisions in the backfield and that's what makes a great zone runner.
As dangerous as Griffin is, Mike and Kyle Shanahan must still give Morris the touches he needs to be a productive workhorse.
Conclusion
Disappointment is the order of the day, but the Redskins have shown that they possess the offensive weapons to put up points against any defense.
The issues on their own defense are alarming and it's possible there is too much pressure on the front seven to make up for deficiencies in the secondary. It will be interesting to see Haslett's approach against the Bengals and who will fill in for Orakpo.
After spending 2011 with a solid defense and woeful offense, the last thing the Redskins need is to reverse that lopsided formula this season.
This article is
What is the duplicate article?
Why is this article offensive?
Where is this article plagiarized from?
Why is this article poorly edited?

Washington Redskins: Like this team?