It goes without saying that the title of this article is a bit misleading. The reality is that no player is absolutely perfect and totally undeserving of criticism. That being said, there are two types of criticism when it comes to evaluating quarterbacks.
The big criticism of a quarterback, really the worst accusation that can be levied against one, is to say that he can't lead a team to the Super Bowl, that he can't be a consistent winner in the NFL.
Then there is the more specific criticism of players who can win the big ones, and the comments are simply in terms of what weaknesses a team must exploit to beat the guy. It's one thing to say a player can't quarterback a Super Bowl team; it's another entirely to say that he struggles to stretch the field or he needs improvement in the play-action game or his accuracy on deep outs is slightly lacking.
The NFL is a show-me league, and the fact is that up until last year Alex Smith had not shown me or anyone else much of anything to think that he can be a consistent winner in the NFL. Granted, he has shown some mental and physical toughness by fighting through the public lashings regularly doled out to him by Mike Nolan and Mike Singletary and the shoulder injuries he tried to play through in 2007 and 2008.
But facing that sort of diversity does not become an asset until a player can turn it into an investment of sorts that pays dividends at some point. Right now, Smith's "investment" is paying huge returns to him and his team. By virtue of those dividends, Smith has proven his traditional critics wrong and made their arguments irrelevant.
The bottom line in football, as in any sport, is wins. When all is said and done, the best quarterbacks are winners. Smith may never be a truly great quarterback from a statistical standpoint, but he's a winner, and he plays winning football at the quarterback position.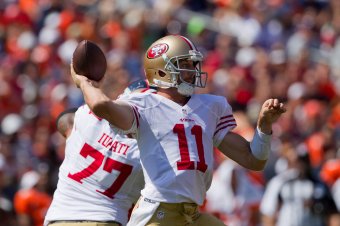 Justin Edmonds/Getty Images
That is all that matters when the chips go into the middle.
Perhaps most surprisingly, Smith has become a clutch performer. Since the beginning of last season he has engineered six fourth-quarter comeback victories, four of which were on the road and another of which was in the NFC divisional playoff matchup against the Saints, in which he essentially led the team on two game-winning drives in the game's waning moments.
This year, he has responded to the critics who have questioned whether he can sustain that sort of play by outplaying Aaron Rodgers in Green Bay and continuing his flawless play against Detroit.
Not only has Smith played much better in pressure situations, he's virtually eliminated his overwhelming tendency to make boneheaded plays or look completely lost at the most inopportune times.
He simply does not make mistakes. And that is all that is asked of any player.
Passing for 350 yards is really nothing more than icing on the cake if a quarterback can play mistake-free football. While his peers have essentially made more big plays than Smith has over the last 15 to 20 games, Smith has made far less mistakes than they have and his 16-4 record over the last 20 games is a clear indicator of this.
I would take Alex Smith as my quarterback over....
Smith has also shown improvement this season in the one area, physically, that could have undermined any other aspect of his transformation: accuracy with the football. He's looked much more crisp this season on short and intermediate timing-based routes, and he's shown a deft touch on a couple of touchdown passes to Vernon Davis, one in which he fit the ball into a tight window along the goal line in Green Bay and one on a beautiful over-the-shoulder throw in the back of the end zone against Detroit.
He's also gone more than 200 straight pass attempts without an interception, a testament to his improved decision-making under Harbaugh, but also to his improved accuracy. He's throwing into tight windows better and he's putting the ball in a catchable spot for his receivers more often. He has also learned the value of taking a sack rather than risk a turnover, perhaps to a fault.
But the real key to playing winning football gets back to not making mistakes, and Smith simply isn't making many of them, certainly not of the game-killing variety. That isn't a fluke, a statistical anomaly or a mirage. This is who Smith has evolved into now and it's good enough to win a lot of games.
He may never shed the label of "game manager," but in at least some respects he's becoming the ultimate game manager in a very positive way.
Mistakes can be measured in terms of turnovers for the most part, and there is a much larger correlation between this statistic and wins than any of the statistics that Smith does not impress in compared to the "elite" passers in the league. Since Smith is in an elite class when it comes to his low turnover rate, he clearly is playing winning football and doing so at a high level. If mistake-free football is a very strong indicator of winning football, I find it hard to argue that Smith is anything but an elite quarterback when it comes to the ultimate goal: winning.
His record in his last 20 games speaks volumes.
Now, if the 49ers had an average defense and special teams, this article would be irrelevant because Smith isn't good enough yet to put enough points on the board to compensate for a less-than-stellar defense. As good as he's played the last year or so, he's been in a position to turn modest but mistake-free football into wins because of the 49er defense.
But that does not distract from the fact that he has turned his play into wins, and it isn't only because he's benefited from a defense loaded to the teeth with potential Pro Bowlers. Smith has always had the intelligence to be a great quarterback, and now he has a coach and a playbook that can properly utilize that intelligence, rather than stunt it as with Nolan and Singletary's audible-less culture of doom and despair.
He's improved his accuracy the last two years and now has the weapons to take advantage of this improvement in his play. He's proven to be physically and mentally tough, but he's also physically talented, something that often gets overlooked. Smith can run well, he has the prototypical size, he has pretty good throwing mechanics, he's improved dramatically in the play-action game and he throws pretty well when rolling out to his right.
However, there are still some things he does not do well at times.
His third-down conversion rate is still lacking, he still doesn't quite spin the ball out of his hand very well and some of his passes still look like he's throwing a water-logged rugby ball. It would be nice to see improved pocket presence and the ability to get rid of the ball when under duress a little more quickly.
These are legitimate criticisms; to say that he cannot win or that he can't take a team to the Super Bowl is not a legitimate criticism anymore.
It's taken a while for Smith to turn his talent into results. With a coaching staff capable of nurturing his talent further, a defense that can help compensate for whatever deficiencies Smith cannot otherwise fully correct and a team with enough talent to take significant pressure off of him, there really isn't anything about his play that says he can't be a Super Bowl winning quarterback. And that has ultimately been the heaviest accusation levied against Smith.
He's finally started to prove that accusation has no merit anymore.