The L.A. Lakers' Top 5 Training Camp Stories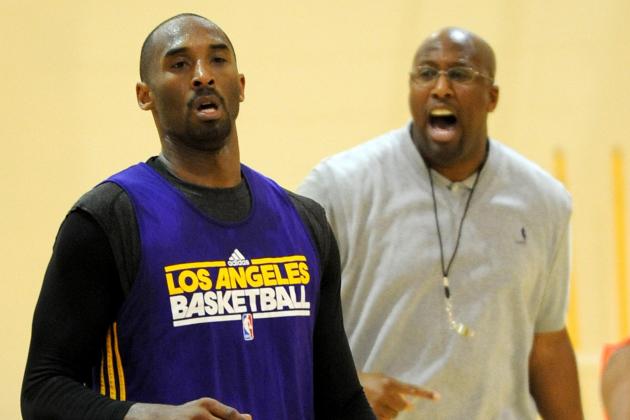 Jayne Kamin-Oncea-US PRESSWIRE

NBA training camps are set to open in a couple of weeks and can be early sources of storylines that can create interest in the regular season. The 2012-13 Lakers camp will be no different, offering a number of interesting scenarios for fans to watch out for.
With so many new faces and big names joining Kobe Bryant and others in Los Angeles, there will be no shortage of developments that will need to be addressed before the Lakers open the regular season against the Mavericks on October 30.
The Lakers are looking to rebound from yet another second-round playoff exit and management apparently has assembled the talent necessary for the Lakers to make a deeper run next season, assuming that everything comes together according to plan.
Let's examine the top five stories for the Lakers training camp as they prepare for the 2012-13 NBA regular season.
Begin Slideshow

»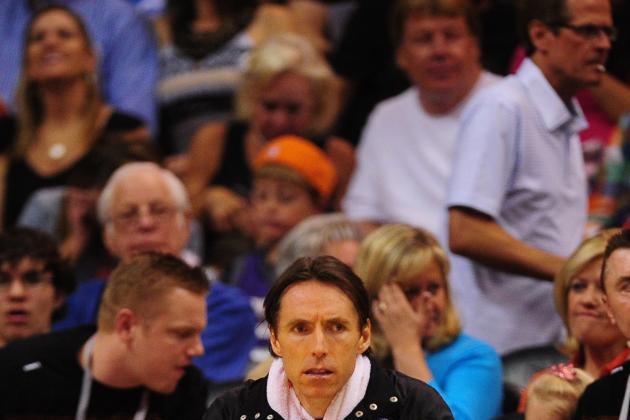 Mark J. Rebilas-US PRESSWIRE

The Lakers backcourt received an immediate upgrade when the team acquired Steve Nash from the Phoenix Suns in July to join future Hall of Famer Kobe Bryant in the starting lineup. After Bryant and Nash, however, the Lakers back court rotation is a question mark.
L.A. has a couple of point guards that are capable of running the offense when Nash needs a breather in Chris Duhon and Steve Blake, with second-year point guard Darius Morris waiting his turn in the wings if needed. Sharpe shooter Jodie Meeks was brought in to back up Bryant at the 2-guard position.
The questions are: Which point guard will be brought in first off the bench to spell Nash? And how many minutes will Meeks be playing as Bryant's backup after starting for the Sixers each of the last two seasons?
These issues must be addressed during training camp and the preseason for the Lakers to be able to jump out to a fast start once the regular season gets underway.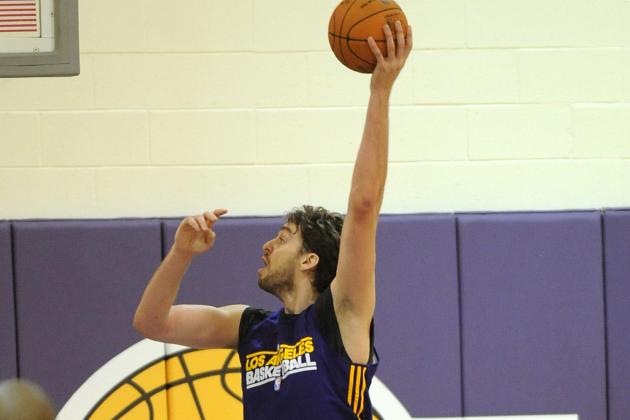 Jayne Kamin-Oncea-US PRESSWIRE

Pau Gasol spent the majority of the 2011-12 season playing out of position as a perimeter power forward while Andrew Bynum occupied the post for the Lakers, resulting in down season statistically for Gasol— he averaged 17.4 PPG and shot 50.1 percent from the field, his lowest since 2003-2004.
The Lakers are installing a new Princeton-style offense similar to the triangle that was run by Phil Jackson, focusing on pick-and-rolls and more player movement. Gasol's vast skill set should thrive in this offense. His passing ability and post game will be more featured in 2012-13 than last season, thus resulting in improved offensive numbers across the board for Gasol.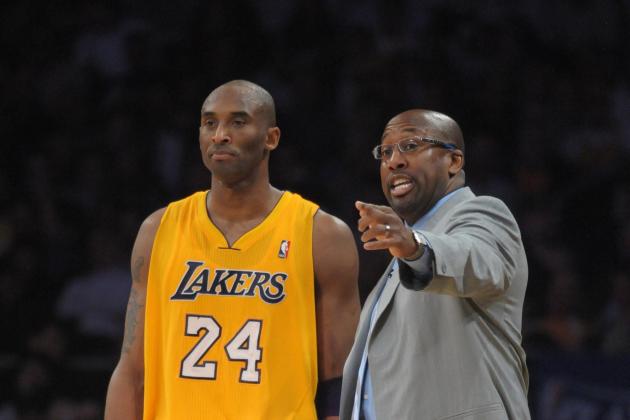 Kirby Lee-US PRESSWIRE

Head coach Mike Brown has been the subject of much criticism during and after his initial season as the Lakers head coach.
Some question whether Brown is qualified enough to manage the high-profile Lakers, despite having five years of experience as the head coach of the LeBron James-led Cleveland Cavaliers and a NBA Coach of the Year award in 2008-09.
With a couple more talented veterans on the roster, expectations for a great season will be higher than ever for Brown. If he can manage the talent and get the players to gel together, his job as head coach will be secure.
But if the Lakers suffer another early playoff exit, management may look to change to a more high-profile coach to go with the equally high-profile roster while Kobe and Co. still have a couple years left in the tank.
Ronald Martinez/Getty Images

Kobe Bryant is the NBA's premier alpha dog personality. He knows how good he is and always feels that he is the best player on the court, which is part of what has made him so great for so long.
In years prior, the Lakers offense typically started and ended with the basketball in Bryant's hands, leading to Bryant having the highest usage rate in the NBA in 2011-12 (35.7 percent per basketball-reference.com). When the offense broke down, Bryant was the one taking the shot at the end of the shot clock, often while double-teamed, thus killing his field-goal percentage.
Now that Bryant has a couple of the NBA's best at their positions in Steve Nash and Dwight Howard, he will need to adjust his game and mentality a bit in order to blend in with his new teammates. Nash handles the basketball a lot and with Howard as a pick-and-roll option, Bryant should see single coverage more this season than he has in years.
These changes should make the game easier for Bryant if he can share the responsibility without any issues. At 34 and entering his 17th season, Bryant should have no issues adjusting his game in order to win his sixth championship.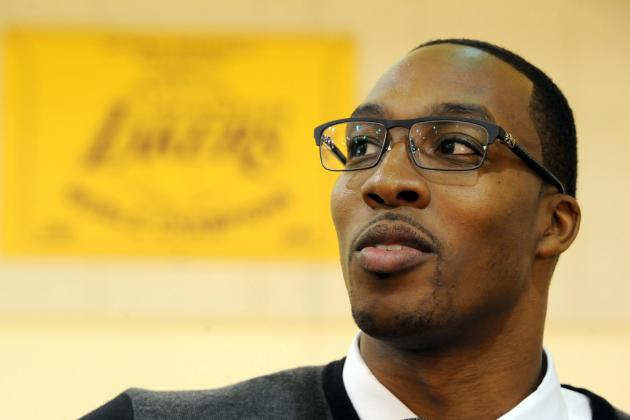 Jayne Kamin-Oncea-US PRESSWIRE

Landing Dwight Howard brought a lot of excitement to the Lakers fanbase, but Howard didn't come to Los Angeles without some question marks.
Howard had surgery on his back in April and just last week began working with the Lakers training staff after rehabbing for most of the summer. The Lakers have also said that Howard will miss the beginning of training camp and the preseason, with no set timetable for his return to the court.
If Howard is out to start the regular season, the Lakers will have to make adjustments to fill the void left in the middle by Howard's absence. L.A. will then have to go through another adjustment period to get Howard acclimated to playing with his new teammates once he does return.
The Lakers have a lot invested in being successful this season and need to have a great year in order to persuade Howard to sign with the Lakers long-term (he will still be a free agent next summer). Much of the Lakers' success in 2012-13 relies on whether Howard can make a full recovery and returns to his dominant pre-injury form.