Biggest Winners and Losers from Seattle's 27-7 Victory over Dallas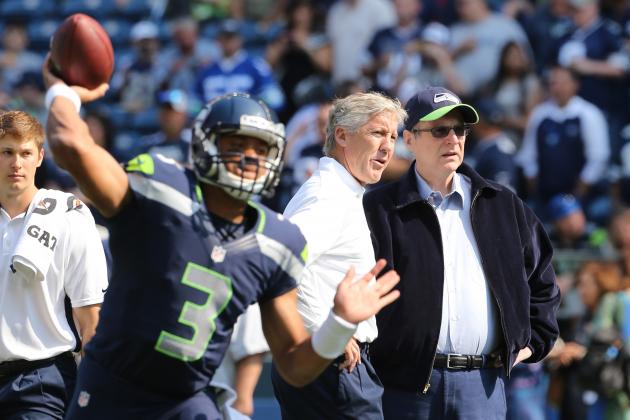 Otto Greule Jr/Getty Images
Kinda looks like Andy Samberg in the background.
Hey all, let's let out a collective sigh of our relief. Take a deep breath...and breath out. Do we all feel that weight coming off our shoulders?
Well I certainly do, because the Seahawks just trounced the Dallas Cowboys, winning by 20. After last week's embarrassing loss to Arizona, I think I speak for all of us when I say this win was needed.
There's plenty to celebrate in this game, but not everything was peachy love and sunshine. So let's talk winners and losers, but don't forget who the real winners are! (hint: it's the 12th man).
Begin Slideshow

»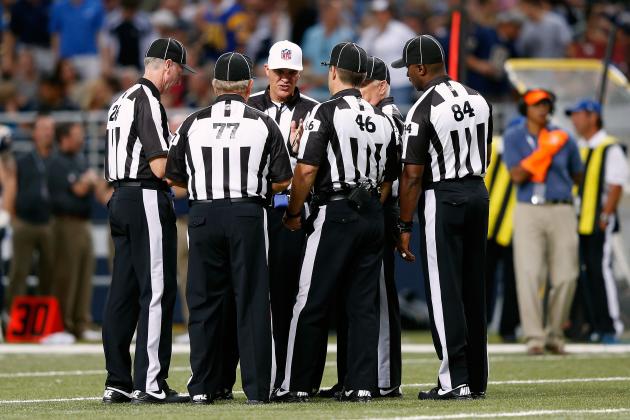 Jamie Squire/Getty Images
Zebras in their natural, infuriating habitat.
Let's get all that negative stuff out of the way, since today ought to be a day of rejoicing.
Loser: The Officials
The replacements were all over the place today. Both teams were the recipients of bad calls (or non-calls). Demarcus Ware and other Cowboy rushers were well offsides on multiple plays, but no flags were thrown. Bruce Irvin and Chris Clemons consistently got penetration, only to be held in horrendously obvious fashion by the Cowboys' offensive line.
On the flip side, Russell Wilson was the beneficiary of a phantom unnecessary roughness call as he was pushed out of bounds, and Seattle also garnered no pass interference calls all day.
Loser: K.J. Wright
The only reason I have Wright on this list is because of his dropped interception. Aside from that, Wright had a monster day and routinely made plays in the backfield, proving that he can be a Pro Bowl-caliber player.
But when Tony Romo graciously gives you an interception (that could've potentially been a touchdown), it's impolite to turn down the offer.
Loser: Seattle's Zone Coverage
Jason Witten pretty much dismantled the Seahawks' zone defense by himself. The Cowboys' lone touchdown drive of the day was a result of Jason Witten converting third down after third down. You have to wonder what Gus Bradley's thought process is. If our zone couldn't stop Kevin Kolb, why would it stop Tony Romo?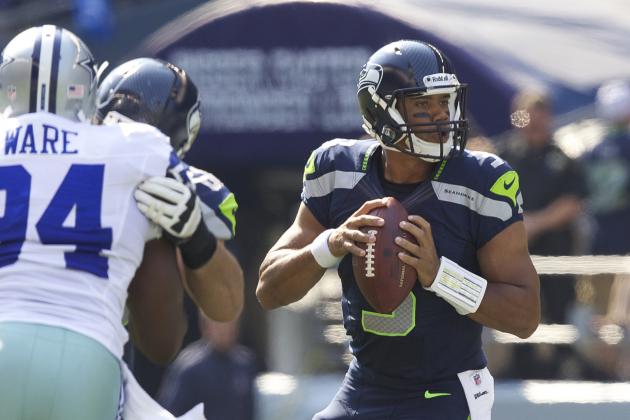 Stephen Brashear/Getty Images
Footwork, yo.
Plenty of winners to mention today, but here's my top three. If you have different selections, let me know in the comments below!
Winner: Russell Wilson
Is there really any debate about this one? I concede that Wilson started poorly, overthrowing both Evan Moore and Golden Tate egregiously. But his finish was incredible, as he led drives of 88 and 90 yards for touchdowns. Wilson finished the day with a passer rating of over 112—in other words, he played extremely smart football.
Winner: Marshawn Lynch
Similar to Wilson, Lynch started slow, often being stuffed at the line multiple times. But a 35-yard, second-effort, breakthrough run, combined with tough hole-hitting afterwards, netted Beast Mode 122 yards and a touchdown on the day. It's good to see the core player of our offense back in action.
Winner: Golden Tate
Tate perhaps had the biggest positive effect on the offense out of any player. He was involved in the pass game heavily and provided a great outlet for Russell Wilson when Wilson was in trouble.
He also blocked well on many run plays, allowing Marshawn Lynch to gain extra yards. But easily the best play from Golden Tate (from any Seahawk really) was his earth-shaking hit on Cowboys linebacker Sean Lee.