Minnesota Vikings vs. Indianapolis Colts: Biggest Winners and Losers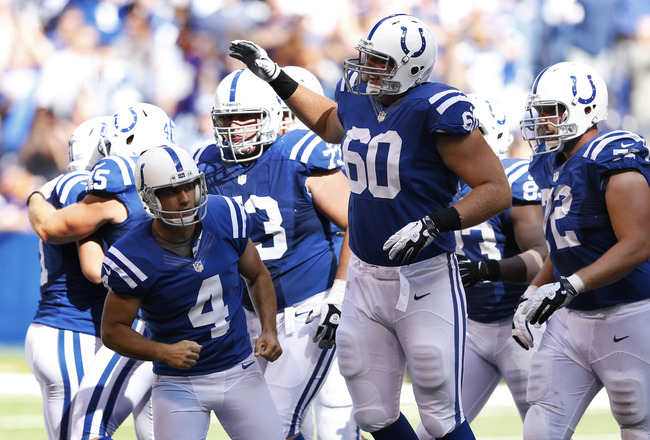 Joe Robbins/Getty Images
The Indianapolis Colts used a late 45-yard drive with 23 seconds left, setting up the winning 53-yard field goal by Adam Vinatieri. This gave the Colts their first win of the season, 23-20, over the Minnesota Vikings. However, the score shouldn't have been so close.
When Indianapolis went up 20-6 during the game, the Colts started focusing more on their defense. They allowed the Vikings to stay around as long as they could, including two touchdowns in the fourth quarter to tie the game with under a minute left in regulation.
The Colts got the ball at the 20-yard line after a touchback and drove down the field with ease, something they did all game prior to the fourth quarter.
The following slides highlight the winner's and loser's from Sunday's game.
Winner: Andrew Luck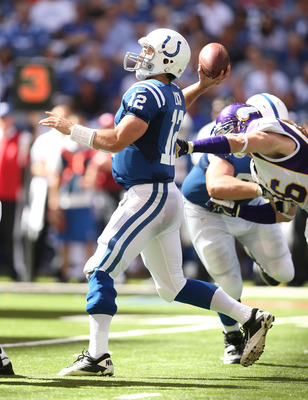 Andy Lyons/Getty Images
The rookie quarterback's first win came earlier in his career than any other Colts quarterback in franchise history besides George Shaw in 1955. Although Andrew Luck looked far from spectacular, he did enough to get the Colts their first win of 2012, which is a change from last year's 12-game losing streak to kick off the season.
Luck went 20 for 31 with 224 yards, two touchdowns and zero interceptions. He managed the game great and kept the ball from dangerous situations. He read the coverage like a veteran, taking what Minnesota gave him.
Peyton Manning didn't have a touchdown in his second game and threw three interceptions, allowing Luck to surpass him after matching Manning's number's last week.
If Luck can continue to manage games the way he did, the Colts will be in good shape this season.
Winner: Donnie Avery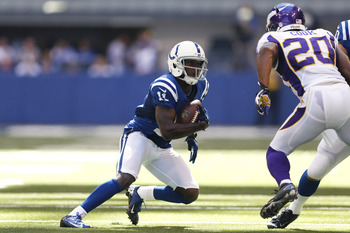 Joe Robbins/Getty Images
Donnie Avery was tabbed as an injury-prone receiver and many experts questioned the Colts' move to sign him in the off-season. After an injury plagued preseason, Avery looked like he would be a disappointment in Indianapolis, similar to his stay in both St. Louis and Tennessee.
However, Avery was spectacular on Sunday. He was open in key situations and is arguably the biggest reason for Indianapolis' win.
Avery had nine catches for 111 yards, and torched the Vikings defense. He remained open, giving the Colts first downs and showing he's a valuable asset for the team.
If Avery can perform like this every game while staying away from injuries, he's going to finish his career in Indianapolis.
Winner: Jerrell Freeman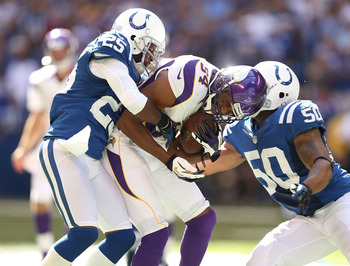 Andy Lyons/Getty Images
Once again, Jerrell Freeman showed why he deserves a shot in the NFL. Freeman, during his second straight game filling in for injured Pat Angerer, led this team in tackles with 13. He now has 26 tackles, one sack, one interception and one touchdown overall.
Freeman is now showing he's not just a solid fill-in, but a Pro Bowl-talent linebacker because of his impressive effort and skill.
Freeman is good in the pass rush, but even better in coverage. With him being so new to the NFL, the sky is the limit for him.
Loser: Coaching Staff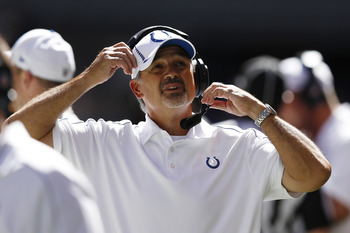 Joe Robbins/Getty Images
Many people credit the Indianapolis Colts' coaching staff for the huge win. Don't get me wrong, I'm happy they won, but I blame the coaching staff for almost losing the game.
When the Colts were up 20-6, they had every opportunity to bury a bad Vikings team. Minnesota made silly mistakes and twice gave Indianapolis first downs on personal foul penalties during the second half. Instead of capitalizing on these mistakes, the coaching staff focused on not losing, rather than playing to win.
Why be so complacent in the game and play clock management? I understand if it's the Green Bay Packers or New York Giants, but it's the Minnesota Vikings, a team with a terrible quarterback and bad defense. Why not stick it to them?
I think Indianapolis could have ended this game much earlier, rather than relying on a 53-yard field goal in the closing seconds.
Loser: Secondary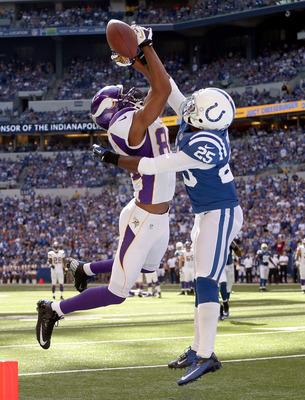 Andy Lyons/Getty Images
Once again, the Indianapolis Colts' secondary let them down. I'm so sick of seeing a wide-open receiver on slant routes or passes off the line of scrimmage because the corners are playing too deep. Indianapolis respected Minnesota's receivers too much and played too far off the ball, which almost got them beat.
Jerraud Powers showed promise, but Vontae Davis is quickly entering my dog house. How can a "shut down" corner play 10-yards off the ball?
The Vikings' Christian Ponder is one of the worst quarterbacks in the league, and when he's going 27 for 35, there's a problem. When the Colts did get a pass rush and the corners were in tight coverage, Ponder was highly inaccurate. I don't know why they didn't do this all game.
The secondary is going to have to improve big time for Indianapolis to be relevant. They will begin losing games by themselves if they don't improve.
Keep Reading

Indianapolis Colts: Like this team?