CFB Recruiting 2013: First Year Predictions for the Top 10 Quarterback Prospects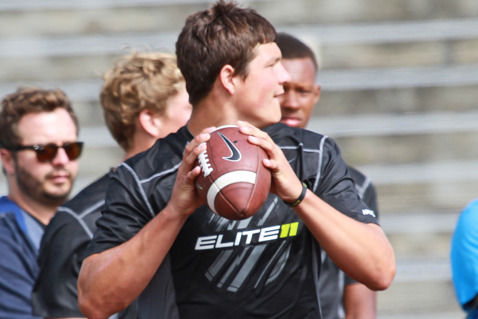 247Sports.com
Being a college quarterback is a very had job, but being a first year college quarterback is even tougher. Young signal-callers must come in and learn an entire new offense, be with a new QB coach that may want to change their fundamentals and earn the trust of the team and coaches, all while being a student.
Yet each year we see a few freshman quarterbacks come in and either win a starting job like Wes Lunt did at Oklahoma State, or at least contend for time like Gunner Kiel did during Notre Dame's training camp. Since the 2013 quarterback class looks like a good crop, this piece will focus on predicting what each top 10 QB prospect will do during their first year of college.
Begin Slideshow

»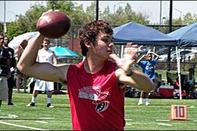 247Sports.com
Perhaps the best ball handler of the top-tier QB prospects, Greenlee is a 6'2", 190-pound field general.
He has a good command of his offense, great field vision, accuracy with the ball and excels at prime ball placement.
He hasn't decided on a college yet, but right now his two prime options are likely Fresno State and Wisconsin.
First year college projection: Redshirt year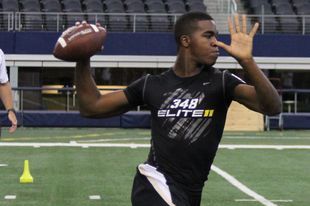 247Sports.com
Swoopes is a great athlete with a 6'4", 220-pound frame. He has great mobility and play speed, and can make plays with his arm and legs.
The only knocks on the Texas pledge are his limited reps as a passer and need for mechanic refinement. Swoopes has a high ceiling, but he'll need time to work on his ability to read defenses in the pre- and post-snap phases and hi mechanics in the pocket.
First year of college projection: Redshirt year or possible Wildcat QB role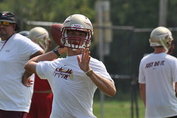 247Sports.com
I really dig Olsen's game because he's a steady 6'3, 190-pound signal-caller that can really throw his receivers open. He anticipates openings in windows well and has a solid arm that throws a pretty accurate ball.
Headed to Miami, Olsen is the QB of the future for Al Golden, so his first year could go two ways: Golden could either decide the future is now and roll with Olsen over the incumbents or choose to gradually ease the New Jersey native into the fold.
First year of college projection: Contend for time, possible back up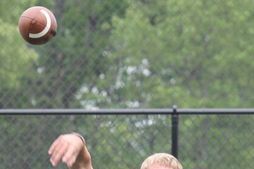 247Sports.com
Ramsey used the off-season to increase his reps as a passer. He has limited film of making routine throws because of his high school's offensive style, but the 6'3", 190-pounder possesses great arm strength.
With his raw talent and greatly improved accuracy, Ramsey has a bright future. Once he gets into an offense and has more time to get keen on reading defenses and playing mental chess, he should be good to go at Georgia.
First year of college projection: Redshirt year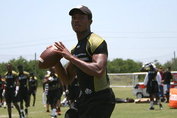 247Sports.com
Woulard won the MVP at the Elite 11 Finals, which really says something. The 6'3", 205-pound Florida QB prospect has shown improved field vision, throwing instincts, anticipation of coverage voids and a command of his offensive scheme.
Committed to South Florida, I think Woulard has a chance to be better than B.J. Daniels. There will be a climb for him up the depth chart in Tampa, but Woulard has a high ceiling.
First year of college projection: Challenge for playing time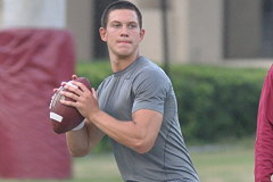 247Sports.com
A 6'5", this 220-pound pocket passer from Virginia has the size you covet for your QB. Burns can see over the rush, has very few issues with tipped passes and can successfully deliver the football to his downfield targets.
Burns has a good arm to attack all three levels of the defense, throws with solid ball placement to his targets and is a pretty deceptive athlete. Burns is committed to Stanford.
First year of college projection: Redshirt year to learn the system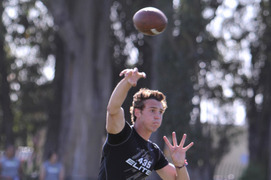 247Sports.com
Bateman may have the strongest arm in the country, proven by the way the ball explodes out of his hand in each throw. He's a 6'3", 205-pound prospect from Utah.
Bateman will have to adjust to the speed of the college game. It was evident during his first day at The Opening that he was not used to playing against a speedy and athletic opposition on a consistent basis. Overall, he has excellent arm talent, good accuracy and big time potential to be the best QB of the Nick Saban-era at Alabama.
First year of college projection: Redshirt year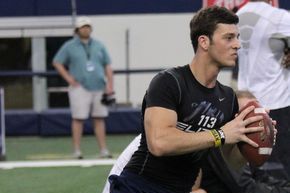 247Sports.com
Morris has outstanding set-up quickness and he can get the football downfield at anytime in his drops. He shows a quick release and powerful delivery to go along with his 6'3", 190-pound frame.
Morris has good moxie and charisma, which will help him be a good leader. His accuracy has improved, but it will need to make another jump at Michigan, where he is perceived as the future face of the program.
First year of college projection: Possible starter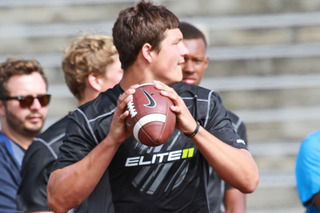 247Sports.com
Hackenberg has a very quick release and can get the football out at a 3/4 angle. He stands at 6'3", weighs 215 pounds and is a great passer and ball handler.
Headed to Penn State, Hackenberg has the talent to be the best QB Happy Valley has seen in quite some time. In fact, he could be an immediate starter for Bill O'Brien.
First year of college projection: Possible immediate starter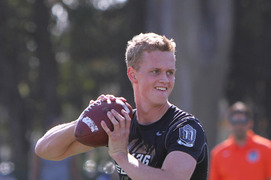 Scout.com
Browne is great in the pre-snap and post-snap phase of reading defensive front seven alignments, back end rotations and coverage schemes. He is a 6'5", 215-pounder from Washington who has a super quick release and great accuracy.
Browne has above-average arm strength and can pitch the football with both fastballs and changeups. He's committed to USC and is on track to enroll early for spring practice next year.
First year of college projection: Challenge for starting job
Edwin Weathersby has worked in scouting/player personnel departments for three professional football teams, including the New York Giants, Cleveland Browns and the Las Vegas Gladiators of the Arena League. He spent a year evaluating prep prospects & writing specific recruiting and scouting content articles for Student Sports Football (now ESPN Rise-HS). A syndicated scout and writer, he's also contributed to WeAreSC.com, GatorBait.net and Diamonds in the Rough Inc., a College Football and NFL Draft magazine.