UEFA Champions League: 6 Teams That Will Surprise in the Group Stages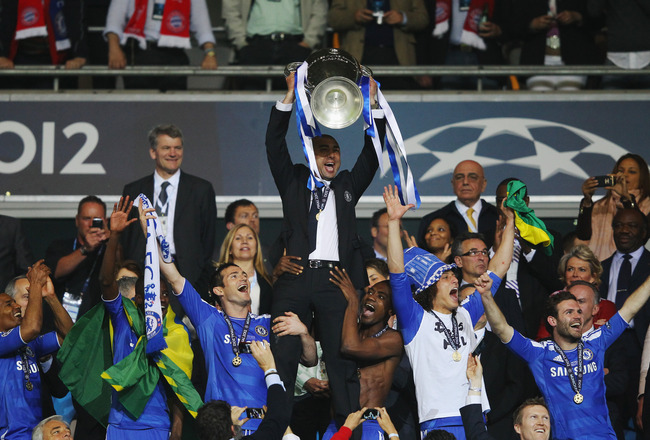 Alex Livesey/Getty Images
It doesn't seem like four months since Chelsea won the Champions League on penalties against Bayern Munich, but the competition kicks off all over again this week with the first set of group fixtures.
For the second year in a row, Manchester City have been drawn in the toughest group of the lot.
Manchester United, Arsenal and Celtic will all want to make an impression and Chelsea will have their eyes on defending their title.
What I'm going to do is look at six teams that will make more of an impact than you might think.
(Writer's note: When I say impact, I mean that they'll either qualify from or win their group.)
I'm going to run through them in no particular order, so let's get to it.
Celtic
Jeff J Mitchell/Getty Images
Celtic will make their first appearance in the group stages for four years when the tournament gets underway this week.
There is nothing like sampling the atmosphere of a Champions League game at Celtic Park.
It's a special ground on big European nights, as some of the biggest clubs in Europe have found out over the years.
Traditionally, Celtic have a very strong home record in the Champions League, which should see them pick up at least six points, possibly more.
The key to Celtic making an impression in the group will be their home form and sneaking a point or two in their away games.
Although they've been drawn alongside Barcelona, which would be tough enough for anyone, they've got as much of a chance as anyone of getting out of the group.
Chelsea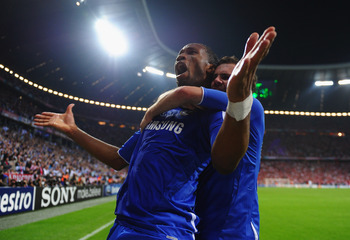 Laurence Griffiths/Getty Images
Last season, Chelsea managed to get their hands on the Champions League trophy when they came out on top in a tense, pulsating final against Bayern Munich.
Would it be harsh to say that one man won the final for them? Yes and no.
The script was almost written for Didier Drogba to have the final say in what turned out to be his last appearance for the Blues and it was fitting that he scored the winning penalty.
He was talismanic for Chelsea in the same way that John Terry and Frank Lampard are.
Whenever Chelsea needed a big performance from a big player, Drogba more often than not delivered.
The problem is that Drogba isn't there anymore, so Chelsea will be relying even more on Fernando Torres in particular to come up with big performances when it counts, but can he get it done?
The old Fernando? Yeah, he would be able to get it done, but this one? I'm not so sure.
You've also gotta add in the fact that Chelsea's Premier League performances last year were below par at best, which is why they finished sixth and a massive 25 points behind eventual champions Manchester City.
It's all fine and well getting carried away with the Champions League, but if Chelsea don't finish in the top four, they won't even be there next season and I just think that Chelsea might not make it out of the group.
Paris Saint-Germain
Valerio Pennicino/Getty Images
It's maybe not a name that would jump straight out at you, but I'm going to throw something out there.
I believe that Paris-Saint Germain have all the tools to win all six of their group matches.
Their squad is frightening and they have strength in depth thanks to the investment from their relatively new owners.
Jeremy Menez, Ezequiel Lavezzi, Alex, Thiago Silva, Gregory van der Wiel, Kevin Gameiro, Javier Pastore and Zlatan Ibrahimovic are all excellent players and will be key to PSG asserting themselves.
The man in charge, Carlo Ancelotti, has won titles in Italy and Europe.
When he was manager of AC Milan, he guided them to three Champions League finals in eight years, winning two of them.
Ancelotti simply knows how to get it done in the Champions League.
Some people might view Porto as equal favourites, but I just think PSG will blow everyone in their group away.
Manchester City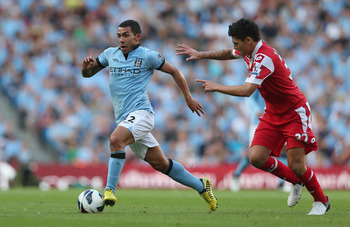 Clive Brunskill/Getty Images
You're probably thinking "why have you put Manchester City in this list?"
It's quite simple.
City are in the middle of re-establishing themselves as a top English side, never mind at European level.
For the second season in a row, they've been handed the toughest group of all.
With that being said, City have the Premier League title in their hands and the experience of winning the big one will hold them in good stead as they look to make an impression on the Champions League.
While they might not have made the "stellar" signings this summer that they've made in the past, they haven't really needed to.
Aguero, Tevez, Balotelli, Silva, Dzeko, Nasri and Kompany are all great players.
Mancini will want to make his mark on the Champions League too, and I've got a funny feeling that, when it's all said and done, City might just win their group.
Montpellier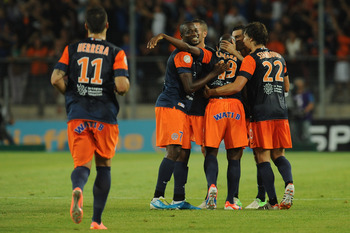 Valerio Pennicino/Getty Images
I'll be the first person to admit that I don't know a whole hell of a lot about Montpellier's squad or their manager.
However, that's a position that their opponents will be in as they go into the group stages of this season's Champions League as the defending Ligue 1 champions.
The French champions are somewhat of an unknown quantity.
Everyone knows about the qualities of established Champions League teams like Manchester United, Chelsea, Juventus, Arsenal, Barcelona, Bayern and Real Madrid, but not Montpellier.
That might just give the Frenchmen the chance to slip under the radar. And, although their domestic form hasn't been great so far, they'll grow into the season. So, it wouldn't be a surprise to me if they ended up qualifying for the knockout stages come the end of the year.
Shakhtar Donetsk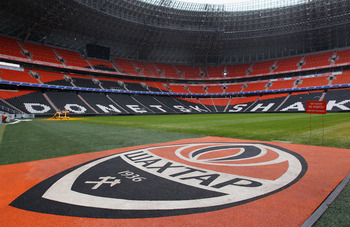 Alex Livesey/Getty Images
It's probably fair to say that Shakhtar are now an established Champions League side.
They're consistently involved at this level and they can't be taken lightly by anyone.
I mentioned earlier that Chelsea might not make it out of their group and Shakhtar are the team that I think can knock the champions out.
Willian, Fernandinho, Tomas Hubschman, Alex Teixeira, Douglas Costa and Darijo Srna would be a credit to any team, and the other teams in their group would be crazy to underestimate them.
Ukraine is a difficult place to go, especially towards the end of the year when the temperatures are low and I wouldn't be shocked if Donetsk won all of their home games, as well as collecting at least four points on the road.
It'd take one hell of an effort to finish above them on that form, so for me, the Ukrainian champions are going to advance out of the the group stages of this season's Champions League.
Keep Reading