Texas Football: Grading All 22 Starters from the Ole Miss Game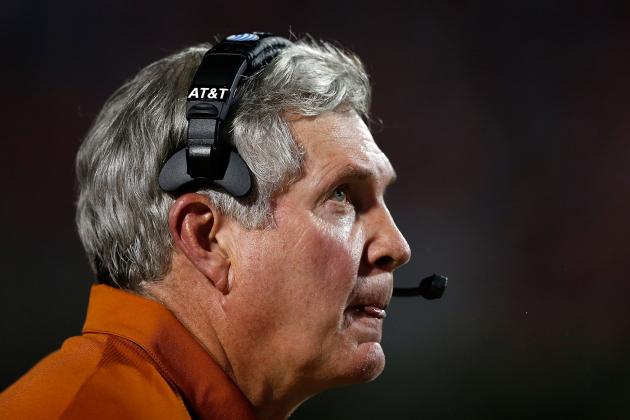 Scott Halleran/Getty Images

It has been three up and down for the Texas Longhorns after their dominant 66-31 victory over the Ole Miss Rebels Saturday night in Oxford.
The defense struggled at times, but is the best the Texas offense has looked in a long time. The team's 66 points were its most in almost seven years and for the first time in its history Texas had a 300-yard passer, a 100-yard rusher and two 100-yard receivers according to HornsNation's Sean Adams.
The defense was another story in giving up 31 points with 21 of those coming in the second half. Big plays continue to be a problem for this unit, but the offense proved it can hang even when the D is not lights out. With this being the team's bye week, defensive coordinator Manny Diaz should have plenty of time to figure out how to plug the leaks.
Here are the grades for all 22 Longhorn starters from Saturday's big win, as the team heads into its first bye week of the season.
Begin Slideshow

»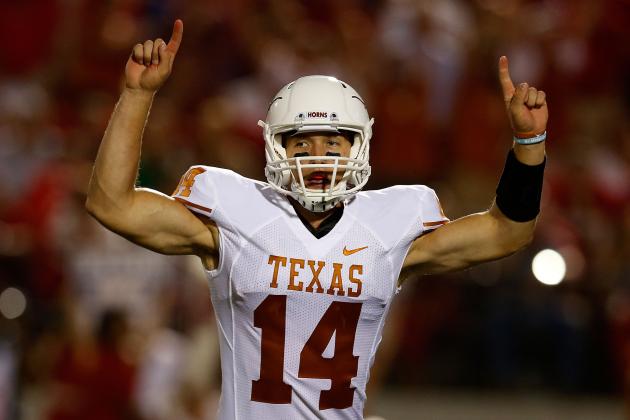 Scott Halleran/Getty Images

After coming under heavy fire for his performances in the first two weeks of the season, sophomore quarterback David Ash came out and put on the best performance of his young career at Texas.
In going 19-for-23 for 326 yards and four touchdowns Ash set career highs in yardage, completion percentage, touchdowns, yards per attempt and yards per completion. He also had four completions go for 45 yards or more, including a career-long 55-yarder to Marquise Goodwin in the fourth quarter.
Ash missed on what should have been an easy touchdown to Jaxon Shipley in the first quarter, but was pretty much dead-on the rest of the night. He underthrew receivers on some of his long balls, though still put the ball in spots where his guys could go up and make plays.
Most of all, Ash showed confidence in an area where he has been slow to pull the trigger. In doing so, he seems to have gained the confidence of both his receivers and his coaches, which cannot be underestimated heading into conference play. Ash is growing up before our eyes, and it will be very interesting to see how he continues to improve as the season progresses.
Grade: A+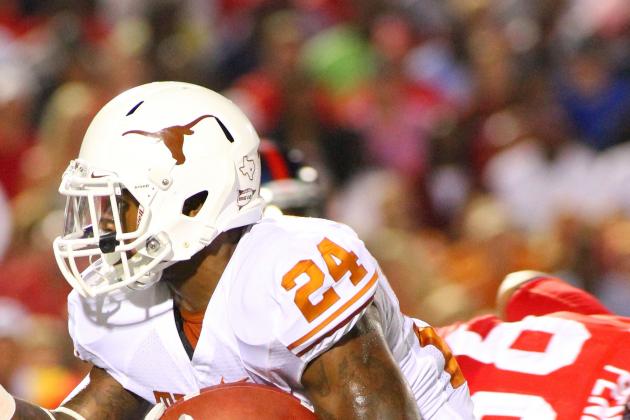 Spruce Derden-US PRESSWIRE

Making his third consecutive start of the season, sophomore running back Joe Bergeron turned in yet another solid performance from the Longhorns.
Doing the bulk of his work in the first half, Bergeron tallied 48 yards on 11 carries and brought in another reception for 18 yards. He has not broken 100 yards since the Wyoming game, but he has been effective in picking up the tough yards for the Longhorns.
What stands out about Bergeron right now are his four receptions for 48 yards for the season. The big back did not have a single catch last season and adding this to his game really opens things up for the offense because nobody wants to tackle him in the open field.
Bergeron did injure his shoulder on his lone reception, but indications are that he will be good and ready for the Oklahoma State game. And with the way Malcolm Brown was playing, there was no reason to have Bergeron risk further injury on Saturday.
Overall, Bergeron did his job, as he has all season. Brown has looked better over these first three games, but Bergeron's ability to soften the defense is a must-have for this offense going forward.
Grade: A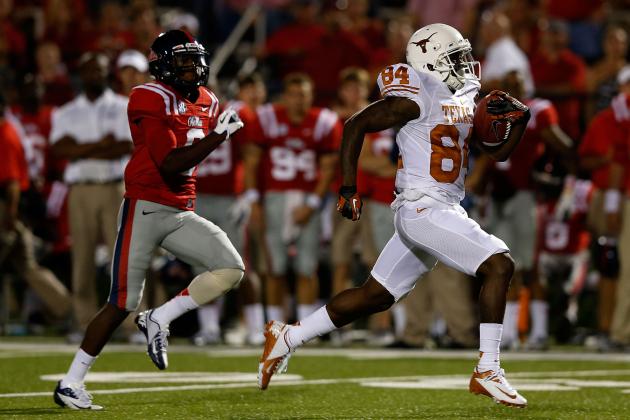 Scott Halleran/Getty Images

Shipley
Pretty quiet game from versatile sophomore wideout Jaxon Shipley against Ole Miss, but he could afford to take a back seat with the way his teammates were playing.
The only starting receiver not to break the 100-yard mark, Shipley had three receptions for 35 yards and ran it once for seven yards. He had a nice 23-yard catch in the third, but that was about as much noise as he made on the night.
Shipley's numbers were the victim of stellar nights by teammates Marquise Goodwin and Mike Davis, so nothing really to worry about with his low numbers. He will get his and his diverse skill set will be much-needed in conference play.
Grade: B
Davis
David Ash was not the only Longhorn to turn in a career performance against Ole Miss. His junior wideout also had the best game of his Longhorn career against the Rebels and showed that he will be a force to be reckoned with this season.
In racking up a career-high 124 receiving yards, Davis reeled in two receptions of 45 yards or more, one of which being a 46-yard touchdown to close the third quarter.
After a somewhat disappointing sophomore season, Davis has been stellar to kick off 2012. He has blocked, he has battled for the extra yardage and he has helped his young quarterback out in fighting for the ball. Basically, Davis has reminded all Longhorn fans why everyone was so excited about him prior to last season.
Grade: A+
Goodwin
After failing to make a major statistical impact in the first two games, senior wide receiver Marquise Goodwin joined running mate Mike Davis in absolutely torching the Rebels on Saturday night.
Not only did Goodwin hang 102 receiving yards for a touchdown on the Rebels, but he also churned out 80 rushing yards on two carries. The result was two touchdowns of 55 yards or greater that blew the game open for Texas and really spread things out for David Ash.
With Daje Johnson and D.J. Monroe already known weapons for their speed, the emergence of Goodwin is icing on the cake. He is just as fast as the aforementioned Johnson and Monroe but is a much more capable receiver. All of a sudden this offense looks very dangerous and Goodwin is a big reason for that.
Grade: A+
mackbrown-texasfootball.com
In the starting lineup solely because of his capabilities as a blocker, converted defensive lineman Greg Daniels turned in another adequate performance from the tight end position.
Pass-catching tight ends D.J. Grant and M.J. McFarland are liabilities as edge blockers and Caleb Bluiett is not quite ready for significant playing time, which leaves Daniels as the team's best option when trying to establish the run. Daniels will never make a major impact on the stats book, but his blocking ability is necessary for this team to get going on the ground.
Other than a false start penalty, Daniels got the job done and played his part in the team's 350 net yards rushing. Still, you would like to see a viable pass-catching option at this position that can block well enough to get by.
Grade: C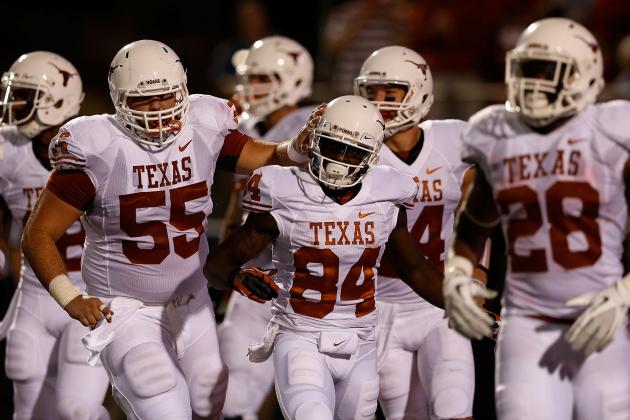 Scott Halleran/Getty Images

On offense it all starts with the offensive line, and this group was absolutely dominant throughout the entire game against Ole Miss.
When the offense churns out 676 total yards (350 of which were on the ground) with no turnovers and no sacks allowed, you know the guys up front had a spectacular night. These guys dominated the line of scrimmage for the entire game, bullying the Rebels in the run game and giving Ash all the time in the world to throw the ball.
To be successful with the SEC-type model for a program, the offensive line must be physical at the point of attack. They were Saturday night, and the end result was the Longhorns' most complete offensive onslaught since Vince Young was quarterbacking. These guys could not have been better.
Grade: A+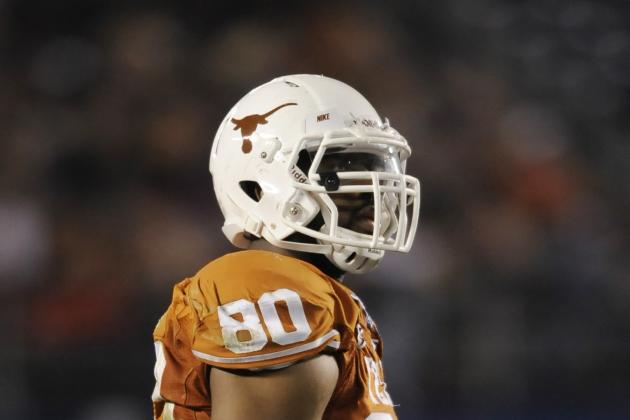 Christopher Hanewinckel-US PRESS

Okafor
Once again, the defensive ends were the star of the show for the defense and senior Alex Okafor spearheaded the effort against Ole Miss.
After teammate Jackson Jeffcoat's big game against New Mexico last week brought him some extra attention, Okafor was free to roam and made the Rebels pay. The Rebels had driven all the way down to the Texas 10-yard line when Okafor broke through on consecutive plays to sack Bo Wallace twice and force a field goal. After that, Texas scored the game's next 21 points en route to the blowout victory.
Okafor has been stellar from the first snap of the season in both getting to the quarterback and creating havoc all over the field. So far, he has been one of the handful of defensive players that have lived up to the hype.
Grade: A
Jeffcoat
In what seems to be a recurring theme for the Longhorns, junior Jackson Jeffcoat has teamed up with fellow bookend Alex Okafor to make a case as the best defensive end tandem in the country.
Jeffcoat's lone stop was a first quarter sack of Ole Miss quarterback Bo Wallace. He was quiet after solely because the Rebels made a point of keeping him out of the backfield, which freed up his teammates to record three more sacks on the night.
Jeffcoat has also been a monster from the onset of 2012. Already, his and Okafor's play has forced opposing teams to make a choice between the two in blocking schemes. Even more important, is that this team is creating pressure rushing only four players, which will make a major impact against the gun-slinging quarterbacks of the Big 12.
Grade: B+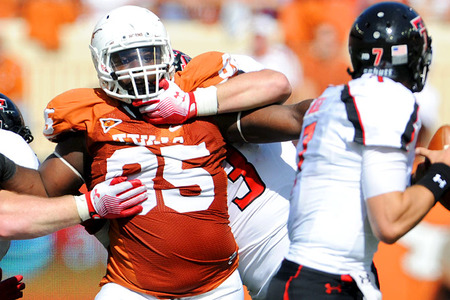 ESPN
Dorsey
After playing exceptionally well in the first two games, junior defensive tackle Ashton Dorsey came back to earth a little against Ole Miss.
Dorsey turned heads as a back-up against Wyoming and New Mexico with three tackles for a loss and two quarterback hurries. He had less of an impact against the Rebels with just two tackles, but did his job as the Longhorns gave nothing up the middle, all night.
Dorsey is just the latest in the revolving door at defensive tackle, where the depth at the position is being utilized extensively. Texas rode the hot hand in Dorsey heading into this game and will continue to do so with whomever they feel is most effective.
Grade: B
Jackson
Making his second consecutive start at defensive tackle, true sophomore Desmond Jackson continues to impress and looks to be staking a claim to major playing time for years to come.
Jackson had a career high against the Rebels with three total tackles, though none were for a loss and he did not create any pressure on the quarterback. But he did a great job in plugging up the middle and forcing the opposition to work mostly along the sidelines.
Nothing eye-popping from the big sophomore, but very rarely do you see big statistical nights from defensive tackles. Through and through, he played well and his improvement this season is definitely something to watch.
Grade: B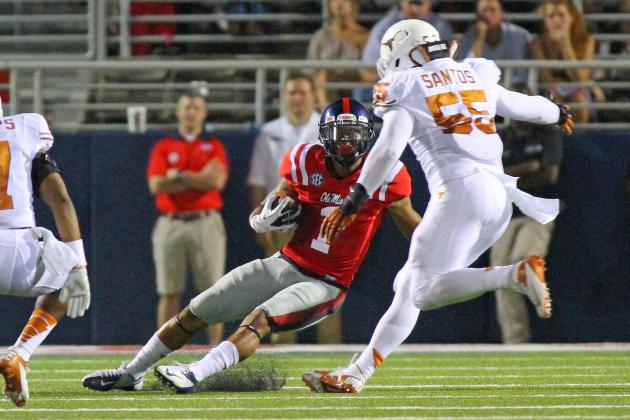 Spruce Derden-US PRESSWIRE

Hicks
The Longhorns had the season's first potentially major loss due to injury Saturday after junior linebacker Jordan Hicks went down with a groin injury.
Hicks is not only the team's leading tackler, he is the leader of this very inexperienced linebacking corps and has been right up there in terms of production with the two defensive ends. He did not have his best game, with only three tackles and a bad penalty to extend an Ole Miss drive in the second quarter, but the defense noticeably lagged in his absence.
After Hicks left the game, the Longhorns gave up 21 points with two of which coming on long touchdowns. If he misses significant time, this defense could be in serious trouble.
Grade: B-
Edmond
Making only the third start of his career, the sophomore linebacker single-handedly reversed the Longhorns recent trend of starting games slow on defense.
Edmond tied for the team lead with five tackles and had the defensive play of the game in the first quarter. On Ole Miss' first possession, Edmond snatched a Bo Wallace pass out of the air and took it 22 yards for the defense's first touchdown of the season. The play was just further evidence of Edmond's progression as a player as he has become one of the team's best tacklers in his first year as a starter.
Edmond is another player that has really improved from week-to-week and is quickly becoming a star for this defense. It will be interesting to see how Hicks' injury affects his play, since Hicks' leadership has been a key reason for Edmond coming along.
Grade: A
Cobbs
After three weeks of sub-par play, Demarco Cobbs' play and lack of improvement is cause for concern on a defense that has already shown some weakness in the early going.
A week after looking lost against New Mexico's triple-option attack, Cobbs was equally befuddled against Ole Miss on Saturday. He was exposed a couple of times in coverage and blew a tackle on Jeff Scott's 48-yard touchdown run.
For all of his speed and athleticism, Cobbs has just not been effective in his first season as a starter. If it were not for the lack of depth at linebacker, especially with the Hicks injury, Cobbs would likely have been replaced by now. This cannot continue with him, elsewise Texas will have to give serious thought to trying something else on the right side.
Grade: F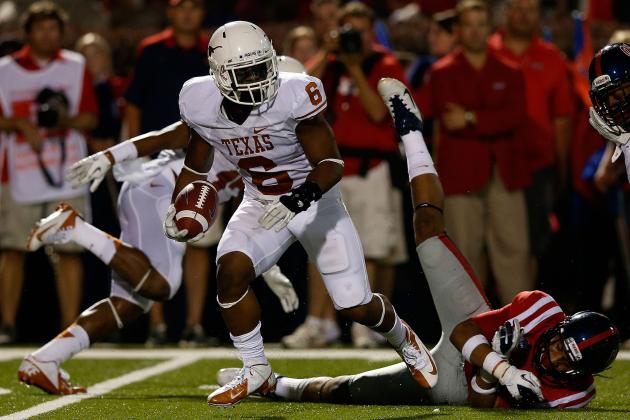 Scott Halleran/Getty Images

Diggs
After getting burned in the Longhorns first game against Wyoming, sophomore corner Quandre Diggs has been lights-out from the position.
Along with his two tackles, Diggs pulled in a pair of interceptions to push his total to three for season, all of which have been in the past two games.
Diggs is making things happen in the secondary and is going to soon find that opposing quarterbacks would rather take their shots somewhere else on the field. The athleticism and tenacity he brings to the position is what separates him from the crowd, and he is proving once again that he can be a game-breaker for this defense.
Grade: A
Byndom
There is something going on with junior cornerback Carrington Byndom, who was once again exposed on a big play over the weekend against inferior competition.
The defense has taken a lot of heat for not being as dominant or stout as the talent would seem to indicate, and Byndom is at the root of the problem. For the second time in three weeks, Byndom gave up a touchdown of 75 yards or longer to a receiver after missing a tackle.
Last season, Byndom was left on an island with the likes of Jeff Fuller and Justin Blackmon, getting the better of both matchups. This season he cannot cover a pothole and is hanging this defense out to dry with poor play.
There has been nothing that would lend to the belief that Byndom is injured in any way, so hopefully this is just a case of Byndom relaxing too much during the softer part of the schedule. In any event, this has to stop or this defense is not going to shut down anybody.
Grade: F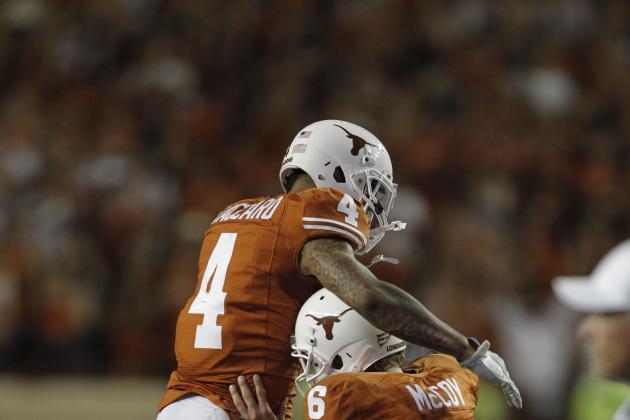 Erich Schlegel/Getty Images

Vaccaro
Steady as she goes, senior safety Kenny Vaccaro turned in another commendable performance for the Longhorns defense against Ole Miss.
Vaccaro finished tied for the team lead with five tackles to go along with a pass breakup. His greatest contribution to the game was a monster hit on Ole Miss quarterback Bo Wallace, after he took off and ran. Wallace had to leave the game after the hit and did not stand in the pocket with the same confidence for the rest of the game.
Opposing quarterbacks will have to pay attention to the fact that Vaccaro has made running quarterbacks pay for two consecutive weeks, having also delivered a big blow to New Mexico quarterback B.R. Holbrook.
Vaccaro is the reason not to press the panic button on this secondary. He will hold these guys accountable and will not rest until these guys lock it down.
Grade: A
Phillips
Another player from this secondary that needed to bounce back after a poor Week 1 performance, safety Adrian Phillips has gotten it going and is quietly having himself a great season.
Phillips also had five tackles and the versatile defensive back was good from the get-go. Solid performance from him on the whole, and he has settled in nicely as a starter for this team.
Grade: B