What We Learned from Cincinnati Bengals' 34-27 Win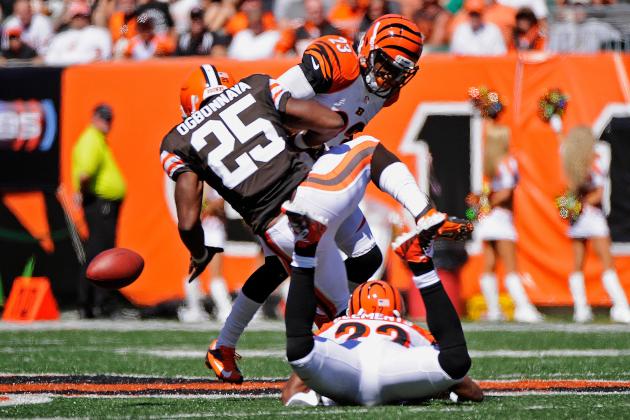 Jamie Sabau/Getty Images

The Cincinnati Bengals emerge from Week 2 with an ugly 34-27 win in the "Battle of Ohio."
It certainly wasn't pretty, but the Bengals managed to hold on and grab what could be a key divisional win against the Cleveland Browns on Sunday.
In what proved to be an unlikely shoot-out, the main positives came from the losing side. Trent Richardson and Brandon Weeden had much stronger outings, making short work of the Bengals defense.
Cincinnati will breathe a sigh of relief at 1-1, but they face some tough questions as they prepare to visit the Redskins in Week 3.
Begin Slideshow

»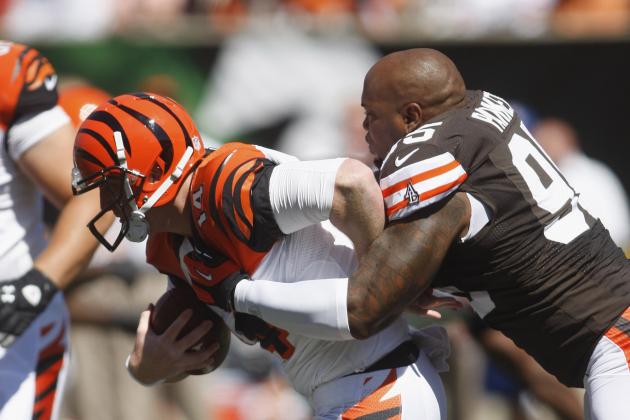 Jamie Sabau/Getty Images

The stats don't tell the whole story.
Too often on Sunday afternoon Andy Dalton was found scrambling in and out of the pocket, the play broken down and his offensive line at its breaking point. It lead to six sacks, most of which were Dalton's doing.
He may have the ability to change the play at the line of scrimmage, but either his offense isn't quite up to the same pace, or Dalton struggles to communicate his changes.
He made some poor decisions on Sunday and his movement was slow and wooden.
Add to that the amount of balls Dalton sent sailing over his receivers heads and you have the makings of a rough afternoon.
This was all despite the fact that Dalton threw for three TD's for only the second time in his NFL career, and racked up 318 yards in the process.
Dalton did enough to beat the Cleveland Browns, but he needs to establish a better pocket presence if he wants to have any hope of beating tougher opponents.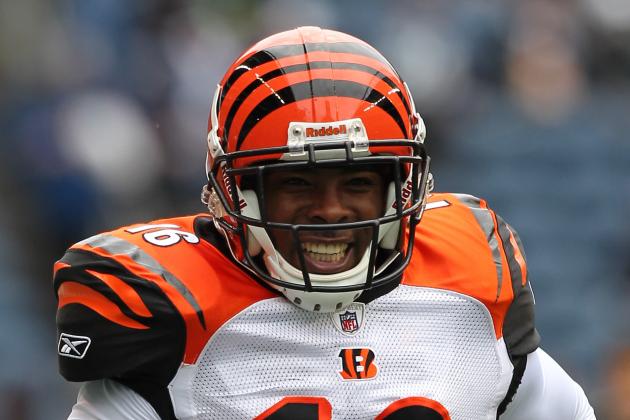 Otto Greule Jr/Getty Images

Despite being largely absent in Sunday's proceedings, Andrew Hawkins used what little field time he was given to impress.
Hawkins was the only player to consistently move the chains in Baltimore, and his two receptions against Cleveland further pushed his campaign for playing time.
He scored a touchdown on a 50 yard reception that looked a lot like a kick return, and was aided by blocks from Brian Leonard and A.J. Green in the process.
It was a wake-up call for the Bengals who will need to start taking advantage of his talents more frequently next week.
The Bengals have a plethora of receivers at their disposal. Hawkins is rapidly becoming one of the shining lights on offense and remains criminally underused.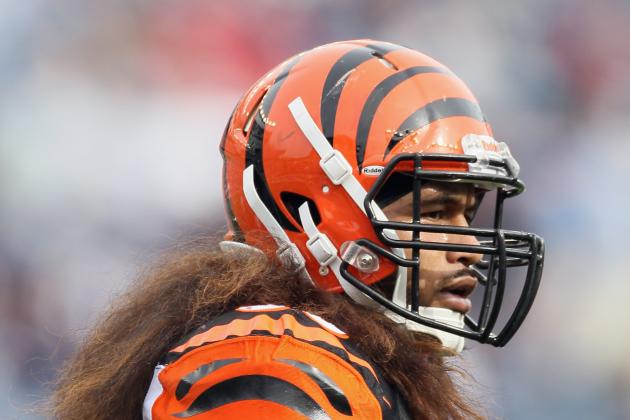 Elsa/Getty Images

Earlier this week Rey Maualuga talked down on the talents of Browns No. 3 overall pick Trent Richardson, setting the stage for a showdown at Paul Brown Stadium.
No prizes for guessing the victor in this battle.
Richardson ran for 109 yards and a TD, and sent the vast majority of Bengals defenders diving in different directions for most of the day.
After a disappointing performance in Baltimore, Maualuga was unspectacular once again. He lacks confidence in the middle, and is far from the vocal leader he needs to be.
He had three solo tackles on the day and seven assists. However, Richardson's 109 yards remains the tell-tale stat.
Maualuga certainly talked a big game heading into this one, but unfortunately, and as expected, he couldn't back it up.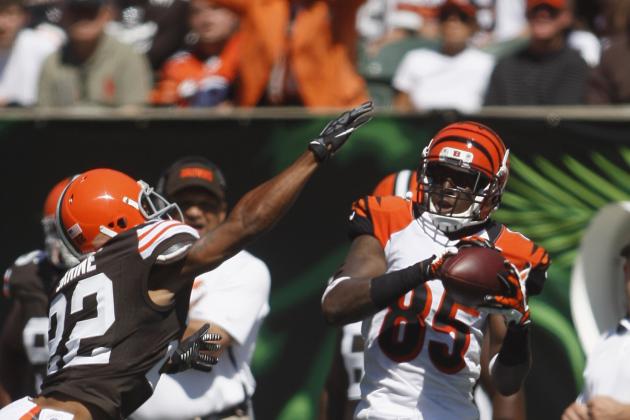 John Grieshop/Getty Images

Armon Binns exploded onto the scene on Sunday with five receptions for 66 yards.
He looked to be a favourite target of Andy Dalton, and made some clutch receptions early.
His contribution was tapered by a helmet-to-chin uppercut from D'Qwell Jackson from which Binns was slow to get up and had to be carried to the sideline.
The main takeaway was that the former practice squad player is more than capable of starting in the NFL.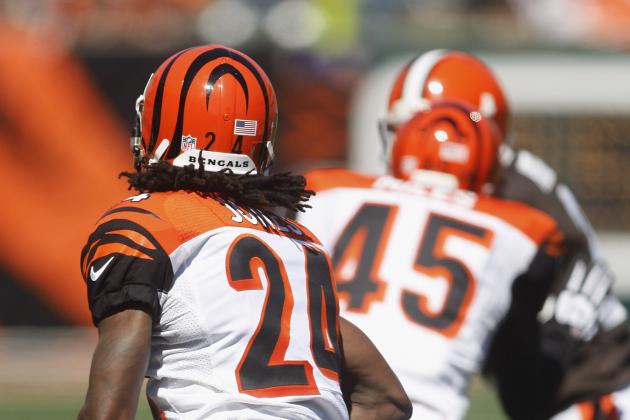 Jamie Sabau/Getty Images

After a swift Cleveland three-and-out to start the game, Adam Jones took their first punt of the day 81 yards to the house.
It was Jones' first punt return for a TD as a Bengal and his first since 2006, giving him a career total of five.
Brandon Tate has drawn the ire of Bengals fans and critics for some poor decision making in the return game, and Jones made a bold statement in the race to supplant him.
He took Tate's place for one 31 yard kickoff return, but with the Bengals secondary woes and Jones' role at corner, he may not have the stamina to snatch that job at this point.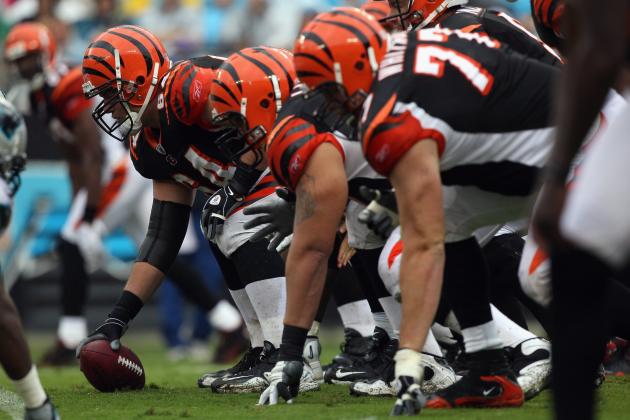 Streeter Lecka/Getty Images

BenJarvus Green-Ellis had another solid game on Sunday and it was thanks in-part to Andrew Whitworth and Clint Boling.
The second-year left guard has thrived under the tutelage of Andrew Whitworth and gave the Browns a defense a stout challenge.
Pro Football Focus ranked Boling as their best guard in Week 1, and he continued his run of form against Cleveland.
He did a solid job of opening up running lanes for BenJarvus Green-Ellis (who heavily favoured the left side), whilst giving Frostee Rucker more than he could handle in the trenches.
The offensive line is far from perfect and they will struggle against tougher fronts. However, progress is being made.
Boling suffered severe stage fright last year, and his resurgence is a real positive for the ailing offensive line.
Kevin C. Cox/Getty Images

The injury bug bit the Bengals once again on Sunday afternoon, and in a position that was banged up before the game even began.
Carlos Dunlap sat out once again on Sunday as he continues to recover from a knee injury that sidelined him in the preseason opener. The injury-plagued left end is a difference-maker for the Bengals and his absence continues to be felt.
On the opposite side of the line, former first-round pick right end Jamaal Anderson went down with what looked to be a season-ending injury.
His knee appeared to give out with no contact, and his awkward reaction seemed to signify an ACL/MCL tear.
It's yet another crushing blow to a defense that continues to disappoint.
It could mean the addition of a free agent or perhaps more likely, the promotion of DeQuin Evans from the practice squad.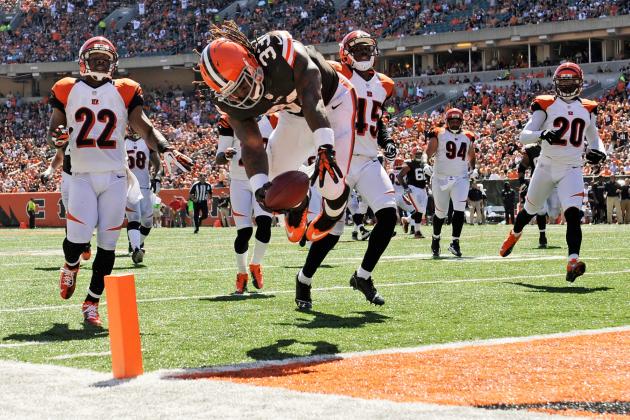 Jamie Sabau/Getty Images

The Bengals have given up 869 yards and 71 points in their first two games of the 2012 season; all but seven of which have come against Mike Zimmer's defense.
The Browns offense amassed 409 yards on Sunday, a significant leap from their 210 at home against Philadelphia in Week 1.
Mike Zimmer's defense is floundering under an influx of new players, nagging injuries and a skewed balance of the young and old.
The secondary, an area in need of young fresh legs, does not have the speed or tempo to keep up with their opposing numbers. Nate Clements and Terence Newman are frequently beaten, and Leon Hall can't do much on his own.
It seems almost certain the Bengals will take a strong safety early in the 2013 draft, as Jeromy Miles isn't quite there yet and Taylor Mays is yet to take to the field without almost killing someone. While we're not missing Chris Crocker just yet, it could certainly wind up that way if things continue in this fashion.
The defensive line and linebacking corps are missing last year's key rotational players, Jon Fanene and Frostee Rucker, and with Carlos Dunlap, Thomas Howard and now Jamaal Anderson sidelined, things don't look so good.
The Bengals' have added a lot of new faces and a lot of youth to their defense this year, and as a result they are not playing like a unit.
There is still plenty of time for them to get on the same page, but for now, you'll have to pin your hopes on Geno Atkins.