Power Ranking the Most Likely BCS Title Game Matchups
Wesley Hitt/Getty Images
The 2013 BCS National Championship is months away, but already the championship picture is starting to take shape.
With USC's 21-14 loss to Stanford, Alabama and LSU are the consensus No. 1 and No. 2 teams in the sport. But everyone outside of the SEC are pulling their hair out at the thought of watching another championship game rematch. Could this really happen again?
Well, one of the obstacles blocking that scenario crumbled in the form of fans storming Stanford's field Saturday night.
Can we expect another rematch in the national championship game this season or can another prominent team outside of the SEC go undefeated this season?
5. LSU vs. Oregon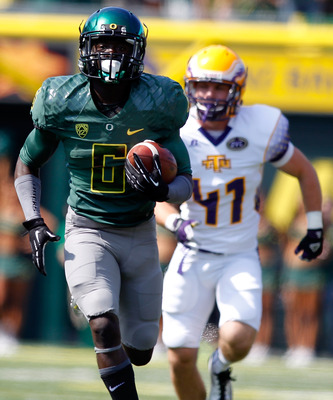 Jonathan Ferrey/Getty Images
If you enjoy matchups in football games, you have to cheese from cheek to cheek at the thought of witnessing LSU's defense against Oregon's offense.
These two units faced each other last season, and though LSU won the battle in 2011, this is a new year with new faces. Not to mention, that was De'Anthony Thomas' first ever college football game and Tyrann Mathieu is no longer roaming around LSU's secondary.
But in order for this to happen, Oregon is going to have to most likely beat USC, twice. From the look of USC's offensive line thus far, the Ducks should be able to do so.
But they have to beware of any upsets along the way, including a showdown against a very athletic Arizona team this Saturday night.
As for LSU, they have to get past the Crimson Tide and survive the SEC. Luckily for the Tigers, they get Alabama at home, at night. And you know what they say about LSU at night in Death Valley...
4. Alabama vs. LSU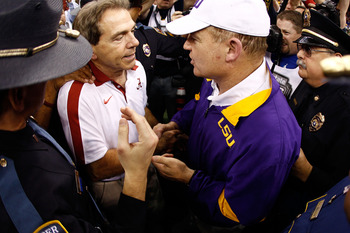 Chris Graythen/Getty Images
It happened before, right? It happened last year as a matter of fact.
Should this event transpire, we can all take a minute and thank God that Jordan Jefferson is no longer at LSU. Rather, the Tigers have a pro-style quarterback in Zach Mettenbeger and they'll be able to cross the 50-yard line this time. At least we pray it does for the sanity of college football's fans.
But chances are points will be scored in this game simply because both teams have the two best offensive lines in college football. Heck, Alabama had three offensive linemen on CBS Sports Preseason All-American Team.
Should LSU or Alabama win the first game by a close margin, this game honestly makes the most sense, considering how both teams are blowing out everyone they play both this year and last year.
Truthfully, would you rather watch a blowout in the national championship or a close, grinding affair between the two best teams in the country?
3. LSU vs. Florida State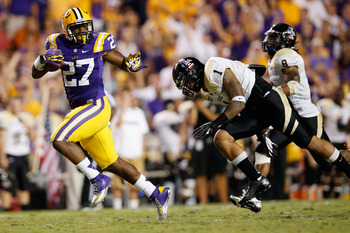 Chris Graythen/Getty Images
Florida State has the easiest road to the national championship.
The Seminoles only have two ranked teams left on their schedule this season, and that's against Clemson and Florida. That's not exactly fair when you look at a team like LSU who has four games left against ranked opponents.
But nonetheless, that's the world we live in. Should Florida State get past a stacked Clemson team this Saturday, they should run the table and enter the championship game undefeated.
As for what the Seminoles have done already, it's hard not to be impressed by Florida State. They have won every game by at least 50 points, and their defense has shut down every offense it's faced.
Very few teams can match athlete-for-athlete with LSU, and Florida State just might be one of those teams.
2. Alabama vs. Oregon
Wesley Hitt/Getty Images
As good as Florida State, Oregon and LSU have looked so far this season, it's clear that Alabama is the team to beat this season.
That's why everyone is circling that Nov. 3 matchup against LSU because the Tigers are the only team that can match the physical presence of the Crimson Tide.
But even LSU might not be able to beat this team, and Alabama may roll through the season untouched.
Should Oregon and Florida State do the same, expect Oregon to get the nod over Florida State because of their strength of schedule.
That sets up an incredible matchup between arguably the best offense in the country vs. the best defense in the country. De'Anthony Thomas and Oregon's offense feel the need for speed, while Alabama's defense simply enjoy clobbering its opponent.
1. Alabama vs. Florida State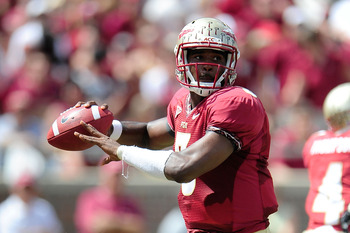 Stacy Revere/Getty Images
If you had to bet on a championship game after three weeks of action, Alabama and Florida State is the way to go.
The stats don't lie. Florida State is averaging 58.7 points per game and only giving up one point per contest. No, that's not a typo.
As for the Crimson Tide, they're averaging 42.7 points per game and giving up 4.7 against much stiffer competition.
Florida State gets the nod over Oregon not only because of those mind-boggling stats, but they have a far better chance to run the table undefeated. And even though Alabama has to play LSU in Death Valley, they look too impressive to bet against right now.
Cue the highlight packages for two of the most historically successful teams meeting in Miami for the crystal ball.
This will mark a championship showdown between Nick Saban and his old offensive coordinator at LSU, Jimbo Fisher. It doesn't get much better than that.
Keep Reading