Breaking Down the Blueprint to Defend the New-Look L.A. Lakers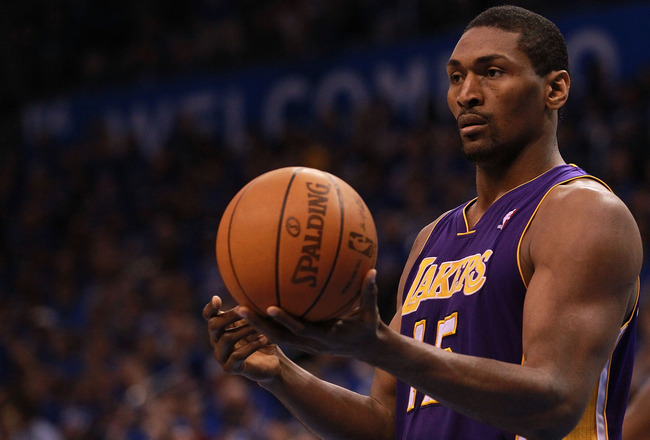 Ronald Martinez/Getty Images
The 2012-13 NBA season will be highlighted by two things. For one, it will offer LeBron James the opportunity to join Michael Jordan and Kobe Bryant as players who have won back-to-back NBA titles. The other highlight will come as Bryant and the Los Angeles Lakers look to take control of the Western Conference with their revamped roster.
While we could debate which occurrence is more likely to occur, it's clear that both will have their supporters and detractors. The true question is, how is it that one could impede either dream from coming true?
To begin answering that question, we focus on how to defend the new-look Los Angeles Lakers.
Although some view stopping this team as an insurmountable task, there is a way to slow the new era of Showtime down. In fact, there is more than just one way. This star-studded rotation is filled with vulnerabilities and each could be exposed in a major way.
So where do we start?
Close off the Paint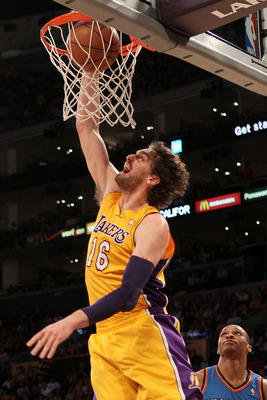 Stephen Dunn/Getty Images
Regardless of how confident a team may be in their interior defense, there's no way around the fact that Dwight Howard and Pau Gasol will score at virtual will. Both men are elite offensive players who have dealt with double-teams throughout the duration of their career.
And now they're playing together.
In order to truly stop the Los Angeles Lakers from taking you apart, you must not worry about stopping them from scoring. Instead, you must worry about not allowing the ball to get down low; even if that means exposing yourself on the perimeter.
Although Kobe Bryant remains an elite scorer, opponents have a greater chance of shutting down weak secondary options than they do D-12 and Gasol. Steve Nash, Jodie Meeks and Metta World Peace can all shoot, but none of those names strikes fear into your system in terms of scoring the basketball.
No matter what the cost may be, opponents simply cannot allow the Los Angeles Lakers to dump the ball down low.
Force the Ball out of Steve Nash's Hands
Christian Petersen/Getty Images
Will expecting the pick-and-roll slow Steve Nash down? Probably not, as that's been every defense's approach since Nash first began torching the league in 2001.
The fact of the matter is, you simply cannot be ignorant enough to think that the Los Angeles Lakers will base their offense off of any other play.
This is why opposing defenses must trap Steve Nash as often as possible. There is no way around how brilliant Kobe Bryant remains at 34-years-old. The fact of the matter is, opposing defenses will find a greater success rate if the ball is in Bryant's hands than they will if it's Nash's.
After all, one of the greatest facilitators of all-time is certain to get every player in the game involved. Kobe Bryant is a lock to work his way into a scoring opportunity of his own.
Get Metta World Peace His Touches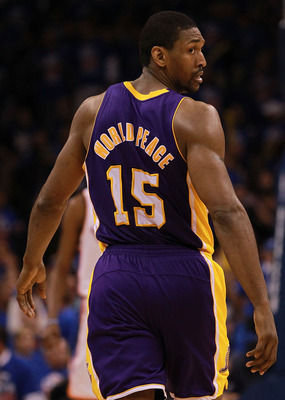 Ronald Martinez/Getty Images
If Metta World Peace has proven anything over the years, it's that he will jack up a ridiculous shot each and every time the Los Angeles Lakers allow him to touch the ball. On the off chance that he contributes to the Lakers offense during the 2012-13 season, that's exactly what opponents must take advantage of.
Metta World Peace's scoring abilities faded after the 2009 season. His scorer's mentality, however, did not.
MWP has been a headache for Lakers fans in each of the past two seasons due to his tendency to throw up shots that force everyone in the building to ask, "what just happened?" From clocking the side of the backboard to air-balling at least one shot per game, there just isn't a way to condone these actions.
Due to this fact, opposing defenses must take advantage of the "my time to shine" mentality that Metta World Peace displays. If he gets the ball, he will shoot. If he shoots, you've done your job well on defense.
Make Them Shoot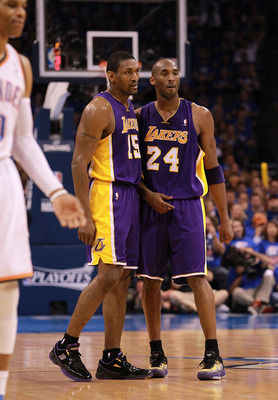 Ronald Martinez/Getty Images
If there has been one consistent flaw with the Los Angeles Lakers, it has been their inability to shoot the basketball. Although Kobe Bryant remains an elite scorer and Steve Nash is one of the greatest jump shooters to ever play the game, forcing this team to rely on their outside shooting could be their undoing.
Especially when you consider the fact that the past two NBA champions have been elite three-point shooting teams.
Jodie Meeks is respected as one of the best shooters in the game. The fact of the matter is, Meeks shooting 37 percent from distance shouldn't concern opponents when there is no one else to help in that area.
Unless, of course, you're expecting Metta World Peace to play like it's 2009 again.
Push the Pace
Stephen Dunn/Getty Images
What's the best way to defend the Los Angeles Lakers? Push the pace when you're on offense.
As the Denver Nuggets and Oklahoma City Thunder displayed during the 2011-12 NBA postseason, the Los Angeles Lakers are vulnerable to a fast-paced attack. Although Kobe Bryant still finds ways to score, Pau Gasol and Andrew Bynum were inconsistent and had a difficult time adjusting to the pace of the game.
Although Dwight Howard may be a defensive improvement, Bynum was the better offensive player. Furthermore, Howard has never been recognized as a transition defender, nor has he been one to finish in transition.
Consider his inclusion to be null-and-void in this instance.
If an opponent is able to make the Los Angeles Lakers run, Steve Nash may not have a player to work in transition with. Kobe Bryant, Pau Gasol, Antawn Jamison and Metta World Peace are all over 30 and have adjusted to half-court paces.
To take the Lakers out of their comfort zone may just be the best way to take them down.
Keep Reading

Los Angeles Lakers: Like this team?