Seattle Seahawks vs Dallas Cowboys: Winners & Losers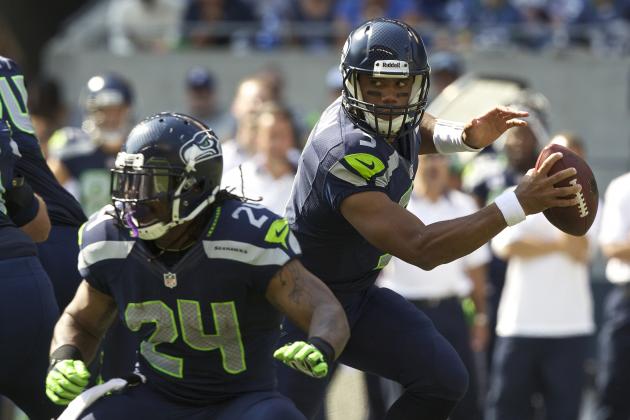 Stephen Brashear/Getty Images

The Seattle Seahawks entered Sunday's home opener in need of a win.
Of course every game is important and while starting the season 0-2 isn't tragic, it's not the best way to get out of the gate following a solid preseason. Unfortunately last week's road loss to the Arizona Cardinals to start the season left everyone with more questions than answers as the 'Hawks' bandwagon suddenly hit a major pothole.
How the 'Hawks would respond would in many ways prove telling and while going against the Dallas Cowboys is never an easy matchup, the 'Hawks simply couldn't afford to come out flat at home with the better part of the Pacific Northwest holding their breath.
By going back to basics, the 'Hawks not only won on Sunday, but also fully asserted themselves with an impressive 27-7 win over the Cowboys.
Following the team's performance, let's take a look at the winners and losers...
Begin Slideshow

»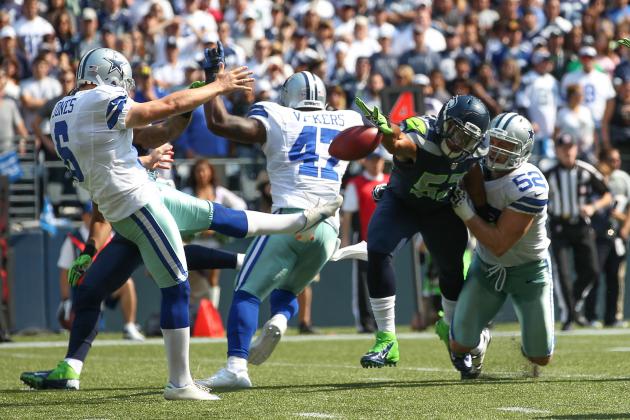 Otto Greule Jr/Getty Images

The special teams lived up to its name by turning in another solid performance that help set the tone from the very beginning.
Before anyone even had a chance to settle in, Earl Thomas had recovered Felix Jones' fumble on the opening kickoff which soon led to a field goal.
Then on the very next drive Malcolm Smith blocked a punt which Jeron Johnson quickly scooped up for a touchdown to make the score 10-0 'Hawks within five minutes of the game's start.
Funny thing is, that's all the Seahawks would need for the rest of the day.
For the special teams to outscore an opponent says a lot, but what's more impressive is how this unit has managed to play consistently for two weeks now while serving a role while getting contributions from all over.
It's an underrated facet of the game that could become a major asset throughout the season.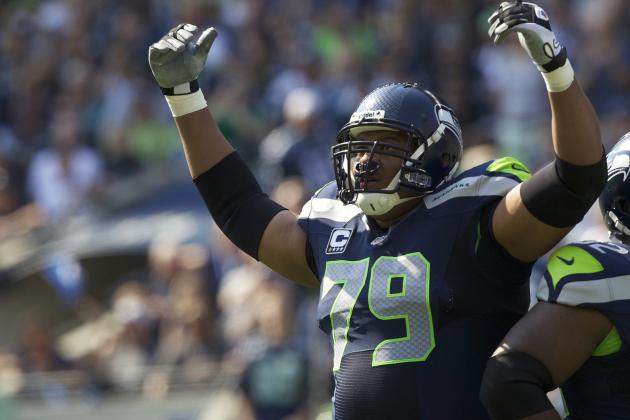 Stephen Brashear/Getty Images

On this particular Sunday, the defense seemed to pick up what the special teams started.
With a 10-0 lead, the defense looked like it was about to let Dallas march right down field until Brandon Browner's interception snuffed out the Cowboys' drive just shy of reaching the red zone.
Unfortunately on the next drive, the Cowboys seemed to pick up where they left off and ended up scoring a touchdown as Tony Romo connected with Miles Austin on a 22-yard touchdown.
After that...nothing.
Yes, Romo finished the day going 23-of-40 for 247 yards, but only netted 6.2 yards per pass; meanwhile DeMarco Murray was all but invisible with 44 yards on the day as the run defense stuffed the Cowboys by limiting it to 49 yards total on the ground.
What stood out more than anything is that this was the "bend-but-don't-break" defense we all fell in love with during the preseason that stuffed the run, defended passes and physically challenged its opponents.
If this crew can show up every week and perhaps get the pass rush in order, we might have a winner.
Joe Nicholson-US PRESSWIRE

Speaking of showing up, this perhaps isn't quite what we had hoped for when Pete Carroll named Wilson the starter following his electric preseason, but who can complain this week?
Sunday morning it would have been very easy to picture Wilson struggling for the second week in a row in finding his rhythm, while the Cowboys pass rush took the script from the Cardinals the week prior and let DeMarcus Ware have his way.
Instead Wilson pieced together a solid performance that made up some ground from the previous week by capably doing his job instead of trying to save the universe.
He generally made smart decisions, stayed out of trouble and spread the ball around to six different receivers. The stat line may not be off the charts, but for this week, it was the kind of performance that restored hope, if not properly managed expectations of the Russell Wilson Experience moving forward.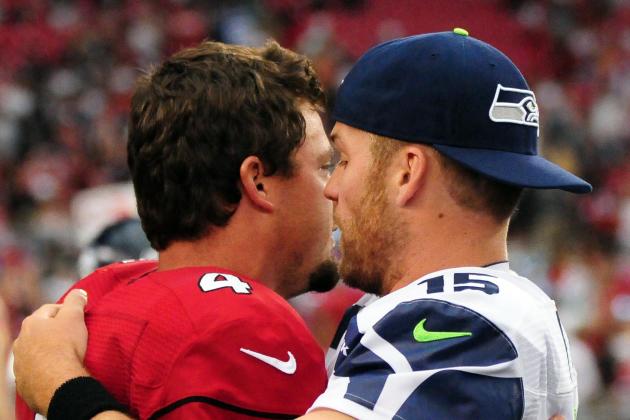 Jennifer Hilderbrand-US PRESSWIRE

With Russell Wilson looking good and earning the victory, any chance of Flynn playing against Green Bay next Monday night all but faded.
For Flynn it has to be a bit frustrating to face your former teammates in what should have been your coming out party on national television still holding a clipboard.
You can only imagine how the conversation in pre-game warmups will go between Flynn and his former mentor Aaron Rodgers...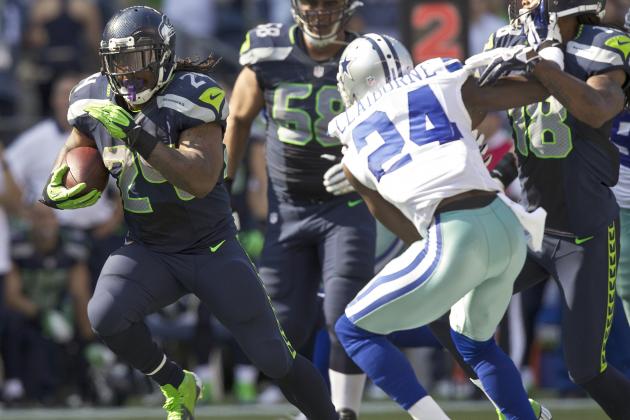 Stephen Brashear/Getty Images

Speaking of the Packers, which offensive line will they get to face next Monday night at the CLink?
The guys that couldn't stop the Cardinals last week in Arizona or the unit that just about kept the Cowboys in check?
Yes, Anthony Spencer got two sacks on Sunday, but generally speaking the performance of the offensive line was like night and day over the past two weeks.
Whatever adjustments line coach Tom Cable made seemed to work as Marshawn Lynch following a slow start seemed to finally get into "Beast Mode" during the second half on Sunday.
Yet perhaps more importantly Russell Wilson finally had enough time and space to actually do his job. These two facets of the Seahawks' winning formula took what was a tight game at halftime and turned it into a blowout by the final gun.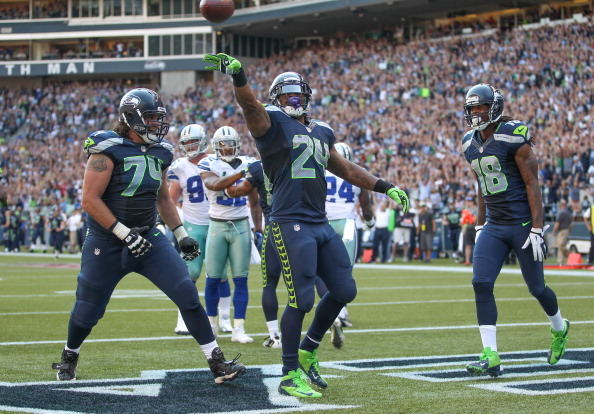 Otto Greule Jr/Getty Images

The Beast is back to the tune of 122 yards, one touchdown and a couple of long runs that reminded all of us why we fell in love with the guy in the third quarter.
It's not that his performance in Arizona the week before was terrible, but he just seemed like someone that could never really get into gear. This week we saw him not only get in gear, but grind the Cowboys down as the afternoon wore on.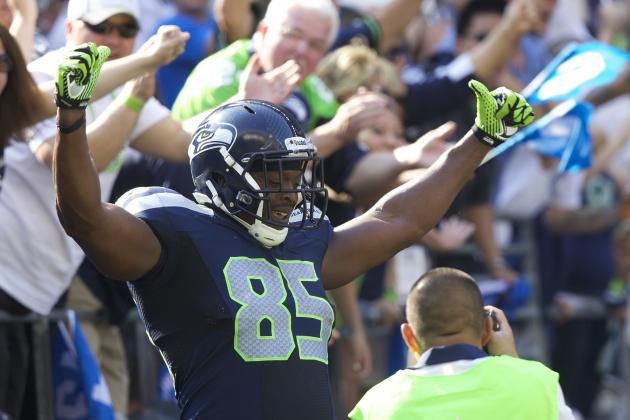 Stephen Brashear/Getty Images

Nice game by Anthony McCoy with five receptions on five targets that included a touchdown, but beyond Golden Tate's block heard across Puget Sound, it was hard to get too excited about the receiving game.
Look at it this way, if you had any of these guys on your fantasy team this week other than McCoy (and odds are no one had McCoy on their roster, let alone starting) would you be happy with their output?
Would you consider starting any of them against Green Bay next week?
For now it's all nice and good to find happiness in the bottom line of the 'Hawks winning, but I'm still not sold on this unit after two weeks of play and think it could develop into a major problem at some point.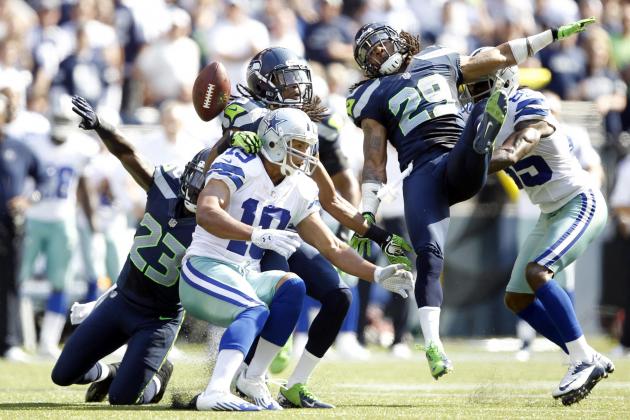 Joe Nicholson-US PRESSWIRE

Nice win, but who are the real Seahawks?
The team that looked shaky on the road in Arizona to open the season or the hard-hitting juggernaut that cracked the Cowboys square on the jaw on Sunday.
For now it's hard to say, but the help provided by the defense and special teams will certainly be appreciated as Russell Wilson and the offense continue to gain their footing.
Fact is, the division is not going to be a cakewalk for anybody.
Everybody from top to bottom won on Sunday including wins by the 49ers against the Lions, Arizona's impressive win at Foxborough against the Patriots, and the Rams beating RG3 and the Redskins in St. Louis.
This year I have a hard time seeing anyone going 13-3 or 2-14. Right now all things being equal I can see four teams in a tight race where 10-6 is either capable of winning the division or earning a Wild Card with no one being any worse than 6-10 on the season.
While this might seem a bit bold, when you factor games against the AFC East and NFC Central for everybody in the division, it's going to be a long year and exciting year where each week will likely provide an interesting surprise.
Sunday's win was a pleasant surprise not in the fact that the Seahawks won, but how they won with a blueprint that can serve this team well provided they can continue to intimidate their opponents. What will be interesting to see is how they respond when someone hits them back.
Will Green Bay challenge them to a fight next Monday night?
I think this game should be as good a barometer as any to find out this early in the season.