Washington Redskins vs. St. Louis Rams: Live Score, Analysis for NFL Week 2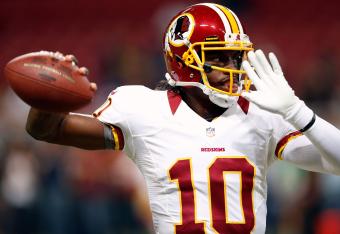 Jamie Squire/Getty Images
Update: Rams Beat Redskins 31-28 in NFL Week 2 action.

It's game time once again for Robert Griffin III and the Washington Redskins, as he has scored his first two NFL rushing touchdowns of his short career.
However, it wasn't enough to stop the comeback efforts of Sam Bradford and the Rams. Check out analysis below...
Washington Inactives:
QB Rex Grossman
S Brandon Meriweather
S Jordan Pugh
G Josh LeRibeus
WR Pierre Garcon
NT Chris Baker
St. Louis Inactives:
DT Michael Brockers
DT Matt Conrath
G Rokevious Watkins
RB Terrance Ganaway
QB Austin Davis
S Darian Stewart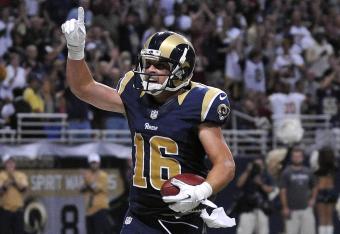 Scott Rovak-US PRESSWIRE
Postgame Analysis

Well that was a roller coaster ride. Give credit to the Rams, they came to play today and looked like the better team for most of the game. Danny Amendola had a monster game and even without Steven Jackson St. Louis made the Washington defense look inept.
Even with a defense playing so poorly, the 'Skins kept themselves in it with an explosive offense led by rookie Robert Griffin III.
Without his favorite target Pierre Garcon, Griffin still put up big numbers. Griffin went 20 for 29 for 206 yards, a touchdown and an interception. He also added 82 rushing yards and two touchdowns.
But the problem wasn't Griffin. The problem was that in his second NFL game he was called upon to put the team on his shoulders with very little help. You can't expect that from any rookie. Fellow rookie Alfred Morris had a solid game with 89 rushing yards, but outside of him there wasn't anyone else who stood out.
The highlight of the game for Griffin has to be the 68-yard bomb to Leonard Hankerson. We've often heard about his deep ball accuracy, and it showed on that play. He should've had another to Aldrick Robinson, but it was dropped.
For the Rams, rookie running back Daryl Richardson had a big game replacing the benched Steven Jackson. Outside of his fumble at the end of the game, Richardson churned out some tough yards in some big moments for St. Louis.
Sam Bradford looked the part of a franchise quarterback today, recording 310 yards and three touchdowns to one interception. He had much better protection today than in past games, and he finally was able to show off his skill. Big game for him.
The Redskins had no answer for Danny Amendola in the first half of the game. He finished with 15 receptions for 160 yards and a touchdown. Video game numbers. It's good to see him come back and succeed after dealing with injury problems for so long.
This game was constantly on the brink of getting out of hand, and that's because the replacement refs didn't know how to handle the situation. There was far too much fighting and trash talking after the whistle that went unchecked. You have to think that wouldn't happen if Ed Hochuli was on the field.
Joshua Morgan had a solid game up until the final drive of the fourth quarter. On third down he caught a pass that could've easily been a first down, but instead he turned outside and was brought down by Cortland Finnegan who happens to be an expert provoking opposing players.
Had Morgan not thrown the ball at Finnegan after the two got into it at the end of that play, Billy Cundiff would've been looking at around a 46-yard field goal to tie the game and send it to overtime. Or if Morgan had turned inside, he would've picked up the first down with 1:30 left in the game and a chance to win it.
But unfortunately, a stupid play resulted in a costly penalty that robbed us of an improbable comeback or a thrilling overtime between two very evenly matched teams. Give it to the Rams, they earned this one.
And that's the game folks. Rams hold on for a 31-28 victory after the personal foul called on Joshua Morgan.
That never had a prayer. Joshua Morgan lost the game for the Redskins.
Joshua Morgan with probably the worst play of the game. Cannot afford to retaliate there no matter what Finnegan does. That might have cost them a shot at a field goal. Need a prayer here.
Two minutes left. Can't say enough how fun this game has been to watch for both sides, regardless of what happens here.
WOW! That fumble just completely changed the game. Redskins with great field position and plenty of time for at least a field goal. Let's see how it plays out.
There goes the last timeout as the Rams pick up a first down. That offsides call was devastating. If the defense holds here we're going to get a good idea of what RGIII is really made of.
Redskins use their second time out. Another Rams first down would be brutal here. Still plenty of time for a long drive.
That hold probably saved a sack fumble. Good play by Williams to avoid that. Third and long after the incomplete pass. Redskins offense sputtering here at the end of the fourth.
Scary hit there on Fred Davis. Perfectly legal, but you hate to see guys go limp like that.
Big stand there by the defense. Need someone to get open on this next drive. Can't rely only Griffin's legs again to keep things going.
The Rams are going to have to start plugging in fans at tackle. Running out of bodies after the injury to Wayne Hunter.
That drop by Aldrick Robinson was huge. Redskins need every point in this one. This is Robinson's first start and second game in his career. Still has great upside.
The Rams have made some great plays against the run tonight. The secondary is also making things very difficult on Griffin. Has all day but no one to throw it too.
Rams having trouble containing Griffin. Should've had him in the backfield but RGIII is able to break the pocket and pick up nine yards.
Almost another monster play on that beautiful deep ball from Griffin. Keeps it on the next play and runs for the first.
I'm shocked that Josh Morgan held onto that. Great play, followed by a nice Griffin run for the first down off a good play fake.
Redskins desperately need a stop here. Josh Wilson is in the locker room, Adam Carriker is on crutches, Brian Orakpo has a towel wrapped around his head and there's still 12:42 to go in the game.
Via SB Nation, gif of Sam Bradford's touchdown pass. He's looked sharp today.
And right about now special teams coach Danny Smith should start to worry about his job security. Way too many mistakes on special teams today for the Redskins. Nothing going in the return game, sloppy coverage and blown protection schemes have really helped St. Louis out.
Redskins go three-and-out. Sav Rocca gets the punt off clean but Amendola draws a horse collar penalty.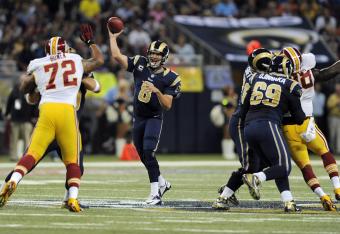 Once again, too much time for Bradford in the pocket leads to a big play. Touchdown Rams. They go back on top after the two-point conversion 31-28. Everything going the Rams' way.
End of the third quarter. Credit the Rams for absolutely shredding the 'Skins defense today. Second straight game St. Louis has looked like the real deal. Let's see if they can put it together.
On the flip side the Redskins have done a great job answering every challenge the Rams bring. The defense has been off but Griffin and Morris have kept Washington in it. They could use a goal line stand here.
Should've been another pick there from RGIII. Bad pass there to Dezmon Briscoe. Could've been some miscommunication.
And for the second straight week the Redskins have a punt blocked. Unacceptable.
First big mistake of the night for Sam Bradford. London Fletcher with the interception in the end zone. That's the break the Redskins needed.
This article is
What is the duplicate article?
Why is this article offensive?
Where is this article plagiarized from?
Why is this article poorly edited?