Browns vs. Bengals: 7 Things We Learned in Cleveland's 34-27 Loss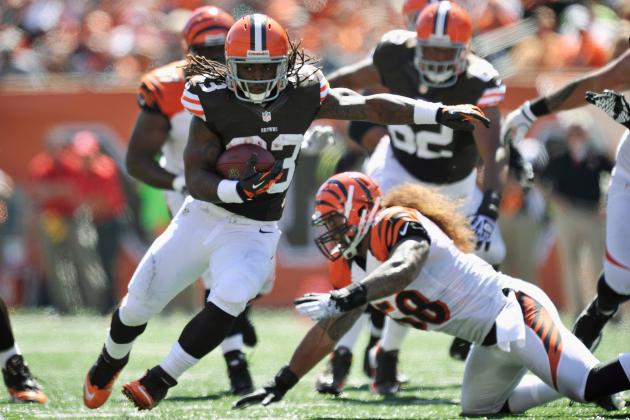 Jamie Sabau/Getty Images

The Cleveland Browns looked to be fading into offensive obscurity, but they managed to get off the mat against a tough Cincinnati Bengals team fixed on avenging their embarrassing Monday Night Football loss in the season opener.
It was an admirable effort by Cleveland, but in ultimately falling short in the surprisingly high-scoring 34-27 defeat, there were legitimate signs of life on offense.
In fact, the areas that the Browns have come to rely upon the most were the ones that let them down in the end, and any trends established last week were almost completely reversed.
Here are seven things we learned about the Browns on Sunday.
Begin Slideshow

»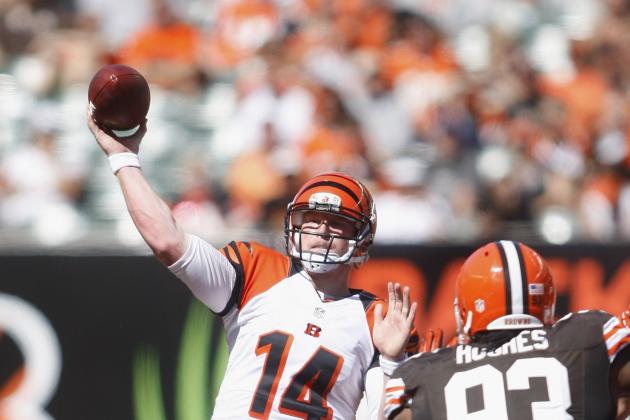 John Grieshop/Getty Images

This list of seven deservedly starts with the Cleveland front seven. Heat may be an understatement, because the Browns' front seven was on a collective mission against the Bengal bigs to bring an array of pass-rushing, inferno-spouting demons to the Cincinnati backfield.
Andy Dalton was sacked six times on the day, and the constant pressure forced him to be inaccurate on aforementioned early deep throws that could have blown the contest open.
Sixth-round rookie defensive tackle Billy Winn left the game with a head injury, but 2012 third-rounder John Hughes filled in to wreak havoc, sacking Dalton in the third quarter and providing consistent push on the interior.
The constant pressure also caused Dalton to flinch in the pocket a bit more than usual, as the Bengals only converted one of their first eight third-down attempts. It also forced an ill-advised throw by Dalton to give stud middle linebacker D'Qwell Jackson his second interception in as many games to begin 2012.
Jackson also had half of the six sacks on Dalton, which proves the Week 1 thesis that Jackson is indeed a stud, and anything less than a trip to the Pro Bowl in 2012 is a downright travesty.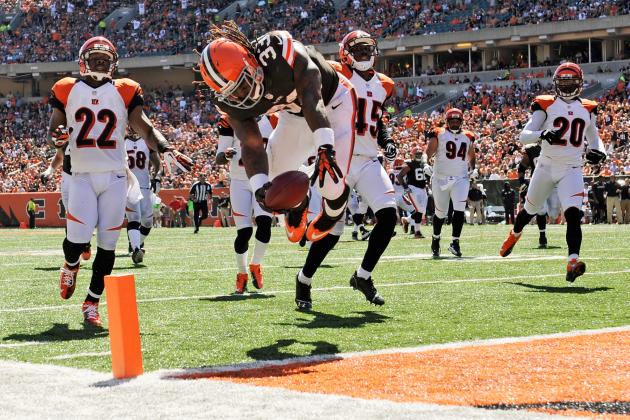 Jamie Sabau/Getty Images

It looked like a classic Cleveland catastrophe after A.J. Green's TD put the Bengals up 13-3, but when the Browns desperately needed to convert on Cincinnati's half of the field, Richardson answered the call by bouncing a draw play to the right sideline and scampering for a 32-yard touchdown.
The first score of Richardson's NFL career ended in an awkward sort of 180 celebration as he dove across the plane. Funny, because it was as if Browns players weren't used to finding such an area of the field.
Thankfully for Cleveland, their No. 3 overall pick in the draft doesn't know any better.
On a play that turned out to be Brandon Weeden's first NFL touchdown, Richardson continued to show his nose for the end zone on a smart checkdown decision from his fellow rookie QB. From there, T-Rich shrugged off three tackles inside the Bengals' 10, rumbling 23 yards for his second score of the day.
Tangible production in the running game was key to establish sooner rather than later, but Richardson also provides a receiving threat, showing that he is capable of being the every-down man the Browns thought he could be.
Touchdowns were the Browns' biggest need in the draft, and their top selection justified that. He finished with 19 carries for 109 yards and four catches for 36 yards.
This was only one game, but it's interesting to wonder how Jim Brown and Rey Maualuga feel about their comments toward Richardson now.
Jamie Sabau/Getty Images
The artist formerly known as Pacman weaves his way through a maze of Browns defenders for a punt return and a TD.
Of the 10 penalties for 103 yards the Browns committed, four of them resulted in first downs for the Bengals, and others wiped out big plays on offense that could have allowed Weeden and Co. to put up even more points on the board.
Brandon Weeden will continue being aggressive and most likely won't have many more outings with zero turnovers. Plus, the defense is extremely thin and can't stay on the field for too long against elite rushing offenses.
The other sloppy aspect of Clevleand's loss was another slew of blown coverage assignments on special teams that led to the opening touchdown on a punt return by Adam Jones. Coordinator Chris Tabor may once again be feeling the heat, especially with the offense lighting it up and off the hot seat for now.
Hopefully, that lack of discipline is only a blip rather than a trend for the Browns.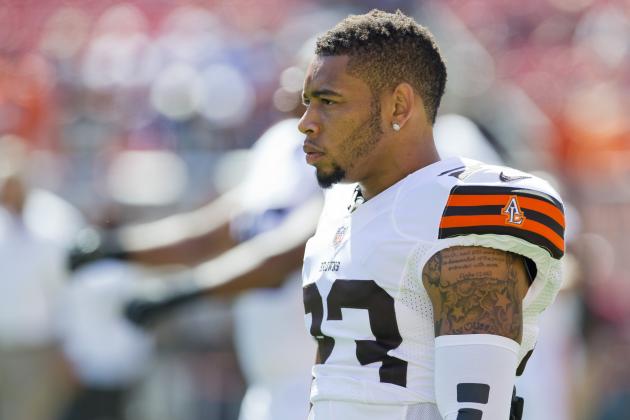 Jason Miller/Getty Images

We knew Joe Haden would be out for the next four contests, but Sheldon Brown was a last-minute scratch from the starting lineup, leaving the Browns vulnerable to a 300-plus yard passing day against Bengals QB Andy Dalton.
With 10:27 left in the second quarter, Dimitri Patterson got undressed by Pro Bowl wide receiver A.J. Green for a 10-yard TD.
He also lined up in the neutral zone twice, which is a rookie mistake that he shouldn't make even once. Clearly jamming Green at the line became a priority after getting beaten so badly on the first touchdown, but Patterson had a sloppy day.
Buster Skrine was also having tackling issues, and frequently struggled in man coverage, as his pass interference penalty led to Cincinnati's second field goal. In fact, Dalton had some gaudy numbers, but missed a lot of throws over the top of the Cleveland defense early. That changed on the first possession of the second half.
After two big miscues in coverage during Week 1, free safety Eric Hagg got torched man-to-man against Brandon Tate on a crucial 3rd-and-5 play for a 44-yard touchdown, which extended the Bengal lead to 24-10.
For a unit that was apparently the strength of the team in 2011 (if you looked at half the QBs they played, you may challenge that assertion), the Browns didn't have anyone step up on a day they really needed it against their division rival.
It was obviously going to be a mismatch against Green, but the likes of Armon Binns and Tate did serious damage throughout the game.
Binns was an undrafted rookie in 2011, and here's some fun history about Tate:
In the 2009 NFL draft, the Cleveland Browns selected both Brian Robiskie and Mohamed Massaquoi in the second round. The New England Patriots selected Tate at No. 83 in the third, one pick before Mike Wallace was drafted by the Pittsburgh Steelers.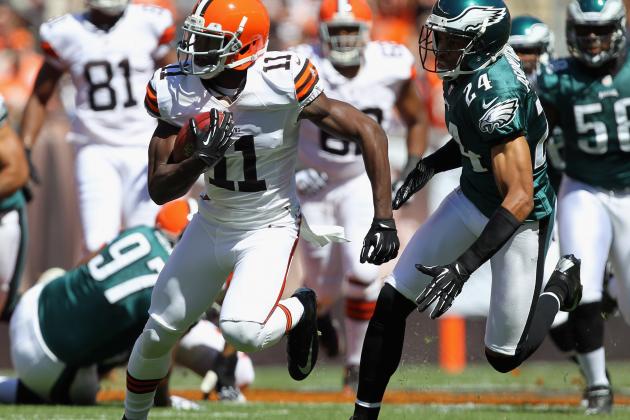 Matt Sullivan/Getty Images

Greg Little provided the biggest play in the receiving corps on the afternoon, but Massaquoi is becoming the dependable target that Brandon Weeden looks for on third down.
In a report by Terry Pluto of The Cleveland Plain Dealer back in June, he quoted Browns team president Mike Holmgren as saying Massaquoi was ready for a breakout season.
Holmgren now looks like a prophet, as Massaquoi has been targeted more than any Cleveland receiver during the first two games. One big difference between this season and previous ones is that the fourth-year player is actually healthy. Plus, he is getting more separation.
It also helps to have a quarterback with the arm strength to throw a receiver open, and MoMass seems to have developed quick chemistry with his new QB.
While the raw but extremely talented Josh Gordon continues to develop and Little hopefully blossoms into a No. 1-caliber target, Massaquoi has proven that he will be a viable option until the younger Browns have their breakthrough.
Whenever that happens—and it could be in 2012—Cleveland may find themselves suddenly stacked at its reputedly weakest position.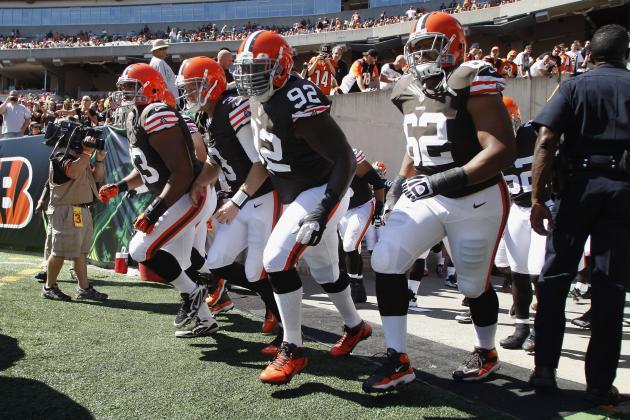 John Grieshop/Getty Images

Against the Philadelphia Eagles, Cleveland's run defense was repeatedly gashed, looking similar to last year's 30th-ranked rushing defense. However, the Browns kept the Law Firm in check on Sunday, limiting Bengals running back BenJarvus Green-Ellis to just 75 yards on 21 carries.
Defensive end Frostee Rucker was brought in to start, and especially to shore up the front four's form as a run-stopping specialist. By commanding more attention, he has allowed the young defensive tackles on the inside to get more favorable matchups at the point of attack, and freed up fellow free-agent acquisition Juqua Parker to make plays as well.
It was hard to be pumped about the biggest free-agent signing of Cleveland's offseason being a guy named Frostee, but the seventh-year man out of USC paid direct dividends against his former Bengals team in Week 2.
When 2011 first-round defensive tackle Phil Taylor returns, the Browns may have a dominant all-around defense if their ability to stop Green-Ellis on Sunday is indicative of the unit's future.
Jason Miller/Getty Images
Pat Shurmur and Brandon Weeden were definitely on the same page against the Bengals.
Now, the best—and probably the most exciting for Browns fans—for last.
There is playing like a rookie, and then there was the blasphemy that was Brandon Weeden's NFL debut.
He was so bad last week that when he wildly missed Mohamed Massaquoi on a sideline pass in which no defender was within 10 yards, me and my friends couldn't help but laugh.
Apparently there was a different sentient being stuffed inside of Weeden's biological flesh vehicle in Paul Brown Stadium. The change was a welcome one for anyone with any stake in the Cleveland Browns, and the nerves that had to have caused such a poor, four-interception Week 1 showing were suddenly gone.
Talents that the Browns were tantalized by with Weeden in the draft were showcased, as he displayed the expected exceptional arm strength along with surprising accuracy.
Cleveland's offense converted four of nine third downs in the first half, and seven out of 15 for the game. Sixteen of the team's 21 first downs came on passes. The final stat line: 26-of-37, a Browns rookie record 322 yards, two touchdowns, and zero turnovers.
The cliche of night and day doesn't even begin to describe the jump Weeden has made just two games into his career.