NHL Lockout: Teams That Will Benefit from the Lockout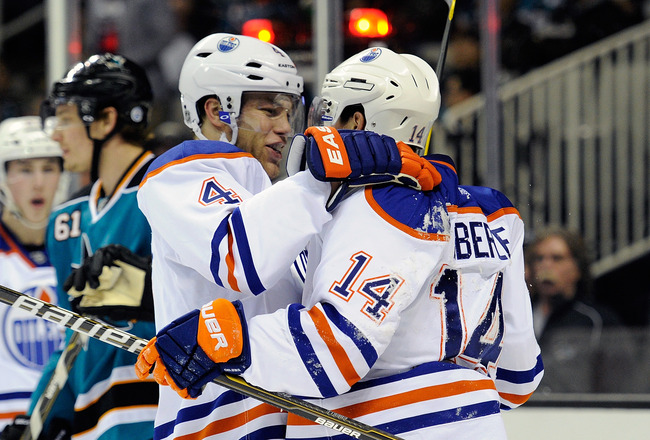 Thearon W. Henderson/Getty Images
With yet another NHL lockout officially underway, the vast majority of the league's players will be in search of alternative places to play—whether it be in Europe or in one of North America's lower-tier levels of play.
Except for most prospects.
That's because for players still on their initial three-year rookie contracts, they're still eligible to suit up for AHL games.
As we saw during the 2004-05 NHL lockout, many young guns who had yet to prove themselves at the NHL level flourished during their time in the AHL and used that success as a stepping stone to NHL stardom.
Now, with more than a handful of teams having sent down some of their top players for AHL duty until a new collective bargaining agreement is hammered out, there are a few clubs who will emerge from this work stoppage stronger than they were beforehand.
Here's a look at a few teams who fall into that category.
Philadelphia Flyers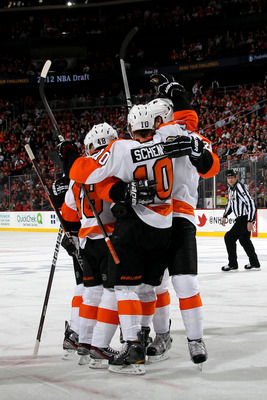 Bruce Bennett/Getty Images
When the Flyers shipped stars Jeff Carter and Mike Richards out of town in the summer of 2011, the team banked on young forwards such as Wayne Simmonds, Jakub Voracek and Claude Giroux to pick up the slack offensively.
That plan worked to a tee, as Simmonds, Voracek and Giroux all enjoyed career years, but Philadelphia also has two blue-chip offensive prospects in Brayden Schenn and Sean Couturier, and their development will be key for the Flyers down the road.
With Schenn and Couturier set to join the Phantoms of the AHL, they'll get the opportunity to play first line minutes night-in and night-out, which will benefit both them and the team in the long-term.
Couturier may never blossom into a legitimate top-flight offensive center, but he should be good for roughly 45-50 points on a yearly basis. Schenn, on the other hand, could be more of a consistent scoring threat, and with the right people around him, could tally upwards of 70 points a season.
New Jersey Devils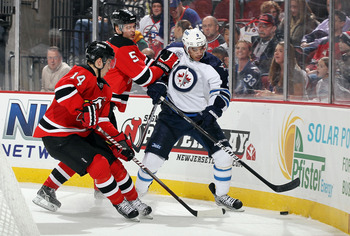 Jim McIsaac/Getty Images
No, the New Jersey Devils won't benefit from Martin Brodeur turning 41 in May, but the team will reap the benefits of having two of its best players hone their skills in Albany until the NHL resumes play.
On Saturday, the club announced (via NHL.com), that Adam Henrique and Adam Larsson had been assigned to the AHL, which will allow both of the Devils' young stars to gain some confidence and put up bigger offensive numbers with the team's top affiliate.
Henrique burst onto the scene in 2011-12, and put together an extremely impressive rookie season, as the 22-year-old posted 51 points in the regular season, and another 13 in the postseason, including two series-ending overtime markers.
Larsson, the No. 4 overall selection in the 2011 NHL Draft, projects to be a franchise defenseman for the Devils, and considering he didn't see a ton of ice time down the stretch for New Jersey, being able to play a leading role with Albany will be good for the smooth-skating 6'3" rearguard.
Carolina Hurricanes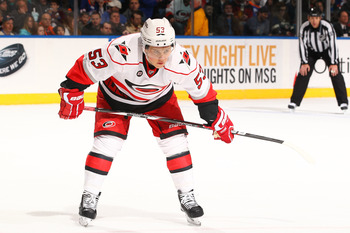 Al Bello/Getty Images
The Canes made a big splash during the summer, by bringing in some much-needed offensive firepower in Alexander Semin and Jordan Staal.
Now, the club can sit back and watch as 2011 Calder winner Jeff Skinner and 2012 All-Rookie selection Justin Faulk continue to progress with Charlotte of the AHL.
In Faulk, the Hurricanes have one of the most promising young defensemen in the game, and with another year of professional hockey under his belt, he may be ready to take the reins as Carolina's go-to guy on the blue line.
As the Canes saw when Eric Staal spent the 2004-05 season in the AHL, there's nothing better for a young scorer than a year of piling up big points and playing in all situations, which is what Skinner will be able to do in 2012-13.
Yes, Skinner is already a top-line forward at the NHL level, but he could go from being a 60-point player to a 80-point scorer with a year of seasoning in Charlotte.
Edmonton Oilers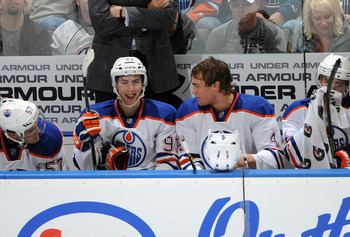 Dale MacMillan/Getty Images
The Edmonton Oilers have an embarrassment of riches up front, and their young guns will only improve during the lockout.
With Nail Yakupov heading to the KHL, the 2012 No. 1 overall pick will get the opportunity to gain confidence while getting his first taste of professional hockey, and potentially capture another gold medal at the World Juniors.
While Yakupov's over in Russia, Ryan Nugent-Hopkins and Jordan Eberle will be filling the nets with Oklahoma City of the AHL, which will allow them more time to work their abilities in the defensive zone.
Once Taylor Hall is healthy, he'll join them, which will give the Barons one of the most dangerous trios in AHL history.
In addition to the Oilers' three offensive dynamos, Oklahoma City will also be receiving recently signed defenseman Justin Schultz. Schultz, who will be entering his first season of pro hockey, will get the opportunity to develop at a more reasonable pace than he would be with the Oilers.
Regardless of when the 2012-13 NHL season begins, the Oilers will be a much stronger team than when the lockout began.
Ottawa Senators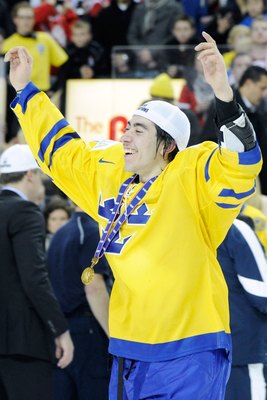 Richard Wolowicz/Getty Images
Though assumed by many to be a candidate for last place in the Eastern Conference, the Senators shocked the NHL in 2011-12, and grabbed the final Playoff berth in the East.
This year, until the NHL opens its doors on the 2012-12 season, many of the Ottawa's top young players will get the chance to develop in order to assume bigger roles with the Senators in the future.
2011 first rounder Mika Zibanejad is the Sens' top offensive prospect, and though Jason Spezza is presumed to be Ottawa's No. 1 center for at least the next three or four seasons, Zibanejad may soon give him competition for that title.
In addition to Zibanejad, forwards Zack Smith, Matt Puempel and Stefan Noesen will all benefit from playing bigger minutes during the work stoppage, and the Sens' attack should be more dangerous in 2013.
Minnesota Wild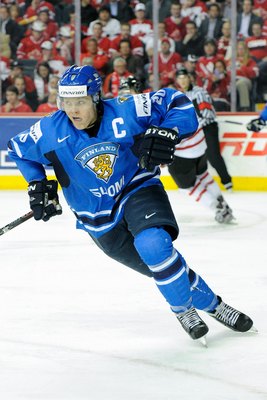 Richard Wolowicz/Getty Images
The Wild captured the summer's two biggest prizes in Ryan Suter and Zach Parise, but even if the NHL doesn't resume play until next fall, Minnesota will be a better team because of it.
That's because the Wild have two elite-level offensive prospects in Charlie Coyle and Mikael Granlund, who will be taking their talents to the AHL in the meantime.
With Parise, Suter, Mikko Koivu, Dany Heatley and Devin Setoguchi forming a subtly impressive core group, Coyle and Granlund wouldn't be seeing big minutes at the NHL level this year, but with Houston, they'll be given the opportunity to take on starring roles right away.
Both project to be dynamic scoring threats, which will be a welcome addition for a Wild team that sputtered offensively down the stretch in 2012.
New York Rangers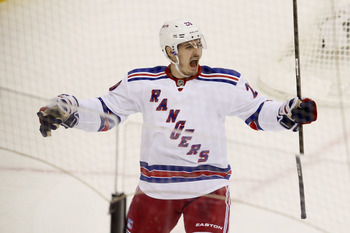 Jim McIsaac/Getty Images
The New York Rangers really don't need any help, but the work stoppage certainly won't hurt the team, as they won't have to play the first three months of the season without 40-goal man Marian Gaborik.
With Gaborik likely ready to go once the NHL resumes play, the Rangers' top six will be intact immediately, and it may be even better.
That's because Chris Kreider, who dazzled in his NHL debut during the 2012 Stanley Cup Playoffs, will be joining the Connecticut Whale, which will allow the speedy young forward to improve defensively, and gain some confidence, which he'll need if he hopes to last long under John Torterella.
Keep Reading