Titans vs. Chargers: Final Game Grades and Player Analysis for Tennessee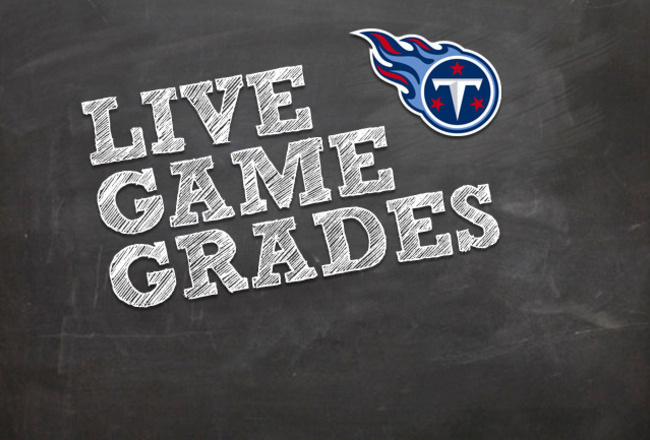 Coming off a big loss in Week 1 to the Patriots, the Titans were hoping to avoid an 0-2 start against the Chargers, but it was not to be.
In the eight times that these teams have faced one another in the last 20 years, the Titans have not won a single matchup. This year, neither team is considered a division favorite, and both were a little banged up.
The Titans missed middle linebacker Colin McCarthy and running back Javon Ringer. Quarterback Jake Locker also separated his left shoulder against the Patriots, but still played the entire game.
The Chargers missed running back Ryan Mathews and cornerback Shareece Wright and All Pro tight end Antonio Gates.
Despite those injuries, the Chargers extended the streak to nine games with a blowout.
The San Diego Chargers defeat the Tennessee Titans 38-10.
Jake Locker: B-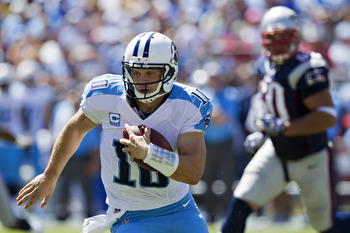 Wesley Hitt/Getty Images
Jake Locker had a tough time this game. He started off very poorly, throwing an interception as he got hit by an unblocked Chargers defender. The next time he had his hands on the ball, Locker had to dump it off to escape a sack.
Locker faced immediate pressure most of the night, and made a few poor throws. However, considering that he was constantly getting away from pressure, the dropped passes, and the fact that Chargers knew that they didn't have to defend the run, he was better than his numbers indicate.
In case you want to see the numbers anyway, Locker completed 15 of 30 passes for 174 yards, one touchdown, and one interception. He was also the Titans leading rusher, running twice for 21 yards.
Overall, it was a mixed bag, so Locker gets a poor, but not awful, rating.
Final Grade: B-
Chris Johnson: D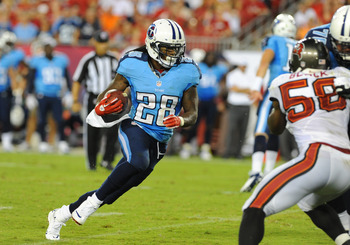 Al Messerschmidt/Getty Images
Chris Johnson rushed for an abysmal four yards in the season opener. He did much better against the Chargers, but unfortunately, that means very little.
Johnson had eight carries for 17 yards. That means he more than quadrupled his contribution from last game.
He did also have a couple of catches for 11 yards as well, but that's not something to brag about.
Johnson simply looks like his career is over. It's unfortunate, but watching him, he just doesn't have that ability to break tackles and make defenders miss like he used to.
The Titans will owe Johnson something in the neighborhood of $13 million next season, but at this rate, there's no way he'll see that money.
Final Grade: D
Offense: C-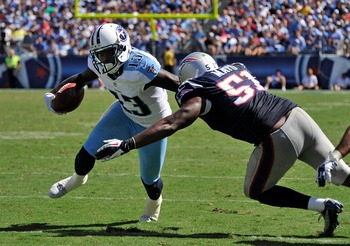 Frederick Breedon/Getty Images
Outside of Locker and Johnson, the Titans offense had its share of problems.
Jared Cook had a mixed outing. He had three catches for 23 yards, but he also only caught three of the six passes thrown his way, and a couple were his fault.
The receivers showed how much they missed Nate Washington. He played, but in a very limited role. With both Washington and Britt limited this week, there were several miscommunications and dropped passes.
Damian Williams ended up being the leading receiver, catching four passes for 45 yards.
The offensive line had some real issues today. Locker was constantly under pressure and there was little in the way of run blocking. The Titans cannot wait any longer to spend some high picks on offensive linemen, and they'll have to in this next draft.
Final Grade: C-
Defensive Ends: B+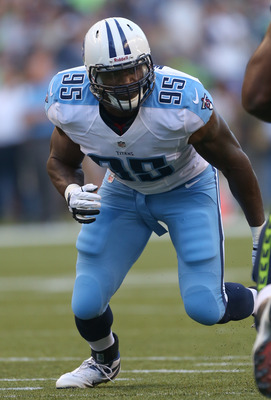 Otto Greule Jr/Getty Images
Derrick Morgan started the game extremely well, forcing two incomplete passes with near sacks on Philip Rivers. If he can stay healthy this season, then he is well on his way to shedding the bust label from his name.
Morgan had seven tackles, four of them solo, a sack, two tackles for loss, and another hit on the quarterback. He was constantly in the backfield for the entire first half.
However in the second half, he was pretty quiet, as a combination of fatigue and better blocking kept him out of Rivers' hair.
Wimbley was disruptive as well, and his pressure caused a fumble by Rivers in the first half. In the end though, he only had two tackles, one solo and no sacks.
A deeper rotation would really benefit the Titans, as both Wimbley and Morgan became less impactful as the game went on.
Final Grade: B+
Defense: B+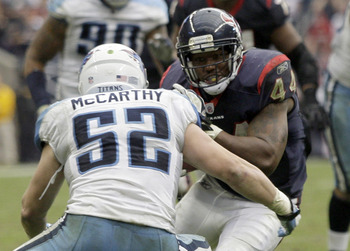 Thomas B. Shea/Getty Images
The Titans defense may have given up a lot of points, but most of those points came on big plays. The Chargers' first touchdown came from one big play to Malcolm Floyd, and that came from blown coverage.
The second touchdown was after a Titans turnover that gave the Chargers a short field.
The third came after a big play that resulted from one of the Chargers tripping a defender that went uncalled.
The Titans accomplished what should have been a goal-line stand when they held the Chargers until fourth and goal. For reasons unknown to me, the Chargers risked injuring yet another running back by going for it with just over a minute left and a 21 point lead.
I have no idea what Norv Turner was thinking (other than he clearly wasn't).
Overall, the defense was good. The defensive line constantly pressured Rivers throughout most of the game, and the Titans stopped the run effectively until the last quarter.
However, they showed a need for depth at defensive end, and they really missed middle linebacker Colin McCarthy, who usually is a stout run defender.
Final Grade: B+
Special Teams: C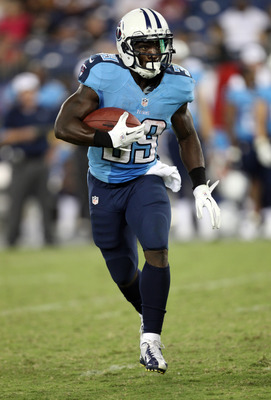 Joe Murphy/Getty Images
After Lavelle Hawkins returned two kicks for 130 total yards, the Titans may have found a replacement at kick returner for Darius Reynaud, which is good because they may need him more in the running game.
Other than the four returns by Hawkins (one for 71 yards), there wasn't much to talk about on the Titans' special teams unit. The kicking team did a pretty poor job tackling, and the rest of the returns were pedestrian, but Kern and Bironas were very good, as they always are.
Final Grade: C
Coaching: C+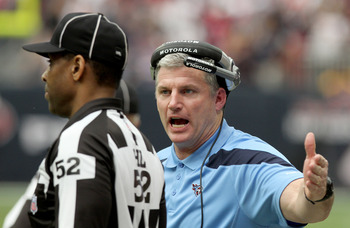 Thomas B. Shea/Getty Images
I understand that Munchak wants to establish the run, but the blocking is bad and Johnson isn't doing so hot. The Titans need to do a lot more throwing, and only run it when the defense over commits to defending the pass.
Munchak responded well to what works by calling almost all passing plays. Unfortunately, the Chargers are able to stop the run on the way to rushing the pass, so they can just set up the defense for pass protection every time.
There isn't much to evaluate Munchak on from this game, so he gets an average grade.
Final Grade: C+
Keep Reading

Tennessee Titans: Like this team?