Dallas Cowboys vs Seattle Seahawks: Live Score, Analysis for NFL Week 2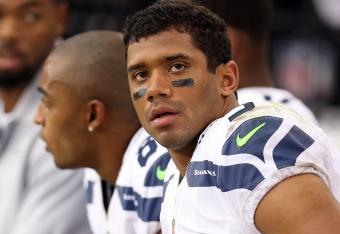 Christian Petersen/Getty Images
Seattle (1-1) took advantage of three Cowboys turnovers, and used a strong second-half ground game to beat the Cowboys (1-1), 27-7 in NFL Week 2.
A fumble on a kick return, a blocked punt returned for a touchdown and an interception by Tony Romo have accounted for the turnovers.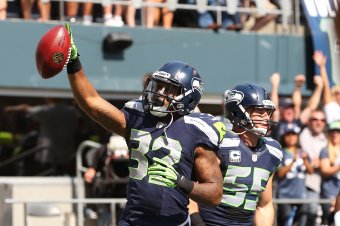 Otto Greule Jr/Getty Images
Well there you have it folks, the Cowboys are officially 1-1 on the season after a depressing 27-7 loss to the Seahawks.
Dallas will travel home to face the Bucs next week in their home opener as they will try to get back on a winning track.
Final Score
Seattle 27
Dallas 7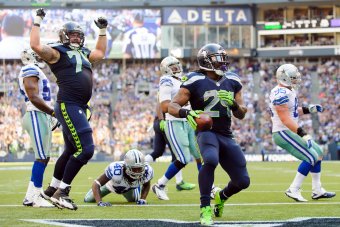 Steven Bisig-US PRESSWIRE
As we march toward the two minute warning, if the Sehawks hold on to win, they will improve their record to 1-1. With the loss, the Cowboys will match Seattle's record.
Next week Dallas travel's home for their first home game against the Tampa Bay Buccaneers.
Seattle stays home for a Monday night contest against Green Bay.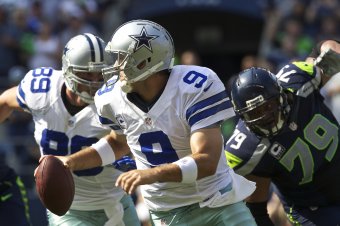 Stephen Brashear/Getty Images
I asked a question about my man Felix Jones before the game and if he would show up.
Well he had a fumble to start the game and the team seemed to follow his leadership.
Jones had one carry for one yard, two catches for four yards and five kick returns for 109 yards. His biggest impact was on special teams, for good and bad, but he had little to not impact when he was given the ball either by rush or pass.
The offensive line did an ok job. I wouldn't give them a failing grade.
But the defensive line is a different story as they were physically dominated up front and gave up almost 200 total yards in the second half.
Lynch had 95 rushing yards in the second half for a healthy 6.8 yards per carry and Seattle scored 14 points in third and fourth combined.
A lot of questions still lingering for this Cowboys unit.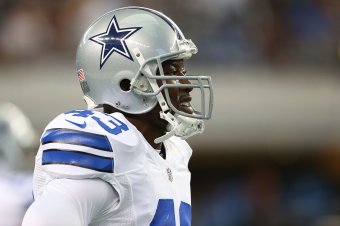 Ronald Martinez/Getty Images
Is it to early to call for soul searching this early in the season?
The Cowboys were physically dominated in this game as evidenced by the score. Russell Wilson has only been sacked once and that was on a blown block as linebacker Anthony Spencer came free off the corner.
Dallas has injuries all around as Gerald Sensabaugh and Barry Church are out. Jay Ratliff didn't make the trip and Sean Lee got his bell rung by Golden Tate.
Spencer went down with an injury and Witten doesn't seem to be himself.
After playing so well in week, it seems that Dallas is back to the drawing board after playing so bad against Seattle. They were not a cohesive unit this Sunday and the 27-7 score indicates that.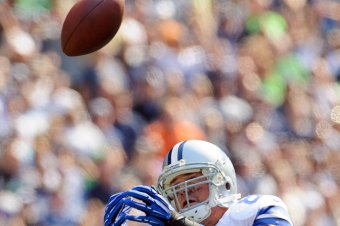 Steven Bisig-US PRESSWIRE
The Seahawks are just about coasting to victory.
Witten just dropped another pass and Romo was just sacked by Seattle defensive end Jason Jones.
Just as a side note, the Cowboys offense only has three first downs in the second half.
Seattle up by, 27-7.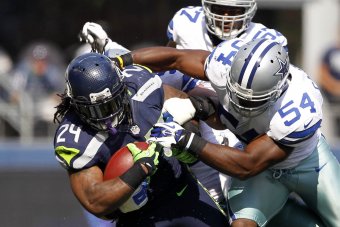 Joe Nicholson-US PRESSWIRE
TOUCHDOWN SEATTLE
Marshawn Lynch just scored on a three yard run.
The Seahawks are up 27-7 with 7:57 minutes left in the fourth quarter.
For any Cowboys fans out there, I hope you have some cushion in your knees because your prayers will be needed for the team to pull out this victory.
On that last drive, the Seahawks held the ball for 7:35 seconds, went 88 yards on 12 plays.
Seattle is now up by three touchdowns.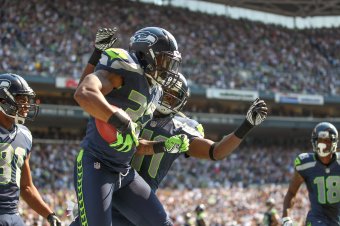 Otto Greule Jr/Getty Images
Seattle has a first and goal on the Cowboys five yard line with 8:22 left in the 4th quarter.
The Cowboys defense looks tired as they are being dominated and out played right now.
If the Seahawks score, Dallas' chances of making a comeback are about as slim as Mobb Deep getting back together.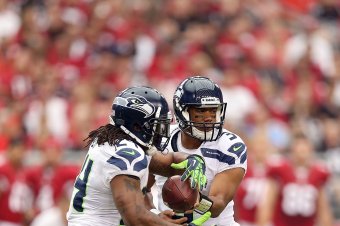 Christian Petersen/Getty Images
Seattle has a slow, methodical drive going right now as they are now deep in Cowboy territory.
Running back Marshawn Lynch has over 100 rushing yards and now Seattle has a 1st and ten on Dallas' 17 yard line.
Seahawks driving with 9:35 seconds in the 4th quarter.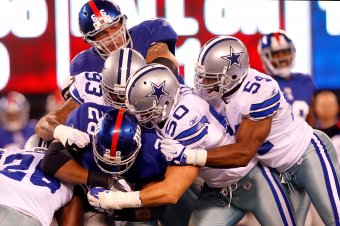 Rich Schultz/Getty Images
Holy snikes Sean Lee just got his bell rung.
Seahawks receiver Golden Tate just got a peel back block on Lee after Russell Wilson took off running from the pocket.
There was a flag on the play but it turned out to be on Cowboys linebacker Bruce Carter for a personal foul injury for pushing Wilson out of bounds.
An egregious mistake by the replacement refs after Lee was rocked by Tate.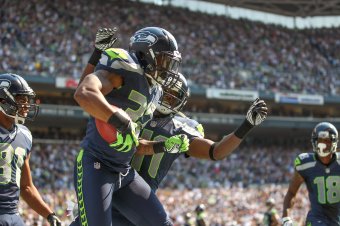 Otto Greule Jr/Getty Images
Seattle has the ball on the Cowboys 27 yard line with 13:32 seconds left in the 4th quarter.
It's second down after a false start penalty but this is when they can start to eat time away from the clock.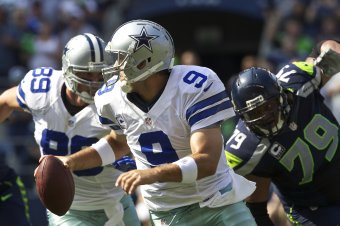 Stephen Brashear/Getty Images
Dallas is getting lost in the crowd noise and Seattle's momentum.
They have been forced to punt with just 40 seconds left in the third quarter.
Seattle now has the chance to break Dallas' will with another touchdown as they still lead 20-7.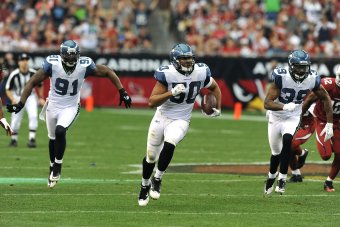 Norm Hall/Getty Images
Seattle seems to be a pretty disciplined team when it comes to tackles and being physical.
Running back Felix Jones was just punished by linebacker K.J. Wright.
Romo found Jones in the flat and after he attempted to wiggle his way out of Wright's arms, he was simply wrestled to the ground.
Oh by the way, offensive linemen Tyron Smith was just flagged for a false start.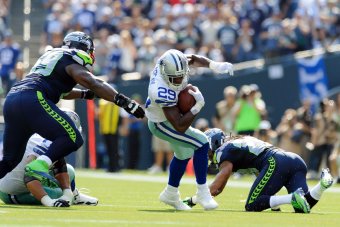 Steven Bisig-US PRESSWIRE
So now its time for Dallas to respond as time continues to tick away.
The second half can't be blamed on turnovers as they will have their chances to make up for their mistakes.
What's been the most surprising part of the contest to me is how physical the Seahawks defense has been. They are putting the wood to the Cowboys receivers and while the defense has been on the field for awhile, they aren't breaking.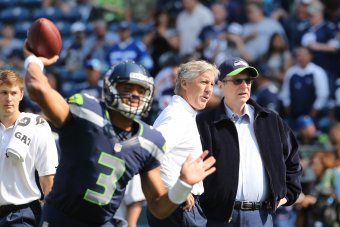 Otto Greule Jr/Getty Images
TOUCHDOWN SEATTLE
The Cowboys are officially on the ropes. The Seahawks are now up by 13 after scoring a touchdown.
After Lynch's 36 yard run, Wilson found tight end Anthony McCoy for a 22 yard touchdown down the seam.
The Cowboys didn't seem to know what was going and they paid the price for their confusion.
Seattle now up 20-7.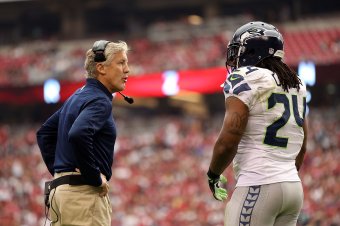 Christian Petersen/Getty Images
The Seahawks have come to play in the second half.
Beast Mode, or Marshawn Lynch as his government suggests, just broke for a 36 yard scamper to place Seattle deep within the Cowboys territory.
With a little over five minutes left in the 3rd quarter, Seattle is driving...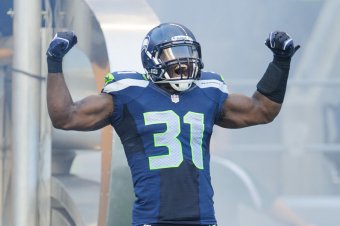 Steven Bisig-US PRESSWIRE
The Seahawks Kam Chancellor has been all over the field for Seattle.
On third down and three, Romo dropped back to pass and found Dez Bryant. Before he could turn to run, Chancellor was on him to stop him from crossing the first down marker.
Dallas has been forced to punt.
BTW: Chancellor has five total tackles and four on his own.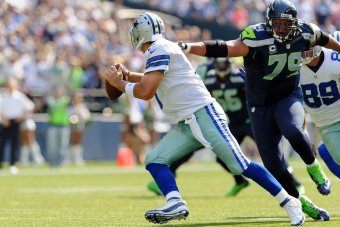 Steven Bisig-US PRESSWIRE
Dallas has the ball, with 12 minutes left on the clock, on the Seahawks 20 yards line and its second and ten.
The Cowboys forced Seattle to punt and the would be gassed Seahawks defense is back on the field.
Cowboys driving...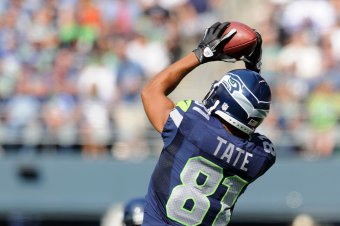 Steven Bisig-US PRESSWIRE
The Seahawks will start the second half with the ball and, I imagine, will try to add to their six point lead.
But how will the Cowboys respond after doing such a great job of shooting themselves in the foot to start the game?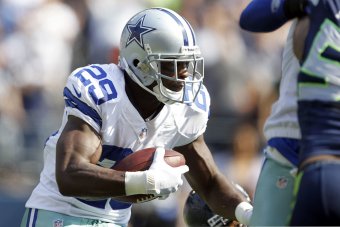 Joe Nicholson-US PRESSWIRE
As Dallas heads into halftime reminiscing on lost opportunities, lets take a look at a few stats that should give them hope of a second half comeback.
Dallas has 11 first down to Seattle's 5.
Cowboys have held the ball for 16:18 seconds compared to 13:42 seconds for Seattle.
Dallas has 211 total yards to the Seahawks 118.
Even on penalties, Seattle has four for 30 yards and the Cowboys only have one.
So there is no reason for the Cowboys to have a points deficit in this game.
Look for a different Cowboys team in the second half.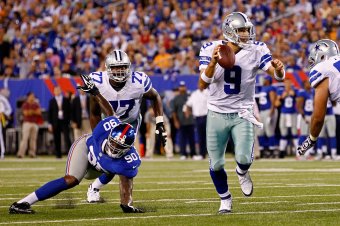 Jeff Zelevansky/Getty Images
So on third and three, the Cowboys failed to convert and are forced to punt it away.
Only 35 second remain on the clock and going into halftime, Dallas has to know that the Seahawks lead is their own doing.
Three turnovers led to ten points for Seattle while the Cowboys only have seven points to show for their dominating performance. Well, at least on paper.
Seattle will head to the locker room with a 13-7 lead.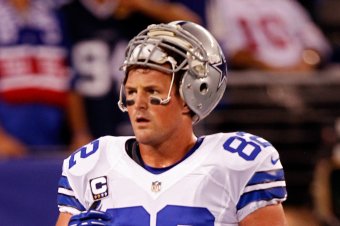 Jeff Zelevansky/Getty Images
Dallas will try to score before the halftime horn sounds.
The Cowboys were faced with a third and ten and Romo found Witten for a 23 yard catch and go to give dallas a first down just over the 50 yard line in Seahawks territory.
Just 1:10 left and Dallas has a second and ten.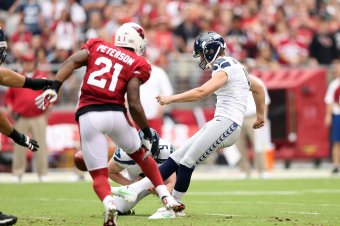 Christian Petersen/Getty Images
Seahawks kicker Steven Hauschka just increased his team's lead by six points. He booted a 25 yard field goal to keep Seattle firmly in the lead.
Seattle up 13-7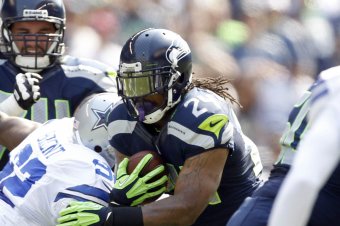 Joe Nicholson-US PRESSWIRE
So on third down and 13 from the Cowboys 19 yard line, the Cowboys stop the Seahawks to force an attempted field goal on fourth down.
If not for the penalties, the Seahawks may have scored a touchdown.
They were flagged for a chop block and delay of game, which pushed their drive back twice after they were close to getting in the end zone.
Seattle still by three as they lead 10-7 at the two minute warning.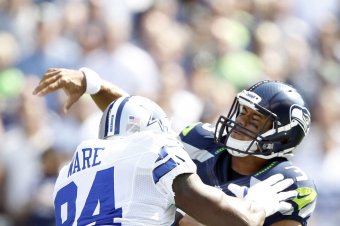 Joe Nicholson-US PRESSWIRE
Wilson is leading the Seahawks down the field on the Cowboys defense as they are close to scoring.
Its 1st and 10 with 4:15 seconds to go from the Cowboys 12 yard line.
Seattle overcame a 2nd and 21 after they were called for an illegal chop block. Dallas had them on the ropes and couldn't capitalize on the mistake.
Seattle driving...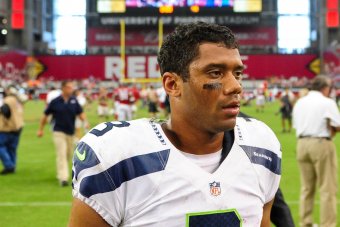 Matt Kartozian-US PRESSWIRE
Russell Wilson just found receiver Golden Tate for a twenty yard pick up all the way down to the Cowboys 26 yard line.
Seahawks threatening...
This article is
What is the duplicate article?
Why is this article offensive?
Where is this article plagiarized from?
Why is this article poorly edited?

Dallas Cowboys: Like this team?