Vikings vs. Colts: Final Grades and Analysis for Minnesota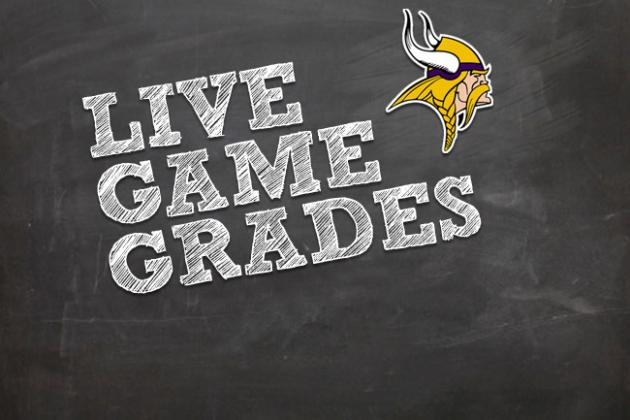 Let's just be honest: The Indianapolis Colts aren't a very good football team. They have a young quarterback who looks like he will be a superstar, but not a whole lot else.
They did, however, have enough to knock off the Vikings Sunday in Indianapolis, winning 23-20 when Adam Vinatieri nailed a 53-yard field goal with under a minute to play.
Colts 23 Vikings 20
Three nice completions by Andrew Luck move the Colts right down the field and Adam Vinatieri converts from 53 yards away to give the Colts the lead.
Colts 20 Vikings 20
Ponder comes through in the clutch again. Vikings drive down the field, led by a huge catch and run by Adrian Peterson. Ponder finds Kyle Rudolph for a 6-yard touchdown to tie the game with 30 seconds left.
Colts 20 Vikings 12
Vikings convert on fourth and four for a touchdown to keep their hopes alive. Stephen Burton grabs a pass that's deflected to him by Kyle Rudolph after being tipped at the line by the Colts.
Better lucky than good.
Colts 20 Vikings 6
The Vikings commit two personal fouls, one that lets the Colts keep possession on a roughing the punter call and another when Jared Allen hits Andrew Luck after he's out of bounds. The defense keeps the Colts to a 45-yard field goal by Adam Vinatieri.
Colts 17 Vikings 6
As bad as Christian Ponder is during his crack at the two-minute offense, Luck is masterful during his. Perfect clock management and takes exactly what the defense gives him. Should have resulted in a field goal, but the Vikings defense falls asleep with 14 seconds left and Luck makes them pay, hitting a wide open Reggie Wayne for a 30 yard touchdown pass.
Colts 10 Vikings 6
Luck marches the Colts down the field again following a Christian Ponder fumble. E.J. Henderson with a nice stuff on 3rd and 1 keeps the Colts to just 3 points. Adam Vinatieri is good from 26 yards.
Colts 7 Vikings 6
Vikings pick up one first down after a big kick return by Percy Harvin. The drive stalls out, but Blair Walsh nails another field goal to make it a one point game.
Colts 7 Vikings 3
Andrew Luck looks very impressive during the Colts first possession that's capped off by a 3 yard TD pass to rookie tight end Tony Allen.
Luck made a nifty play on a checkdown pass to Donnie Avery on 3rd and 9, made two nice runs when flushed out of the pocket and then made a nice long toss to Avery, who lost Antoine Winfield for a big gain. Luck had plenty of targets to choose from on 3rd and goal, and made an easy throw to Allen for the touchdown.
Vikings 3 Colts 0
We're underway in Indianapolis as two teams who are trying to put 2011 as far in the rearview mirror as possible lock horns.
The Vikings put together a methodical drive on their first possession, capped by a 51 yd field goal by rookie Blair Walsh. A real nice decision on 3rd and 12 by Christian Ponder to take what the defense gave him, an 8-yard completion to Michael Jenkins that put the Vikings in field goal range.
Stay with us as we provide instant grades and analysis for both quarterbacks and the rest of the Vikings throughout the game.
Begin Slideshow

»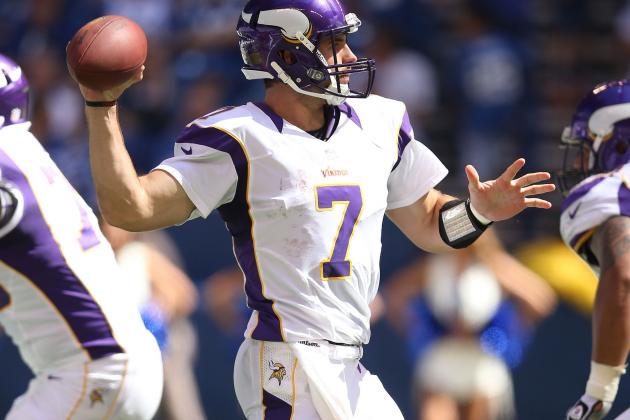 Andy Lyons/Getty Images

Final Grade-- C
Too harsh? Ponder's numbers say that he deserves higher than a C grade: 27 of 35 for 245 yards and 2 touchdowns and a 114.6 rating. That's a solid day by any stretch.
My eyes told me a lot less than that. Ponder had his moments and make some good throws, but he was again careless with the ball, getting two passes tipped in situations where he has to make good throws. One touchdown was a complete gift. Ponder was great again on the final drive, but why can't he play that way throughout the game?
No, his protection wasn't great, although he did have some plays where he was given plenty of time, but could never find a receiver he felt was open enough to throw to and ran for short gains.
People can argue that Ponder had a very good game, his numbers say so. I say his numbers were mostly short throws that were turned into yards by Percy Harvin, Adrian Peterson and Kyle Rudolph. A strange game to be sure for Ponder, but the bottom line is they lost to the Colts.
4th Quarter Grade-- C
Not nearly enough urgency in Ponder's play. He threw one ball that should have easily been picked off. The Vikings second touchdown was lucky, another Ponder pass was tipped at the line of scrimmage, he's just not making sure on his throws.
He came through again on the Vikings' tying drive, going 7 for 9 and finishing it off with a touchdown to Kyle Rudolph.
3rd Quarter Grade-- D
Just didn't make anything happen. Certainly not his fault most of the time, no receivers getting open and the line not giving him enough time.
Hung Percy Harvin out to dry on a short pass that Ponder floated that could have gotten Harvin killed. Harvin held on for the first down but had to go off after taking a huge hit.
2nd Quarter Grade-- F
Ponder is flat out brutal in the second quarter.
He had no time on two consecutive sacks, but showed zero pocket presence on either one either. Continued his inability to protect the football and fumbled it away on the second sack, leaving the Colts a short field to work with, which they turn into three points.
Awful during his crack at the two-minute offense. Lazy and unaware on his short pass that's blocked by Cory Redding. On third down he terribly overthrows Percy Harvin. Shows no field presence at all and not only does he get nothing done, he takes no time off the clock before giving the ball back to the Colts.
Looks terrible the whole quarter and it's magnified when a rookie on the other side of the ball is carving up your defense and looks like a far better player.
1st Quarter Grade- B
Ponder led the Vikings on a 13 play drive that was hindered by a two penalties by offensive lineman. Ponder spread the ball around nicely, hitting Percy Harvin, Toby Gerhart and Micahel Jenkins while moving the purple steadily down the field.
Andrew Luck gets an A for the Colts first drive, doing a little bit of everything and capping off his 13 play drive with a short touchdown pass.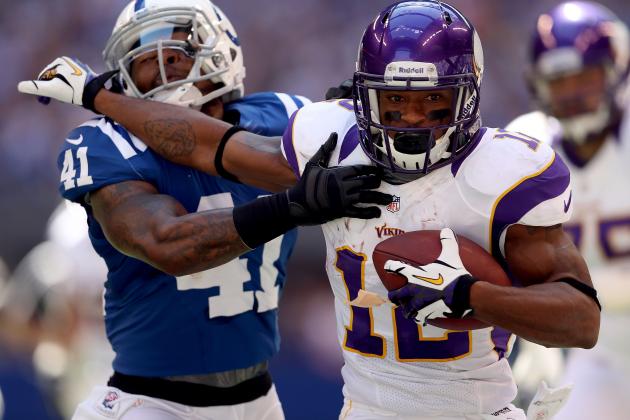 Andy Lyons/Getty Images

Overall Grade-- C-
327 yards is pretty pedestrian, especially against one of the worst teams in the league. The offense was simply miserable in the middle two quarters. Other than Percy Harvin, the Vikings are getting nothing from their wideouts.
The offensive line was mediocre at best. Not a lot of holes for Peterson to run through, not a ton of time for Ponder to throw.
As with the grade for Ponder, you lost to the Colts.
Fourth Quarter Grade-- B
Offense generated two touchdowns in the fourth quarter. Percy Harvin, Adrian Peterson and Kyle Rudolph came through when they were needed. Christian Ponder was good, certainly not great in the fourth. No idea why the team was playing so laconically when urgency was needed.
Third Quarter Grade-- F
Nowhere to run for Peterson. Not a lot of time for Ponder to throw. No receivers not named Harvin are getting open. Rudolph with a bad drop that could have been a first down. Kalil takes a stupid penalty. Loadholt nailed with a bad call on a hold.
Really bad.
Second Quarter Grade- F
122 yards of offense against the worst team in the NFL. Need to hear anymore?
Ponder is brutal and the offensive line is just as bad in the second quarter. None of the other skill players get an opportunity to do anything.
First Quarter Grade- B
One drive, one field goal.
Percy Harvin continues to show why he's one of the most versatile players in the NFL. Adrian Peterson continues to show that he's close to all the way back (and very close to breaking a long one.) Toby Gerhart with two touches and two positive plays.
Penalties on Charlie Johnson and Phil Loadholt slowed things down a bit, but Blair Walsh came through, hitting from 51 yards out to stay perfect on the season.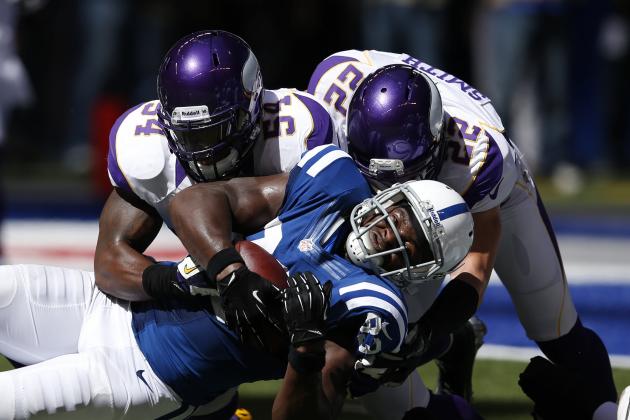 Joe Robbins/Getty Images

Overall Grade-- C
It's too bad, because after a rough start, the defense played pretty well. Sure, they evaporated on the Colts last drive, but they only gave up a pair of field goals in the second half.
Bottom line, you probably deserve a better grade than a C when you hold the other team to under 300 total yards of offense. You're just not going to get that grade when you're playing against a rookie quarterback of the worst team in the league and you lose.
4th Quarter Grade-- C
They were looking at a solid A grade until the Colts last series, where they gave up 47 yards in three plays and the Colts were in position to kick the winning field goal. Sensational play by Everson Griffen, getting Andrew Luck for a 22-yard loss on sack that gave the Vikings field position on their way to their final touchdown.
3rd Quarter Grade-- B
Made a nice hold when the Colts had the ball inside their own five yard line. Erin Henderson nice blitz came up with a sack on Luck.
2nd Quarter Grade- D
The Vikings defense is making Andrew Luck look like Peyton Manning. The defensive line hasn't pressured him and way they do, they can't keep him from running for big gains. Erin Henderson looks like an outfielder trying to find the ball in the sun as Reggie Wayne streaks by him for a late touchdown. No safeties near on a 30 yard pass thrown right down the middle of the field? I'm being nice by not giving them an F.
1st Quarter Grade-- C
Only one possession for the Colts, but Andrew Luck beat the Vikings during this drive.
Luck was masterful in a 13 play drive that resulted in a 3 yard TD pass to Tony Allen. Antoine Winfield proved that he just can't stay with young receivers on deep routes anymore and it cost the Vikings 41 yards of real estate. The Vikings need to get a hit on Luck to slow him down.
Hannah Foslien/Getty Images

Final Grade-- C
On the bright side, Blair Walsh is still perfect.
Chris Kluwe had a rough day and the Vikings took too many penalties that just killed them. Andrew Sendejo got nailed with a roughing the punter penalty that ultimately might have been the most important play of the game (they usually are.) It's tough to be too hard on Sendejo, he almost made the block and he barely grazed the punter, but it is what it is. You can't touch the punter.
4th Quarter Grade-- B
Not a whole lot to grade in the fourth quarter, one nice return by Marcus Sherels.
Third Quarter Grade-- D
Only a great play by Eric Frampton to down a punt at the two yard line keeps this from being an F. Kluwe is punting poorly and penalties are just killing them. Andrew Sendejo roughs the punter on what could be the turning point of the game. Christian Ballard with a block in the back on the next punt puts the Vikings 10 yards back.
2nd Quarter Grade- B
Walsh remains perfect with another field goal. Marcus Sherels takes a kickoff out from eight yards deep in the end zone. It's ok if Percy Harvin does that, it's not okay for Marcus Sherels to do that. Sherels gets it out to the 15-yard line. Five yards that could have been big had the Vikings offense done anything on the drive.
1st Quarter Grade-- A
Blair Walsh remains perfect on the year, drilling a 51 yard field goal to put Minnesota up 3-0. Matt Asiata with a great block that springs Percy Harvin on a big kick return to the 40. Walsh put his one kickoff out of the end zone. Can't ask for much more.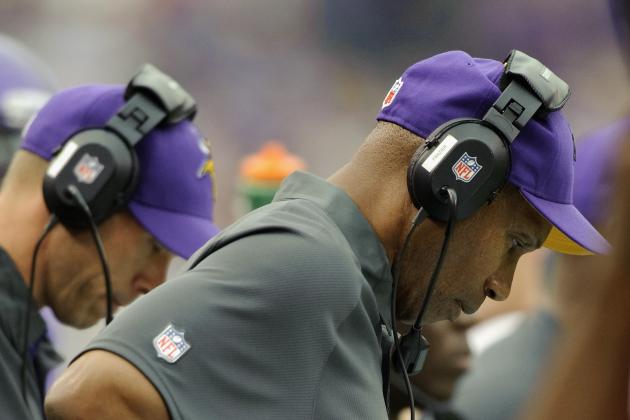 Hannah Foslien/Getty Images

Final Grade-- F
You lost to the Colts, there's no other grade in play.
Your team took far too many penalties and they once again played with no urgency until the last drive of the game. The Vikings certainly had some tough calls against them, but need to play with more discipline.
As mentioned several times by the game announcers, the Vikings burned way too much clock on their second to last possession in the fourth quarter, a team that was down by two scores was moving with the urgency of a team that was ahead.
Do coaches get too much blame when a team lays an egg like this one? Of course, it comes with the territory. Coaches are always guilty until proven innocent.
4th Quarter Grade-- F
Can't reasonably give them any other grade. Offensively the Vikings were playing like they were up two touchdowns instead of behind. No urgency at all in the fourth quarter when they needed two touchdowns to tie the game. They got them, but they were lucky.
The pass defense came up completely empty on the Colts last drive.
3rd Quarter Grade-- F
Question: What's a bad team that plays with zero discipline? Answer: A really, really bad team. No life, no spark, personal fouls happening all over the field. The Vikings are being completely outclassed by the worst team in the NFL.
2nd Quarter Grade-- C
We'll give the coaching staff a break here and leave them with a C grade for the second quarter. Nothing too terrible on the coaching side of things in the second quarter. Just a lot of players not doing what they are supposed to be doing. Special teams coach gets an F for ever letting Marcus Sherels think it's ok to take a ball 8 yards deep in the end zone out.
1st Quarter Grade- C
Memo to Vikings coaches: Antoine Winfield can no longer stay with receivers on deep routes.
A good first series for Bill Musgrave, spreading the ball around nicely and getting positive plays from Percy Harvin, Toby Gerhart and Adrian Peterson.
The defense needs to figure out how to get some pressure on Luck.