Alabama Crimson Tide Football: Power Ranking Nick Saban's Coaching Tree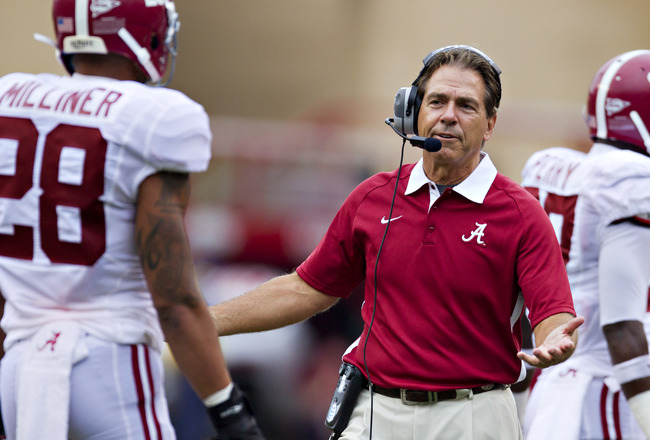 Wesley Hitt/Getty Images
Nick Saban is easily the most successful coach of the BCS era.
The guy has won numerous conference championships, countless big games, and oh yeah, three national championships with two different teams. He's a defensive genius and a master recruiter who has built an unstoppable powerhouse at Alabama.
Along with wins and rings, another sign of a great head coach is the type of coaching tree they leave. If you're an excellent head coach, your assistants should move on to bigger and better opportunities as head coaches elsewhere.
This is certainly the case with Saban, who has former assistants head coaching other college programs, as well as coaching in the NFL. Some have experienced more success than others but one thing's for sure: Saban has quite the coaching tree.
Let's see how they stack up against each other.
7. Bill Sheridan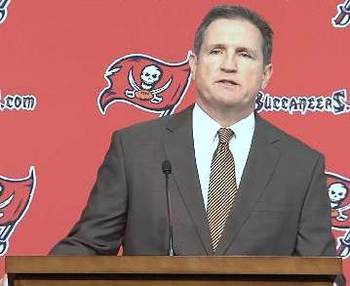 Bill Sheridan is the only non-head coach on this list, but due to his impressive and lengthy track record, he deserves some recognition.
Saban and Sheridan coached together at Michigan State, where Sheridan worked under Saban as the linebackers coach from 1998-1999.
Since working under Saban at MSU, Sheridan has held jobs with Notre Dame, Michigan, the Miami Dolphins and the New York Giants but the job that landed him on this list is his current one: The former assistant of Saban is now the defensive coordinator for the Tampa Bay Buccaneers.
6. Jim McElwain
Doug Pensinger/Getty Images
This is the most recent assistant coach on the list who coached with Saban at Alabama (2008-2011).
During his years with the Crimson Tide under Saban, McElwain served as the offensive coordinator and did an excellent job. In fact, he did so well that he landed his first head coaching job at Colorado State on December 12, 2011.
So far, McElwain's new team has struggled out of the gate to a 1-2 start, but he did manage to pull out a big win against its intrastate rival, Colorado.
The jury is still out on McElwain as a head coach. He's not at a major program yet but I wouldn't be surprised if he scaled up this list in a few years.
I guess only time will tell.
5. Derek Dooley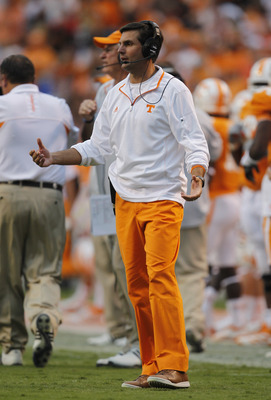 John Sommers II/Getty Images
Despite a rough day yesterday, Derek Dooley has done a solid job as the head honcho at Tennessee.
Long before Dooley became the Volunteers' head coach, he served as an assistant under Nick Saban at LSU and with the Miami Dolphins. Dooley coached the tight ends and special teams at LSU and just the tight ends with the Dolphins.
After serving under Saban, Dooley landed a head coaching job at Louisiana Tech in 2007, where he propelled himself to his current head coaching position at Tennessee.
Since his arrival in Knoxville in 2010, the Vols have slowly improved and look to be heading in the right direction.
4. Will Muschamp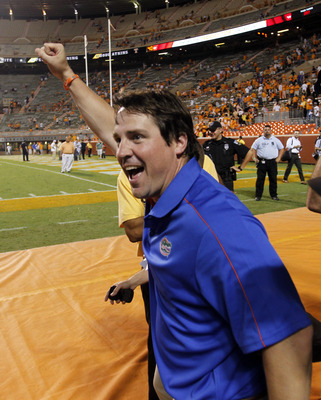 John Sommers II/Getty Images
With two consecutive SEC road wins, Will Muschamp definitely has the Gators on the right track this season.
His first season at the helm was a bit rough, but if he can keep Florida playing the same way it did last night, he'll be completely off the hot seat for quite some time.
Long before Muschamp became the head coach of the Florida Gators, he was just a measly assistant under Saban at LSU and with the Miami Dolphins. He served as the linebackers coach and defensive coordinator at LSU from 2001-2004 and as the offensive coordinator with the Miami Dolphins in 2005.
3. Mike Mularkey
Andy King/Getty Images
Now when you're coaching tree starts turning up head coaches in the NFL, you know you've arrived. A few years before his recent hiring as the head coach of the Jacksonville Jaguars, Mularkey was Saban's offensive coordinator when he was at the Dolphins in 2006.
Mularkey may have dropped his first game with the Jags but maybe with some time he will turn that franchise around. The fact that he is a head coach in the NFL however, is reason enough to place him this high on my list.
2. Pat Shurmur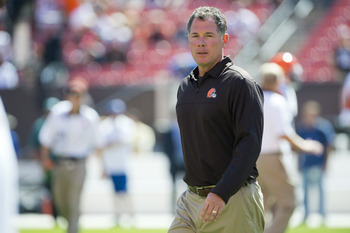 Jason Miller/Getty Images
That's right people, Nick Saban's coaching tree includes two current NFL head coaches, the second being Pat Shurmur. Shurmur is the current head coach of the Cleveland Browns but years before he landed his biggest job, he was the tight ends coach and recruiting coordinator at MSU under Saban from 1995-1999.
After working under Saban, Shurmur floated around the NFL for awhile before becoming the offensive coordinator for the Rams. After a year as the Rams OC, Shurmur received an offer to become the Cleveland Browns head coach.
Last season, the Browns had a rough year but they looked decent in their opener, so hopefully Shurmur can turn it around in Cleveland.
1. Mark Dantonio
Al Messerschmidt/Getty Images
Mark Dantonio is one of the best coaches in college football.
Before he became the head coach of Michigan State, and before he was the defensive coordinator for Ohio State the year they won the national championship, he was a defensive backs coach under Nick Saban at MSU.
Dantonio has come a long way since his time as an assistant for Saban from 1995-1999. He is by far the most successful coach to come from Saban's coaching tree.
Year in and year out he fields a solid team for MSU and has turned them into a Big Ten power in recent years. His coaching style is extremely similar to Saban's.
Keep Reading

Alabama Crimson Tide Football: Like this team?